Long Teal Bridesmaid Dress
Somewhere between the timeless aqua blue dresses and the emerald green gowns I've been featuring, lies this color, which J.Crew is calling "peacock green". It's a beautiful teal green color, and looks very similar to an emerald green, with a just a tad more blue. It's a regal color, and it's perfect in nearly any season. A long teal bridesmaid dress like this is the perfect transitional color choice for summer into fall weddings.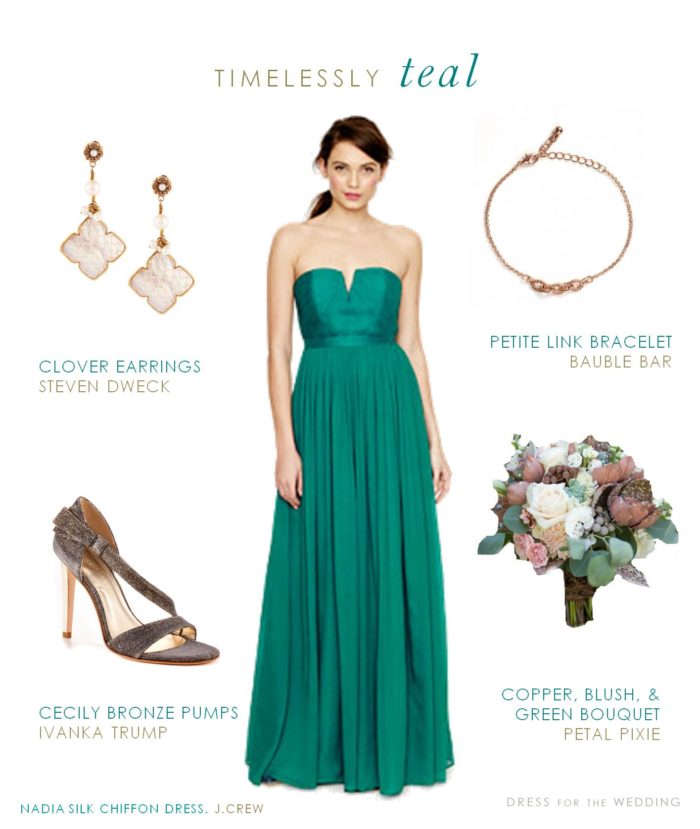 Nadia long dress in silk chiffon in Peacock from J.Crew /Stephen Dweck Clover Etched Mother of Pearl Earrings /Cecily Bronze Sandals Ivanka Trump / Petite Link Bracelet in Rose Gold by Bauble Bar / Bouquet from Copper, blush, and ivory styled shoot on Peter Loves Jane Styled by Utah Events by Design Photography by Tonya Peterson Photography Flowers by Petal Pixie
How to Accessorize a Teal Bridesmaid Dresses
This emerald teal hue is delicious color choice, and it's perfect in nearly any season. I love the look of pairing a rich jewel tone color like this with neutrals like blush and copper.
I pulled the blush, bronze, and copper colors from that beautiful bouquet, and they just seem to mix - giving this a muted look. If you're considering an emerald green bridesmaid dress, this shade of green is certainly one to consider, and the beautifully tucked and pleated bodice and long gown makes this a particularly glamorous formal choice.
Pair it with bronze, copper and blush, and it will be the perfect glamorous garden or rustic wedding style. If you want a more wintery or formal look, swap out the blush and go for gold or black. If you'd like to wear this long gown as a guest, it's also a great choice -- this pretty green can go to black tie formal weddings into the winter months.
More Teal and Turquoise Bridesmaid Dresses

Love this look? Also try these shoppable posts!
More style ideas you might enjoy :