Lauren Conrad's Bridesmaid Dresses for Paper Crown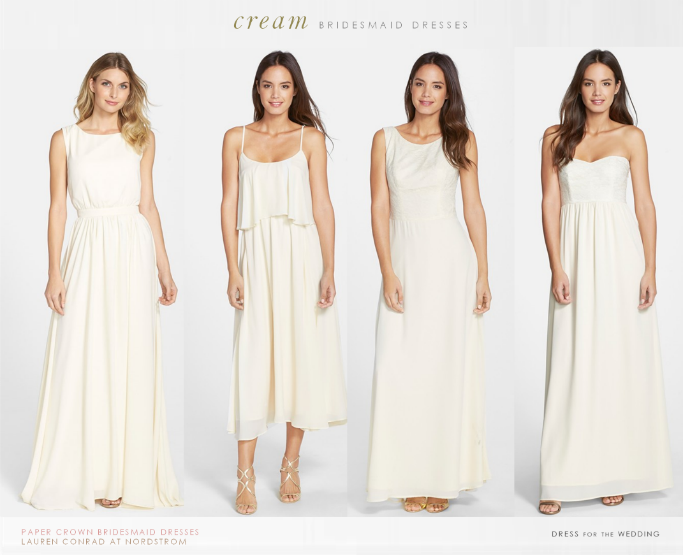 Cream colored bridesmaid dresses from Lauren Conrad's Paper Crown Collection at Nordstrom.  *
If you happen peek inside the pages of  Martha Stewart Weddings and Us Weekly, like I frequently do, you know that this past fall, Lauren Conrad's nuptials to William Tell were beautifully showcased in these publications. Sweet interpretations of  the couple's apple theme, romantic florals, and prettily-rendered handcrafted paper goods, were the perfect meld of laid-back sophistication infused with just a hint of rustic, bohemian romanticism. And, while Lauren's 2 wedding gowns got plenty of attention, her bridesmaids and their dresses certainly shared the spotlight!
Conrad did what many of us wish we could do; she created a line specifically for her friends and bridesmaids under her label Paper Crown.  Now, these bridesmaid dresses are available at  Nordstrom! The soft colors like 'Cream', 'Silver Peony' (a soft blush ), 'Ash' ( which reads as a bluish gray to me) a muted minty 'Dusty Aqua' shade, and a warm beige neutral called 'Tote Basket'  come in a variety of silhouettes and array of fabrics. These gowns were made for easily mixing and matching within styles and colors, and are meant to have the ease of wear-again shapes.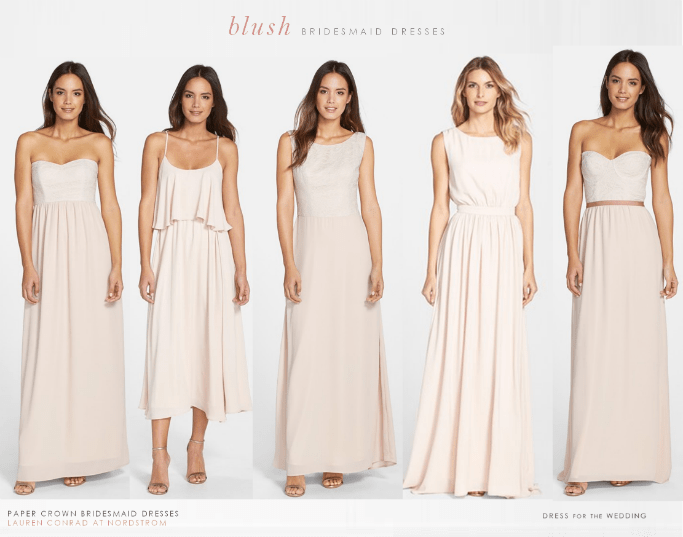 Pale pink bridesmaid dresses in 'Silver Peony' by Lauren Conrad for Paper Crown : 1.'Breanna'  2. 'Britton'  3. 'Lauren'  4.'Tori' 5. 'Hannah'  *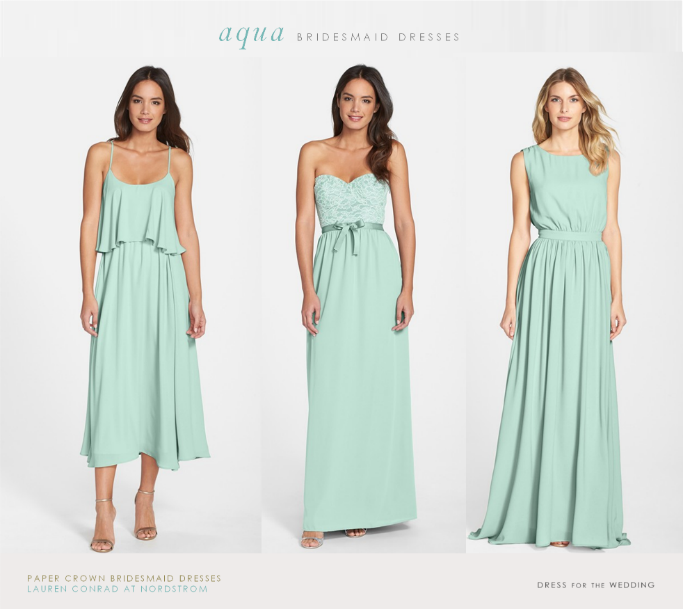 Bridesmaid dresses in 'Dusty Aqua' from Paper Crown by Lauren Conrad, 1.'Britton'  2. 'Hannah'  3. Tori'  *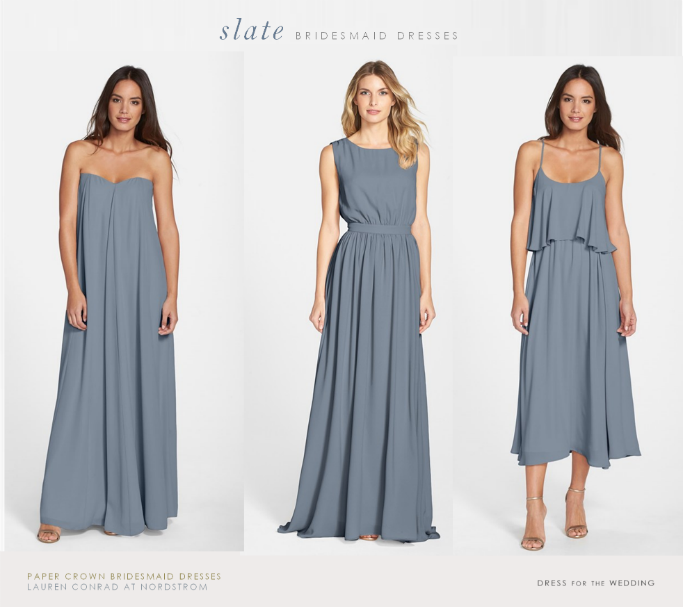 Bridesmaid dresses in 'Ash' from Paper Crown by Lauren Conrad: 1. Natalie  2. Tori  3. Britton *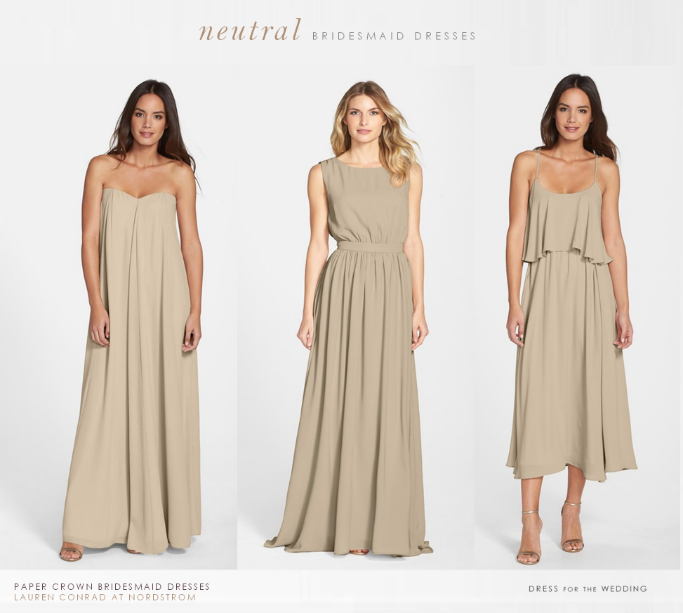 Beige bridesmaid dresses in 'Tote Bag'  1.  Natalie  2. Tori 3. Britton *
Pastels are going to be big again for spring and summer weddings, and this collection covers those soft tones beautifully! Which mix would you pick? I have to admit I'm drawn to the bohemian floaty tiered look  of 'Britton' and the 'Tori' gown and I love a mix of cream, blush, and neutral!
More posts and ideas:
Mix and Match Bridesmaid Dresses
*This post uses affiliate links, meaning that Dress for the Wedding makes a small commission from the retailer, at no cost to the reader, if a qualified sale is made. Nordstrom is a affiliated retail partner but has not directly requested or sponsored this post beyond that affiliation.