Amsale Wedding Dresses Fall 2015 Bridal Collection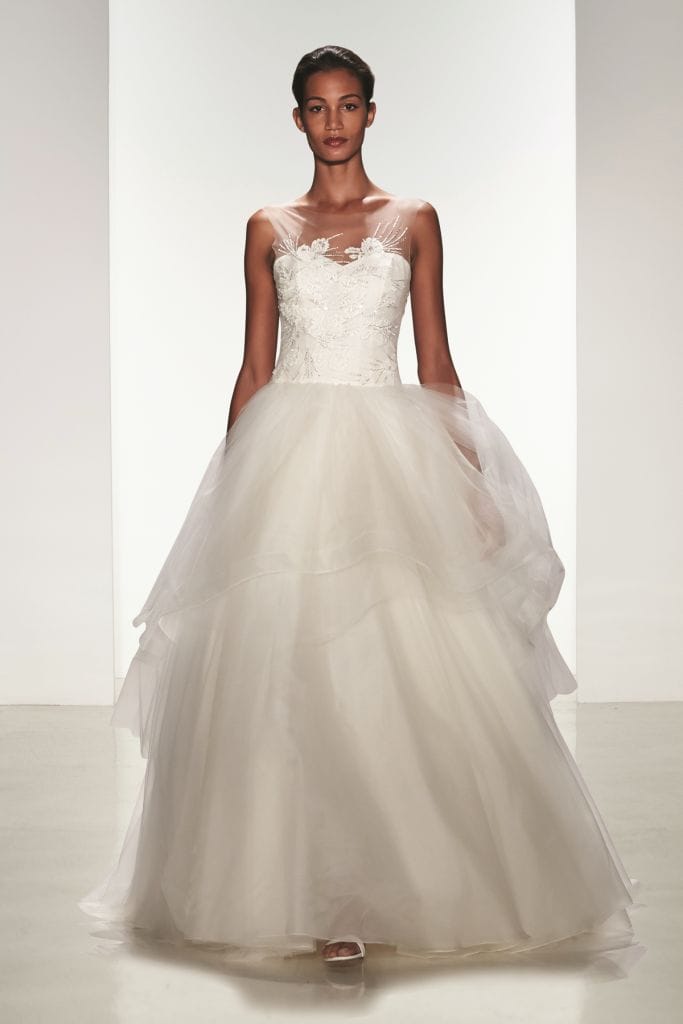 Happy Wedding Wednesday! It has been a little while since I last showed you a bridal collection, but I'm returning to these posts with one of the absolute best: Amsale! I have been such a fan of Amsale Aberra's work in all the collections she designs, and her namesake line has always been one of my favorite to see and show. Amsale bridal gowns also now hold a special place in my heart because one of my dear friends wore an Amsale for her wedding, so now I feel even more personally acquainted with the glorious refinement and artistry of these gowns.
Amsale is known for simplicity and clean lines, so to hear that the Amsale bridal gowns for Fall 2015 in both the classic Bridal Collection, and the Blue Label line, have 'ornate' influences seems like a quite a departure, but I can assure you it isn't! If you've been following my picks for holiday, you know how I love a jacquard, brocade, lace and metallic and other luxurious textures look in ready-to-wear,  and this latest Amsale collections includes these rich fabrics, wonderfully interpreted into Amsale's elegant pared-down silhouettes. In the case of the Amsale Blue Label, handsewn detail, rich applique, and stand-out dimensional embellishment adds even a bit more grandeur. This delightful mix creates a 'modern regal mood' to the Amsale Fall 2015 Bridal Collections. Enjoy your glimpse!
Amsale Bridal Fall 2015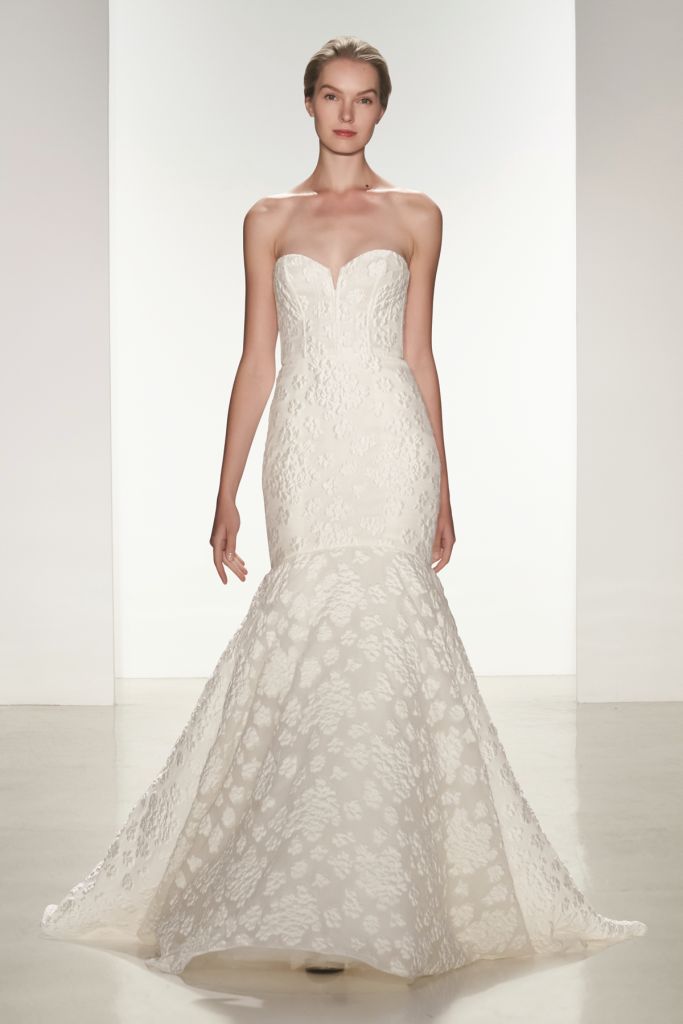 Aida, a strapless bridal gown with corset bodice, fit-to-flare silhouette in a beautiful silk floral jacquard.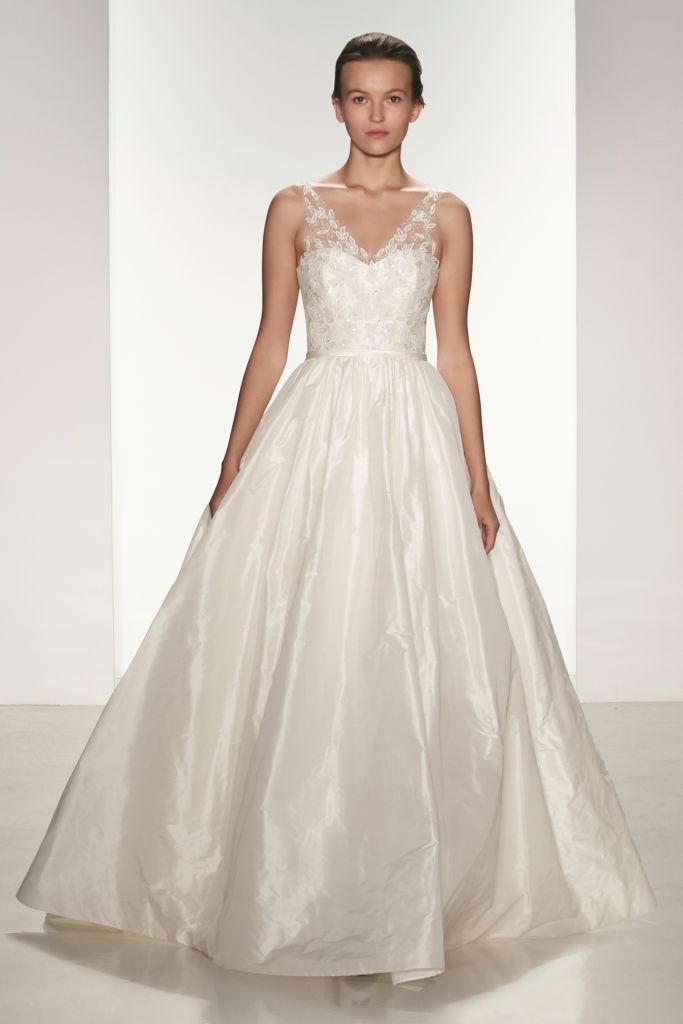 Bardot, is ballgown wedding dress created from ivory silk taffeta with a hand-beaded bodice.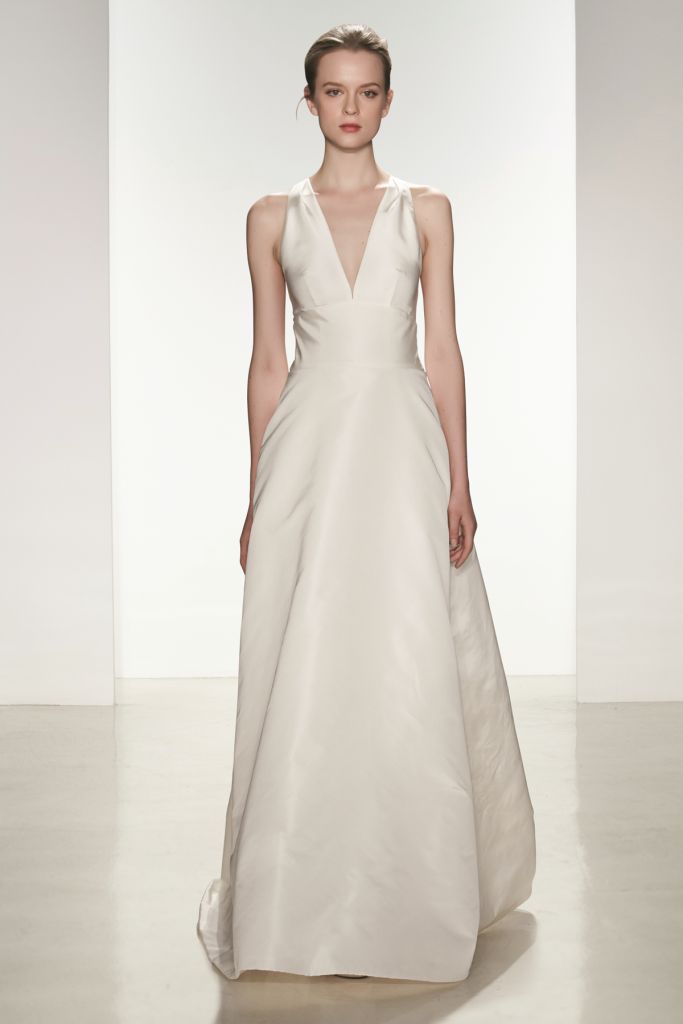 Cory, a halter neck silk faille wedding gown with an A-line ballgown silhouette and sheer back, with button detail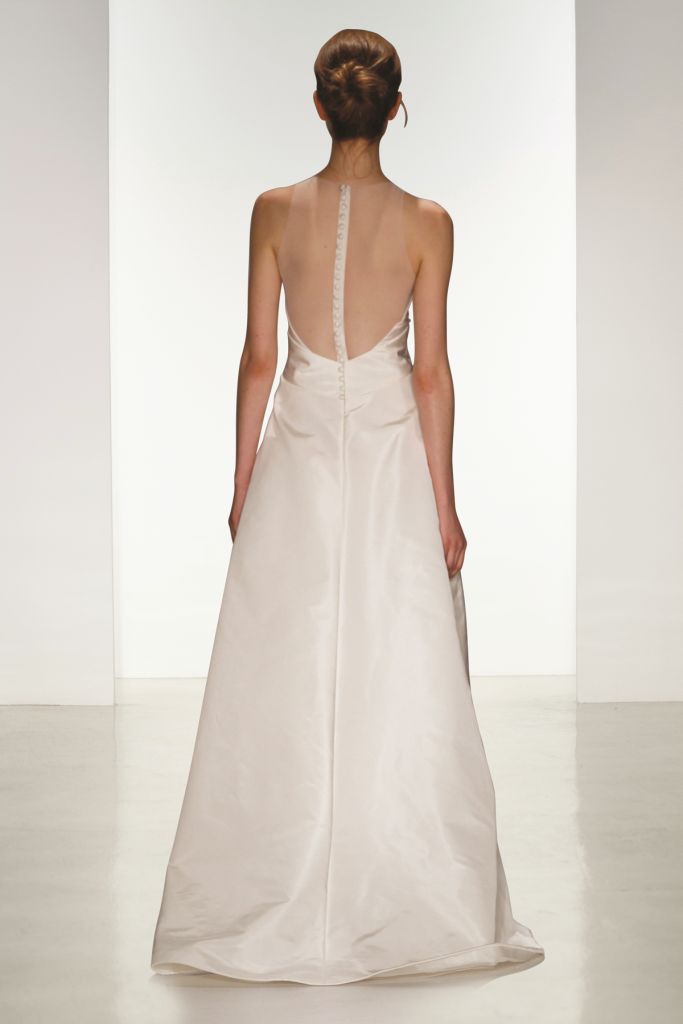 Cory, back detail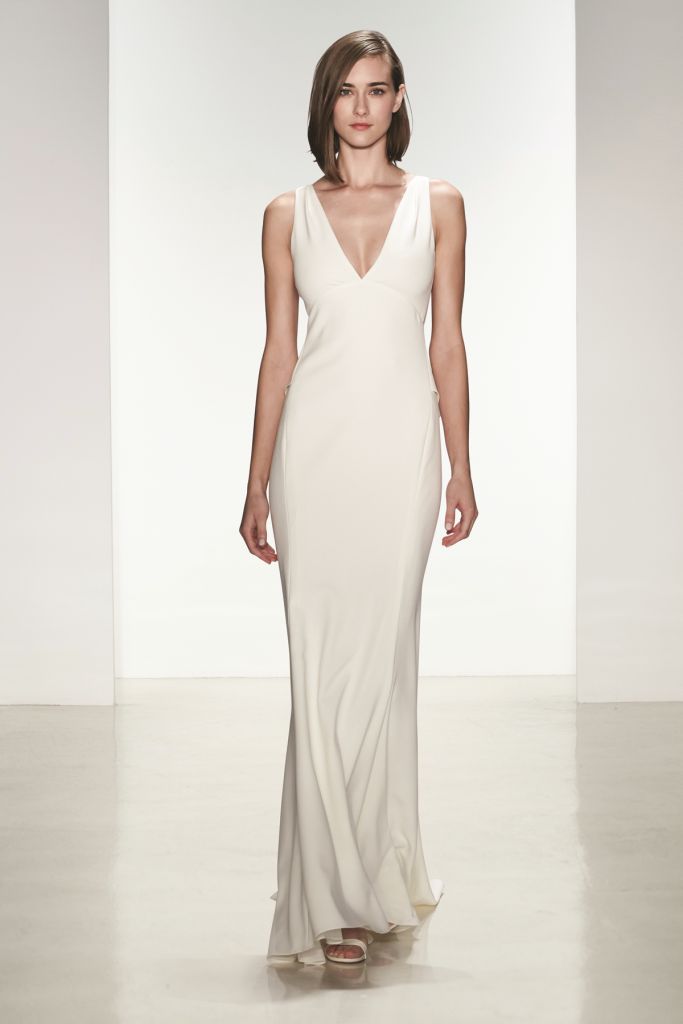 Demi, a crepe bridal gown with crepe gown with tailored seams and back detailing.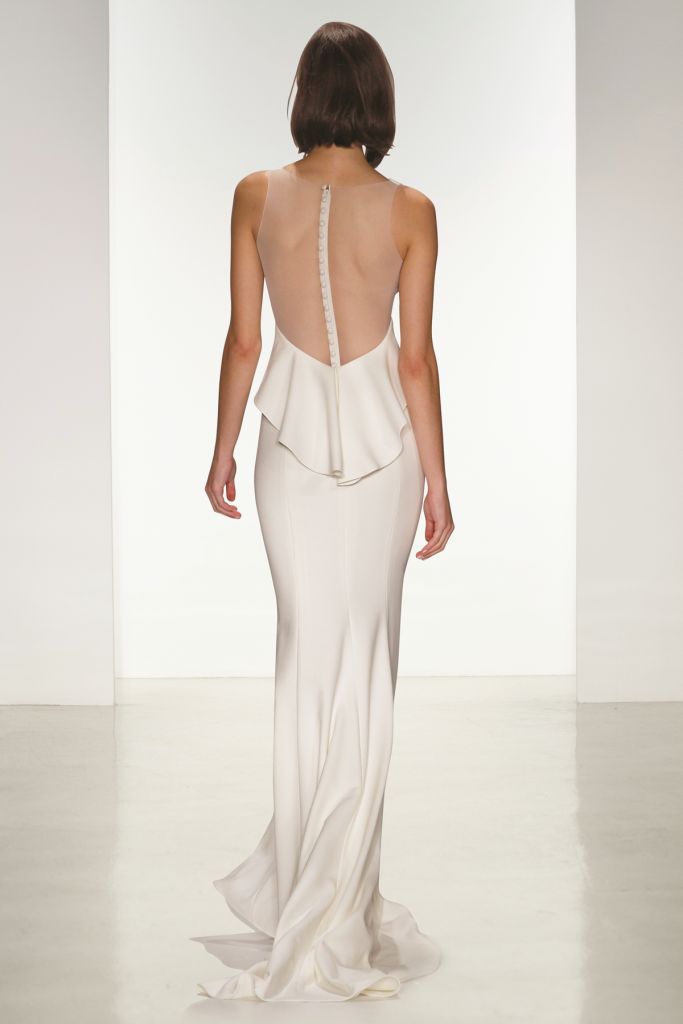 Demi, back detail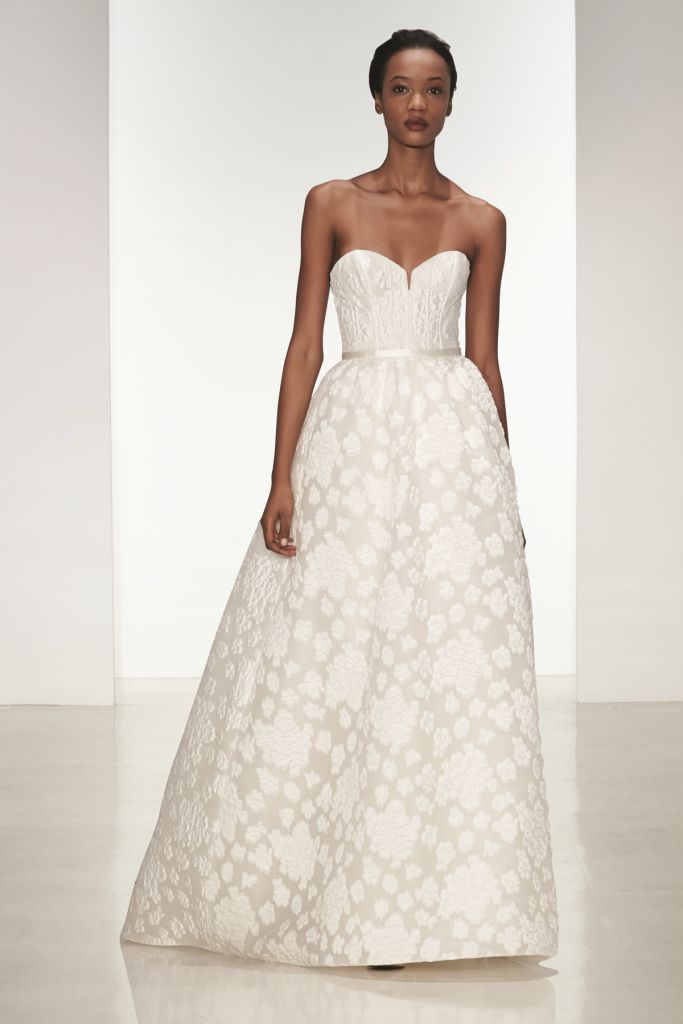 Ingrid, a strapless ballgown wedding dress with corset bodice, in silk floral jacquard.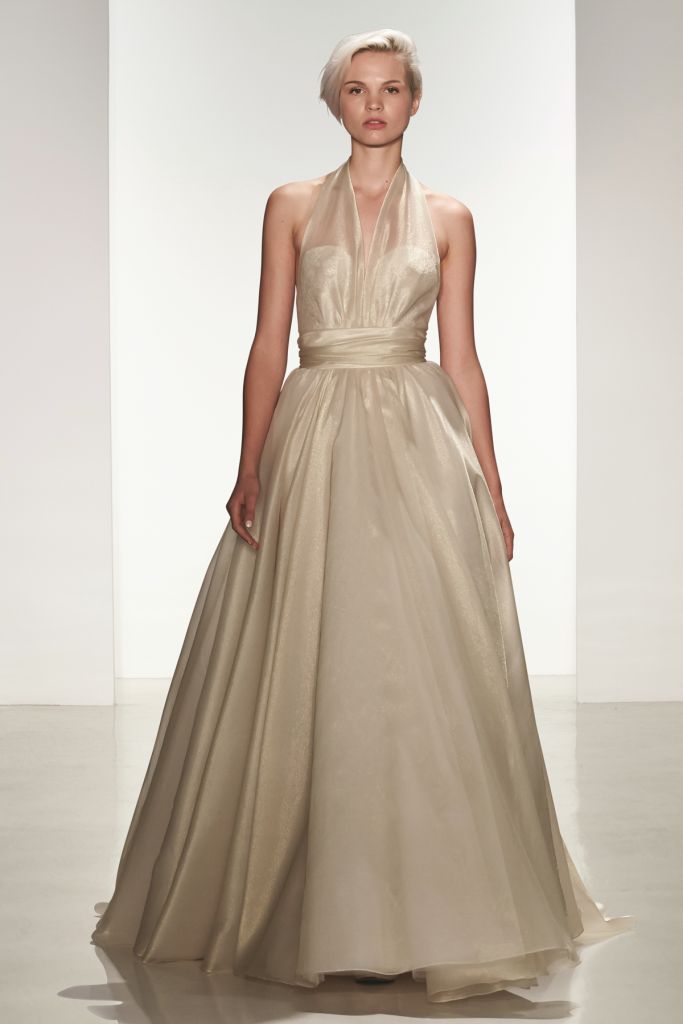 Rhea, a halter-style gown in sheer gold silk mesh.
Amsale Blue Label Fall 2015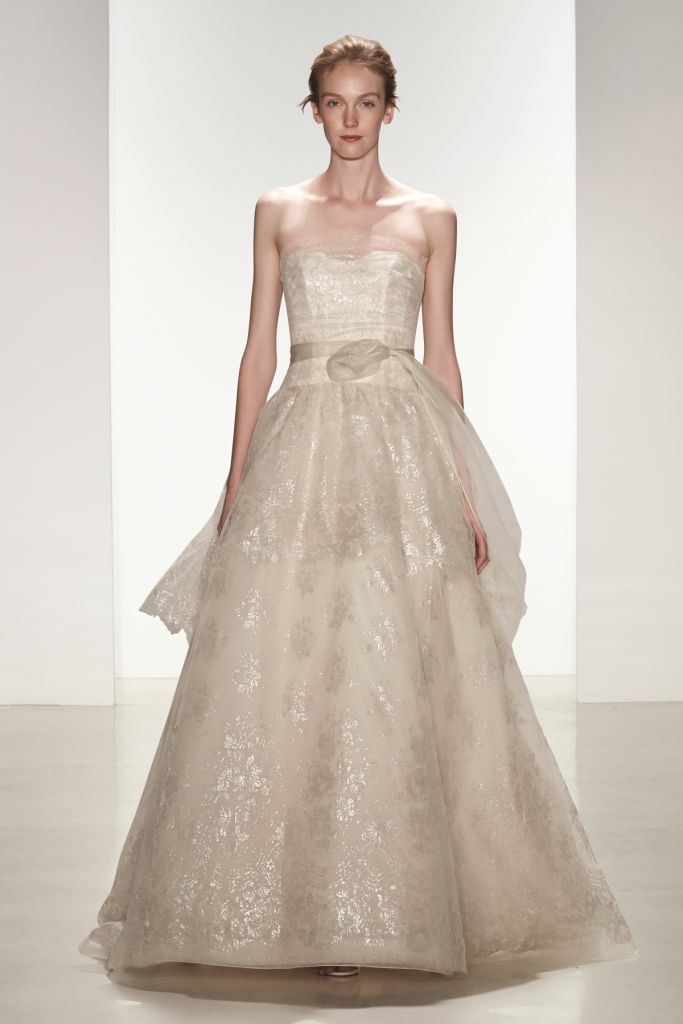 Aileen,  a strapless wedding gown created from metallic chantilly lace,  layered with blush tulle, in a ballgown silhouette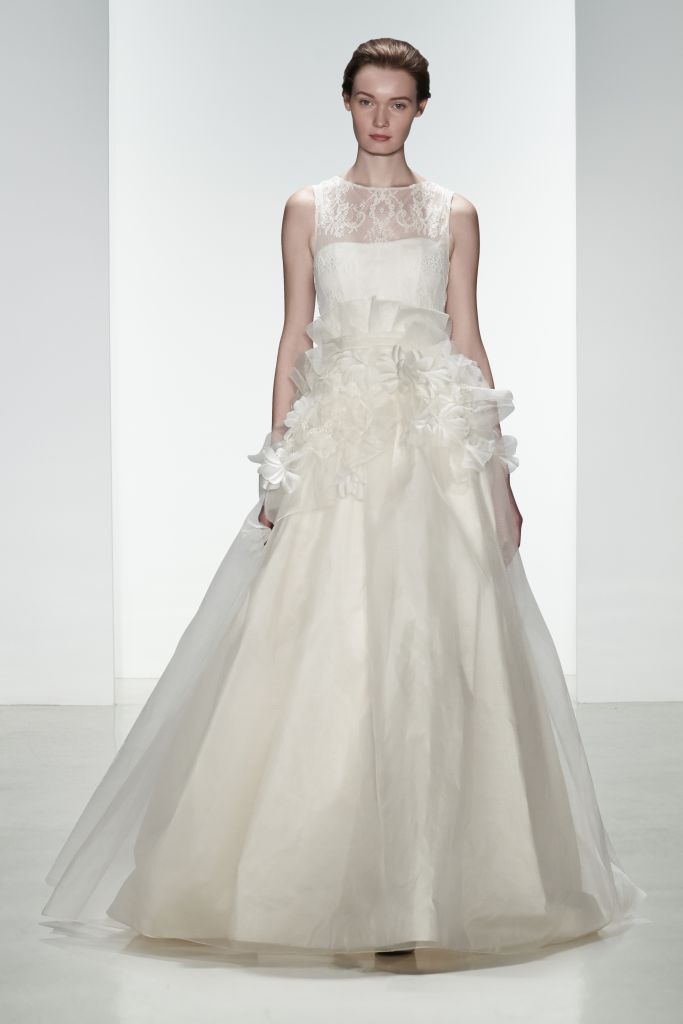 Alaina, (exclusive to the Madison Avenue flagship salon)  A stunning ballgown of textured silk organza with corded lace bodice and silk flower appliqué on skirt.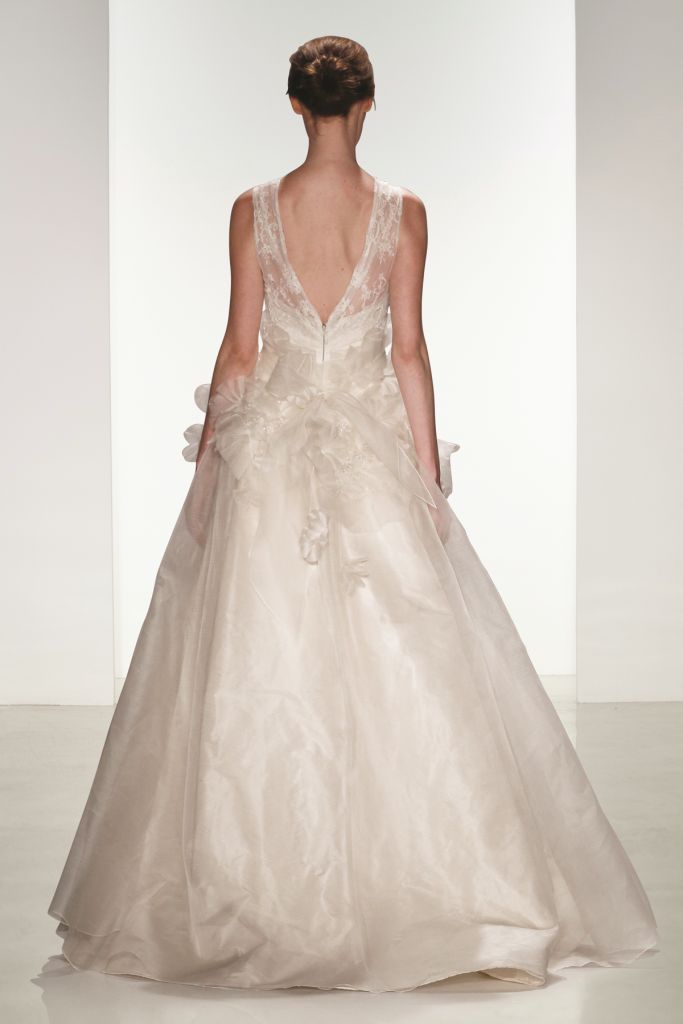 Alaina, back detail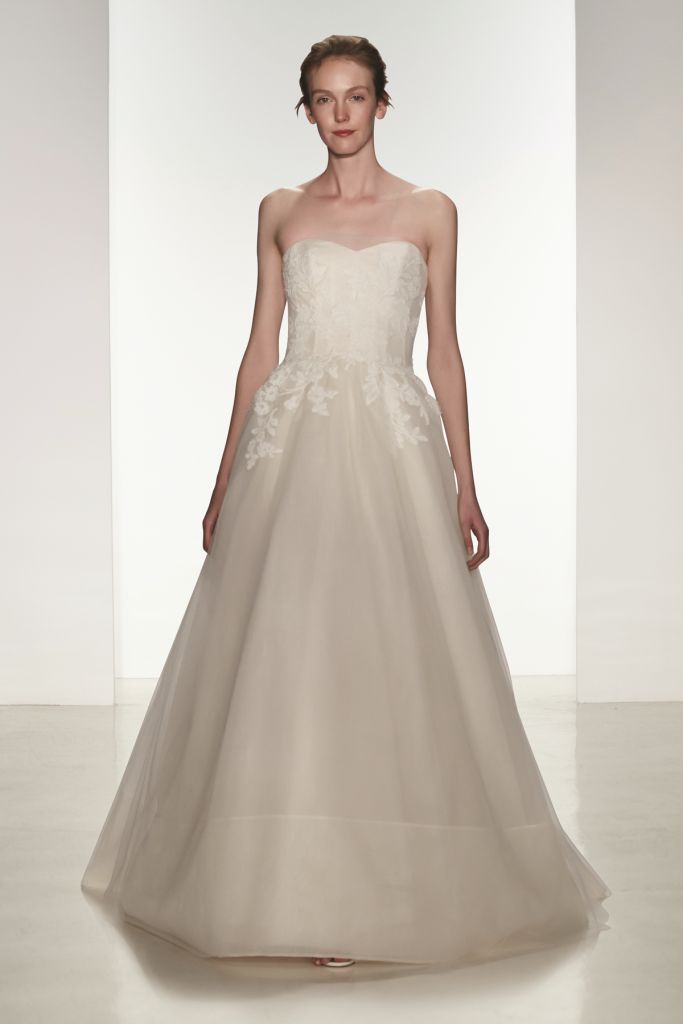 Amal, a strapless bridal gown of Lyon lace with hand appliqué  details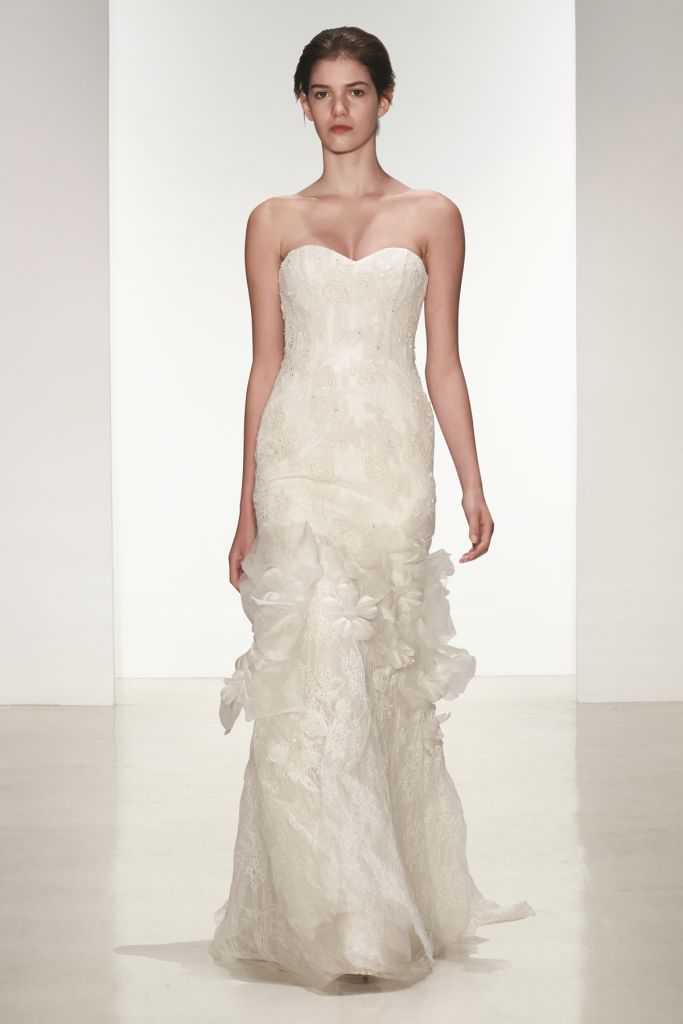 Christa, an ivory corded lace strapless bridal gown with crystal hand beading and silk flower skirt.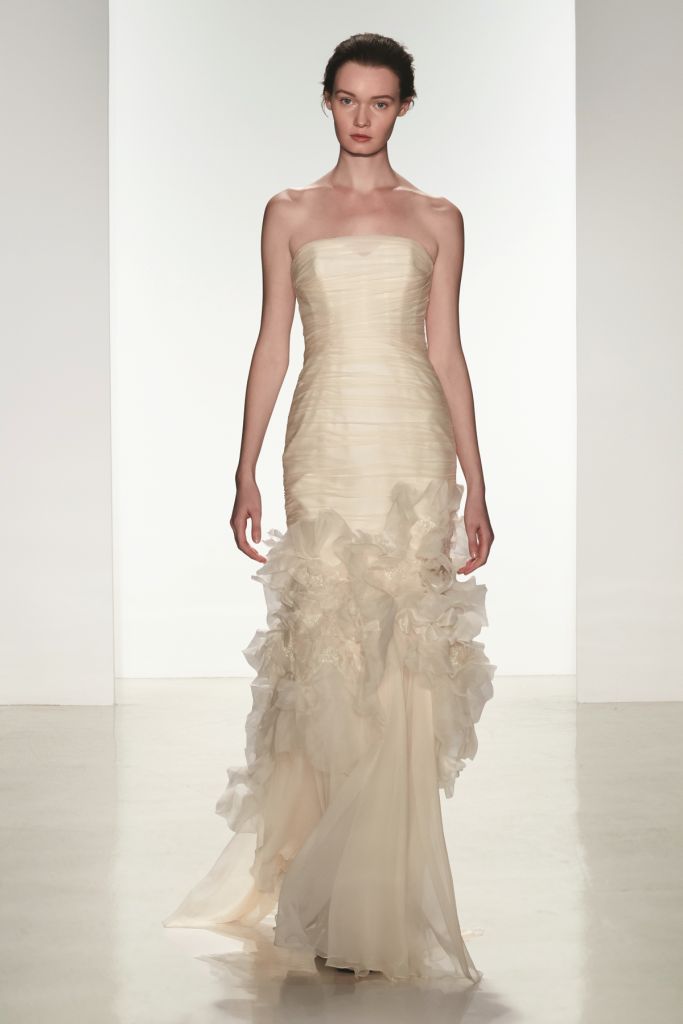 Elsie, a  strapless fit-to-flare wedding gown in silk chiffon with a hand-beaded silk flower skirt.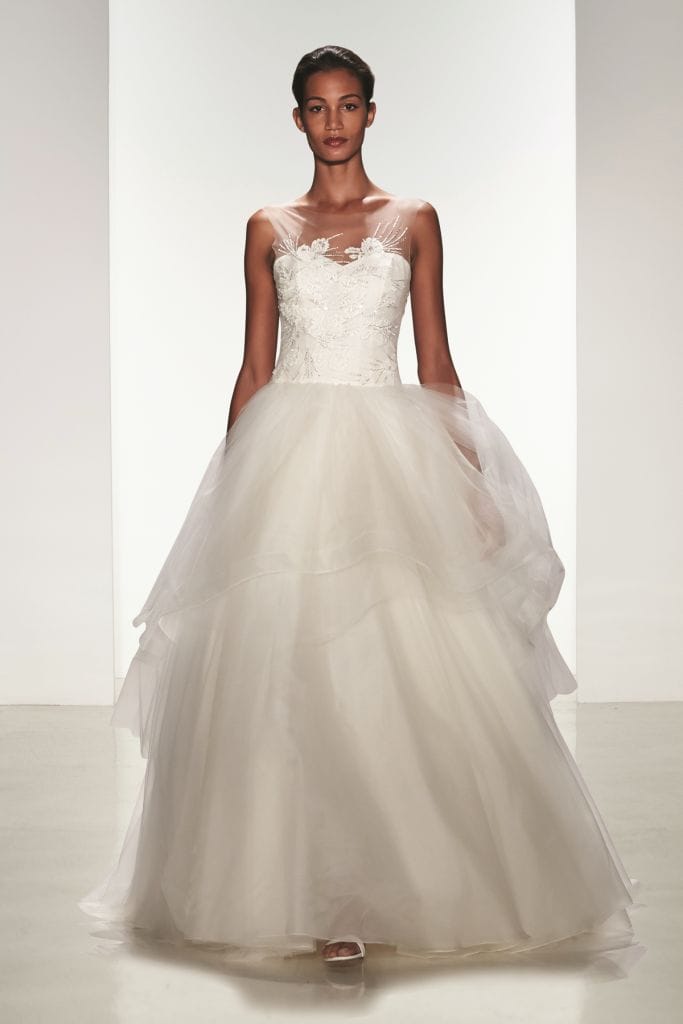 Jules, a grand wedding gown with a hand-beaded bodice and soft tulle tiered skirt in a ballgown silhouette.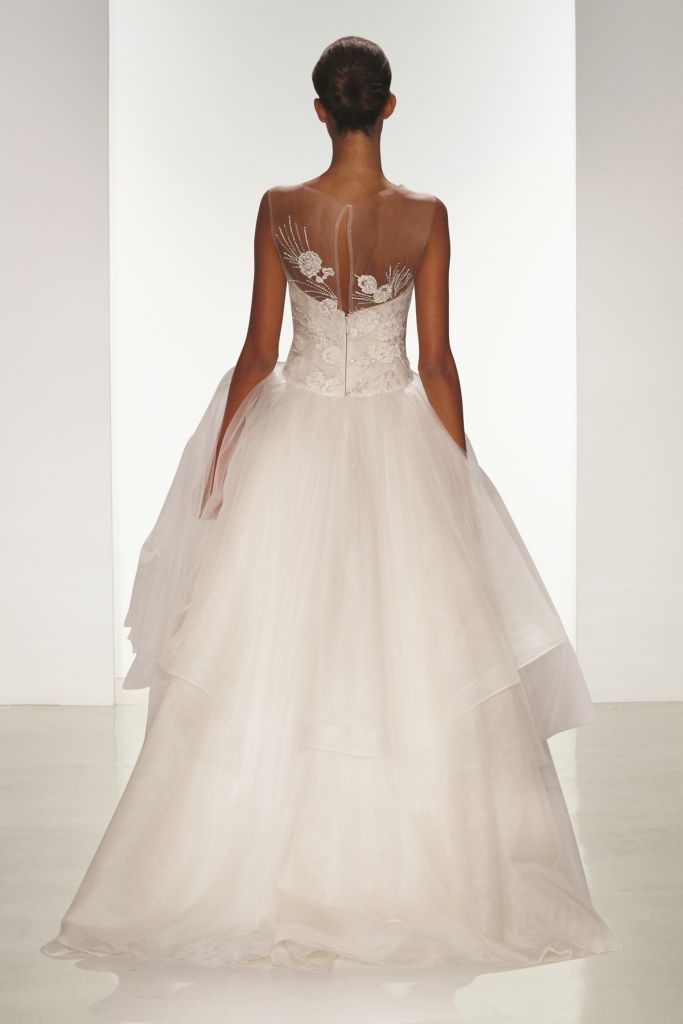 Jules, back detail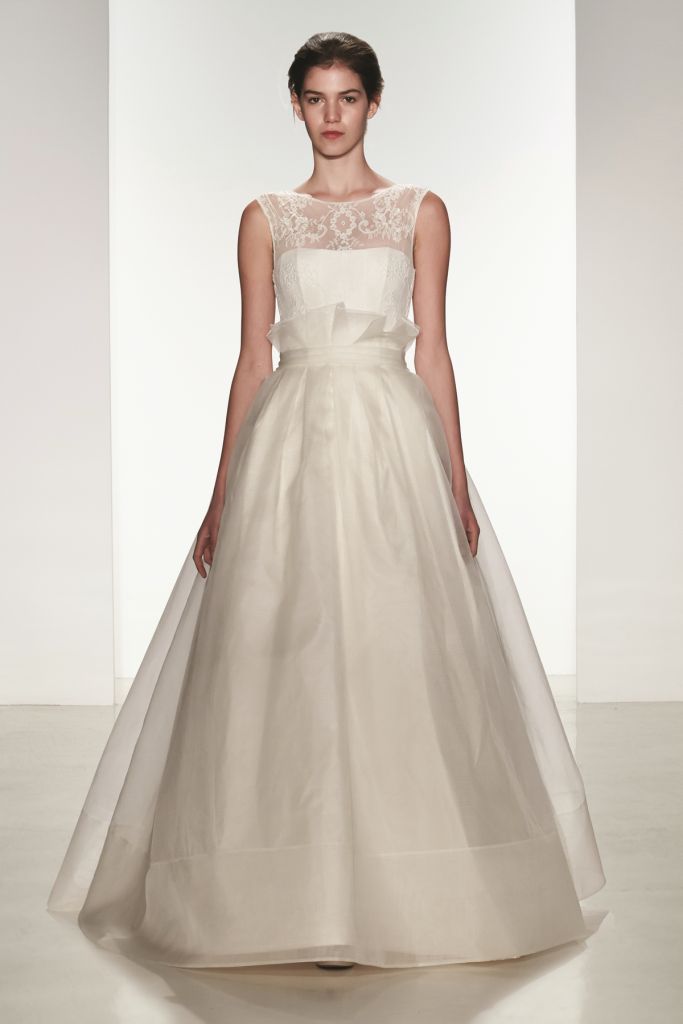 Bren, a taffeta bridal gown with ballgown skirt, layered with textured silk organza and corded lace bodice.
For more information including where to find these exquisite gowns, please visit Amsale.
All images are courtesy and copyright of Amsale.
More posts you might enjoy:
Kenneth Pool Spring 2015 Bridal Gowns
Christos Bridal Gowns SPring 2015
More style ideas you might enjoy :