Lavender Dress for Mother of the Bride
Welcome to the start of the week! It sounds like we'll be in the midst of true summer heat this week, so I thought I'd start things off in a soothing and cool way with this lavender dress for a mother of the bride.
Affiliate commission links are used in the shopping links in this post. This means this blog may earn a commission if a qualified purchase is made.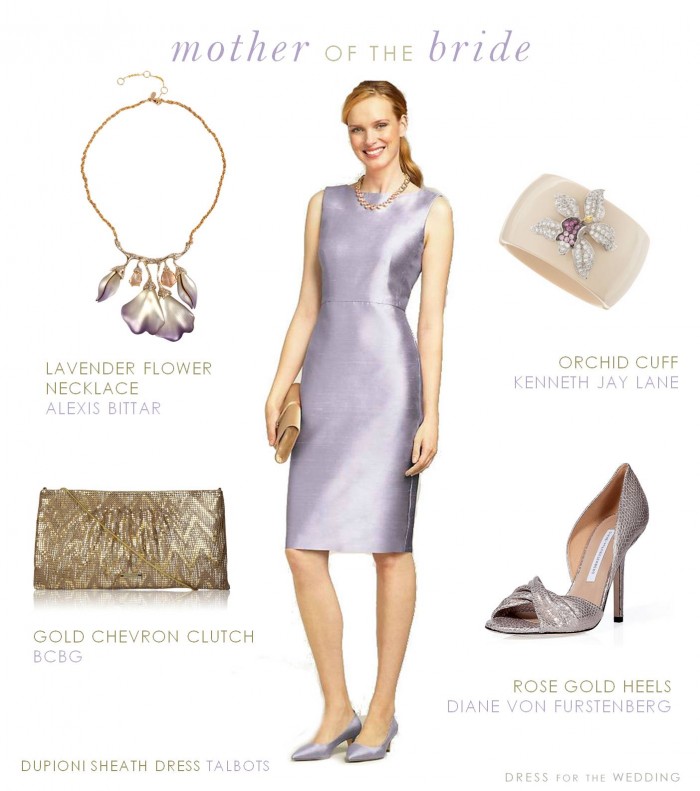 Talbots Silk Dupioni V-Back Dress in Iris /Alexis Bittar Lavender Ophelia Gold-Toned Jeweled Garden Necklace /CZ by Kenneth Jay Lane Pave Orchid Hinge Cuff in Ivory/BCBG Max Azria Jagger Evening Clutch in Gold / Diane Von Furstenberg Rose gold lizard print sandals
This look was inspired by my recent discovery that Talbots has a special occasion line called "Aisle Style" which is a simple and elegant line of dresses for weddings - they are the perfect mother-of-the-bride dresses, or special occasion dresses for guests to wear to weddings. I really like this line for mothers of the bride who don't want the "traditional" mother of the bride gown, and who would feel too overly done up in sequins and a long gown. The simple style makes it suited to a wedding guest, too! While I personally love some of the more ornate formal gowns for the mother of the bride, my heart also has a big place for simple shifts like this one. This length is wonderful for a morning or daytime wedding, but the silk dupioni makes it appropriate for most evening weddings, too, with the exception of black-tie (You'll want wear the long beaded gowns to that!) This dress has a deep v back and also has the option of a silk jacket to make it more of a suited look or to provide a little extra coverage.
If this isn't the dress for you, check out my other purple mother of the bride dresses here, or shop the complete range of mother of the bride dresses by color here!
I also found this pretty orchid cuff bracelet, which leads me to think - why not have your mother wear a more permanent flower on her wrist in addition ( or perhaps in place of ) a corsage? I love this pale lavender color with either a true gold, silver or a deeper purple but it also looks lovely with the up-and-coming rose gold color ( the one shown here is more mauve) which can sometimes blend with either gold or silver. I also added the option of that stunning statement necklace with a natural floral theme. One could certainly wear nearly any style of jewelry against the simple backdrop of this dress, but I thought the flower necklace would be nice for moms who like to wear a natural look or artistic jewelry. If your wedding colors are dark purple or even navy, this lavender might be a nice choice for the mother of the bride, to blend with, but not match the wedding party. Let me know if you think this lavender look might be for you!



Affiliate commission links are used in the shopping links in this post.

You might want to check out more lavender wedding inspiration, purple or lilac dresses, or other mother of the bride dresses. Remember you can also always check out the mother of the bride dress shop, or purple mother of the bride dresses .
More style ideas you might enjoy :