Lavender Bridesmaid Dresses and Wedding Inspiration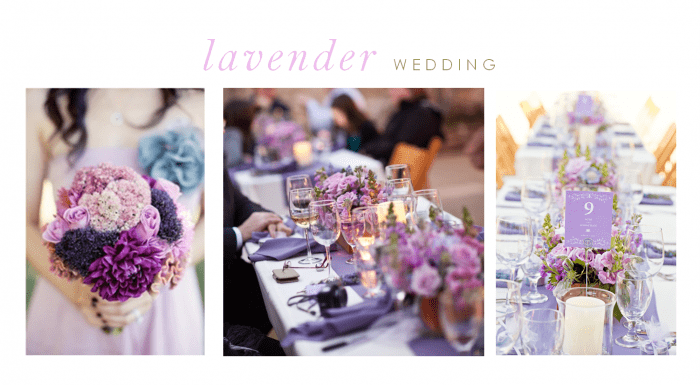 Image 1 Via Style Me Pretty, Photo by Ashley Rose Photography, Styled by In the Now Events  Image 2, 3 Via Frosted Petticoat, Photo by  Mirelle Carmichael Photography Styled by  Every Last Detail Wedding & Event Coordination Florals by  Fleurish Floral Designs
As I sit here eagerly anticipating warm days, I can't think of a color I'm more excited to wear this spring than lavender. I just can't get enough of it! I don't take that proclamation lightly, either. I've never been a "purple" person-- in fact, I two friends growing up who had adopted it as their personal signature hue-- so I had long associated the color as "belonging" to someone else, while I stayed with my navy blues and greens.
Suddenly, everywhere I see it now, it speaks to me! I love the scent of lavender (I even use a pillow spray with that calming scent) and I learned in Lucky Magazine that Sophia Coppola wore it in her wedding, and now I think I also associate it great affection I had for those friends. There are so many pretty dresses this season shown in this hue, and it has the wonderful quality of being a flower/herb(?), hue, and scent, which can add so much dimension to your wedding decor. If you're still trying to pick your colors,  I urge you to consider the lovely lavender!
Lavender Bridesmaid Dress with Accessories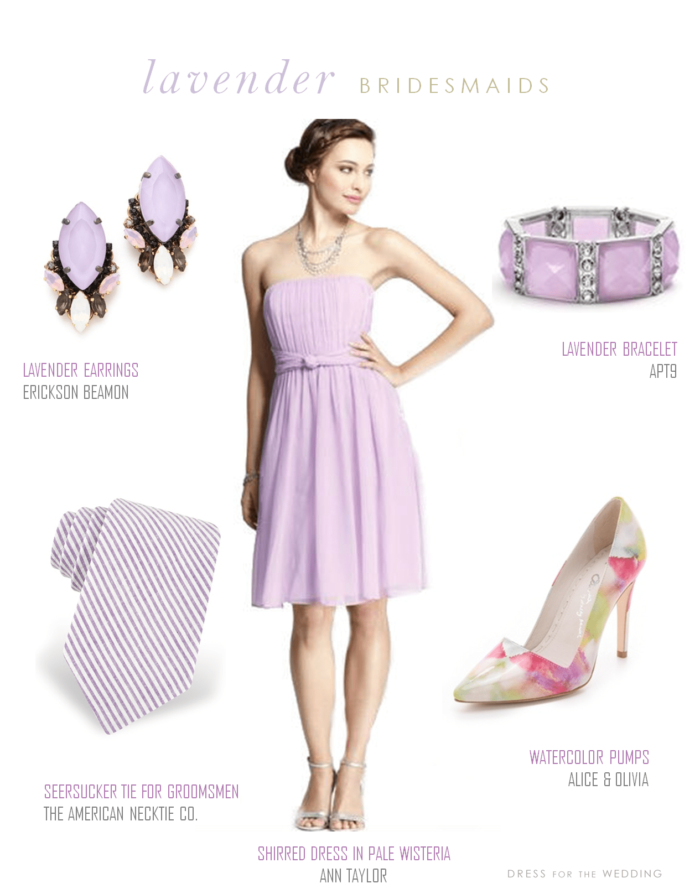 Silk Georgette Knot Bustier Dress Ann Taylor /Apt 9 Lavender Bracelet  / alice + olivia Dina Watercolor Pumps / Seersucker Stripe  Tie by The American Necktie Co in Purple Cotton / Erickson Beamon Pretty in Punk Cluster Earrings
See? It looks lovely with pinks, purples, silvers and golds -- or, if you're really into pastels, try it with mint! Don't you love those watercolor shoes?
Lavender Bridesmaid Dresses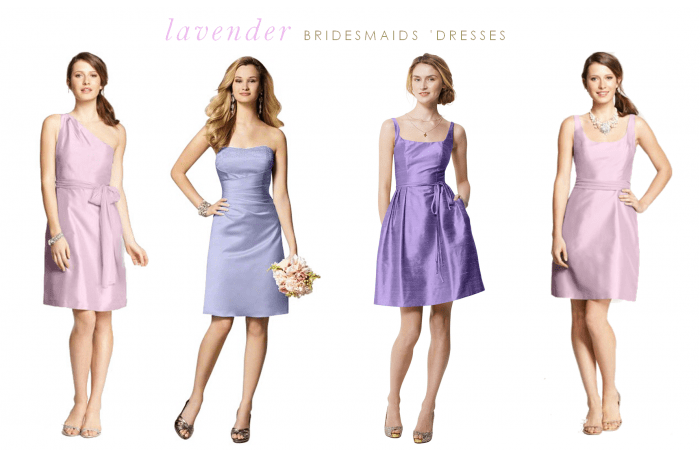 Silk Dupioni One Shoulder Dress Ann Taylor in Pale Wisteria /  Alfred Angelo 7027S in Lavender / Watters 9444 Bridesmaid Dress in Hyacinth /Silk Duponi Scoop Neck Dress in Pale Wisteria
Did I convince you that lavender is the color for you? You can search more Lavender Dresses from Dessy or search by color at Weddington Way, and I also have a bushel of them below. These selected lavender dresses would be good bridesmaids alternatives  or some of the cocktail styles would be appropriate for a guest to wear. Some of the flirty (short!) styles would be good for a shower or bachelorette party.


More style ideas you might enjoy :