Lilac Bridesmaid Dress and Lilac Wedding Inspiration
This time of year I find I get a little homesick for New England, and I think about all the flowers that are just starting to bloom in early summer. Last week, I was looking at my niece's prom pictures, and remembering how my own prom photos were always taken in front of the lilac bush at our house--that very day I saw this great Lilac Wedding inspiration on Fly Away Bride, that made me miss lilacs even more!
Affiliate links are used in this post

Lilac Bouquet Photo by Elizabeth Messina / Lilac and Tulip Bouquet by Floral Event Bacchus Marsh : Photo by Adrian Tuazon via Style Me Pretty: Australia / Pink Lilac Bridesmaids from Style Me Pretty Photography: Ameris, Design and Styling: Kailey Michelle Events
Even though I'm now allergic (whaa, whaa what a downer I am!) I still love the idea of lilac, the hues that can range from white, to pink to a deeper grape purple, and just remembering how nice it was to smell that light scent and to know summer would soon be here. My own home-town lilacs were more pink, like the color scheme above. If you have your allergies more in check than I do, maybe you're considering a lilac wedding!
If you are (or even if you're going with another flower, but want the lilac colored details) here's an idea for a bridesmaid dress.
Lilac Dress and Accessories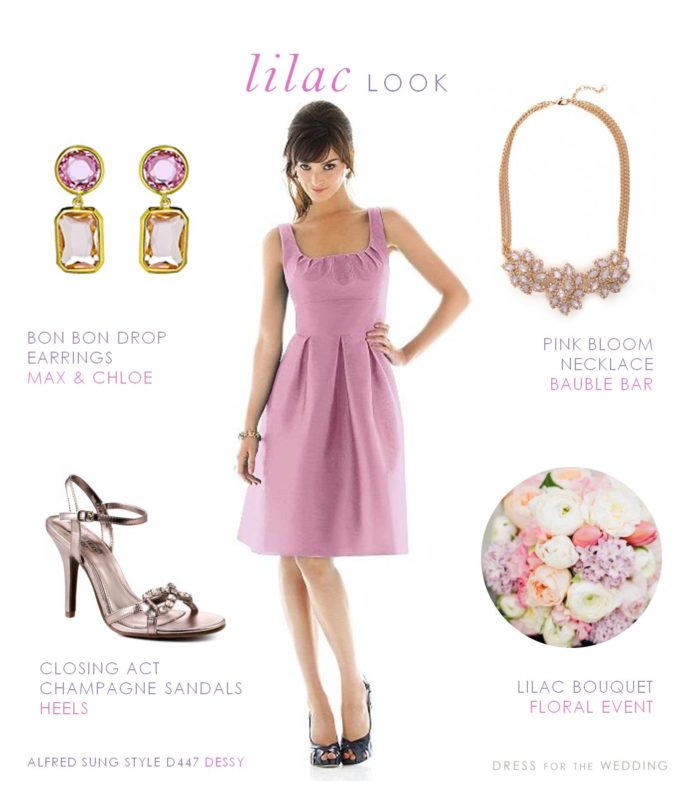 Alfred Sung Style D447 shown in Rosebud / Bon Bon Drop Earrings from Max & Chloe / Pink Bloom Necklace from Bauble Bar/ Lilac and Tulip Bouquet /Closing Act - Champagne Heels from Heels.com
I put this Dessy dress ( the color is called Rosebud, but it has a lilac tinge to me!) with monochromatic pink lilac accessories, but I really love the pink coral tulips and white ranunculus in that bouquet, and how it looks with the purple! Wouldn't white, coral, and lilac be pretty wedding colors and great with with the dress? You could try white accessories and coral lipstick, or even some pink coral necklaces ( I held off on showing one because I've been showing so much coral around here lately!)
Let me know in the comments, do lilacs play into your spring time and summer memories, too?
If you need more purple and lilac here are two other posts: Purple Bridesmaid Dresses and Purple Dresses for Weddings
More Lilac Bridesmaid Dresses

For more lilac wedding inspiration check out these great wedding blogs:
Style Me Pretty shows a Real Wedding with plenty of lilacs
Sweet Violet Bride was inspired by lilacs, too!
Elizabeth Anne Designs showed some beautiful deeper lilac colors in this wedding inspiration.
The Perfect Palette did Lilac and Lemonade
And this board by Burnett's Boards inspired by The Notebook has some pretty lavender and lilac colors
Browse more bridesmaid dresses in the Bridesmaid Boutique