Lea-Ann Belter: Classic Wedding Dresses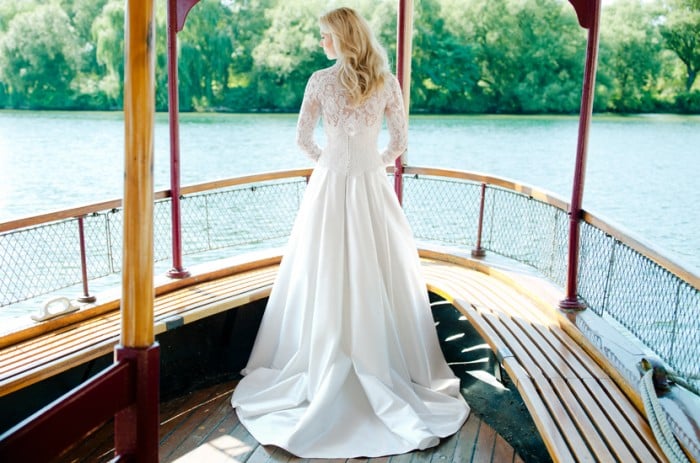 Classic is a term I use frequently on this site, and it's probably with good reason.  I tend to prefer classic styles myself, and when I make my wedding guest attire recommendations, I feel it's always best to stay within some semblance of classic style to show respect for the couple and the event. I think when selecting a wedding gown, brides can agree that they'd like to look back on the day in 25 years and think: "I looked beautiful. I chose my dress well."
Today, the wedding dresses I'll be showing you from Lea-Ann Belter are not only classic, but a totally exceptional level of classic. It's the kind of classic that has an unmistakable air of quality. It's the kind of classic that makes Grace Kelly's wedding dress as perfect now as it was in 1956. It's the kind of classic that makes one think, "not only did I look elegant on my wedding day, but I felt and looked like the best possible version of myself."  These are bridal gowns that your future daughter will admire when looking at your wedding photos, that will make your groom's eyes sparkle when you walk down the aisle, and make it so your guests will have only these admiring words to say about you on your wedding day, "She was simply perfect."
Wedding dresses from Lea-Ann Belter are heirlooms in the making. These dresses will be loved for decades not only because of their traditional styling, but also the quality and workmanship that goes into each gown. There is weight to each dress that speaks to the superiority of the silks;  the lace is made by the same looms that supply the royal family; the hand-beading is beautifully and painstakingly finished.
The meticulous creation of Lea-Ann Belter gowns are all overseen by the designer herself, and require detailed measurements for their trademark fit.
If you are a bride in search of modern styling instilled with tradition and quality, Lea-Ann Belter wedding gowns may be the ideal choice for you. Here are a few of my selected favorites.
Lea-Ann Belter Bridal Collection

BELLA
Bella is a flowing, silk organza, A-line wedding gown. Look closely, and you'll see the gently draped bodice  finished with a lace applique, and delicate floral accent. From the back, you'll see those layers of silk organza cascading into the train.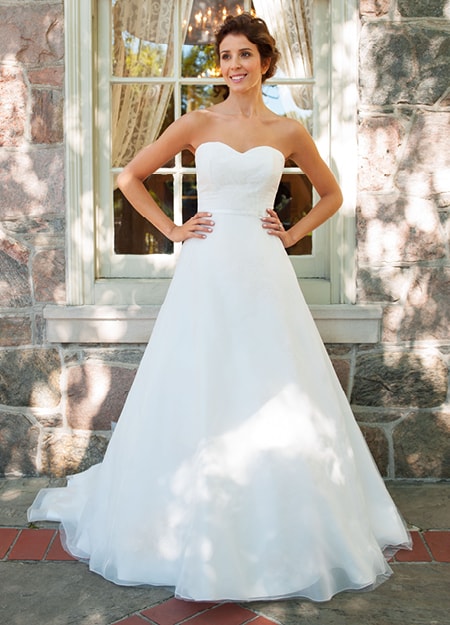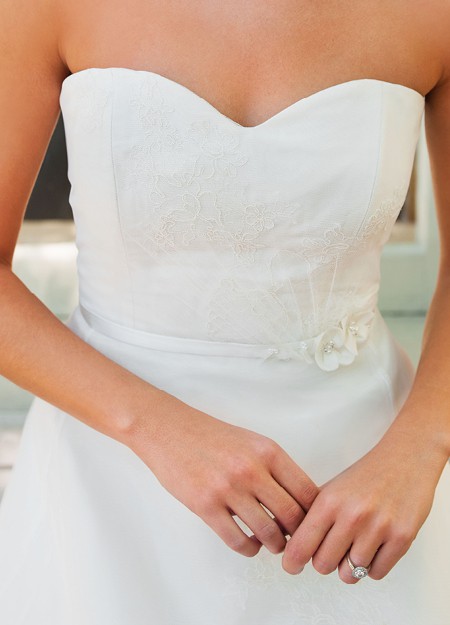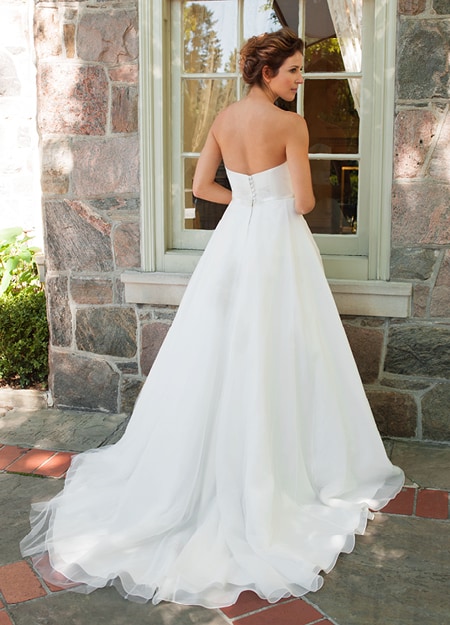 CALI
Cali is from the Lea-Ann Belter 2013 Greydon Hall Collection. Crafted from classic French Alençon lace and silk dupioni, Cali is a take on a timeless classic lace strapless gown.  The slightly fluted shape elegantly finishes into a sweep train. Lace extends up the bodice, gracefully edges over the sweetheart neckline, and laces the hemline with delicate scalloping.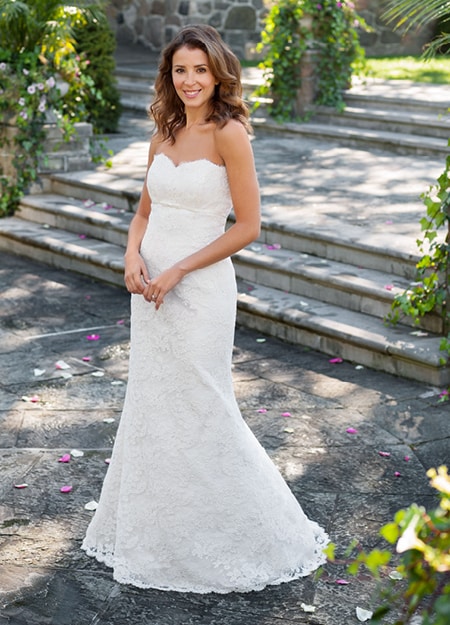 ---

EMILY
Emily is also from the 2013 Greydon Hall Collection by Lea-Ann Belter. The beautiful lace-trimmed bateau neckline meets to become a beautiful keyhole back. The full skirt and the interwoven waist, make this a faultless gown with a supremely flattering silhouette.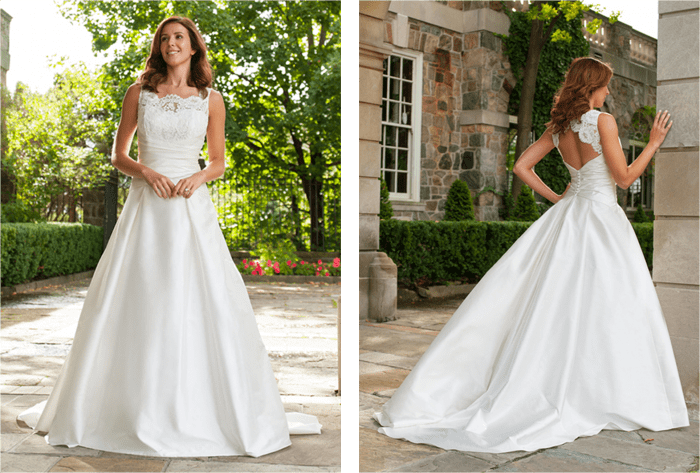 ---

MEREDITH
Meredith is a beautiful combination of soft silk Georgette and Chantilly lace. The tucks and draping in the bodice make a beautiful shape  which accent the waist and hip. A delicate lace cap sleeve covers the shoulders and meets at the nape of the neck to become a keyhole back. Touches of Swarovski crystal add sparkle, while the column skirt gives an airy feel to this dress.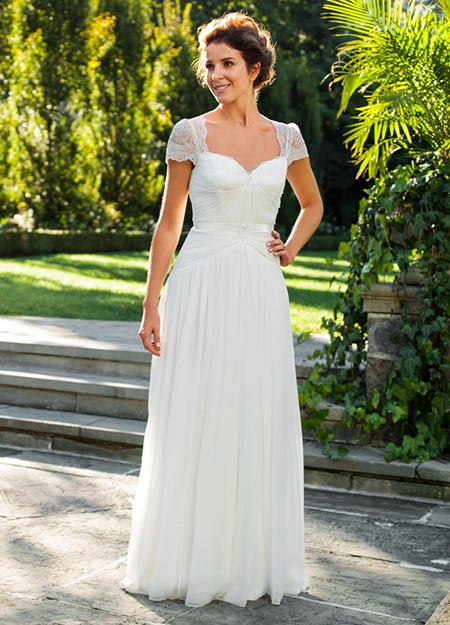 ---

STEPHANIE
Stephanie's full skirted silk ball gown, gives this dress large-scale opulence and grand movement. This dress is beautifully suited for a bride who wants a quintessentially romantic look, with added grandeur from a long silk train. Hand-beaded crystals delicately accent the sweetheart neckline.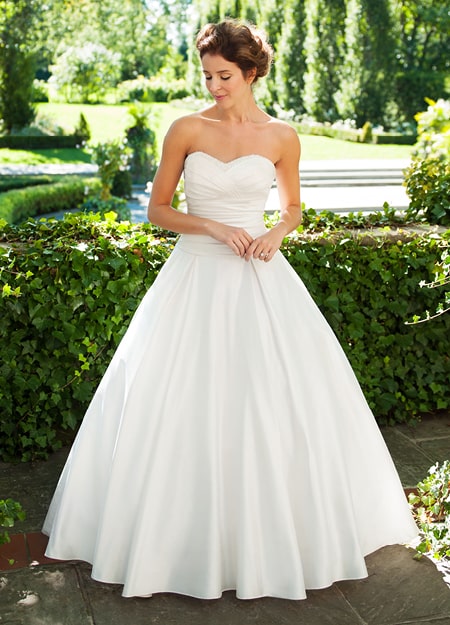 ---

HARLOW
Harlow, from Lea-Ann Belter's Oneida Collection, is a crisp dupioni silk gown with a beautifully draped bustline that extends into a gorgeous lace accented bodice and waist. The skirt has clean, sleek lines and a chapel length train that is neatly finished with tuxedo pleats.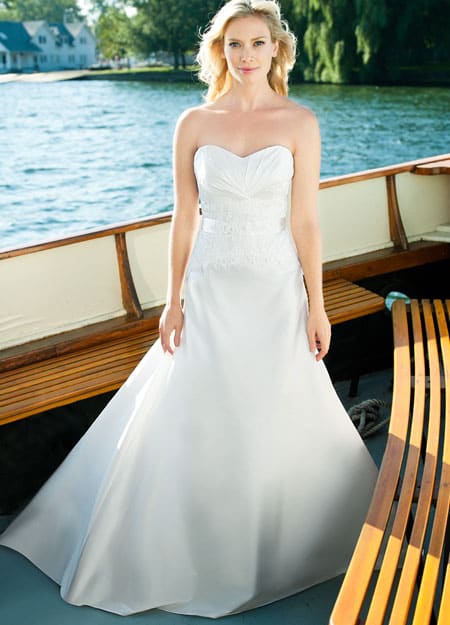 ---

PIPPA
Pippa is a breathtaking silk Georgette gown. The finely detailed Chantilly lace overlay and sheer lace sleeves fall softly over the shoulder and extend into a whisper of elegant trim along the deep V neckline. The lace overlay falls past the hem into a delicate chapel length train.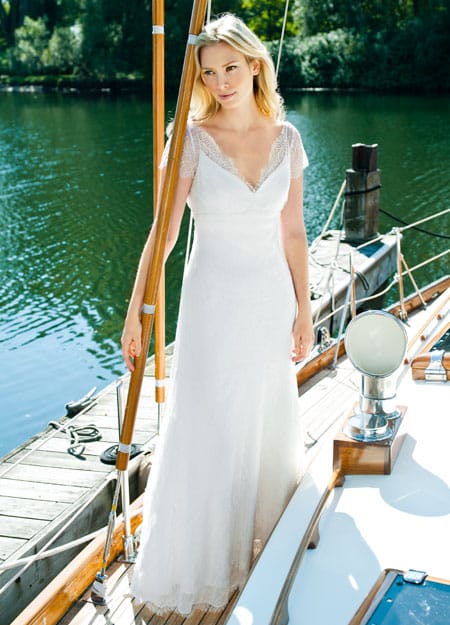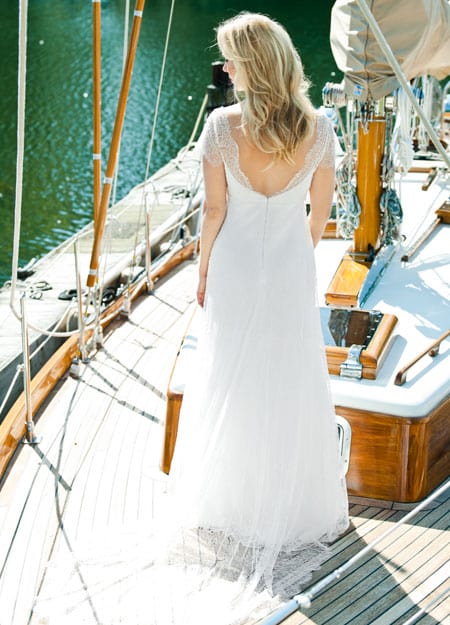 ---

KATHERINE
Katherine is a  part of Lea-Ann Belter's Oneida Collection. This silk dupioni gown features an Alençon lace bodice and back, with a hand-beaded neckline. The full skirt features a smooth front, with box pleats at the back waistline that flow into a full chapel length train. These subtle details add up to a completely spectacular gown.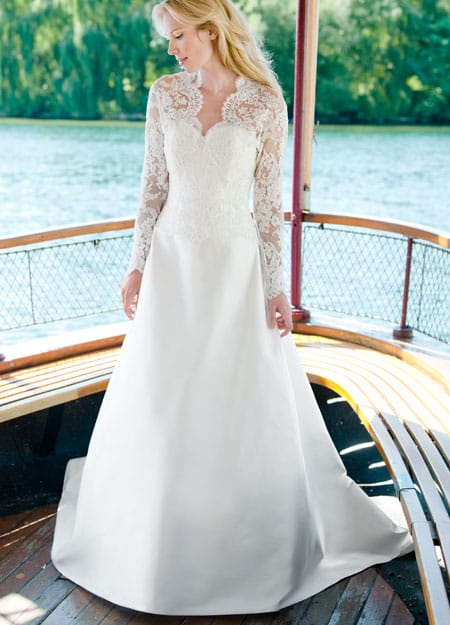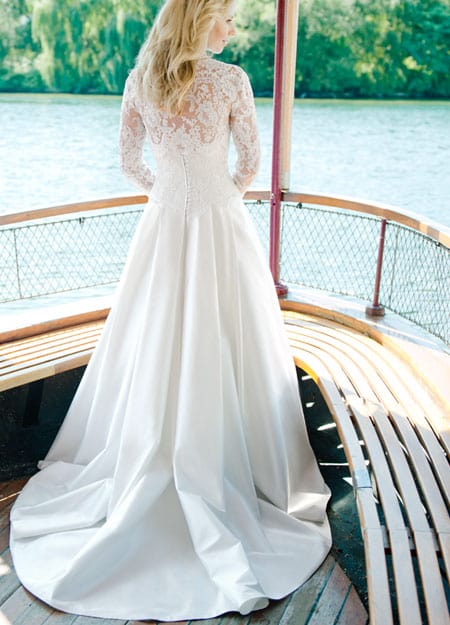 ---

FARRAH
Farrah gives the feel of a ball gown by way of a full, dramatic train cleverly attached to a column silhouette, with a lace applique at the bodice. Once the grand train has made a majestic sweep down the aisle, it can be removed to reveal a second, sleek look for a magnificent entrance at the reception.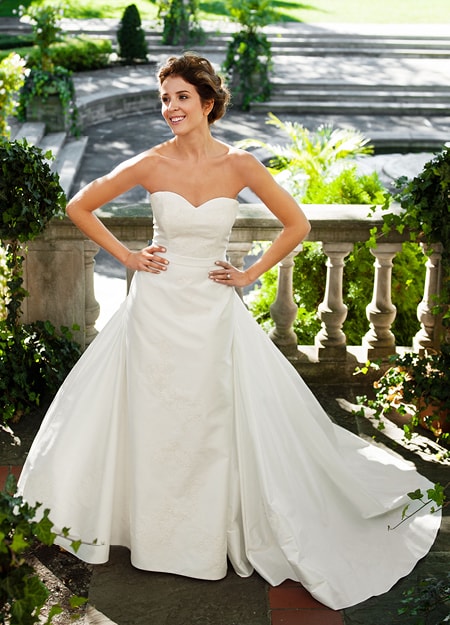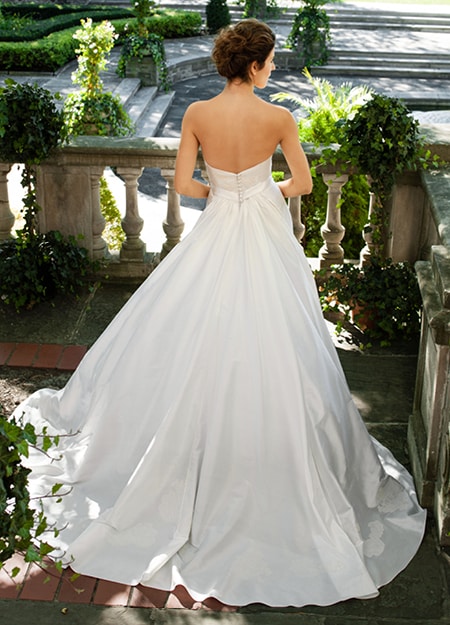 I hope you've enjoyed this look at the classic styling and impeccable quality that make Lea-Ann Belter's bridal gowns such treasures.  Lea-Ann Belter's flagship store is located in Toronto, and her wedding dresses are now available in 40 stores nationwide.
To view the complete Lea-Ann Belter Collection, or to find the bridal boutique  nearest you, visit  www.lea-annbelter.com
Lea-Ann Belter has also been selected as a member of The Collection on Dress For The Wedding. The image of her Katherine gown on that page will also link you to her site and complete collection.
Special note: Lancaster, Pennsylvania brides can visit the Lea-Ann Belter Trunk show at In White  April 4- 6.
This content was created specifically for Dress For The Wedding. Please do not reproduce.