Peach and Pink Floral Dress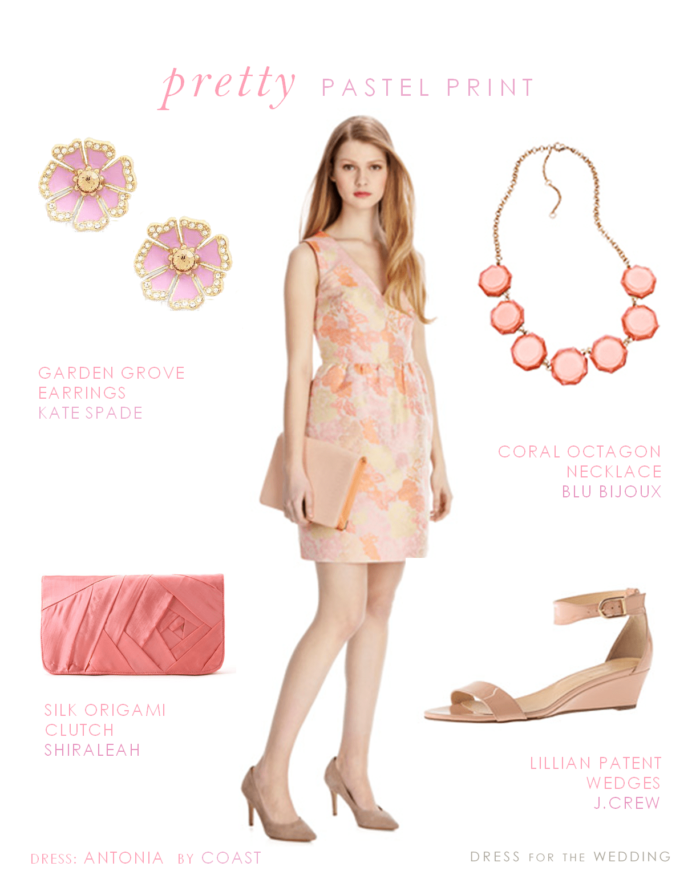 Antonia Jacquard Print Dress from Oasis /Gold and Coral Octagon Necklace /Lillian Wedges from J.Crew in Apricot Mist /Coral Origami Silk Clutch /Kate Spade New York 'Garden Grove' Stud Earrings
Peach and Pink Pastel Floral Print Dress
Some of the big trends for spring are florals, pastels, and jacquard fabric. Guess what? This peach and pink floral dress has all three! It's amazing that something so on-trend can also look pretty timeless. I mentioned in an earlier post about florals, that I used to shy away from them--but with this kind of subtle super-pretty print, I'm fully on board!
If you look closely, you can pick up on several pretty colors that are options to highlight with accessories: I see a little butter yellow, light orange coral, pinky lavender, and pale pink, too. I chose a darker pink for the clutch, some casual (but polished) apricot wedge heels, pinky purple small floral earrings, and a chunky coral necklace to bring out that orangey-pink.
Where would I wear this? Well, a bridal shower to start -- either as a bride or as a guest. A bride could wear it to her summer engagement party, her engagement photo shoot, or bachelorette party. I'd also certainly wear it as a wedding guest to a daytime spring or summer dressy casual wedding. Geesh, I'd even have it for bridesmaids if you want a subtle floral print, that won't overwhelm in photos. It would be really pretty option for a coral or pink and orange themed wedding. ( Hey! I have some Pinterest ideas about those!)
There you have it definitively; I'd pretty much wear this to every event--all spring and summer! Seriously, though, I've been showing a lot of these multiple purpose dresses lately, and I hope it's heartening that they have so many functions-- not confusing. As I'm doling out this advice, my fingers are crossed that you aren't all going to the same wedding, where the guests, bridesmaids, and everyone else is wearing this!