Light Blue Wedding Shoes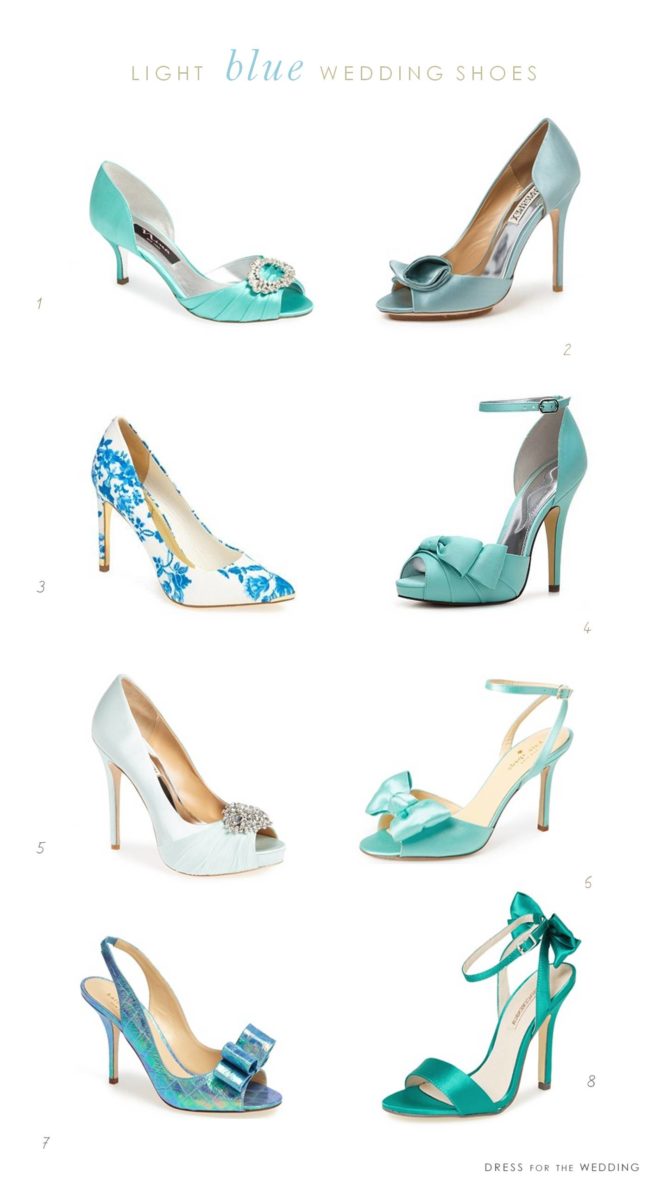 1. "Crystah" Embellished Satin Pumps by Nina  2. 'Tarian" Pumps by Badgley Mischka   3. "Luceey" Blue and White Floral Pumps by Ted Baker 4. "Emmylou" Satin Pumps by Nina 5. Badgley Mischka "Petal" Pumps  6.  kate spade new york "ilexa" satin sandals 7. kate spade new york  "charm" slingback pumps 8.   Milan Sandal in Turquoise by Menbur
Pale Blue Wedding Shoes
From the popularity of a few of my shoe collages on Pinterest, I can see that many of you are searching for just the right wedding shoes. It's always fun to bring in a little color and personality to your wedding attire, and one of the easiest ways to do that is with your shoes!
For brides wanting to have their shoes as their "something blue", there are so many choices! In fact, when I started this collage, I had dark and light blue wedding shoes mixed together. Not only did I quickly run out of room, but the color mixes looked a little chaotic, so the darker blue shoes are scheduled for a later post!
I love light blue wedding shoes, because they are just a subtle whisper of color, and they have great wear-again potential. You can find just a hint of color from an ice blue pair like the Badgley Mischka "Petal" pumps ( #5 above), a classic baby blue shade, or infuse your look with more of a aqua Tiffany blue, which is always a popular choice for weddings.
The pair that really caught my eye this time around is that floral pair that looks like blue and white china pattern. Wouldn't that be a fun, feminine way to add a little hint of blue? Whether you're looking for pale blue shoes to complete your bridal look, or you want your bridesmaids to wear blue on their feet-- or like me -- just a lady who loves a good pair of blue shoes, here are 8 picks for you to consider.
Looking for more light blue wedding inspiration, or some more bridal shoe ideas? Here are a few posts for you:
Light Blue Wedding Attire Ideas
Follow My "Bridal Shoes" Pinterest Board



More style ideas you might enjoy :