We've all heard that a bride should have, "something old, something new, something borrowed, something blue" with her on her wedding day to bring good luck to the wedding and marriage. Here are 100 ideas for ways to do something blue.
The shopping sources in this post use affiliate links, which means this site may earn a commission if you make a purchase from our links.
Something Blue Ideas for Weddings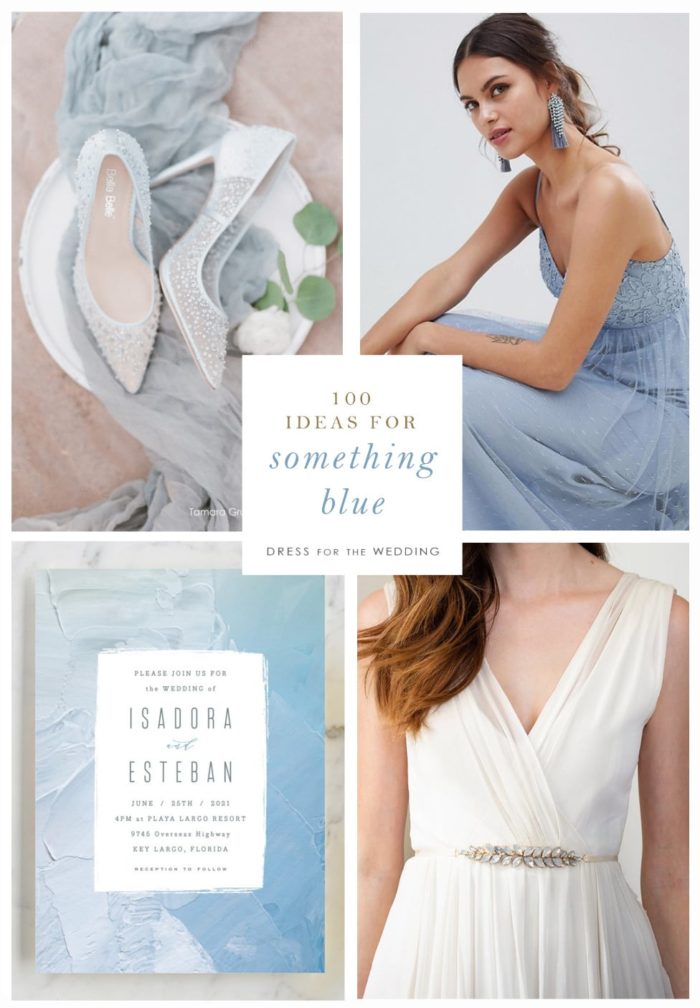 Image credits and shopping sources: 1| Elsa Luxury Sequin Pumps from Bella Belle Shoes. Photo by Tamara Grüner Photography 2 | ASOS Dobby Lace Maxi Dress 3 | Painted Sea Wedding Invitations by Hooray Creative from Minted 4 | Blue Moonstone Bridal Belt from Davie & Chiyo on Etsy
100 Ideas for Your Something Blue
Picking out your something blue can be a fun way to have a little more symbolism to your wedding attire, or a chance to include a fun keepsake in your wedding. This shop section contains 100 + ideas for how to do your something blue! Click on any image to be connected with the shop that sells the something blue that has caught your eye.
These something blue shopping sources affiliate links, which means this site may earn a commission if you make a purchase from our links.

Ways To Do Something Blue in Your Wedding
The Shop section above has all the visual ideas we could collect, now here are a few more tips on how to implement these ideas!
Blue can be easy if you're having blue bridesmaid dresses, or blue suits or flowers, but what if blue just doesn't fit with your color scheme? Have a bit of blue stitched in your dress, some blue in your pedicure, or even just have a note on your shoes or in your pocket written in blue ink.
Here are all the ideas we've seen for a clever way to do something blue!
Flowers Work with your florist who will be able to help you find some blue flowers that are in season to include in your celebration. Hydrangeas, delphinium, and thistle are some to consider.
Earrings From a subtle moonstone, aquamarine, or blue topaz, to a deep sapphire blue, many fine jewels, or even their faux counterparts, have a blue hue. Here are some of the many earrings for your something blue on Etsy!
Hair Accessory Your something blue could take the form of some beautiful jeweled stones in an hairpin or comb, or some pretty blue floral hairpins. A blue ribbon would work perfectly as well! Or, if it's your style maybe you'll dye a few strands blue. For a less-permanent approach; try one of these something blue hair accessories on Etsy
Veil This is a real statement piece, but there are beautiful blue wedding veils to be had. We love this blue veil from Veiled Beauty.
Sewn-in patch Many Etsy shops offer keepsake blue patches that can be sewn in to your wedding dress or other attire. These patches can be customized with your initials, name, date, or a meaningful phrase. We love the patches for dresses and ties created by Shannah J Smith.
Shoes. This is one of our favorite ways to add a 'something blue'. There are some beautiful blue shoes to be had. We love the blue wedding shoes by Badgley Mischka, as well as the pairs by Bella Belle. Bella Belle shoes of all colors and styles come with a blue lining, to make it easy to have your something blue, even if it's not in your outward-facing attire and color scheme.
Bracelets A beautiful bridal bracelet with blue tones or fine jewelry bracelet in sapphire, topaz, aquamarine, or other blue stone is a wonderful way to do a something blue. We love the look of these blue crystal bracelets offered by Callie On Etsy.
Necklace a beautiful statement necklace with a blue stone, or a simple pendant in blue can be a beautiful touch!
Garter Even if you don't want to do a garter toss, wearing a garter with a bit of bluecan be a fun way to cover your something blue, and the garter makes a great keepsake. The Garter Girl creates some beautiful heirloom garters.
Ring Perhaps your wedding ring or engagement ring will feature a blue stone. If not, maybe you'll wear a blue ring on another hand. We love this delicate stacking ring from Minimalist Magnolia.
Dress. One could choose a <a< span=""> href="https://rstyle.me/n/dakzxfnqm6">blue wedding dress. See the shop section above for more beautiful examples.
Brooch Use a brooch to accent a part of your wedding day outfit, to pin back a sash, on your bouquet wrap, to add to a simple cloth clutch, or use two on your shoes.
Pin Similar to a brooch, but just a small something blue pin that can be on display, hidden somewhere in your dress, or in your bouquet or even in your pocket.
Sash A blue bridal belt can be a beautiful way to do something blue. We like the blue-tinged moonstone belt shown above from Davie and Chiyo, or any one of these blue bridal sashes.
Bridesmaid Dresses If you're having bridesmaids or a Maid of Honor - and it works with your wedding colors - have them be your something blue! We always keep these pages stocked with light blue bridesmaid dresses, dusty blue bridesmaid dresses, and navy blue bridesmaid dresses.
A Suit For brides, grooms, or groomsmen a light blue or navy blue suit can be an elegant look.
Clutch A pretty pale blue or navy blue clutch can be a great way to keep essentials close at hand, and to cover your something blue.
Ties Ties for the groom, groomsmen in shades of blue or navy can be an easy way to do something blue.
Jacket or Wrap or Topper Jackets, wraps and toppers are any easy way to dress up a wedding dress. If you pick one in blue - or even perhaps do a few photos with a denim jacket over your dress - there you have your something blue!
Handkerchief A handkerchief for happy tears can be a great keep sake for the wedding, and can a subtle way to do your something blue. Have one embroidered in blue thread with your wedding date, initials or something meaningful to you as a couple. We think the </a<>Etsy shop Donovan Designs Linens has some of the prettiest examples of something blue handkerchiefs for a wedding.
Flower Girl dresses Have your flower girls or ring bearers wear a blue hue!
Ring box A pretty ring box like this one, could be a way to have your rings presented on your wedding day and kept in safe keeping. Try this one from Marcia May Designs.
Invitations Start your wedding off with your something blue, by having some blue in the invitations. Have it on hand for the day of your wedding so that your photographer can get an image of it.
Vows If you're writing own vows, write them on a slip of blue paper, with blue ink, or in a blue vow book like this!
Cake Have a blue detail on your cake, or a blue cake topper.
Signature drink Your caterer or bartender will know how to make some blue beverages that are both delicious and fitting!
Charm Have a small keepsake or blue stone pinned to your dress or bouquet, on a bracelet, in a pocket, on your shoe
Undergarments Wear your something blue underneath! We love this I do thong!
Ring pillow Have your ring bearer carry a pretty pillow with some blue element to it.
Your wedding decor Your entire wedding can be your something blue. Navy blue, dusty blue, or sky blue or any other shade of blue can make for a wonder wedding color scheme.
Ribbon in bouquet The ribbon itself, or just a simple charm like this Something Blue charm from Dogeared can be the perfect thing!
Note in Blue Ink Keep a note from someone special, or a note to yourself, or your vows, and have it written in blue ink, or on blue paper.
Manicure or Pedicure Pick a blue nail polish for your nails. If full blue nails arefor you, just have a blue polish done a little on a single digit, or a toe in your pedicure, or use a dab of blue in some creative nail art.
Soles of your Shoes. Some bridal shoes come with blue soles or blue linings to help stand in as your something blue. One could also add a little I Do decal in blue. We've also seen bridesmaids or the groom write a note (in blue ink, of course!) on the soles of wedding shoes. The goal is to dance it all off the soles of your shoes for good luck, so be sure to get a picture beforehand.
More Ideas for Your Wedding
Now that you have your something blue settled, check out some other wedding ideas, including wedding dresses, dresses for your bridal shower, or Mother-of-the-Bride dresses!