Lilac Gray Dresses for a Lilac Gray Wedding Color Scheme
Continuing with our look at Pantone's Fashion Color Report for Spring 2016, we introduce Lilac Gray, with this Lilac Gray bridesmaid dress.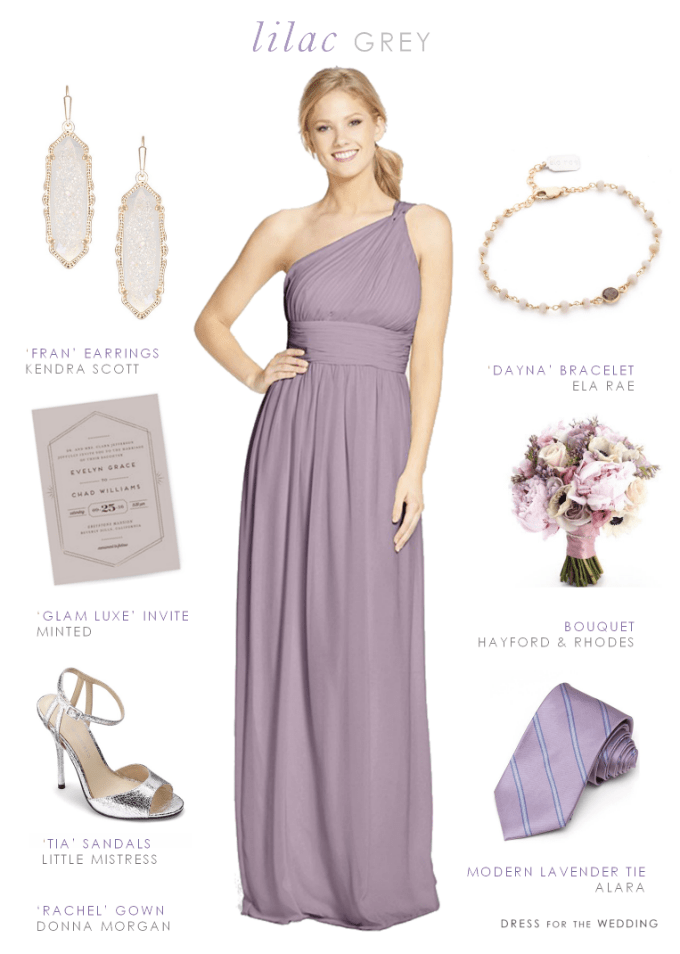 Sponsored shopping links from our affiliates are written in italics and also found in the shopping details in this post.
Dress: 'Rachel' Gown by Donna Morgan in Grey Ridge from Nordstrom (if this isn't your color, this dress also comes in 20+ other shades!) // Earrings: Kendra Scott Fran Drusy Drop Earrings from Nordstrom // Bracelet: Ela Rae 'Dayna' Bracelet from Shopbop // Bouquet: Rose, peony, anemones, freesias, lisianthus and lilac bouquet by Hayford & Rhodes featured on Wedding Flowers UK // Tie: Alara Modern Lavender and Blue Stripe Tie from Bluefly // Shoes: Little Mistress 'Tia' Sandals from Simply Be // Invitation: Foil Pressed ' Glam Luxe' Invitation by Shirley Lin Schneider in Orchid by Minted
When I heard that Lilac Gray was one of the colors for spring, in addition to being delighted, my immediate thought was that there is already a color dress that perfectly conveys this mystical mix of gray and lilac - it's Donna Morgan's Grey Ridge, which is that same wonderful mix of gray warmed with a lavender cast. Depending on the light, and the accompanying accessories, this color will leave you asking - 'Is this gray or purple?' And it's both!
I love this color, because the lilac infusion warms up this gray undertones making this color a little more cheerful and easy to wear and pair with gold, bronze and other warm tones instead of just being limited to the silver family! The collage above is how I envision using this lilac gray color for your bridesmaids, and in your invitations, accessories for groomsmen, and even the bouquet! If you're looking for more contrast, this color is nearly a neutral, so nearly any metallic or pastel works and it also pairs well with soft greens, and even some orchid shades.
Other Spring 2016 Pantone colors in this series:
See more :
Grey Bridesmaid Dresses from Nordstrom
'Grey Ridge' Dresses from Donna Morgan at Nordstrom
Grey Bridesmaid Dresses in our bridesmaid shop
Purple Mother of the Bride Dresses
Links in italics and in the shop section are from affiliates and sponsors, meaning that this blog may earn a small commission at no cost to the purchaser if a qualified sale is made.
Shop The Look

More style ideas you might enjoy :