Make a signature scent with Perfume Bar Soiree and create wedding memories!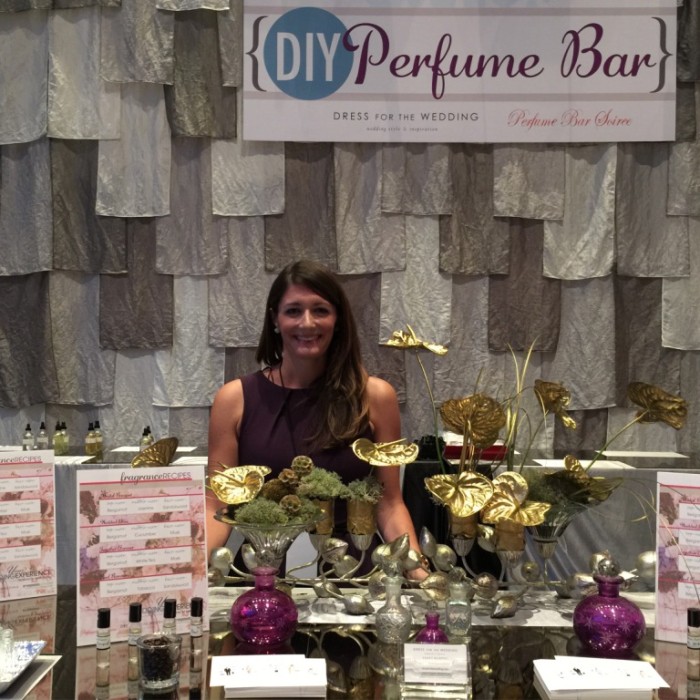 Hosting a Perfume Bar Soiree is a fun and unforgettable experience, and a great way to create a signature scent for your wedding day!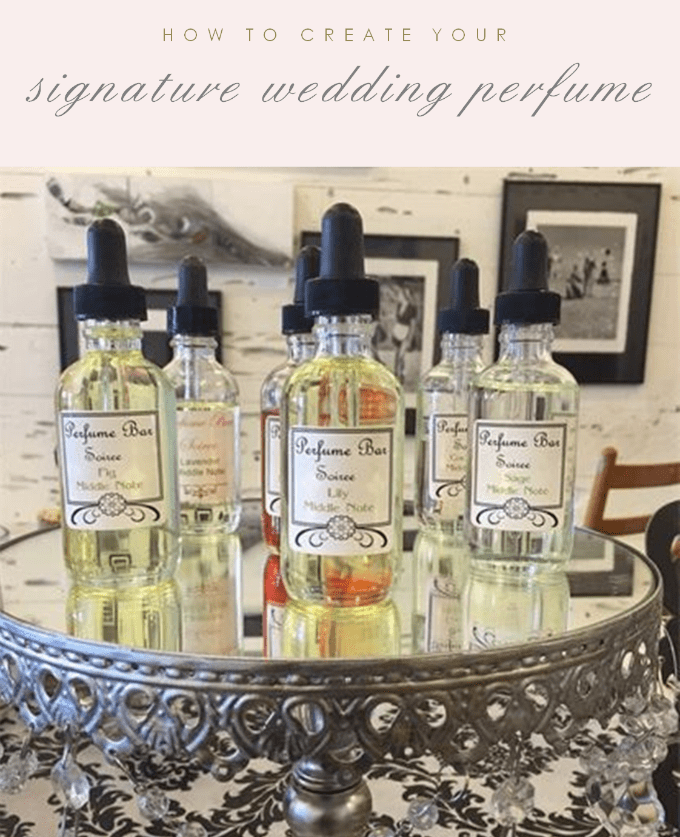 A few weeks ago, I had the chance to experience and host one of the most fun activities I've done in a long time; creating your own perfume with Perfume Bar Soiree at Your Wedding Experience Philadelphia. I was lucky enough to have Perfume Bar Soiree partner with us to offer our show guests a DIY Perfume Bar.  It was such a fun group activity and a wonderful way help couples make a signature scent for their wedding day!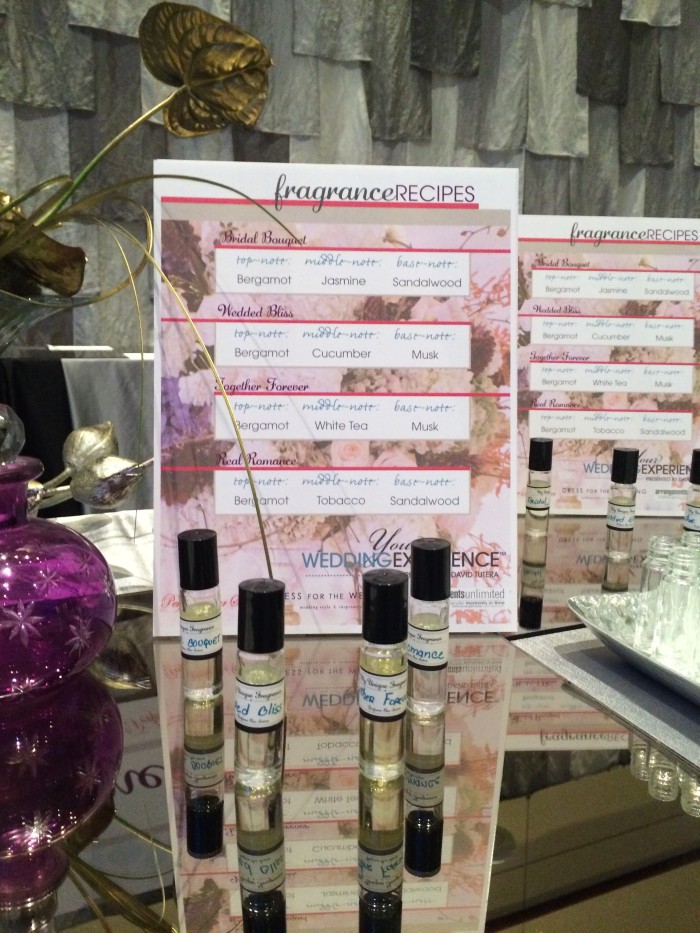 Our wedding day scent recipes at the DIY Perfume Bar hosted by Perfume Bar Soiree!
As you may know, scent is deeply tied to our memories. Don't we all know a friend or loved one who wears a certain scent, and we think of them immediately when we smell that fragrance? That's why many wedding experts recommend wearing a unique scent on your wedding day. Each time you wear that scent again, you'll recall your happy wedding day feelings. So why not create a one-of-a-kind wedding fragrance to wear again on date nights and anniversaries? You can design your own custom mix and create a perfume unlike any other with Perfume Bar Soiree!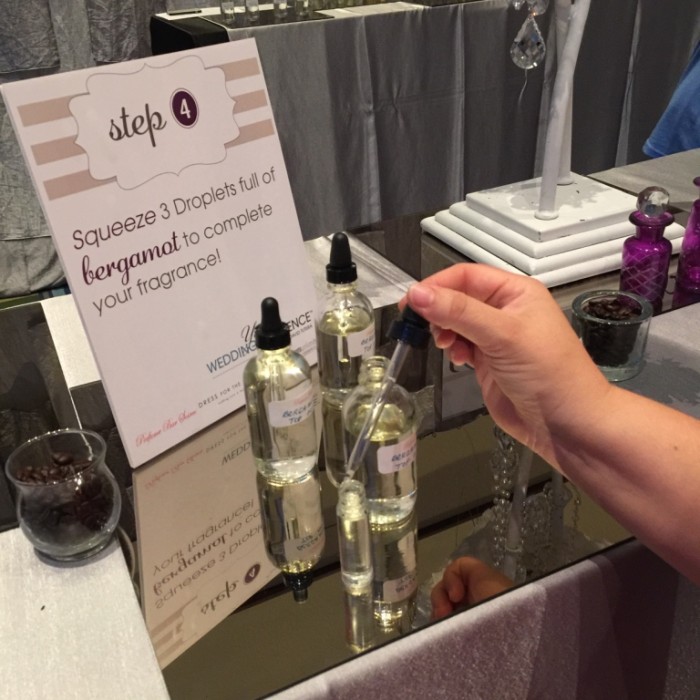 Creating a custom wedding perfume a few droppers at a time.
At our DIY Perfume Bar, we created a few scent recipes for our guests to try, but we also offered the individual essential oils,  so that our guests could concoct their own fragrance. If a bride preferred a warm scent, she could use more tobacco and sandalwood notes, or if she preferred a floral fragrance, she added a scent like jasmine. If you'd like to try this process at home, you can order a personal kit from Perfume Bar Soiree.
Now, I've gone on record here in my beauty posts about my sensitivities to fragrance, and about my attempts to use more non-toxic cosmetics, and I'm happy to say Perfume Bar Soiree fits in perfectly with that. I can't wear synthetic perfumes, but Perfume Bar Soiree kits use phthalate-free essential oils and coconut oil as base. It's a natural approach to perfume making, and the result is such a clear and clean scent! Several of the women I spoke with at Your Wedding Experience appreciated that too; not only are the scents easy-to-wear, but you can control how much of each oil you use.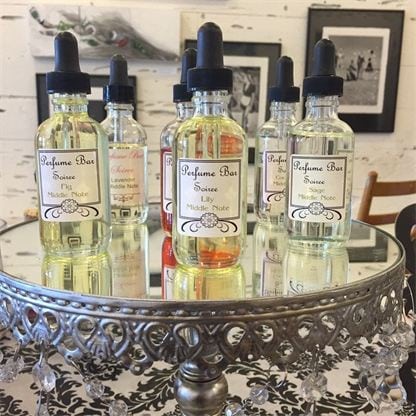 Essential oils are used to bring in the various fragrance notes in Perfume Bar Soiree custom perfumes!
While the single kit is an option, more memory-making fun comes from creating an event out of scent creation like we did! It's easy and an unforgettable event, where each person gets to create a scent that uniquely appeals to them.  Perfume Bar Soirees are great activities for bridal showers, bachelorette parties, birthday parties, or any other event where you want people to mix and mingle and have a unique experience! You can even have a Perfume Bar as a wedding activity for your guests to make their own perfume favors, or give a kit as a gift for a scent lover you know!
So, if you want a fun activity that your bridal shower guests will remember for years, or if you want to try to make a delightful custom scent for your wedding,  please get in touch with Perfume Bar Soiree to discuss the details!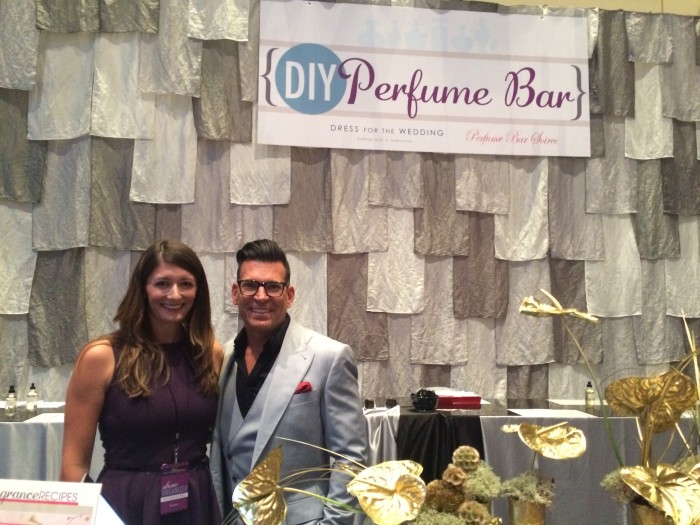 David Tutera stopped by to see the scents we created at the DIY Perfume Bar!
Thank you to Perfume Bar Soiree for making our Perfume Bar set up possible at Your Wedding Experience Philadelphia. Thanks to Atomic Design for our backdrop with linens and florals by Arrangements Unlimited!