Little white dresses are the staple of any good summer wardrobe, especially if you're the Bride to Be.
Little White Dresses
In a previous post about dresses for bridal showers, we wrote a little bit of our take on little white dresses. We love little white dresses and think each bride-to-be should have at least one.
We also think that the color white should still be "reserved" for the bride not only for the wedding but for all the events leading up to the wedding. After all, there's something so dazzling about a white dress that it does tend to make one the center of attention, so shower guests and friends should try to choose another color.
Shopping sources on this site use affiliate links, which means this site may earn a commission if you make a purchase from our links.
Shop Little White Dresses

Blog Post: Little White Dresses for the Bride to Wear to Engagement Parties, Bachelorette Parties, and Rehearsal Dinners!

Shopping links are from our affiliate partners: Jenny You Harlow Metallic Sheath Dress / Textured Peplum Dress / Lilly Pulitzer Payton Pinwheel Organza Dress / Watters Encore "Pepper" / Also check out our little white dress shop page
However, I think we've gone a little crazy for the idea that the bride should wear white to all the events she attends, which can include several engagement parties, bridal brunches, rehearsal dinners, bachelorette parties and showers. If that is your personal style or dream to wear a cute little white dress to each of these– by all means go for it. After all, it really is the one time in your life you are given carte blanche to wear white. That said, my personal opinion (gained while watching TV shows where the bride wears white to everything) is that if your friends' guests see you in nothing but white at every single event in your honor, the big white (or ivory) dress at the wedding may lose a little – wow-look-at-her factor!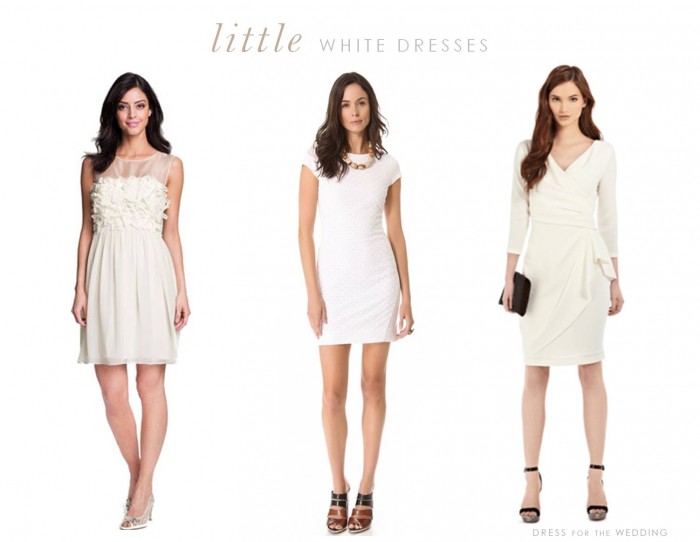 Embellished Ruffle Chiffon Dress /Pele Eyelet Dress / Enna Sleeved White Dress
I am also a little frugal, and like a wear-it-again element. All the dresses ( of several different colors) I accumulated throughout my engagement served me well to wear again on my honeymoon, and for other post-wedding events. If I had a closet full of white dresses, I'd simply have a bunch of white dresses that I'd be unable to wear as to anyone else's shower, wedding, or in the offseason. (The white eyelet dress I do have, I have worn on several vacations since and everyone assumes I'm a honeymooner!)
My thought is that each bride should have one or two white dresses (especially a spring or summer bride), but then mix it up a little with another signature color from your wedding, or ivory, cream, pastels or any color that makes you feel bridal ( for me it was pink!)
The other short white dress trend is the reception or exit or second dress. My feeling is that if you really love your wedding dress, it's already a shame that you only get to wear it for 6 hours, and never again–not to mention the changing time takes you away from valuable time with your guests at your party.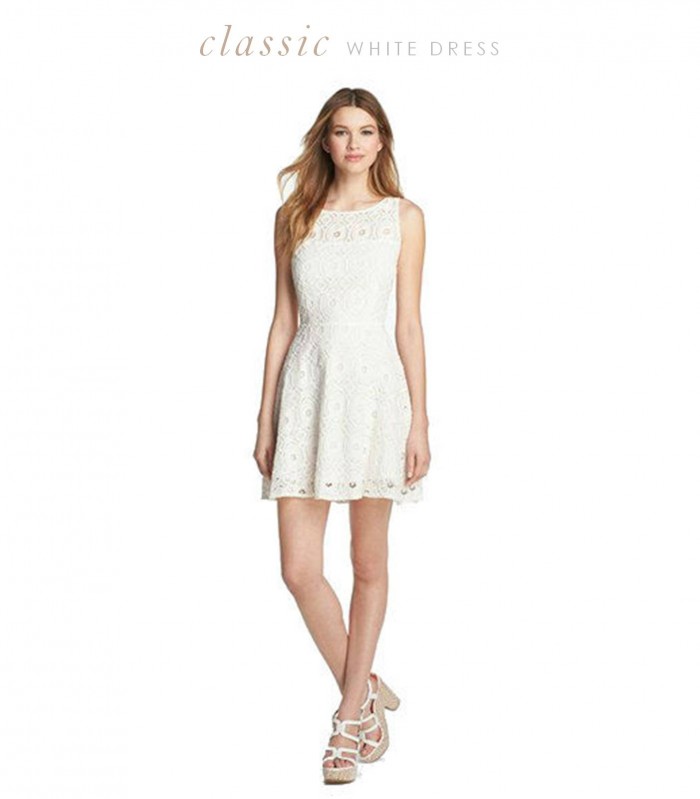 Fit & Flare Dress from Nordstrom
However, I do have an image in my head of my mom in her "getaway" dress getting into the car at the very end of the night. Even though it wasn't white, it was still pretty fun to see the change up, and to see her leggy look after being covered up. So maybe if you're having a late night party, or you just have to dance and your dream gown doesn't allow for it – a second little white dress is for you!
Finally, on my little white dress monologue –of course I love the idea of a very bridal looking short white dress for any intimate wedding – a casual beach wedding, destination wedding city wedding , Vegas nuptials, or a second wedding. That look to me is so classic, and elegant as can be!
So with all my various opinions on little white dresses out there, I had no trouble finding tons of little white dresses to love. So pick one or two or as many as you like to complete your bridal trousseau!



By the way, Lilly Pulitzer has an entire collection of
Little White Dresses
Nordstrom
have little white dress collections, too!
Check out the wedding dresses in the bridal boutique, too!
Let me know in the comments, what's your take on the little white dress?