The countdown to your wedding is on, and you're about to celebrate by saying goodbye to single life with a bachelorette party. If the date is set for your bachelorette, but you still need a dress to wear, this post has you covered.
We'll share some of the best bachelorette party dresses for brides that we've found, including details of where to buy them and where to wear them! From sophisticated and short little cocktail dresses, chic jumpsuits, and separates, to fun prints and sequined ensembles, we'll guide you through finding the perfect bachelorette party fashion.
Our editors review current retail selections and hand-select the dresses featured here. Commissionable links are used in this shopping guide.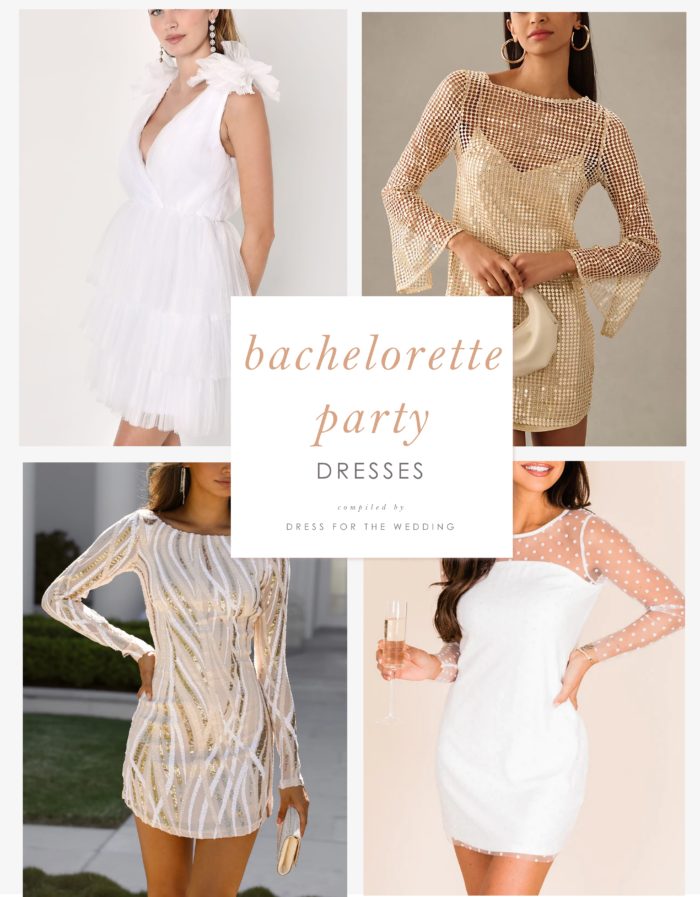 Image sources and shopping links: 1. Dramatic Arrival White Tulle Dress from Lulus 2. Audette Sheer Slim Dress from Anthropologie 3. Gold Tunes Dress by Hello Molly 4. Dress for Revenge Polka Dot Long Sleeve Dress from Pink Lily
Finding The Best Bachelorette Party Dresses for Brides-To-Be
In addition to the main wedding event - and the wedding dress that goes with it -- brides-to-be often find themselves needing a whole slew of dresses for the events leading up to the big day. A few days ago we created shared ideas for the best dresses for brides to wear to their bridal shower, and looks for the rehearsal dinner today we're tackling the best bachelorette party dresses for brides to be.
Your bachelorette party is a chance to heartily celebrate your closest friendships, look forward to your wedding day with your closest friends, and make some unforgettable memories. We've made it easier than ever to find a dress by checking out some of our favorite stores for bachelorette dresses and featuring them all in one spot. Here are more than 75 looks we feel would be perfect to wear to your bachelorette.
Our Top 75 Picks for Bachelorette Party Outfits and Dresses
Body-conscious, thigh-high, tight, short, and flashy--these are not the usual dresses we recommend for weddings, but today's focus is the bachelorette party, so it's ok to lose some of the tame styles we usually recommend and find a fun party dress!

What Should a Bride Wear For Her Bachelorette Party?
While there's no formal dress code for bachelorette parties, As you can see from the dresses and outfits we've picked above, in general, we think the bachelorette party attire is the perfect time to break out all the fun dresses that we usually don't recommend wedding guest attire and bridesmaid dresses. We love a little white dress for the bride-to-be, but that's far from being the only option. In general, it's the perfect chance to wear more daring styles, take fashion risks, and express your personal style. Shorter hemlines, flashy sequined dresses, embellishments, and just anything that fits the theme of your style and the vibe of the part itself certainly won't be out of place at a bachelorette party.
Bachelorette parties are a fun time to celebrate the bride, let your hair down, and have your closest friends and bridesmaids out on the town for a little fun and bonding time. Whether you're going on a big weekend full of events, or a semi-low-key event at a local bar or restaurant, it's a nice chance to wear fun dresses, jumpsuits, and outfits.
Attire Ideas for Themed Bachelorette Parties
Often bachelorette parties will have a theme, and sometimes the invited guests will be asked to join in. If you're having a weekend getaway So for instance, we've seen bachelorette parties where the bride wears a white dress, and the guest is asked to wear black dresses or outfits to help the bride stand out. We've also seen the opposite approach where all the guests wear white and take on the town challenging everyone they meet to figure out which one is the bride. We've heard of prom-themed bachelorette parties and bachelorette parties where everyone wears an old wedding dress borrowed from a relative or from a thrift store. Here are just a few ideas based on some of the themes we've seen in the past.
White Tie Front Dress for a Wine Tasting Bachelorette Party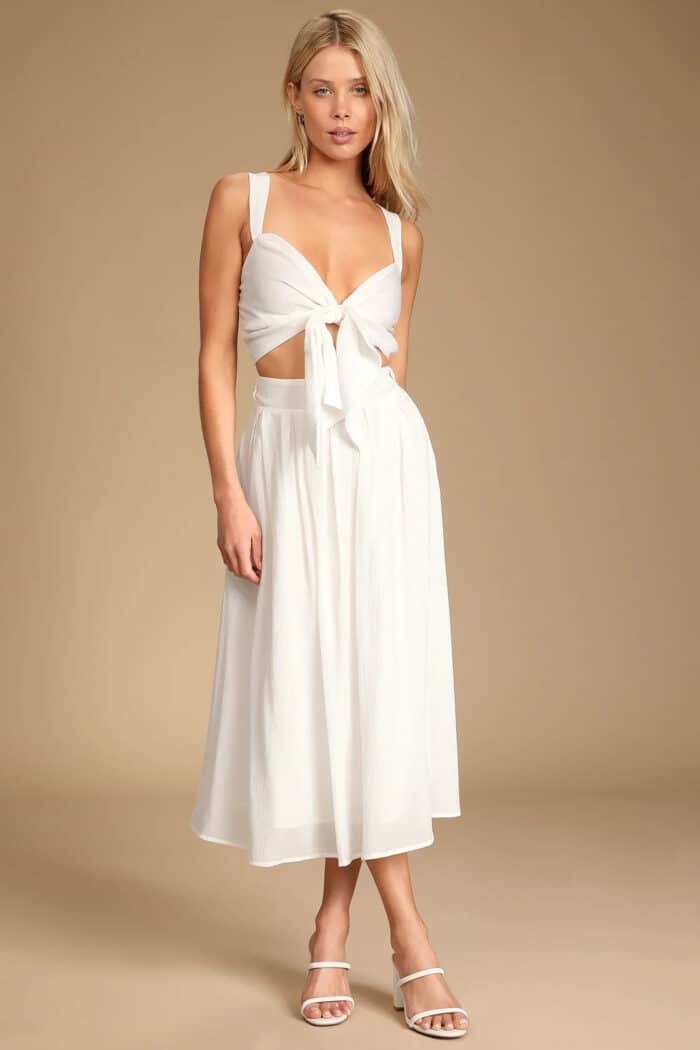 Shop this Dress at Lulus
Heading to Napa or even just the local winery or restaurant for a wine-tasting? This sweet style with a bow front and cutouts adds a twist and looks very vineyard-y but also is a great day-to-night bachelorette party dress.
White Mini Dress for a Nashville Bachelorette Party
Shop This Dress From Hello Molly
Nashville is an increasingly popular destination for bachelorette parties! This cute checked fabric and short style seem like a winning combination of country-meets city style that the town is known for. Add some boots and hat and you're ready for a night of music and memories!
Boho Cover up For a Beach Bachelorette Party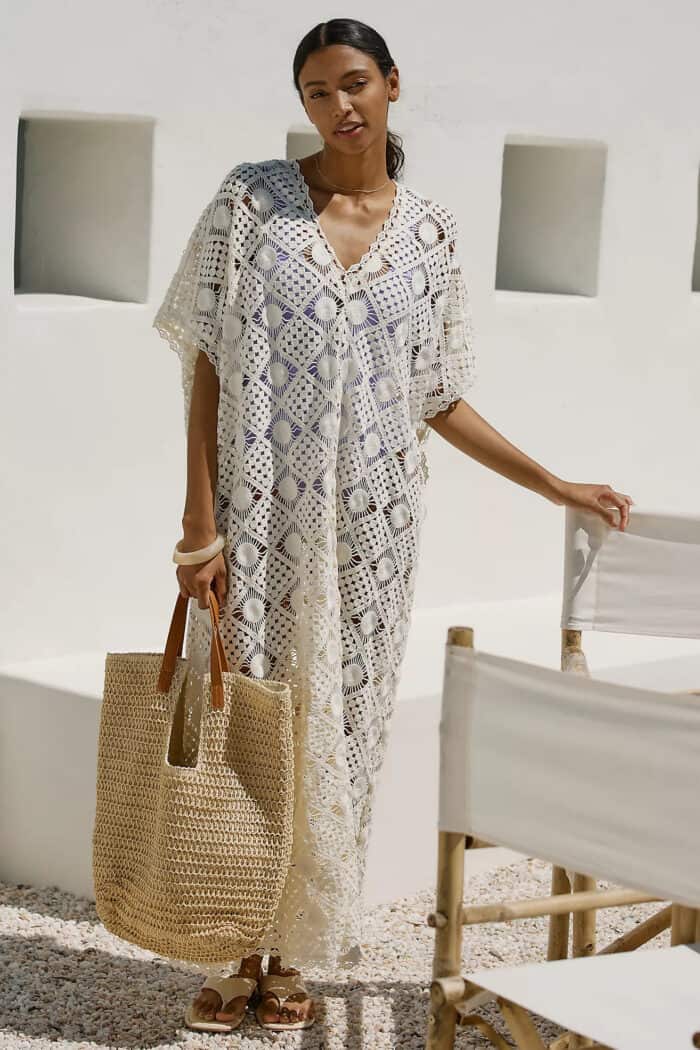 Shop this Style from Anthropologie
If your bachelorette party plan included lounging by the pool or heading to the beach, we think this full-length crocheted cover-up is the perfect choice to strike the balance of bachelorette guest-of-honor and coastal chic.
Gold Sequin Vegas Bachelorette Party Dress

Vegas bachelorette parties are a classic, and we think this one-shoulder mini dress with drape gold sequins is a perfect match for the glitter and anything-goes style of Las Vegas!
White Sequin New York City Bachelorette Party Dress

New York's style is similarly over the top and sophisticated as a night in Vegas. This one-shoulder white sequin dress with structured shoulder is perfect for anything the city has in store for you!
White Midi One Shoulder Dress for a Tea Party Bachelorette

Changing pace from the usual bachelorette is a tea party-themed fete. We can picture a boisterous afternoon high tea with everything from sandwiches, tea, cakes, and champagne. Wearing this sweet dress with its oversized floral detail at the shoulder and scalloped skirt seems like the perfect fit!
Glamourous Bride Bachelorette Party Dress

A sophisticated evening combined with an over-the-top party calls for a stand-out flashy dress. This one with mirror ball sequins and luxe faux feather details is sure to be a stunner!
Festival Bachelorette Party Dress

Shop this style at Anthropologie
Whether you're headed to a girls' weekend in the desert, a music festival or just having a party with that vibe, we love this two-piece style of top and slit skirt dress for your bachelorette look!
Hometown Classic White Bachelorette Outfit

If you're staying close to home and heading out to the local haunts, you might want a low-key style that still has a bit of bachelorette flirtation to it. This pretty little white dress for under $50 is perfect for a hometown celebration.
White Cocktail Dress for a Bachelorette Bride

Shop this Dress at Hello Molly
For a night spent creating craft cocktails with friends or a night at the most exciting mixology-inspired bars and restaurants, you can't go wrong with this, the ultimate body-con lace white cocktail dress!
Past Features
Just in case you're looking for dresses we've featured in the past on this page, we've included this list of descriptions and dresses we've featured previously. These dresses are usually out of stock but we include this list just in case you are reaching this page in search of a particular dress from a Pinterest pin or other link.
Gold lace and sequin short shift dress by Dress the Population Megan Sequin Lace Sheath Dress
Short Sequin Shift with Boat Neck and Slight Fit and Flare Mini Skirt and Spots of Rose GOld Sequins Badgley Mischka Sequin Shift
Rose Gold Sequin Mini Dress with Short Sleeve and Shoulder Cutouts:Mercedes Cut Out Dress
White tank dress with art deco pattern of silver sequins: Sequin Cocktail Dress from Nordstrom
Gold and silver sequin mini shift dress with long sleeves Vie La V Sequin Shift
Eyelet Ruffle Maxi Dress with Sweetheart Neckline and Spaghetti Straps
Black and White Strapless Dress with Chevron Pattern Atwood by LulaKate.
Strapless bandeau short floral fit and flare dress from ASOS.
Short black boat neck stretch fit and flare.
Bachelorette Outfit Ideas
This is an old post, but we thought this look was ideal for a bride to wear because of that white background combined with silver and the silk and beading - it's a little bit elegant and a little bit flashy at the same time. I particularly like how the sleeve keeps the short hemline from being too over the top.

Parker 'Serena' Beaded Silk Sheath Dress / Link Earrings / Disco Stud Bracelet / Franchi La Sera Daniella Clutch / Demario Pump from Enzo Angelini
We thought this look was ideal for a bride to wear because of that white background combined with silver and the silk and beading - it's a little bit elegant and a little bit flashy at the same time. I particularly like how the sleeve keeps the short hemline from being too over the top.
More Ideas for Wedding Events
Need for ideas for wedding-related events? Check out our picks for little white dresses!
Variations of this article were published on May 16, 2014 and October 3, 2013. This article was updated in May of 2023.