Little White Lace Dress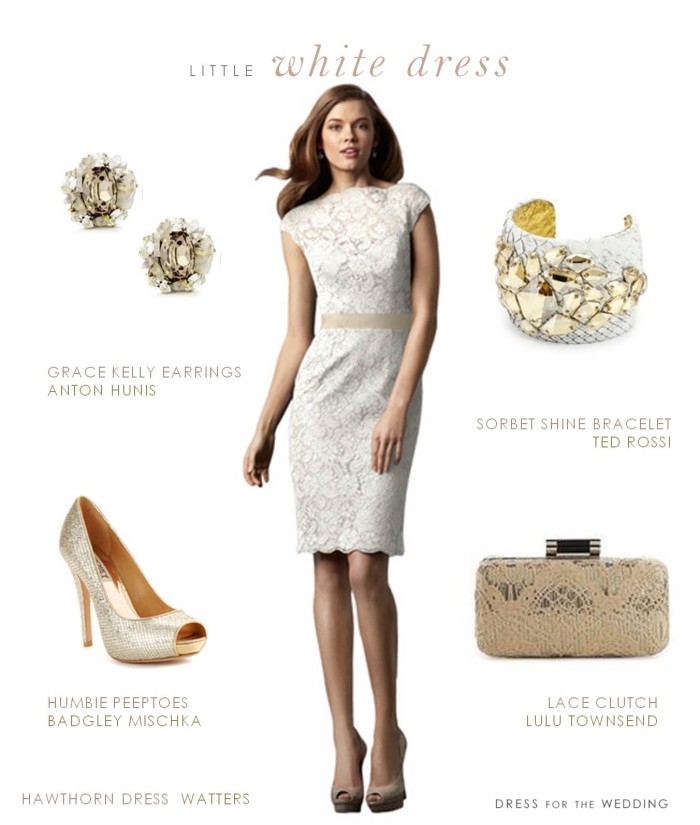 Watters Hawthorn Little White Dress at Weddington Way | Anton Hunis Grace Kelly Crystal Cluster Earrings | Ted Rossi Sorbet Bracelet | Lulu Townsend Lace Clutch | Humbie Peeptoes by Badgley Mischka
The shopping sources in this post use affiliate links, which means this site may earn a commission if you make a purchase from our links.
Happy Wedding Dress Wednesday, all! Today's wedding dress is a little different than most--it's a little white lace dress. I had in mind a City Hall wedding, a dress for a bride's second wedding, or an elopement dress when I created this look, but the truth is, at least one little white dress has a place in every bride's closet. I wrote about when to wear the little white dress last year, and it's time to revisit it again for this year to see what new little dresses are out there!
Lace is always a natural choice for a bride, and it doesn't show any signs of stopping as a big trend in dresses in general. This particular dress has an underlay so you can have a little bit of subtle blush, gray or ivory peek through the lace, and you can add a sash in any color you wish. Since it had a pretty off white sash, I chose accessories that would bring a neutral colors and little silvery gold to the look. It can work as a short wedding dress (add a short veil and hair accessory if you like!) or just a great dress for your engagement party, or to chance into at the reception. Hey, you're the bride - wear it wherever you like!
See more: Little White Dresses | Wedding Dresses | Bridal Accessories | The Collection
Shop The Post: White Dresses