Maxi Dress for a Wedding
I get a lot of readers asking the question, "Can I wear a maxi dress to a wedding?" and my non-definitive answer is: well, it depends. This turquoise/aqua/ mint maxi gown is one I would give the green light to for wedding wear, but some maxi dresses don't qualify as wedding-appropriate. I have more thoughts on that after the picture, but for now, let's all look at this pretty dress!
The shopping sources in this maxi dress post use affiliate links. This site may earn a commission if you make a purchase from our links.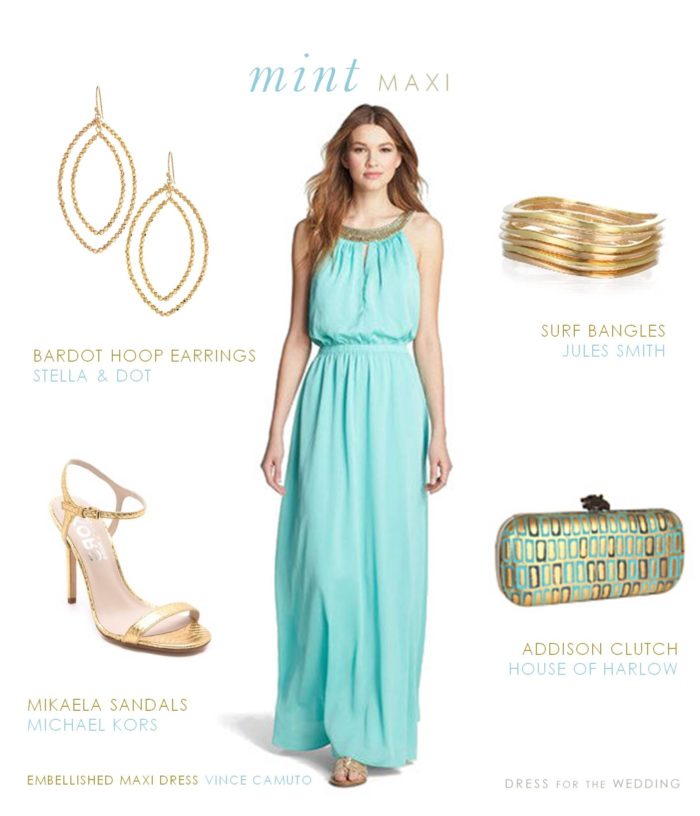 Embellished Blouson Maxi Dress by Vince Camuto / Stella & Dot Bardot Hoop Earrings / Surf Bangles by Jules Smith / Addison Clutch by House of Harlow /Michael Kors Mikaela Snakeskin Sandals
Mint Maxi Dress
Ok, back to maxi dresses and weddings. First of all, perhaps a distinction is in order: maxi dresses and long gowns are two very different things to me. Maxi dresses are tricky -- their length can get them confused with a formal gown, but the fabric or print is usually casual and very informal.
To me, a maxi dress is more of a long flowy, dress in a casual-to-semi-dressy fabric. These dresses are appropriate for daytime wear, or casual evenings out in normal non-wedding-going life. The most common maxi dresses I see are in a thin gauzy cotton or light jersey, so really they are too informal for most weddings and should only be worn for a very casual beach wedding, or outdoor backyard wedding. If you're heading to a church ceremony and indoor reception venue, I would leave those casual maxi dresses at home -- it's not so much about the length, but the fact that a cotton or jersey fabric is so casual.
How to Pick an Appropriate Maxi Dress to Wear to a Wedding
There are some gray areas, though. If you have a jersey maxi dress that has a really substantial well-made jersey or cotton fabric to it, then it might be ok, especially if you dress up the accessories. Just make sure the cut is appropriate (i.e. not too clingy, and conversely, not too shapeless). My rule is, if you're questioning it, you probably don't feel comfortable in the dress -- which is no fun at all, so leave it for another day. If your maxi dress is made out of a more formal fabric like a chiffon, or some kind of light silk, or satiny/poly blend, then I'd say it's fine and appropriate for a daytime to afternoon wedding. Most chiffon fabrics are meant to be formal enough for evening, too, so it's a nice versatile fabric for summer.
If the fabric is a heavy satin or heavy silk with lots of structure to it, then you actually might have a evening gown on your hands rather than a maxi dress. I'd save those dresses for formal weddings where formal attire has been requested or is assumed; otherwise, you might feel overdone at a wedding that is more casual. I do think long, flowy maxi dresses are really ideal for one wedding type: the beach semi-formal wedding. In those cases the length covers the formality, and the laid back look works for the beach.
So what makes the dress above the perfect maxi dress for a daytime, or afternoon wedding? The fabric is a poly blend which makes it a step up from cotton or jersey. Secondly the style and cut, is dressy but conservative, which makes it wedding appropriate. Thirdly, that embellished neckline makes it fancy, but still appropriate for daytime into evening.
The shopping sources section below uses affiliate links. This site may earn a commission if you make a purchase from our links.
More Maxi Dresses to Wear to a Wedding

Let me know in the comments, did this clarify things or confuse you even more? What are your thoughts on wearing a maxi dress to a wedding?
Looking for more? Here are some beach formal wedding ideas, or find a dress for a wedding.
Update: Happy springtime! This post is getting popular again for Spring 2014, and so I've added some new dresses below. I've actually revised my stance on maxi dresses a little. This season, stores have been full of wedding-appropriate maxi styles. Here are a few of my favorites below!
More style ideas you might enjoy :