Long White Sequin Gowns. Inspired by Rachel's Dress on The Bachelorette!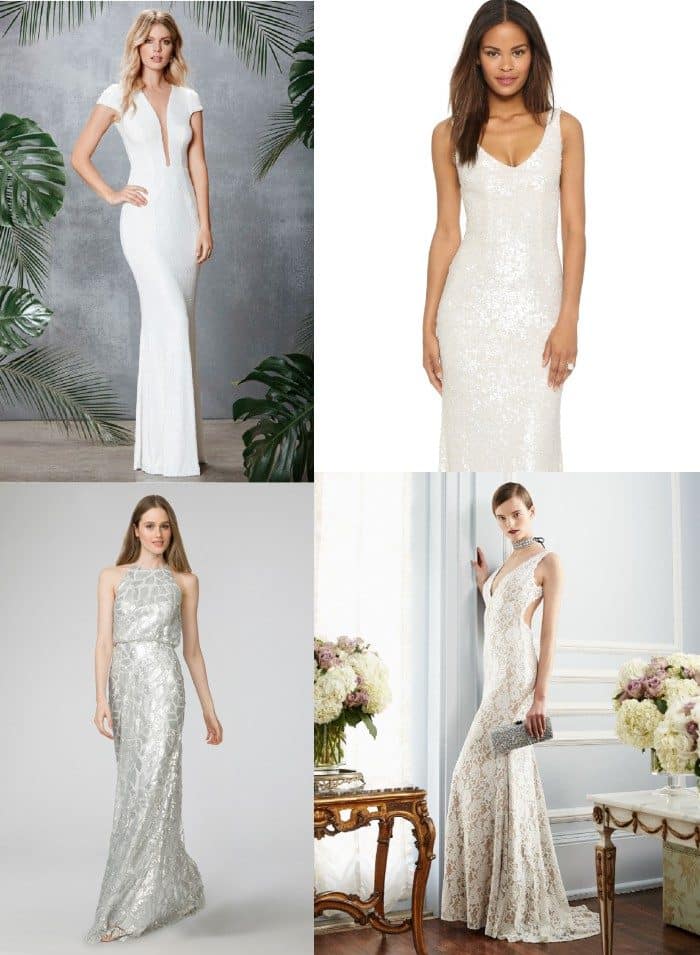 Like any good wedding blogger, I love love and the search for love - which means, I love watching The Bachelorette because it has both love, and -- as a bonus for my line of work -- it also lots of eye-catching fashion!
As my husband and I watched Rachel Lindsay begin her journey last night, we couldn't take our eyes off of that stunning long beaded gown she wore! A few Google searches later, I discovered that the gown was a custom hand-beaded Randi Rahm gown! However, that didn't stop me from finding a other dazzling white sequin gowns along the way, so over course I saved them. These dress finds and shopping sources might help you out if you want to get a similar beaded gown, but don't have the means for custom dressmaking.
Floor-length White Sequin Gowns
If you don't have a meet-the-guys-as-they-emerge-from-the-limo event or rose ceremony coming up in your life, I don't have to tell you that these long white sequin gowns work for every type of wedding event for brides or brides-to-be. White beaded gowns like these are great as wedding dresses, engagement party dresses, elopement dresses, destination wedding gowns, vow renewal gowns, engagement photo outfits, a fancy rehearsal dinner gown,  or as a second dress to change into at your reception! So, if you're looking for any of those, here are the dresses I found last night!
White Beaded and Sequin Dresses for Brides-to-Be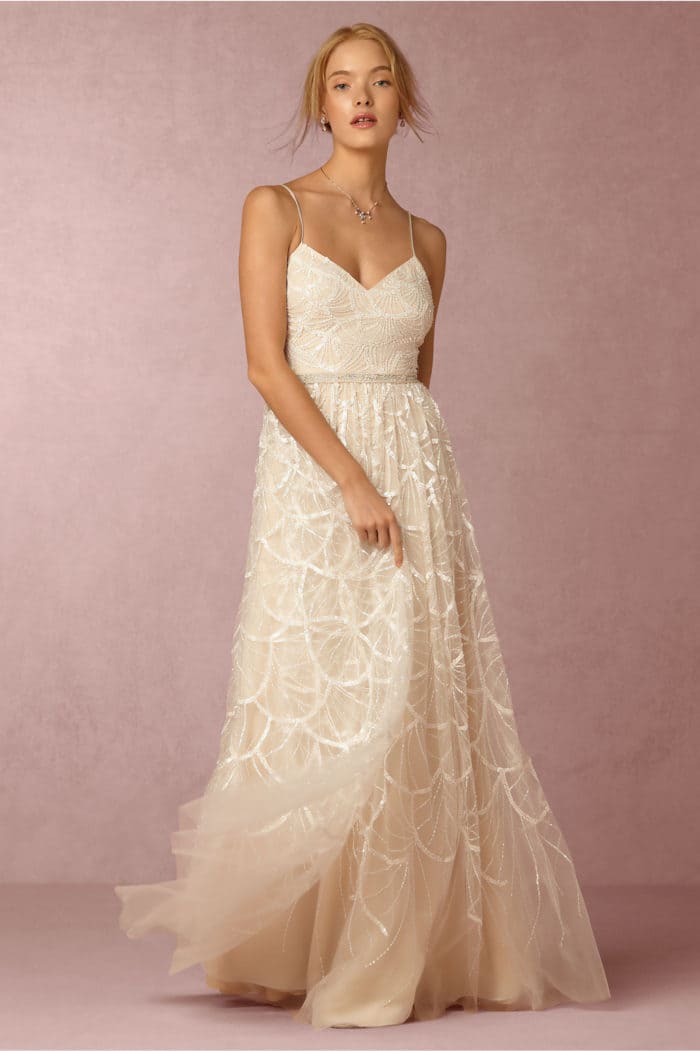 Gianna Gown from BHLDN  The pattern of this reminds me of Rachel's dress, which had sort of a giraffe pattern/ crackled ice style to the beaded print to while the tulle skirt gives it a floaty, wedding dress style.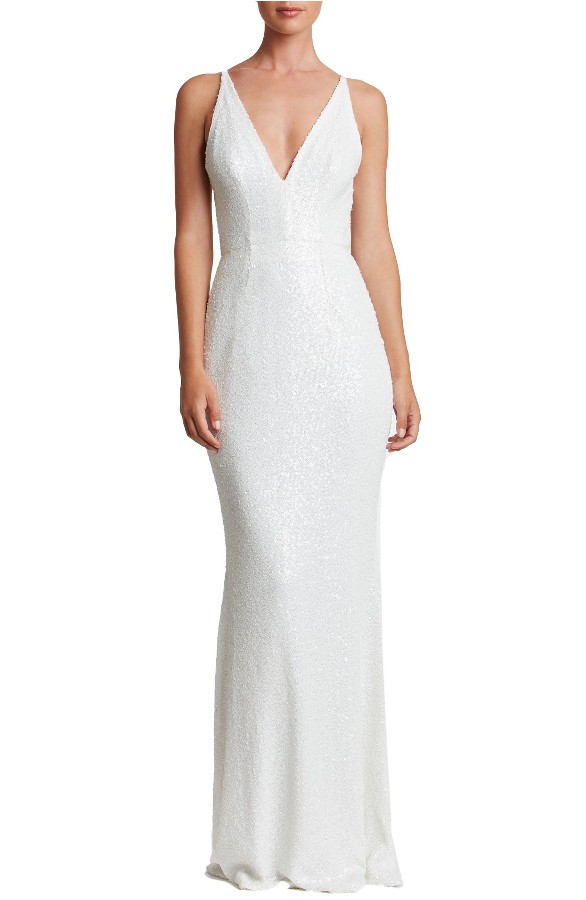 This gown doesn't have a pattern, but it stuns in all over white sequins. I think it would be gorgeous as a beach wedding dress or a vow renewal gown! Harper Mermaid Sequin Dress by Dress the Population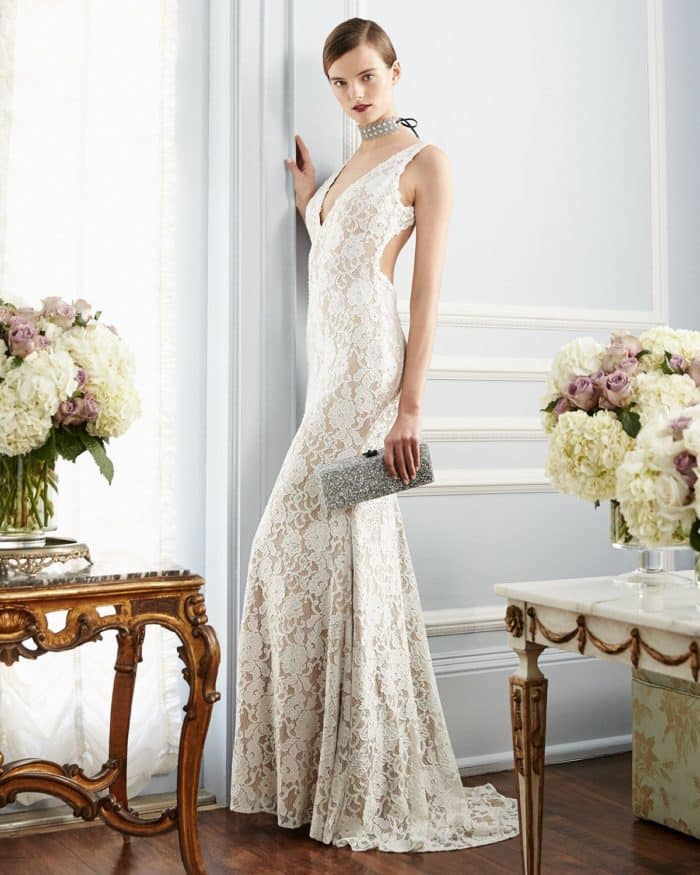 Jovani Lace and Sequin Gown  This gown is perfect for a wedding gown, but its open back and train is reminiscent of Rachel's long mermaid style gown with its open back trailing hem.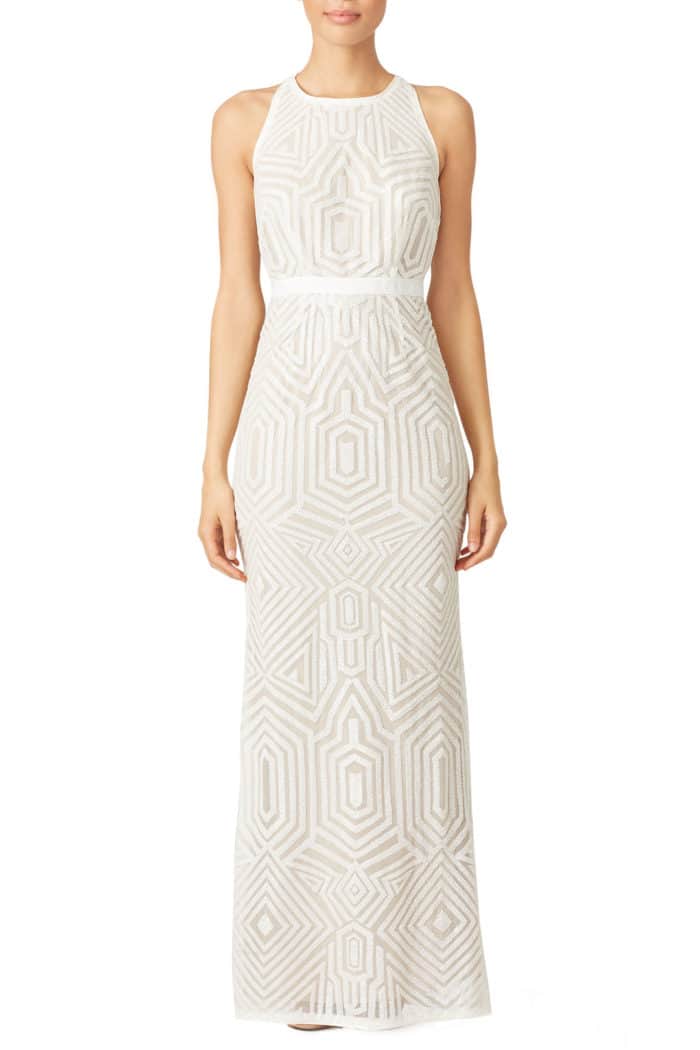 The Carraway Gown by Shelli Segal from Rent the Runway. I've featured this dress once before, and this geometric pattern reminded me a bit of the pattern on Rachel's gown which, as I said, had sort of a crackled ice pattern to it ( but I read somewhere in my search last night that it was also mimicking a giraffe pattern, which I can see!) This one is available to rent from Rent the Runway.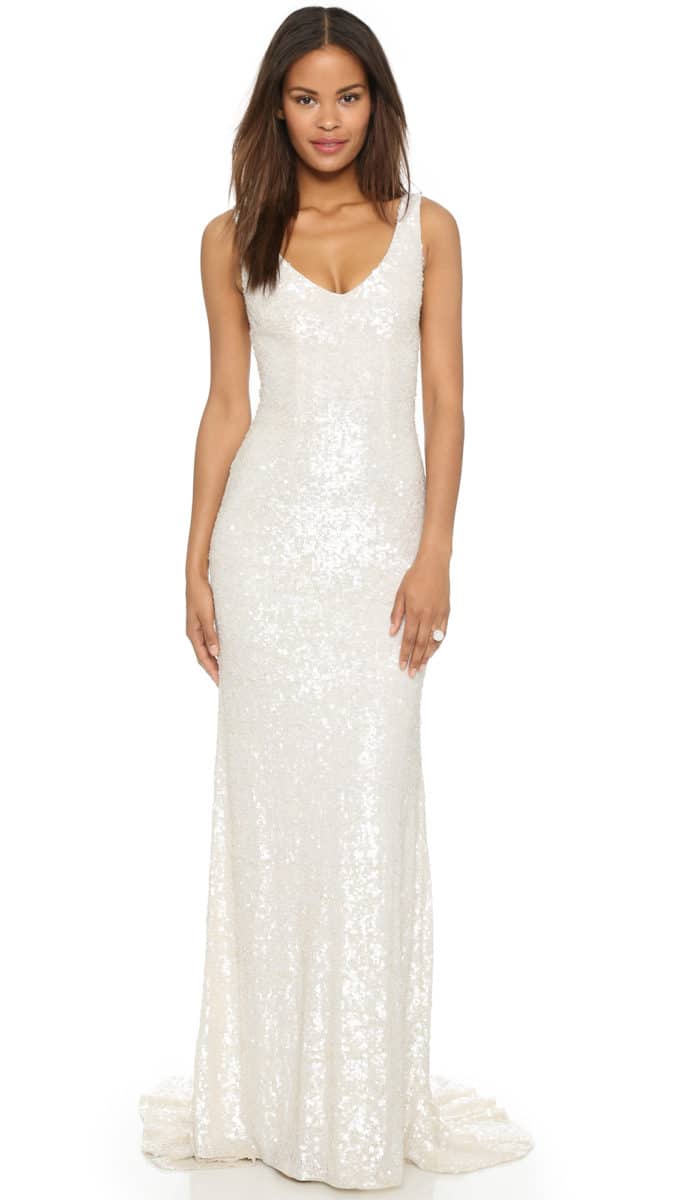 Harlow Sequin Gown by Theia This is another all over sequin stunner, with that dramatic hem/train style that sweeps the floor in such a grand way!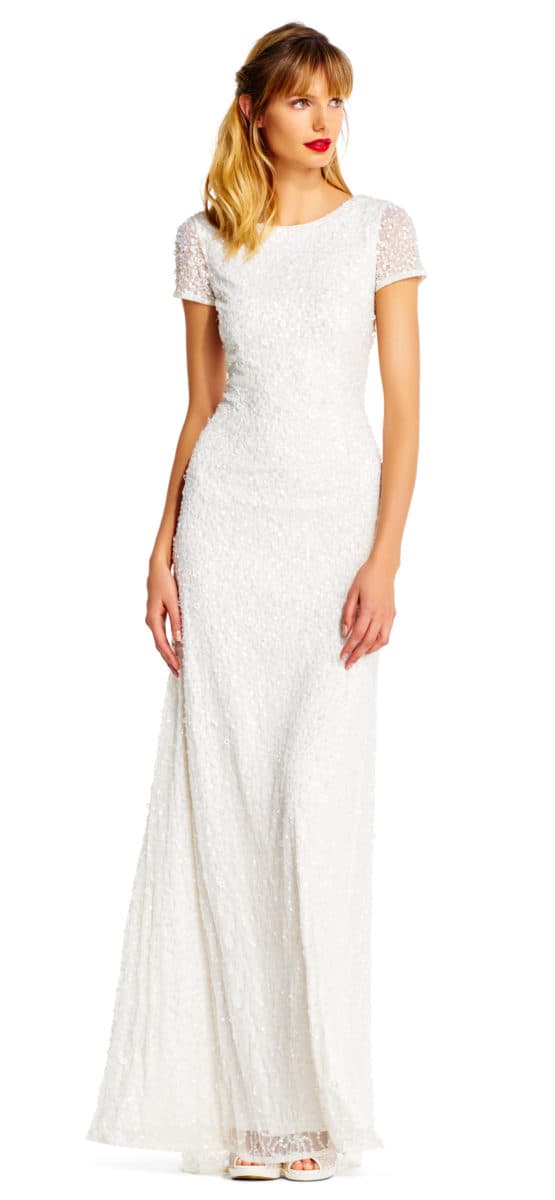 Now, this isn't as similar to Rachel's gown as the other styles, but it's still a fantastic all over white sequin style - beautiful for a a vow renewal or as a reception dress! Adrianna Papell Scoop Back White Sequin Gown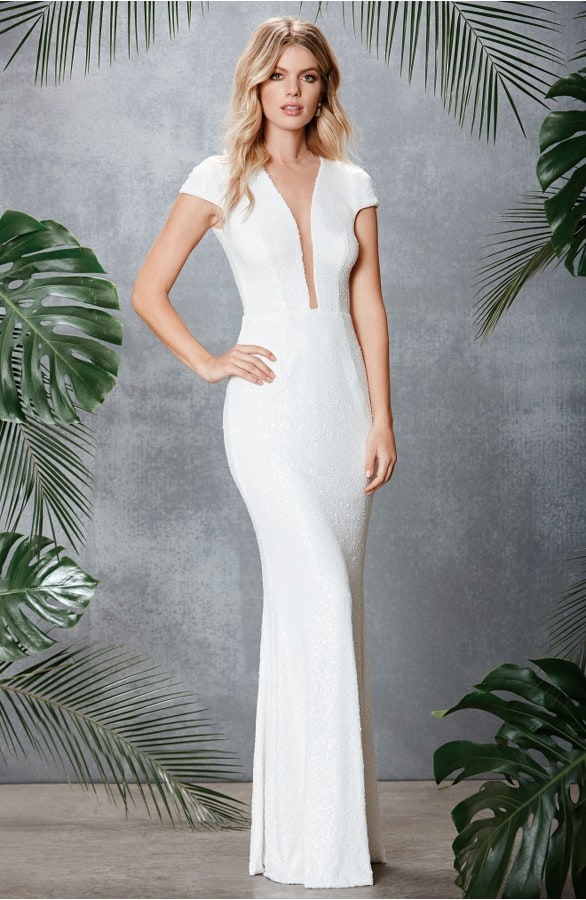 Michelle Sequin Gown by Dress the Population This has a daring plunging neckline (where Rachel's gown had a beautifully high-neck) but it's still a sexy show stopper just like her gown was. Wear it for a reception, or for a dramatic, sleek and modern wedding gown.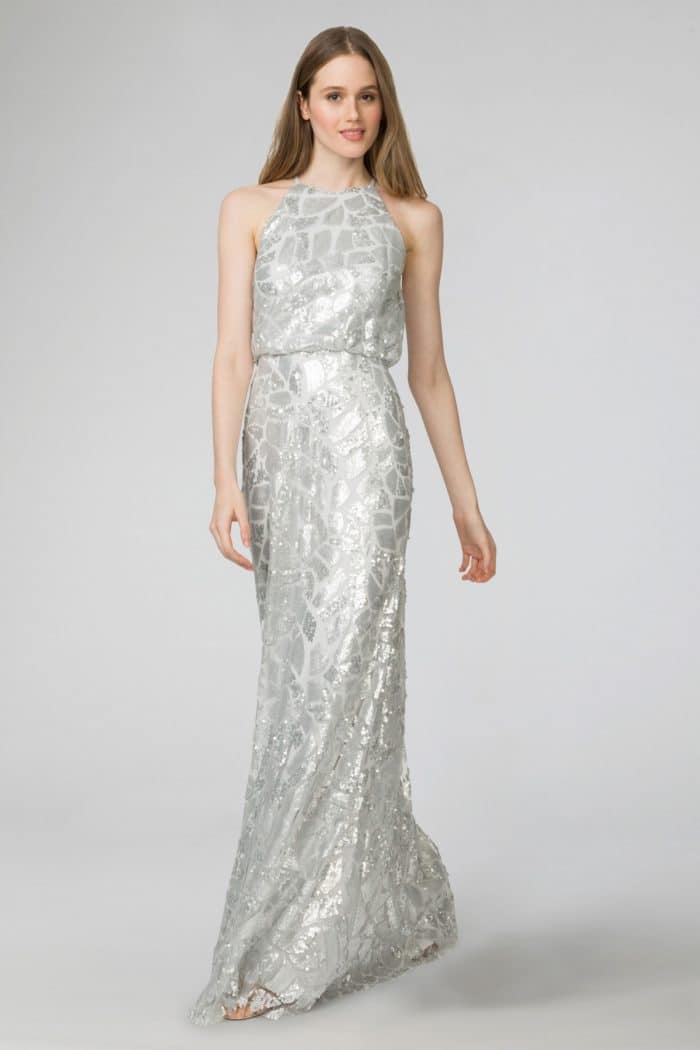 This gown isn't quite white sequins ( at least I don't think it is? It looks sliver on my screen, but the color name is 'Cloud') but the 'crackled ice' pattern and high neckline is very reminiscent of Rachel's gown. It's a lovely gown for a pre-wedding party or for your wedding party to wear! Dress details: Tiffany Dress in Cloud by Donna Morgan
More Sequin and White Dress Ideas
Lastly, the dress reminds me of this Parker Black Sequin Gown, which I featured several years ago in this sequin wedding dress post.
Still seeking dresses? Check out our Wedding Dress picks and Sequin Dresses for Weddings, and our Little White Dresses.
Links in italics and in the shop sections of this site are from affiliates and sponsors, meaning that this blog may earn a small referral commission from the retailer, at no cost to the purchaser, if a qualified sale is made.
SHOP THE LOOK