One outfit idea for easy pretty style on a warm-weather honeymoon. More dresses and items to pack also featured in this post!
The shopping sources in this post use commissioned or affiliate links, which means this site may earn a commission if you make a purchase from our links.
Dress for your Honeymoon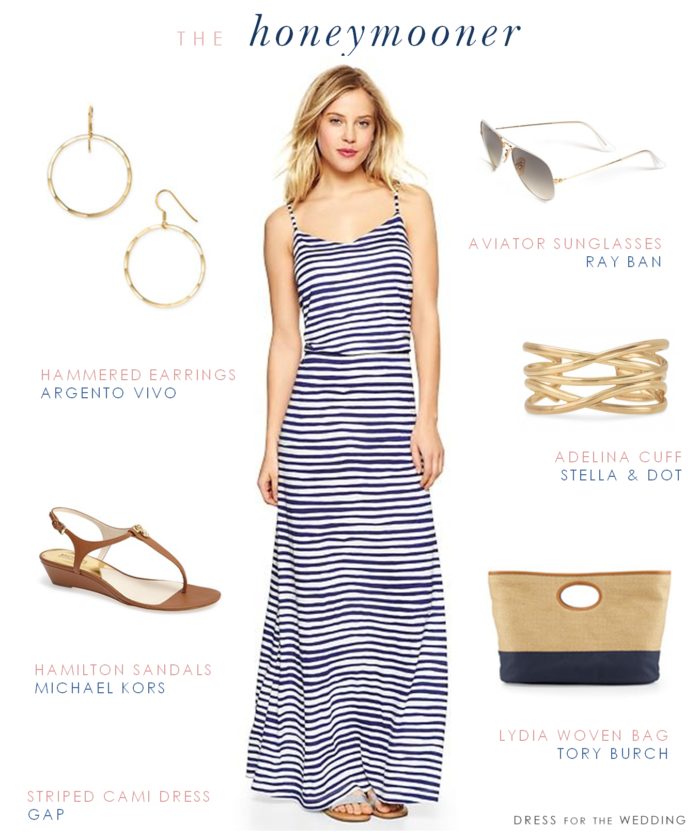 Gap Striped Cami Dress | Hammered Hoop Earrings by Argento Vivo | Ray-Ban Aviators | Adelina Cuff Bracelet | Tory Burch Lydia Striped Tote | Hamilton Sandals by Michael Kors
Maxi Dress for a Warm Weather Honeymoon
I decided to take things a little easy today and change from my normal post to  create this laid-back honeymoon style! With summer days and nights, I know this easy striped maxi is exactly what I feel like wearing now, and it is also a fantastically versatile piece to pack on your honeymoon.
While I don't usually recommend jersey maxi dresses for wedding attire, they are the perfect packable dresses for travel to warmer climates.  This one, with chic nautical stripes will work anywhere - Jamaica, Bali or Florence! Maxi dresses like this can not only work as a beach cover up, so that you don't have to change to come in for a resort lunch, or -- with a few accessories -- can be an elegant dress that will to take you to everything from sightseeing  to a beach-side dinner night. It's ideal and ready-for anything, especially if you're not exactly sure what your itinerary will bring.  It's also always fun to dress up a little on your honeymoon,  and not go right from being very glamorous in a wedding dress to donning last summer's well-worn shorts and faded t-shirts. This dress is perfect to have that pretty, polished, yet blissfully relaxed look.  The other thing I love is that can be layered to be your travel outfit from colder climates.  Just put a sweater over this, and you're covered and warm-ish enough to make it to the airport if you're flying in from 40 degree temps, or just in heavy A/C.
How to Style a Maxi Dress for a Vacation
I've styled it with accessories that will work both poolside and stepping into town to see the sights! Comfy sandals with a bit of a heel, classic sunglasses, a pretty tote, and chic hoops -- all of these will be versatile pieces that can work with tons of other looks on your travels.
While I wish I could buy all the dresses I feature here, I can't - but , as you know, I have a thing for stripes, and this is one dress I'll be definitely picking up for my own summer adventures. ( Seriously, I'm buying as soon as I hit "post"! ) I hope you pick this up or one like it  to wear this summer or save for your own blissful vacation or honeymoon!
More Dresses and Outfits to Take With You on Your Honeymoon!