Wedding Day Update: It's Clare Waight Keller for Givenchy!
Update May 5, 2018: Britain's Daily Mail  publication is reporting today in an exclusive that Meghan Markle's wedding dress designer is Ralph & Russo! However, the design house has not yet confirmed this, and the article doesn't name the source of the information. If this is true, we still haven't seen the dress, which will be the real fun! We'll still have to wait to see their creation on May 19!
-
Previous Post from April 26, 2018:
What do we know so far about Meghan Markle's wedding dress? Ok, we'll admit, we don't yet know who has designed Meghan Markle's wedding dress for her wedding to Prince Harry, but as soon as it's announced we'll be putting all the details right here!
Meghan Markle's Wedding Dress on Suits
What we DO know is that last night on the Suits finale, -- which was presumably Meghan Markle's last on screen appearance as an actor before joining the royal family -- she wore the Versailles gown by Anne Barge. This stunning gown is one which we've featured here on Dress for the Wedding!
It's one of our favorite wedding dresses from the Anne Barge 2016 Collection, and it is definitely suited to present and future royalty! See our other recent feature on new Anne Barge wedding dresses for even more looks!
Meghan Markle Wore the Versailles Wedding Dress by Anne Barge on Suits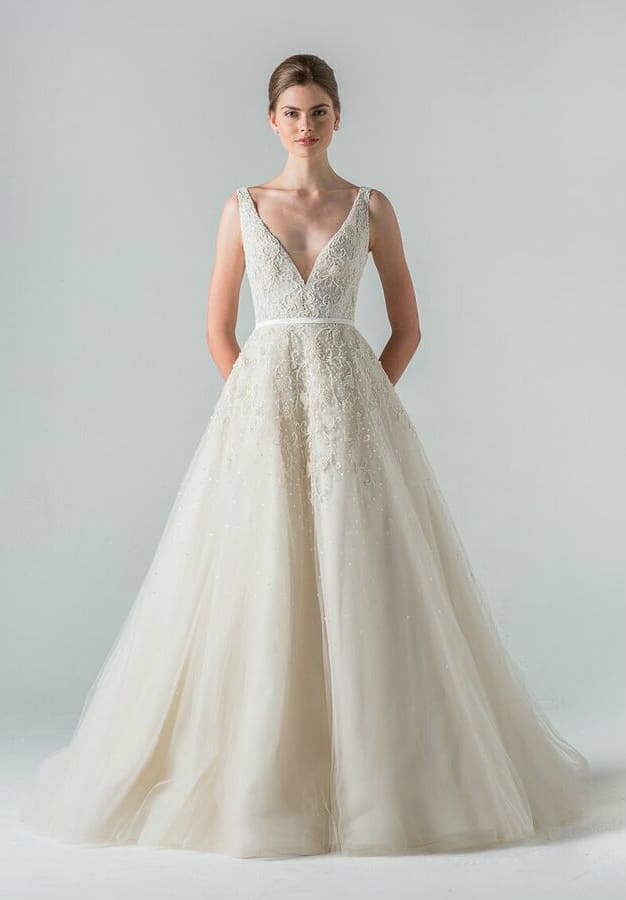 Versailles by Anne Barge from the 2016 Collection
Meghan Markle's Wedding Dress for the Royal Wedding
As far as her real gown for her wedding day, there has been much speculation! We've heard that Ms. Markle loved the chic slip dress Caroline Bessette-Kennedy wore.
However, it seems  to me that a slip dress may be too spare a dress for a cathedral wedding. I think this is especially the case, when we know it's rumored that a great deal of the wedding budget has been allocated to the gown!  With that kind of budget, it seems that something intricate and unique may be in store. We also know that Meghan wore a simple strapless bridal gown for her first marriage, so perhaps she'll balance her look with clean lines and a bit of detail.
Potential Wedding Dress Designers for the Royal Wedding
It has also been rumored that  Meghan Markle loves gowns by another designer we've featured, Inbal Dror.   It was reported earlier this year, that some designs that the designer submitted as possibilities to Buckingham Palace had been leaked.
We know first hand that, Inbal Dror wedding dresses are known for a smoldering expanses of sheer fabric and body-hugging lines, which is something we haven't seen in many royal weddings, but is something we saw with Meghan Markle's engagement photo dress. The originally sheer bodice of that gown was lined in order to be appropriate for this royal photo op! Perhaps something similar is in store for the wedding!
There has also been speculation that she may select Ralph & Russo (the designer of said engagement photo dress) for the wedding gown itself! It has also been rumored that perhaps she'll wear two dresses, so perhaps there will be multiple designers.  We'll know on May 19, 2018!
Who Designed Meghan Markle's Wedding Dress?
One thing is for certain, Meghan Markle's bridal gown will be highly customized, and talked about for years to come! As soon as the royal wedding dress designer is announced we'll be putting the information here.
Royal Wedding Party Ideas
If you're getting into the spirit of the Royal Wedding, and celebrating on the big day, may we suggest a fascinator for your Royal Watch party? I may not be attending a party, but I still can't wait. I've woken up early to watch all the royal weddings since Princess Diana and Prince Charles, and I don't plan on missing this one!
In the meantime, please take a look at the wedding dresses we've featured to dream about your own perfect gown. Or, if you're not planning a wedding, but have a bunch of weddings this summer to attend,  please check out our picks for dresses for summer wedding guests!