Spring means the return of bridal market, and the debut of the latest collections from some of our favorite wedding dress designers. We always love seeing the newest Anne Barge wedding dresses! Which is why we can't wait to show you the beauties from the Anne Barge Spring 2019 Bridal Collection.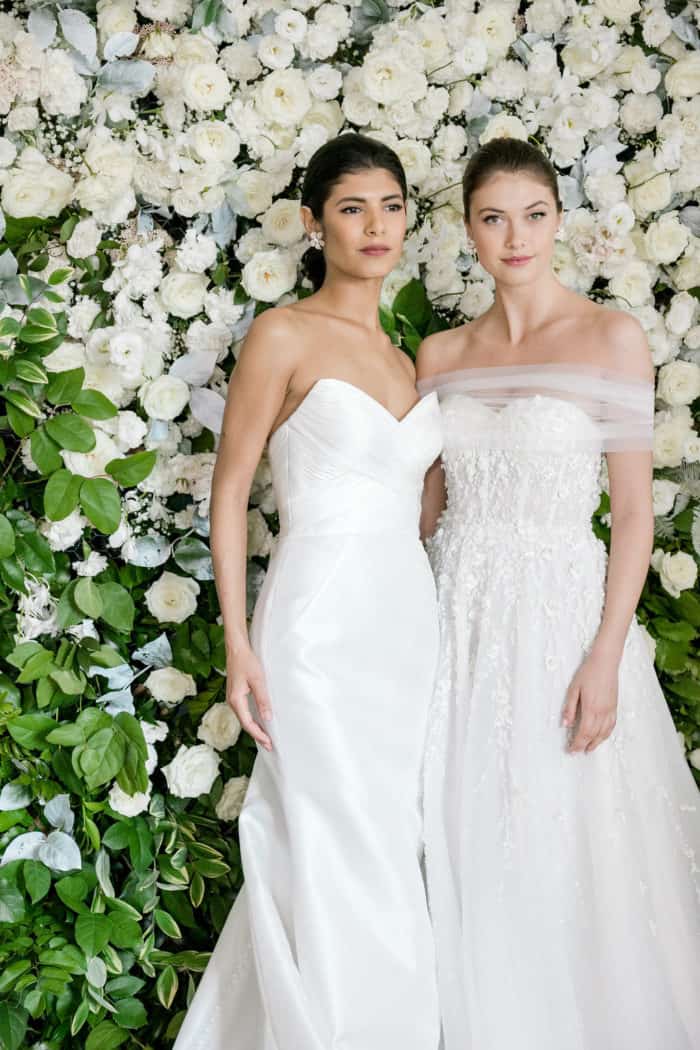 Anne Barge Spring 2019 Bridal Collection
A few weeks ago, the Anne Barge Spring 2019 Bridal Collection -- comprising both the Anne Barge and Blue Willow labels -- had their press showing.
While we were unable to make it in person, we're thrilled to be able to show you some of the stunning looks from that preview.
Below theses beautiful images from the show, we've also showcased all the wedding dresses from the Anne Barge label and the Blue Willow collections for you to get the full detailed view of each stunning wedding dress.
Anne Barge Wedding Dresses
If you're looking for a classic wedding dress, that has the most tasteful and elegant interpretations of modern trends, the Anne Barge collection is the one for you. This Spring 2019 season highlighted modern bridal options. Many pieces in both collections offer a choice; with detachable overskirts, lace toppers, sheer overlays, and even one gown - Reese - that goes from ballgown to sheath dress with a change of the skirt to create unique and custom combinations of gowns and details.
Anne Barge Spring 2019 Press Preview
To make one of these gowns your own, you can find the wedding boutiques and stockists nearest you who carry the Anne Barge collections by visiting the retail locator on the Anne Barge site.  Our thanks to Heather Waraksa  for capturing these press day images!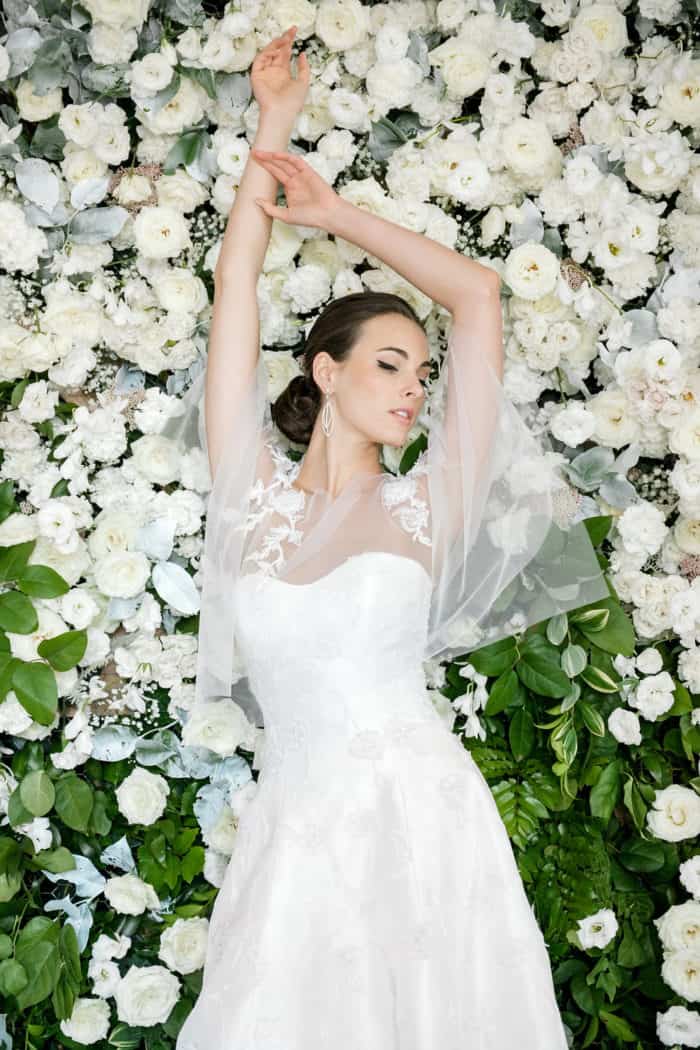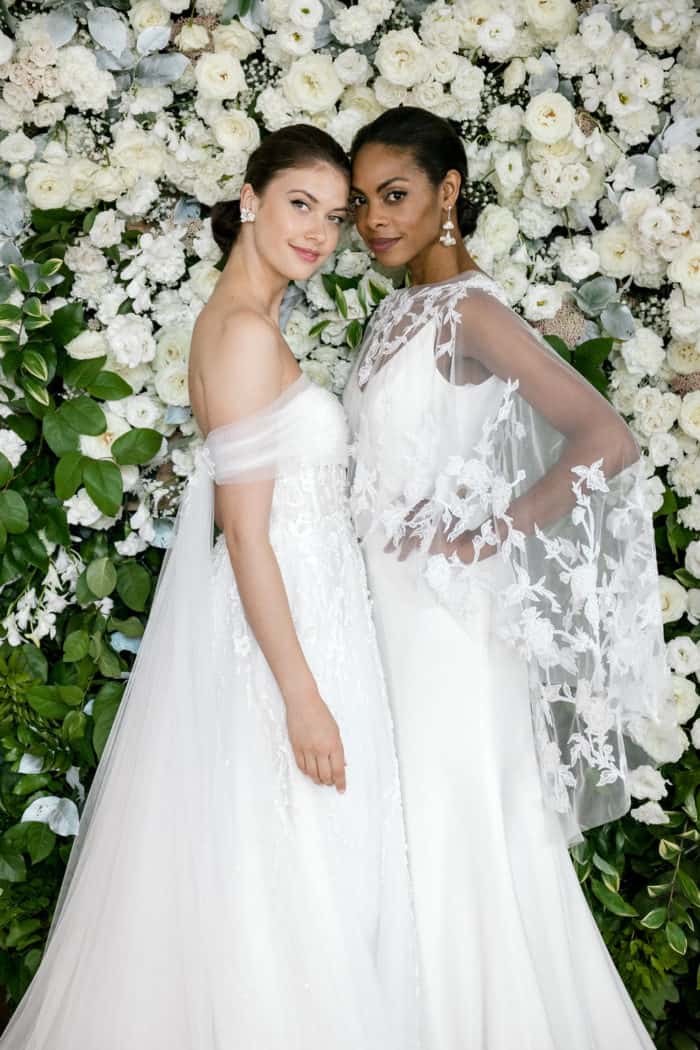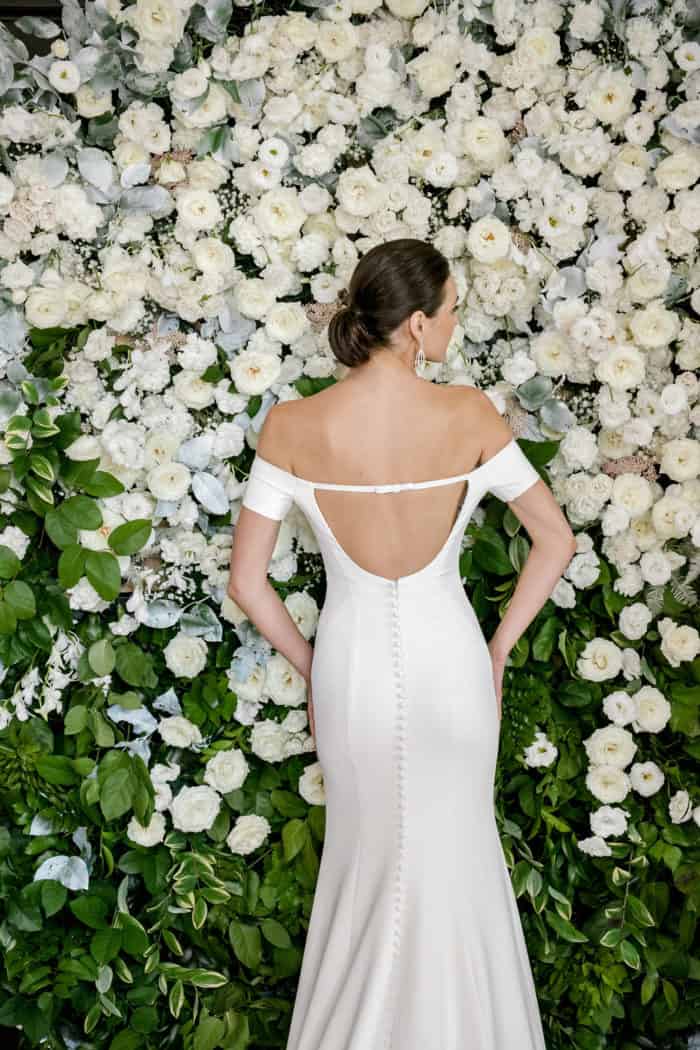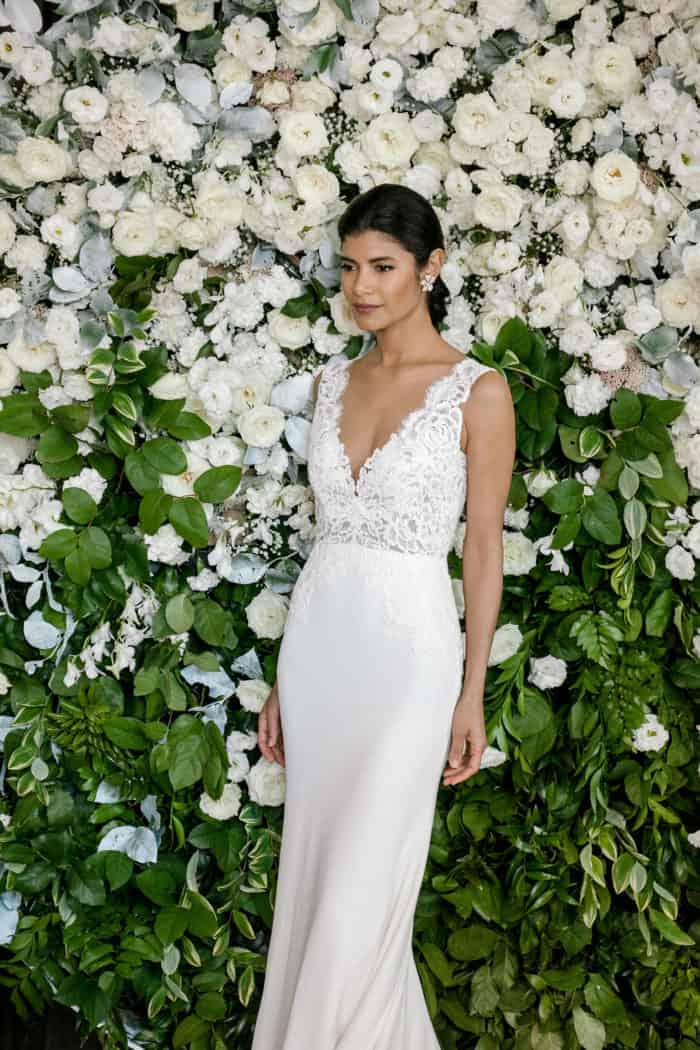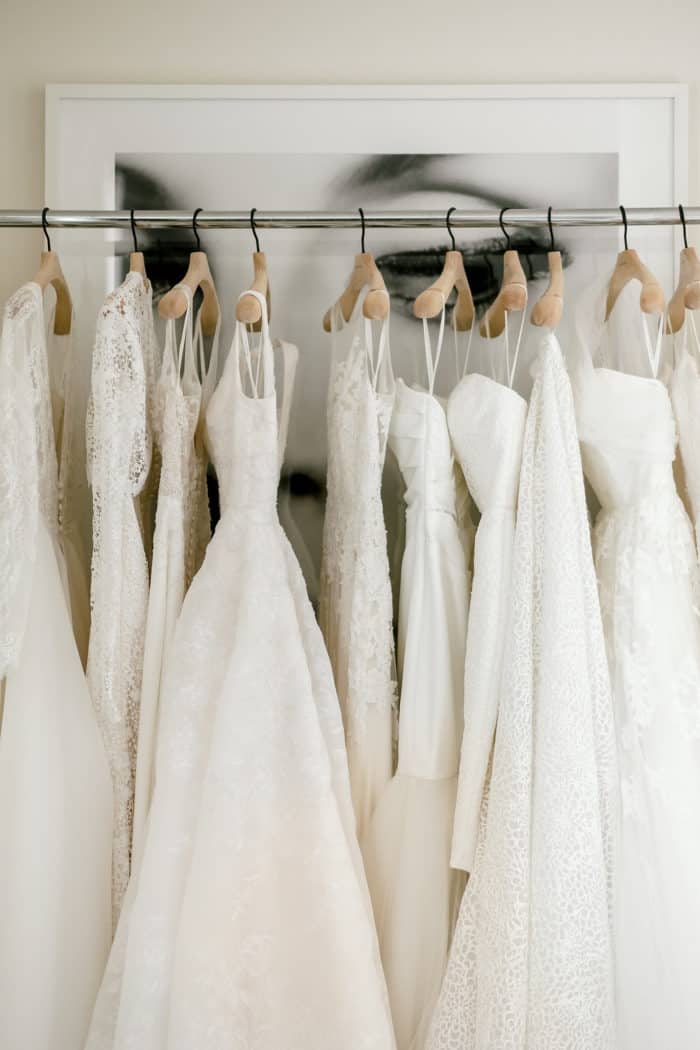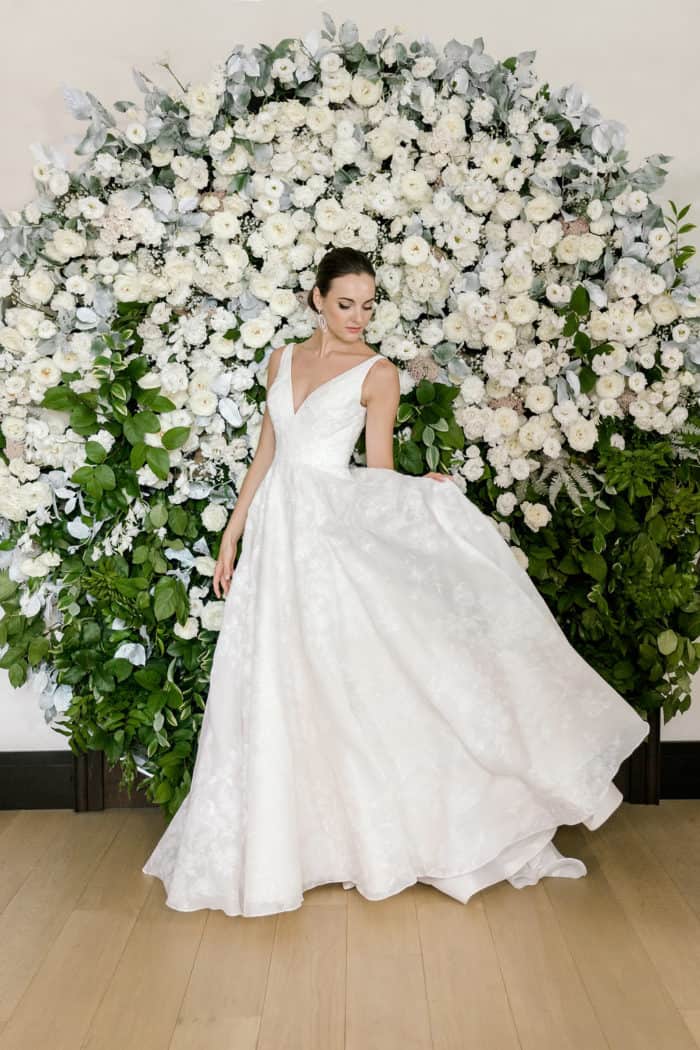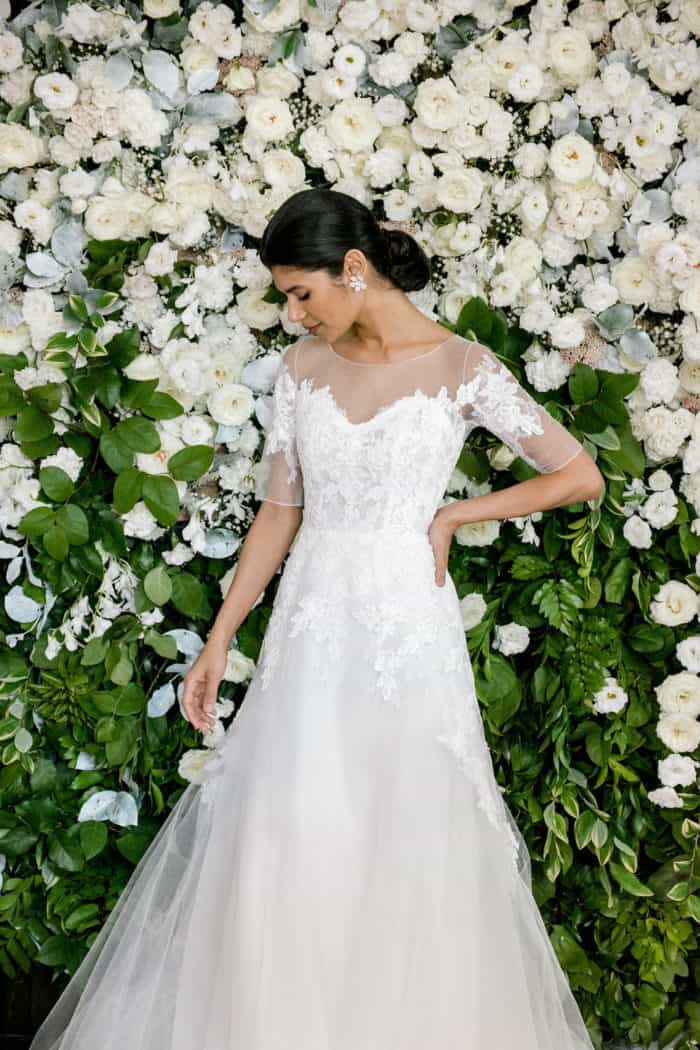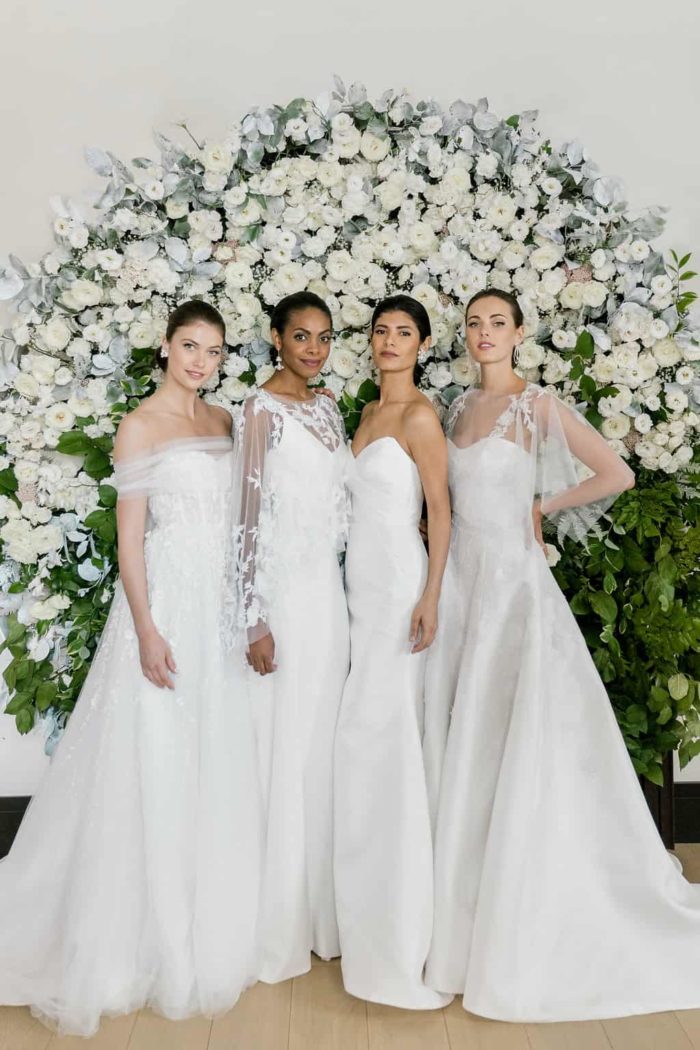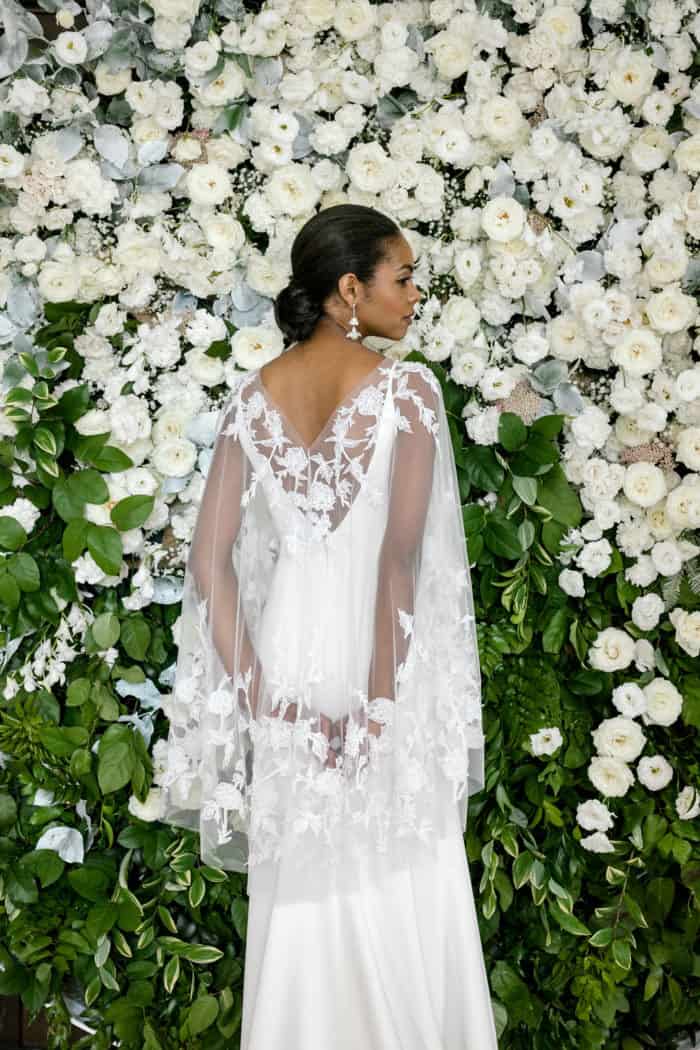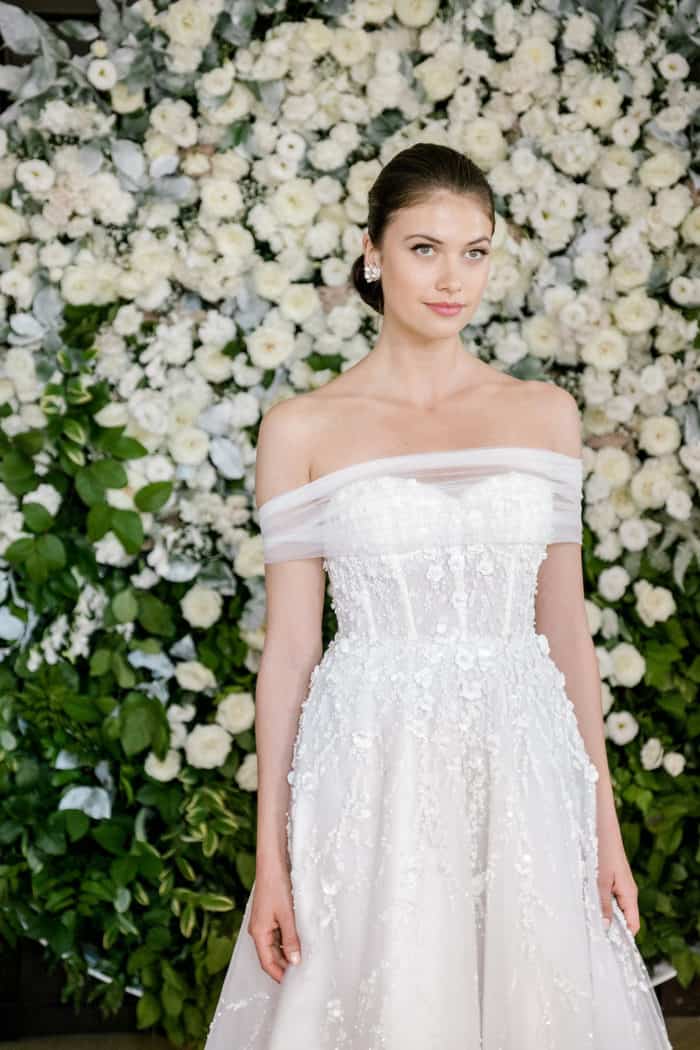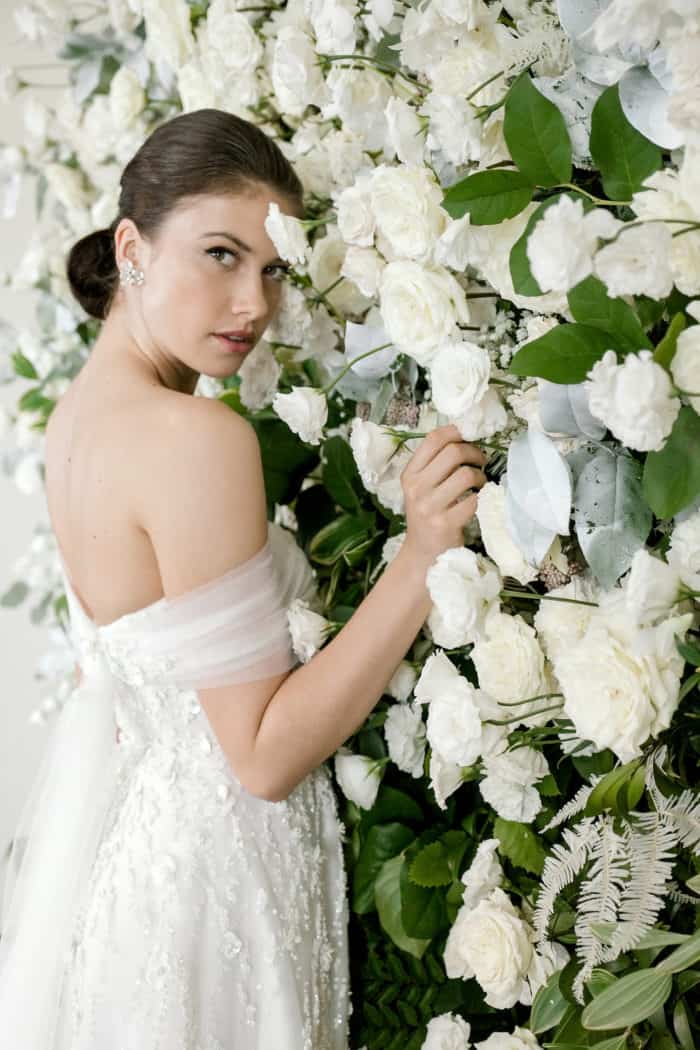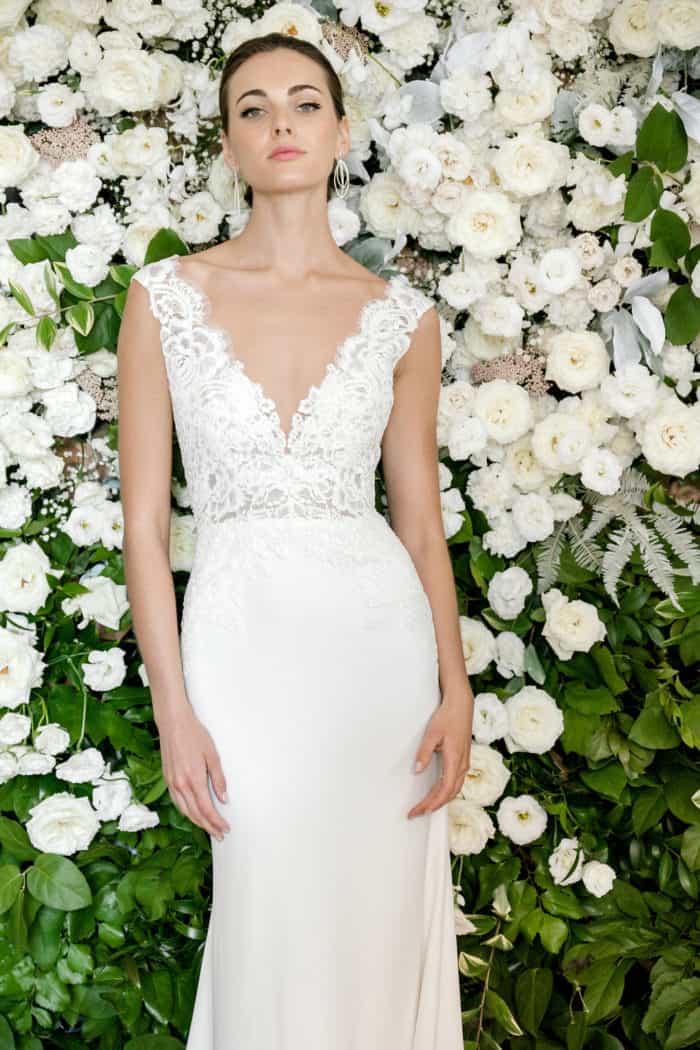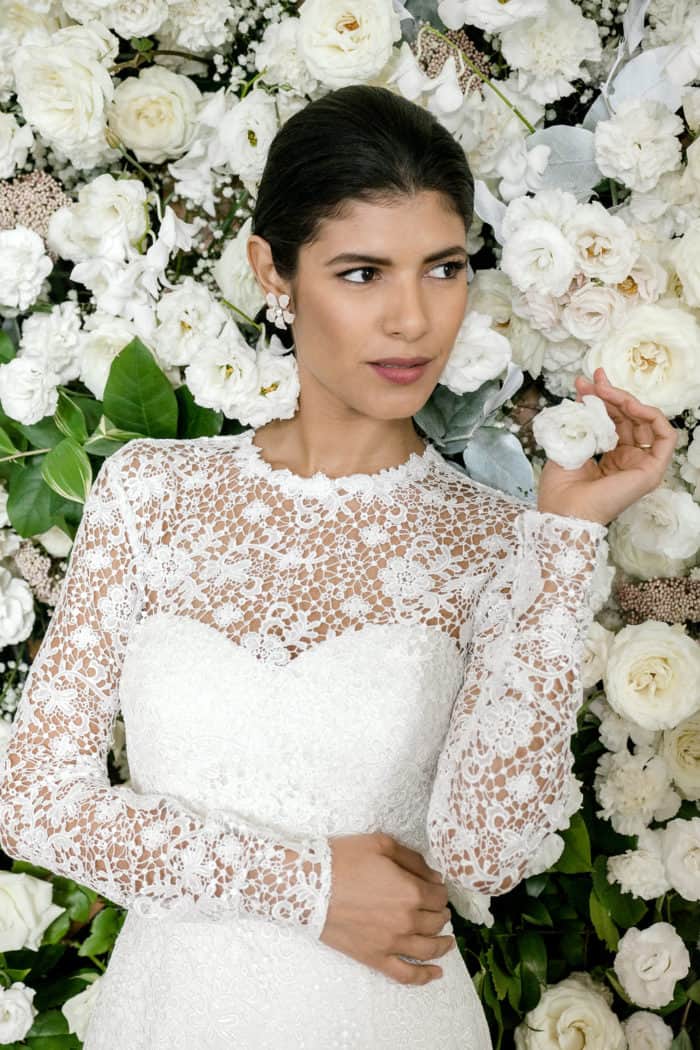 Show Photography: Heather Waraksa  | Hair/Makeup: Predame Party / Stefanie Syat and Mallory Pace |
Art Direction & Event Design: Annie Cavallo / I Do Style Collective | Floral Arrangement: Designs by Ahn
Lookbook of the Anne Barge 2019 Spring Bridal Collection
Since the details on all the dresses are incredible, we couldn't just stop with press preview photos! For those of you who love poring over the details -- and seeing more wedding dresses -- here are the lookbook images of Anne Barge Spring 2019.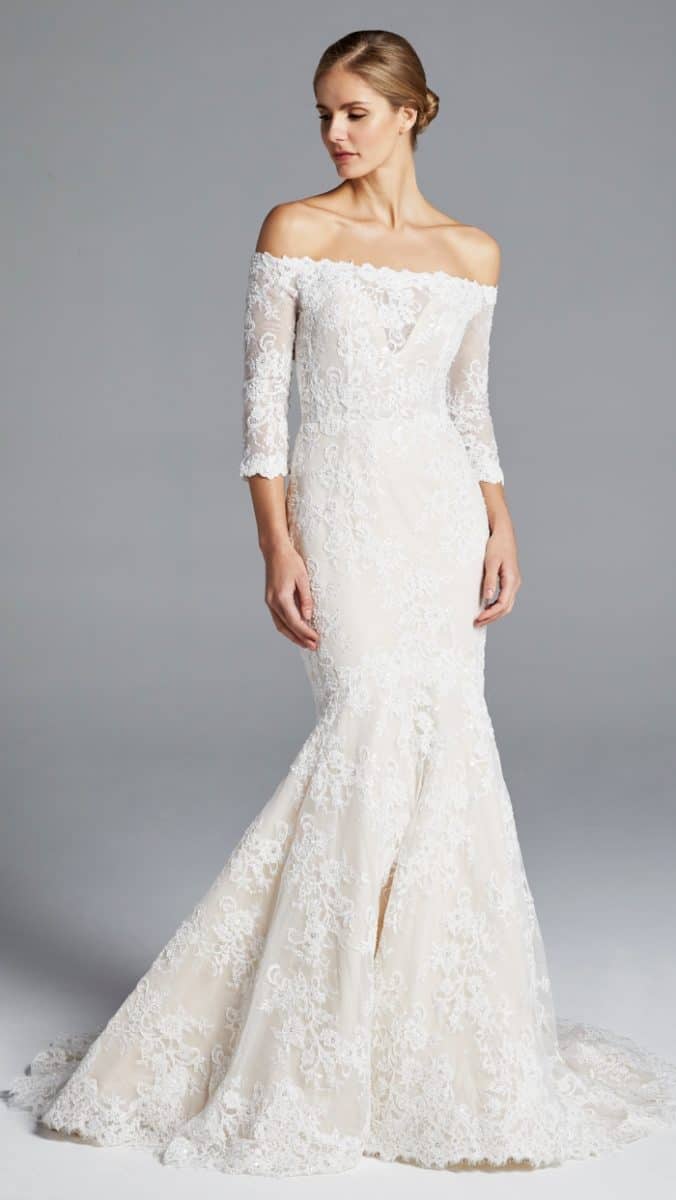 Stunning off-the-shoulder styling, head-to-toe lace, and elegant sleeve length. Loren By Anne Barge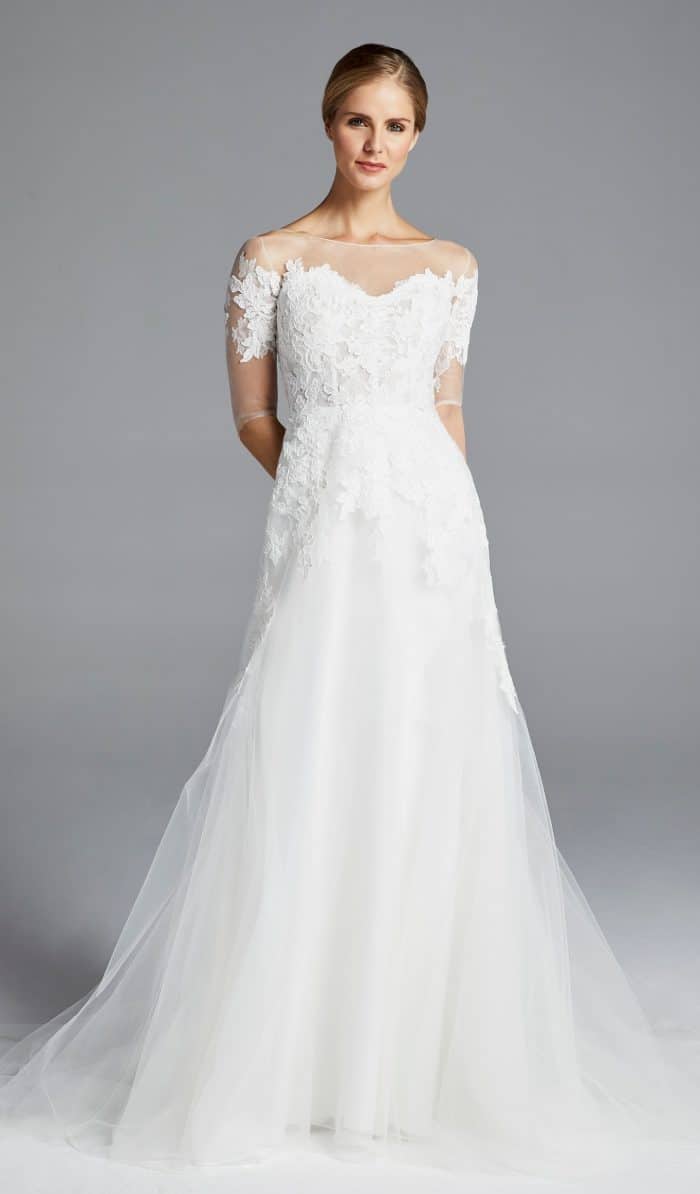 Beautiful ball gown wedding dress with sheer overlay bodice and  3/4 sleeves. The Rossallini wedding dress is an instant icon!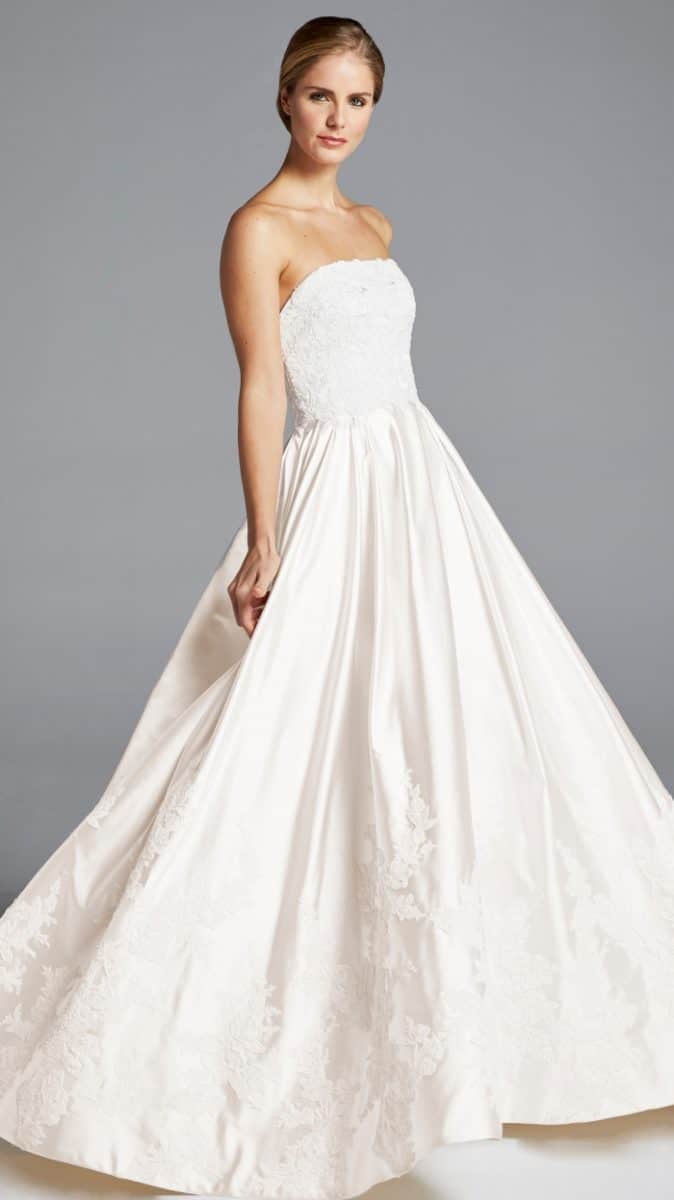 Blush ball gown dreams! Michelle wedding dress by Anne Barge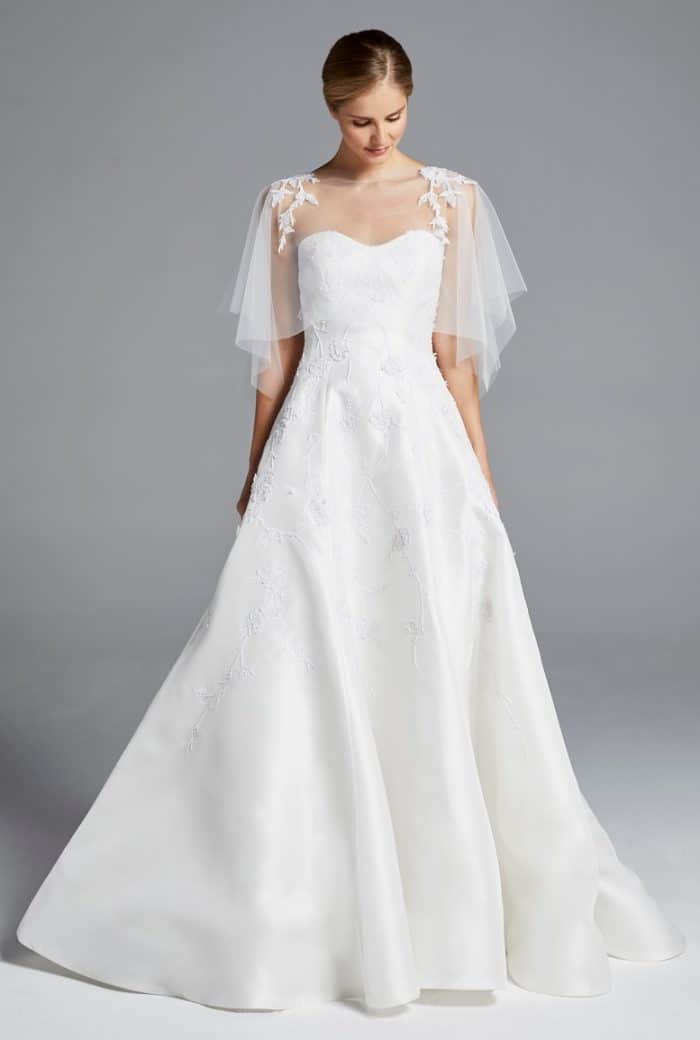 A beautiful draped sheer capelet tops the stunning strapless wedding dress. Chloe by Anne Barge.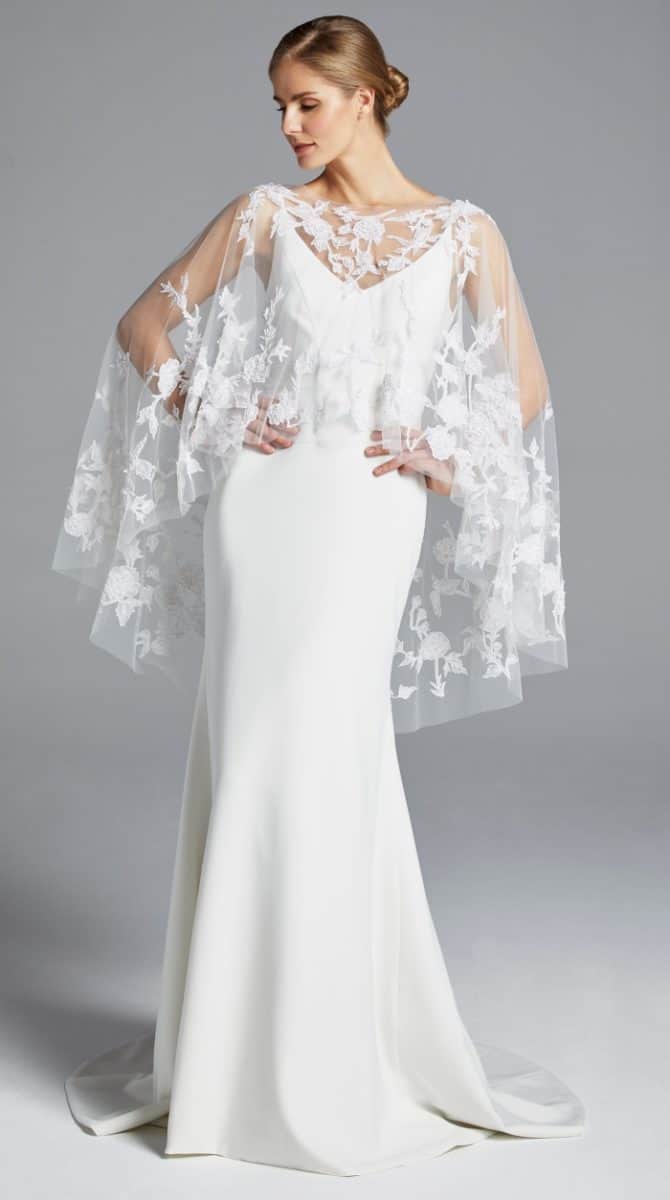 More caped beauty! Meet Elle by Anne Barge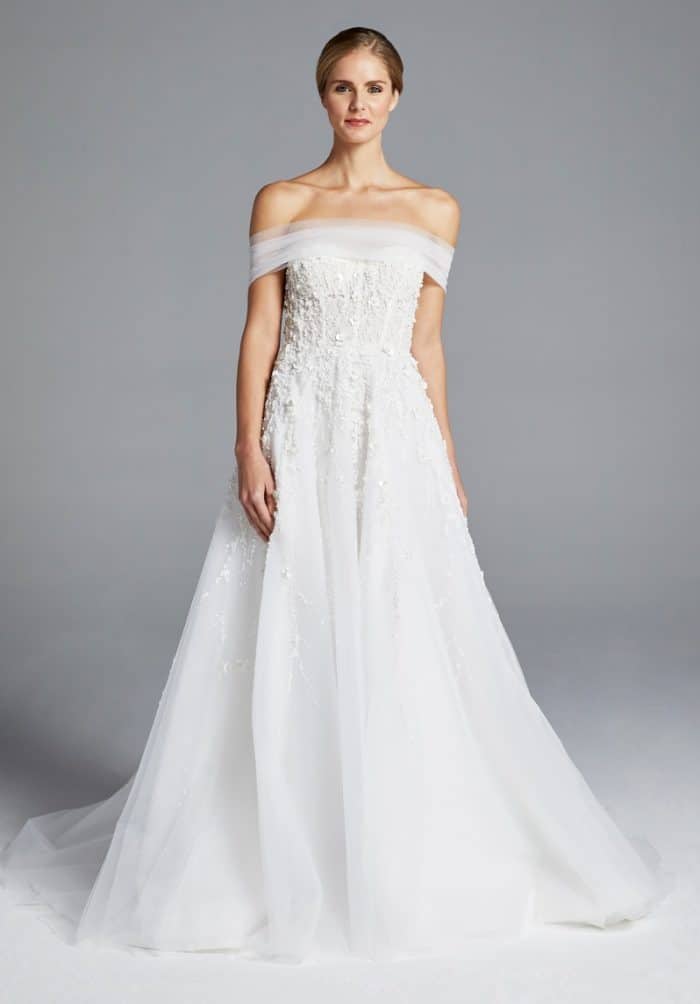 A pretty drape of tulle laces the off-the-shoulder neckline of the Karlie wedding dress.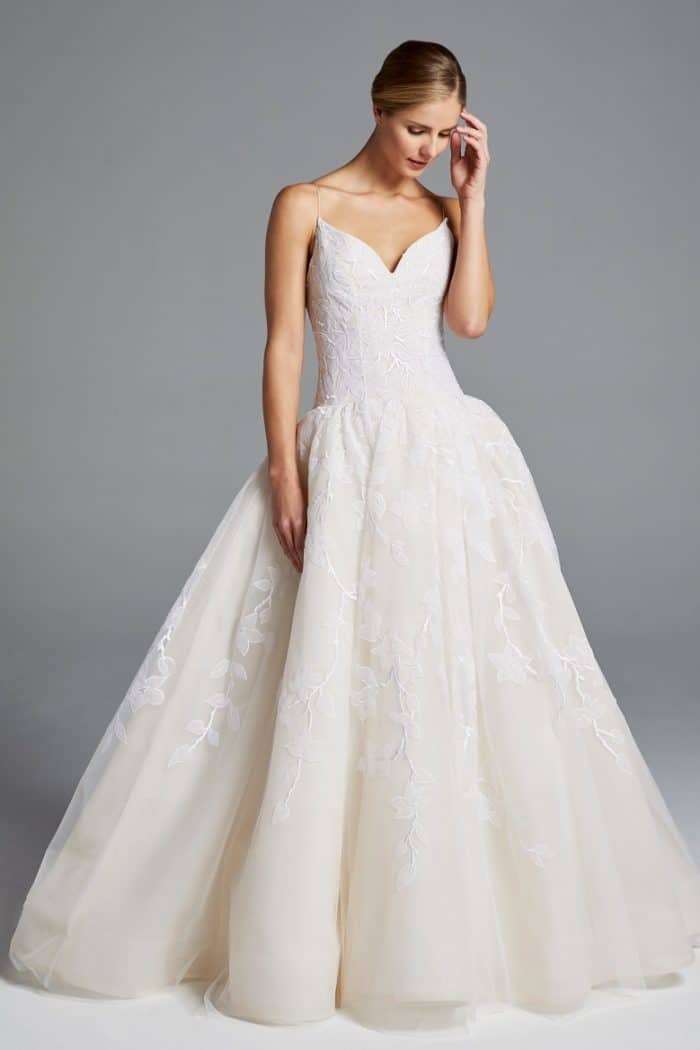 A beautiful interplay of a fitted bodice and delicate straps, with a voluminous skirt, calls to mind a ballerina bridal style. This gown is called Maggie.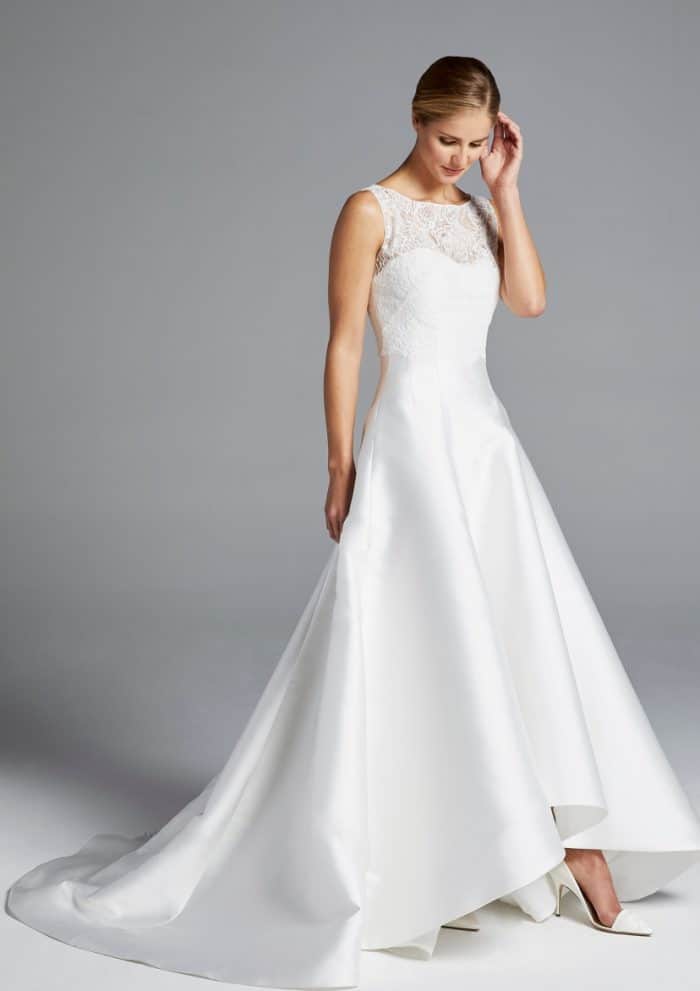 Shown with a delicate lace topper, this is one option for the Mindy gown. See the strapless take below.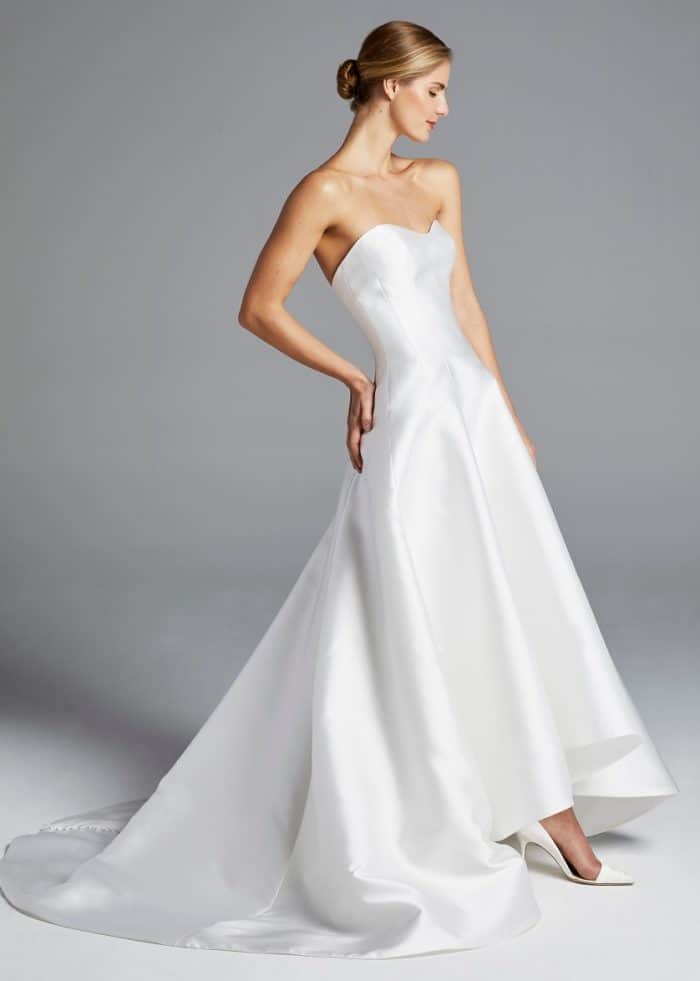 The hem of this high low strapless gown effortlessly transitions into a train. Also available with the top above. Mindy is a sleek and sophisticated strapless bridal gown.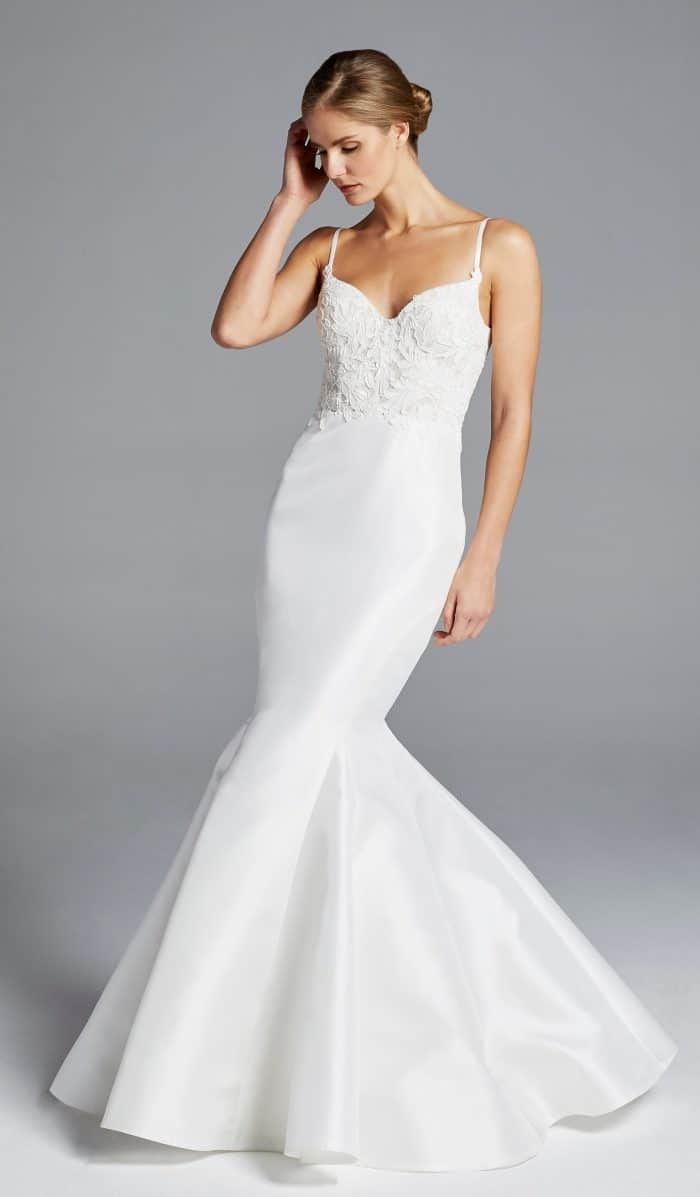 A beautiful mermaid style fit to flare bridal gown with lace details and delicate straps. Iman by Anne Barge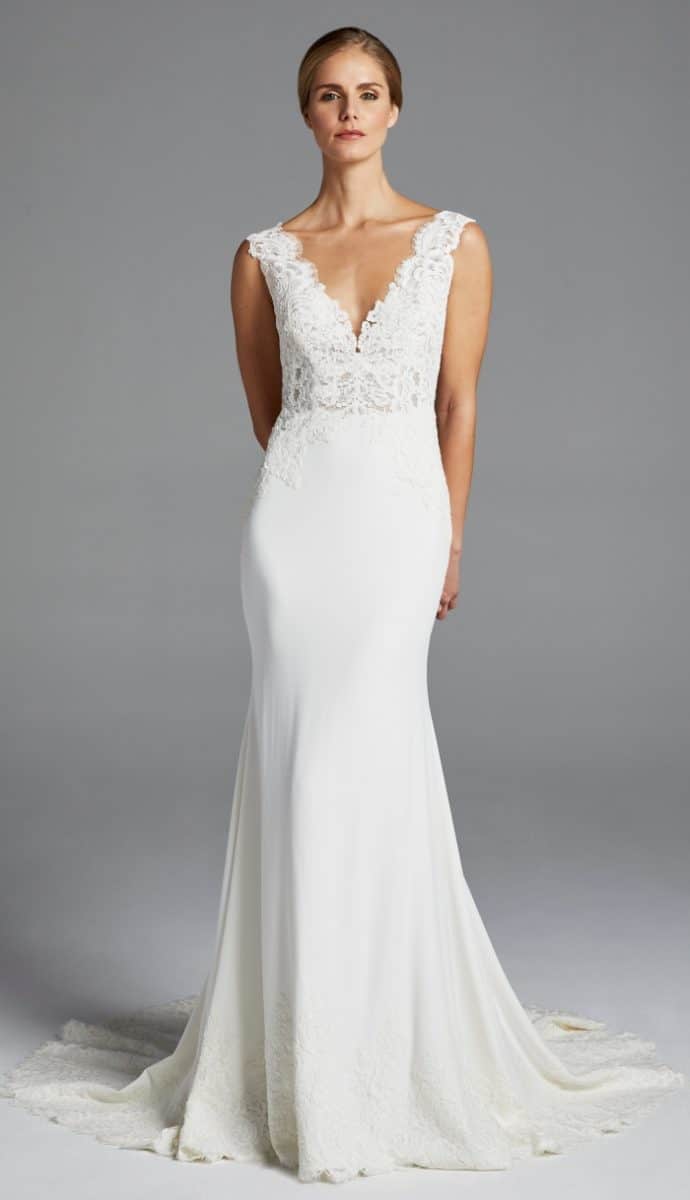 V-neck bridal gown with stunning lace bodice and hem on the soft trumpet skirt.  Lana by Anne Barge.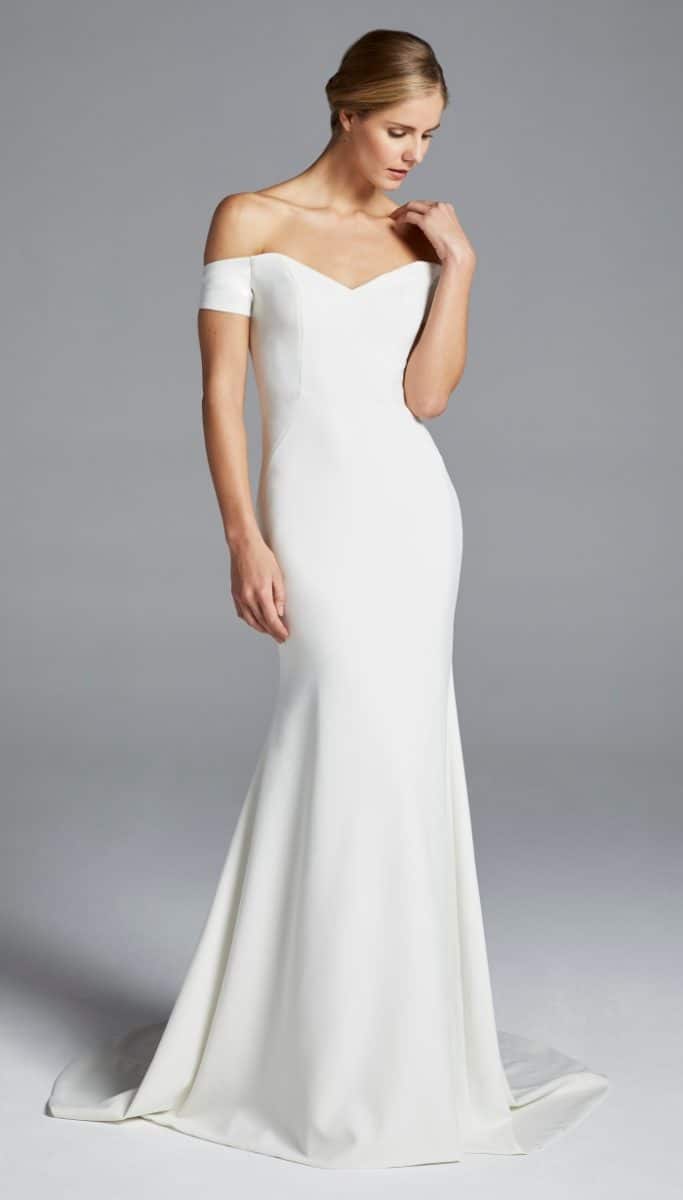 Minimalist, beautifully tailored, and elegant, the off-the-shoulder wedding dress is called Jolie. See the beautiful back detail in the runway images above.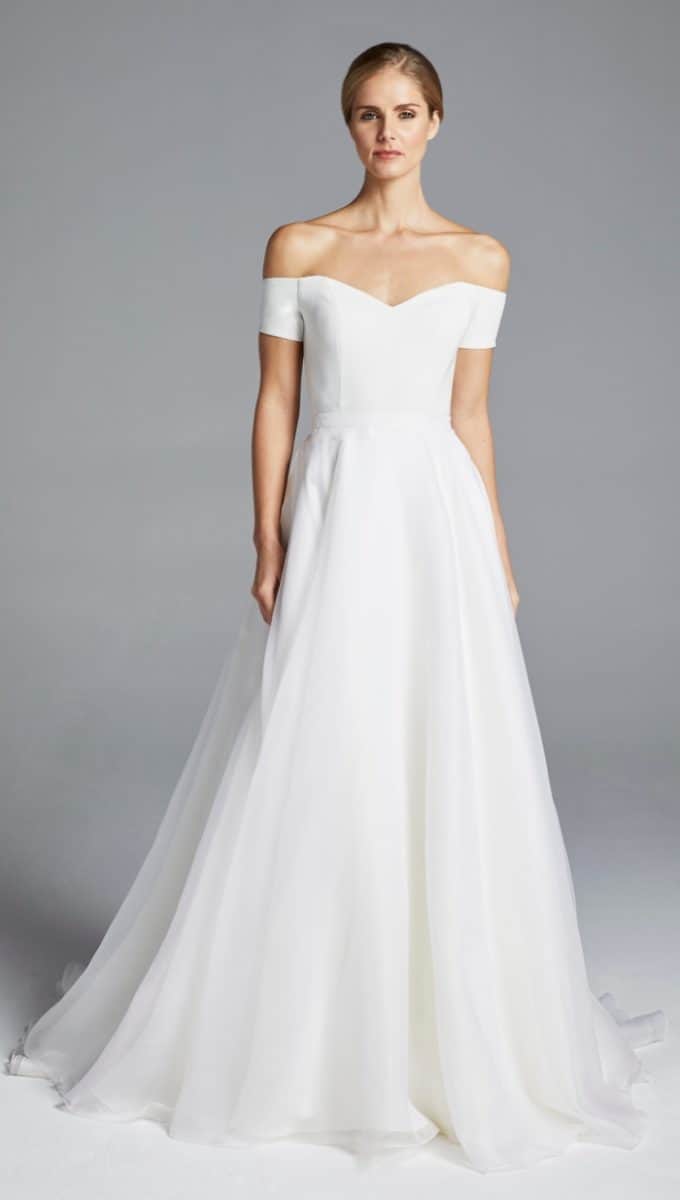 Elegant and modern off-the-shoulder styling in Rita by Anne Barge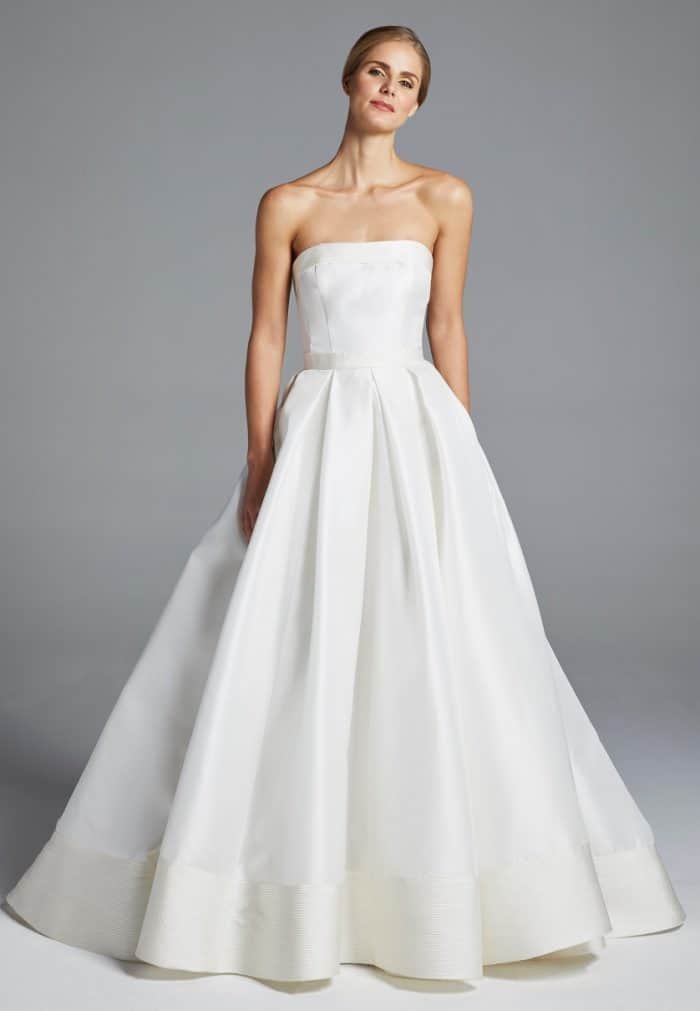 Hutton is a magnificent strapless bridal gown by Anne Barge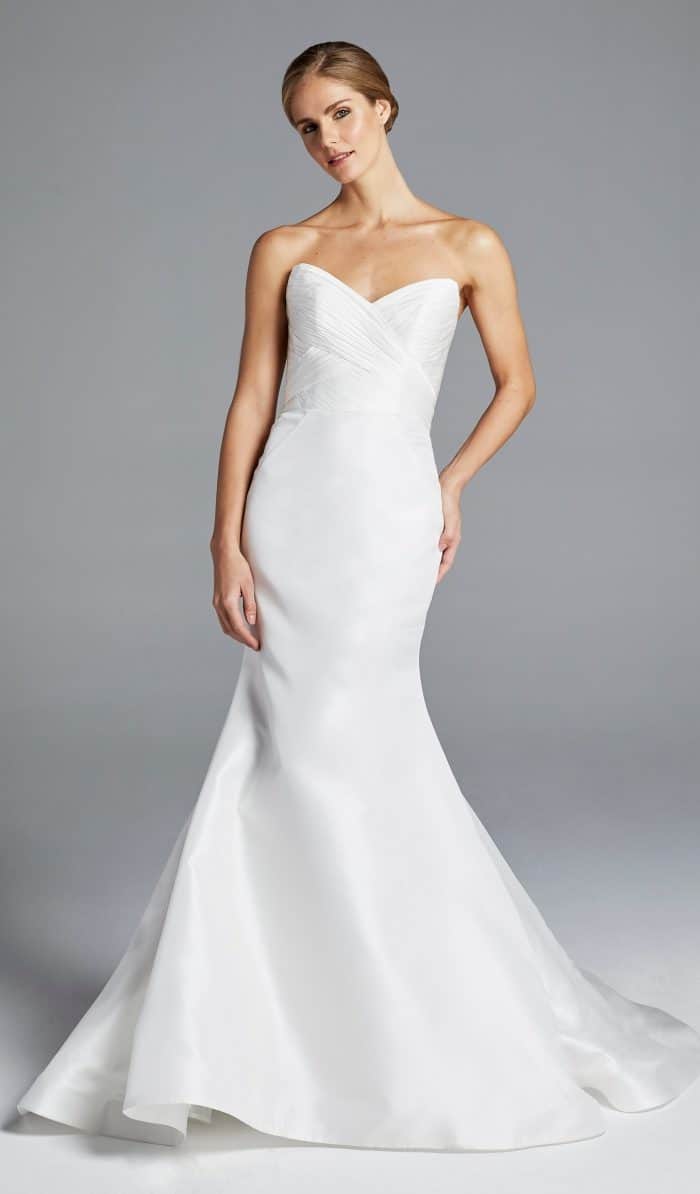 Amal by Anne Barge is offered two ways, with this sleek, sweeping trumpet skirt, or the tulle skirt below.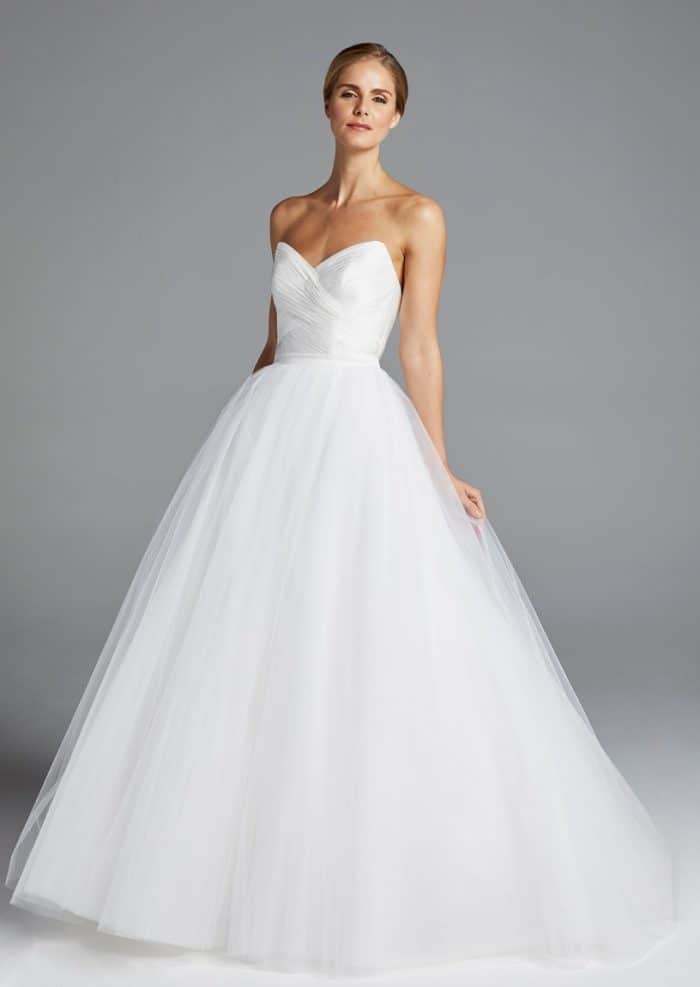 Amal with Tulle Skirt
Anne Barge 2019 Blue Willow Wedding Dresses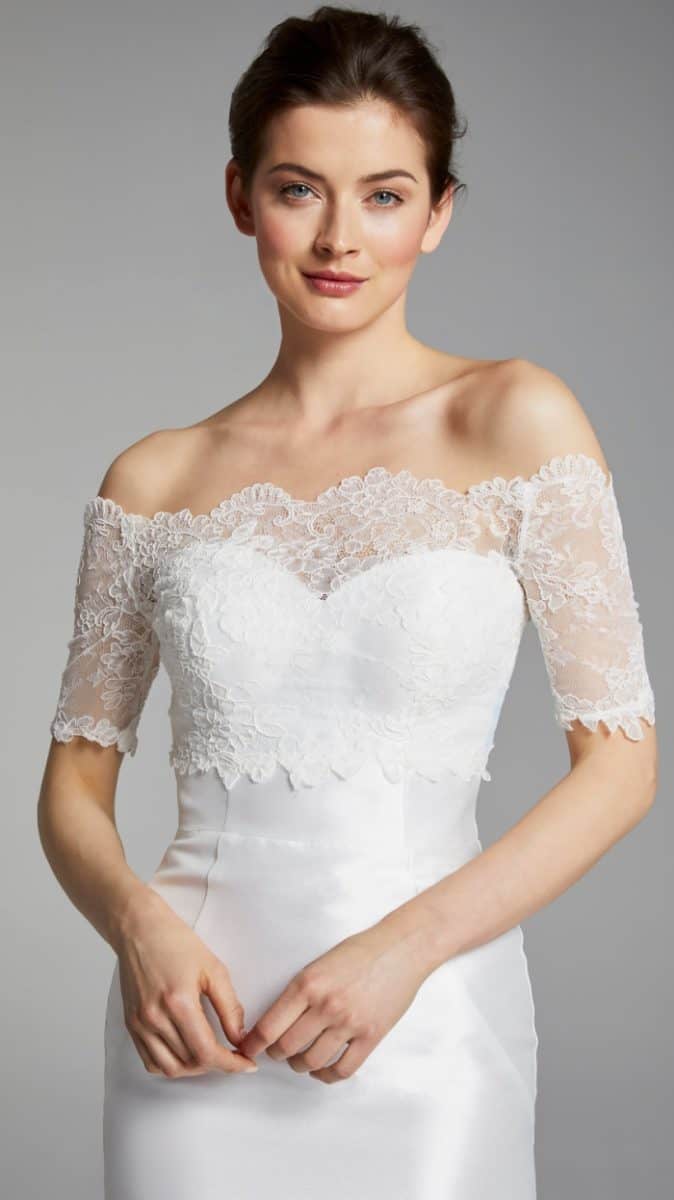 Anita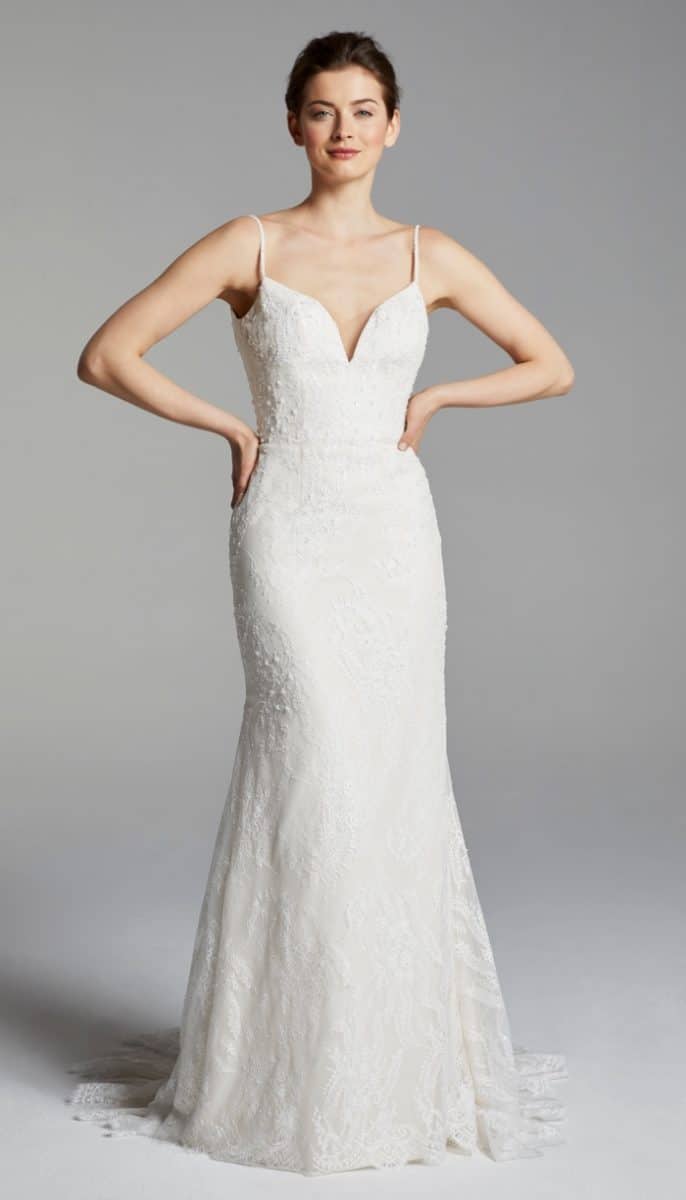 Veronica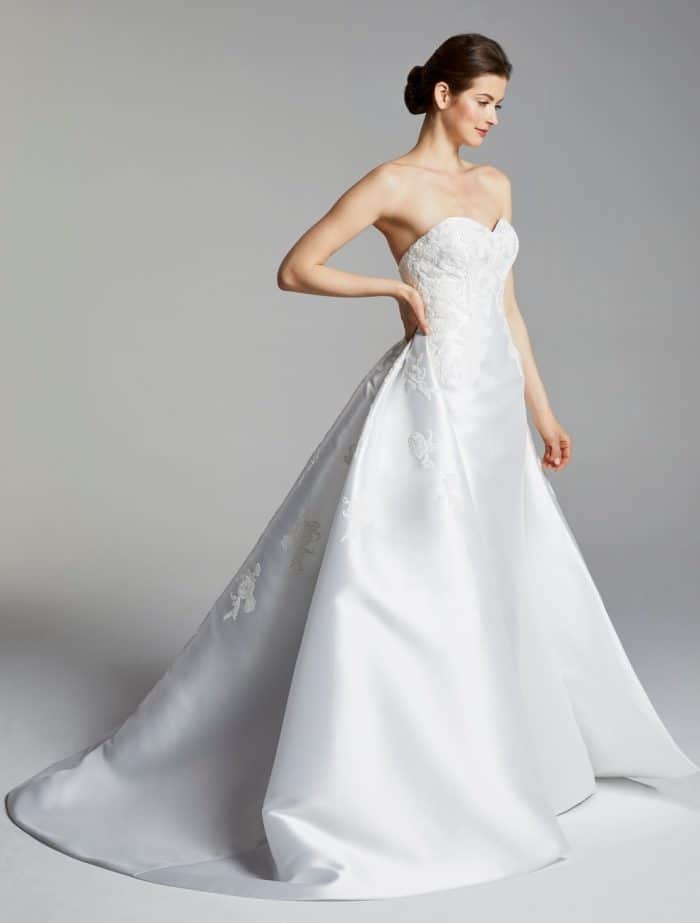 Bianca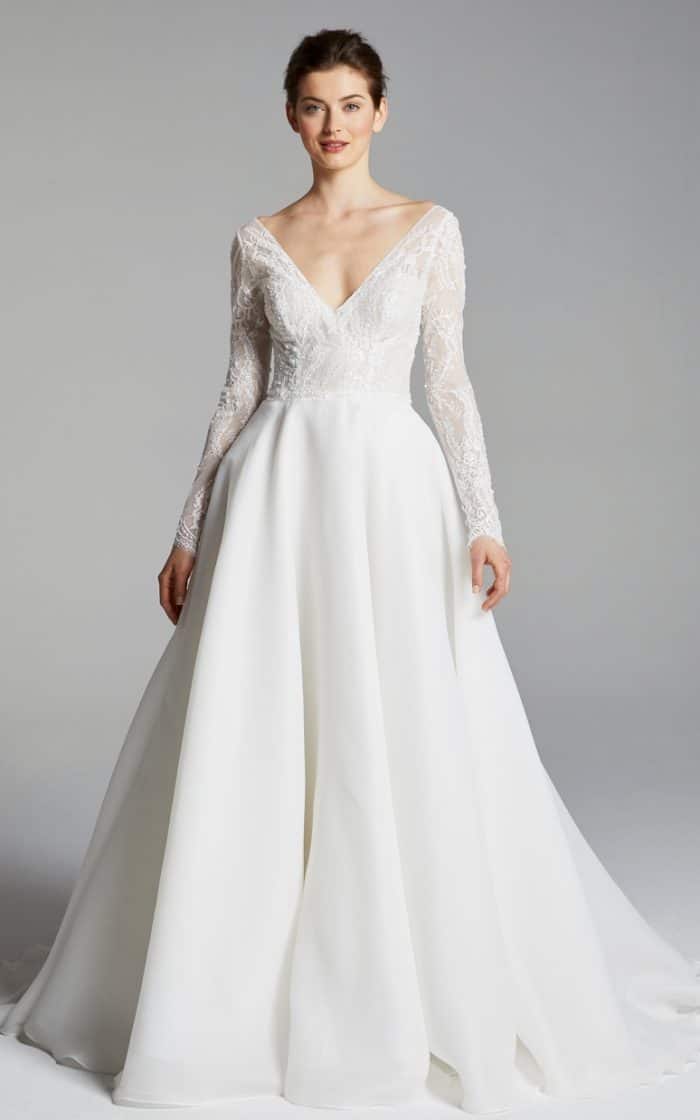 Chrissy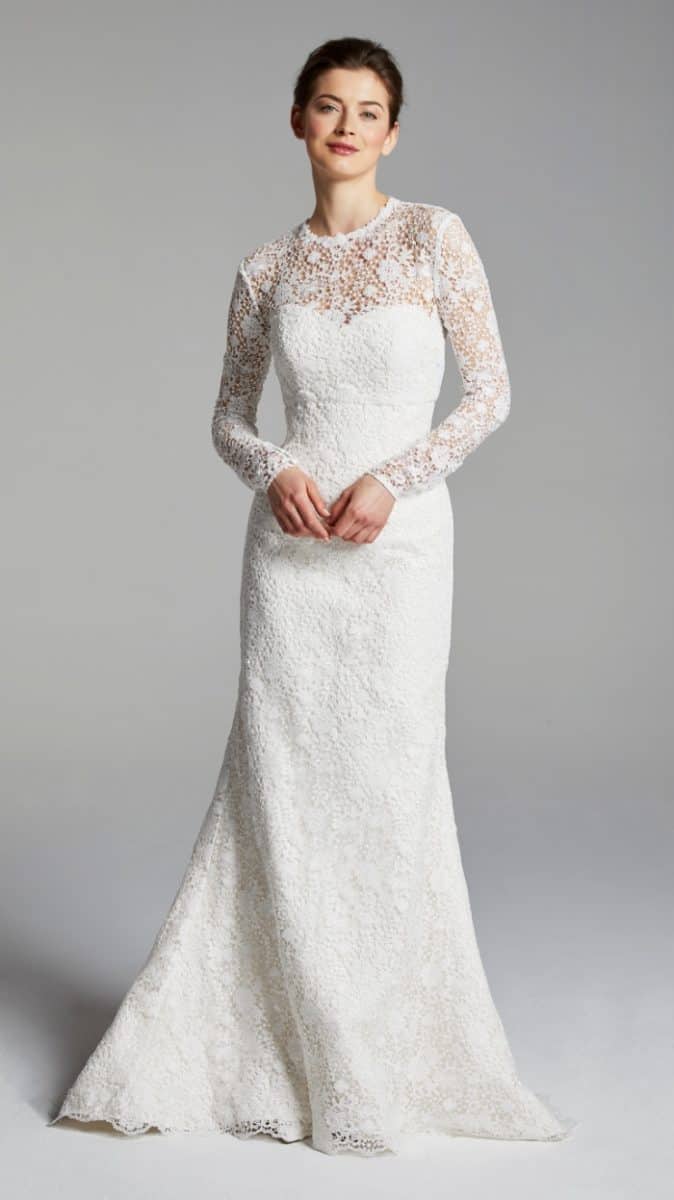 Keaton, with optional lace topper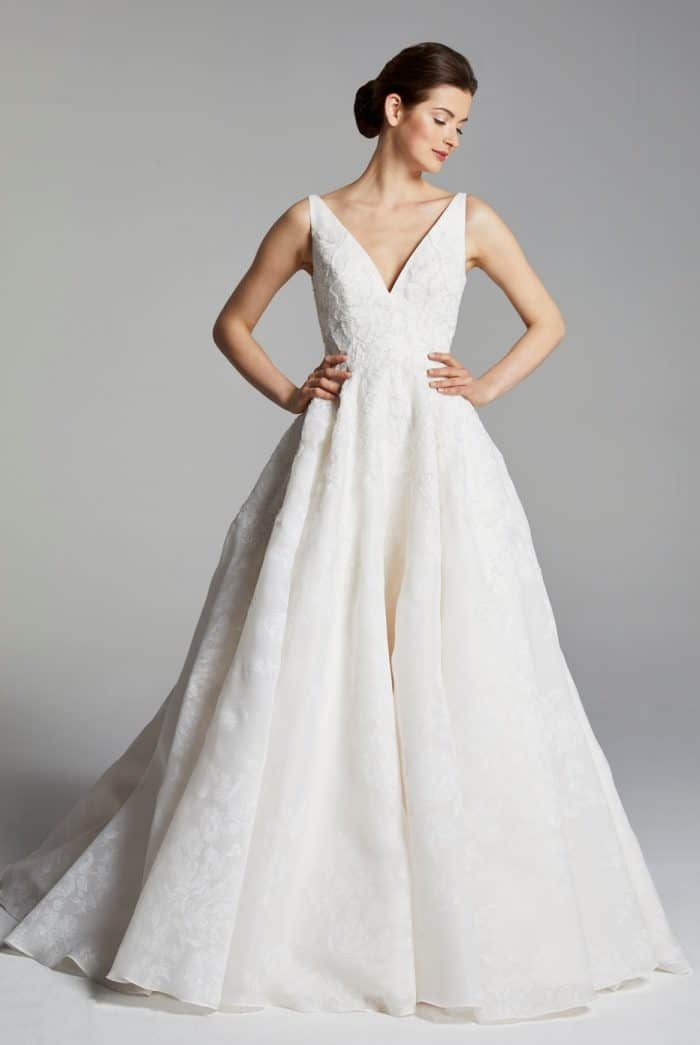 Lupita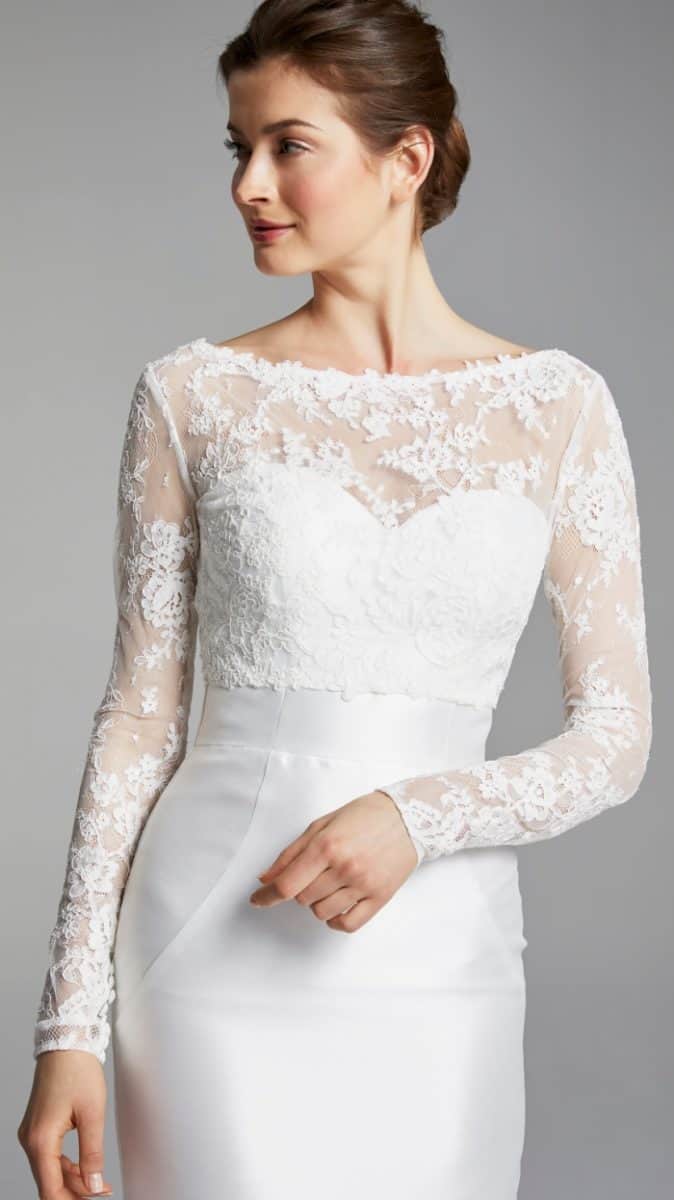 Lynda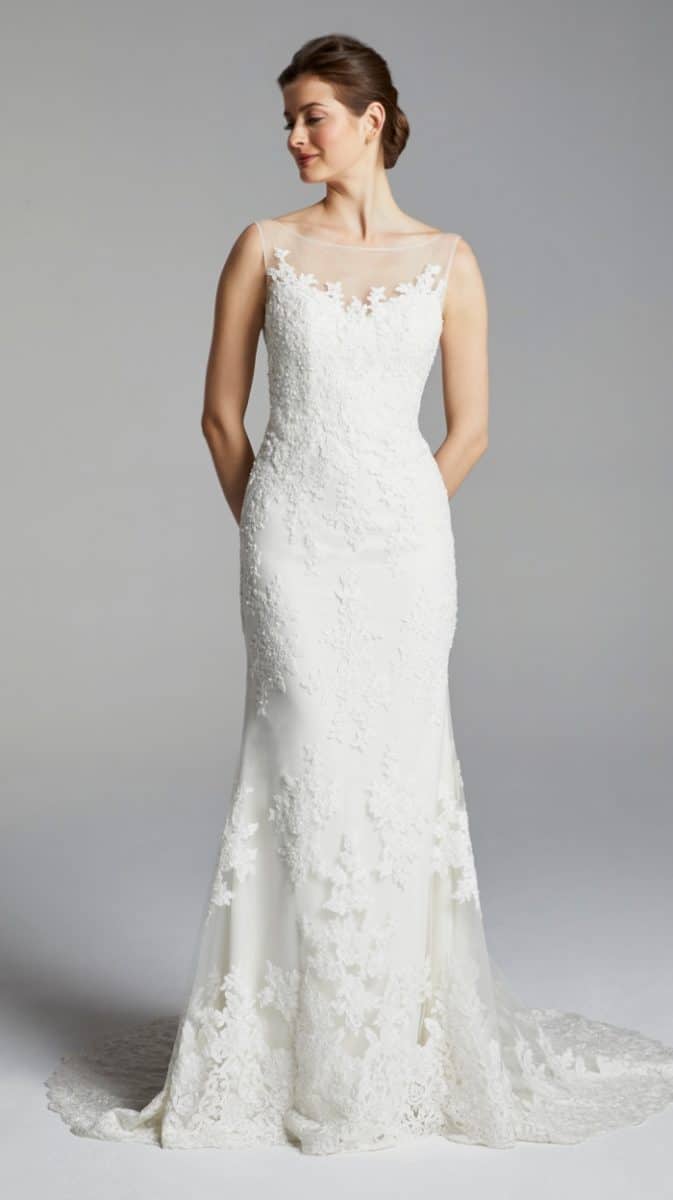 Mirren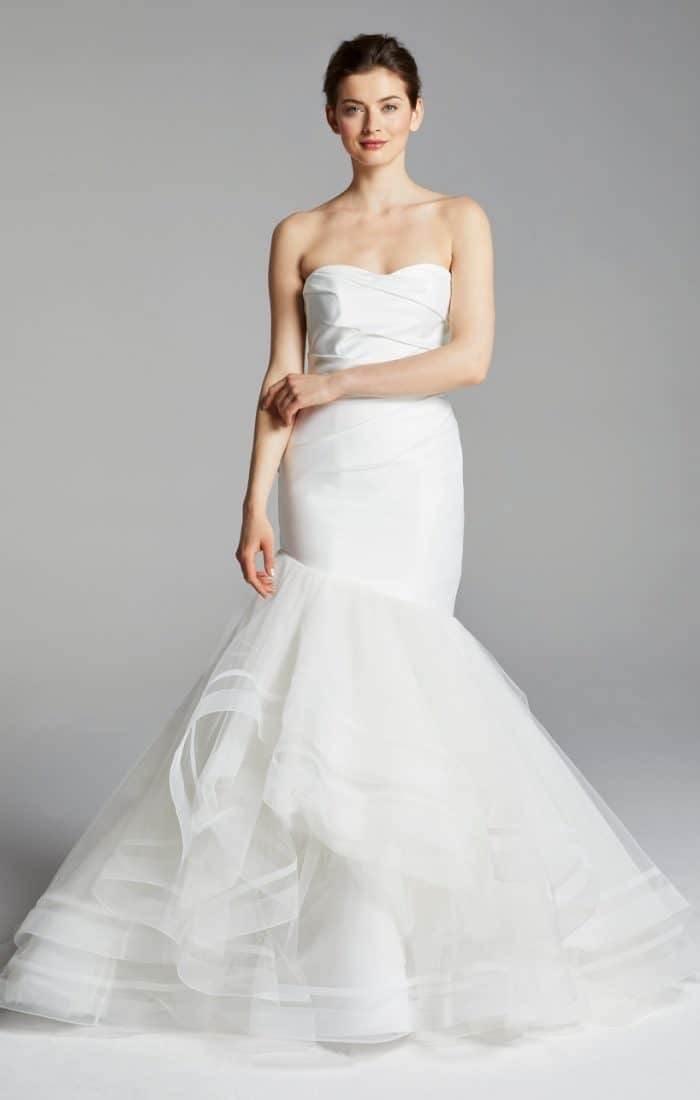 Monroe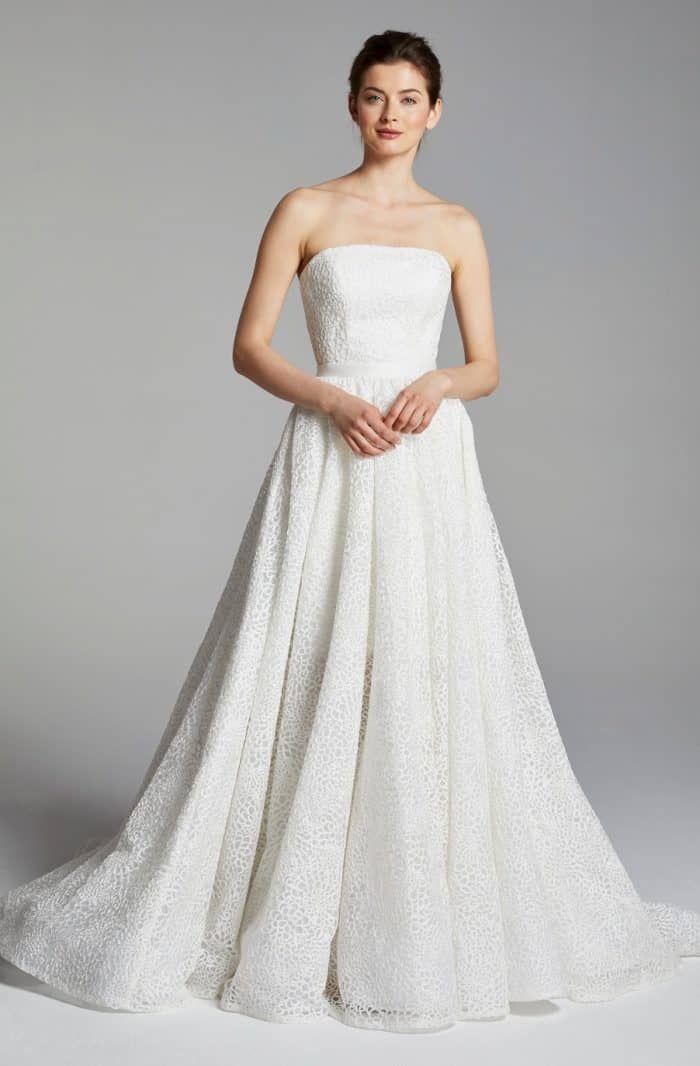 Reese (shown with detachable ball gown overskirt - remove it to reveal a sleek strapless short cocktail dress!)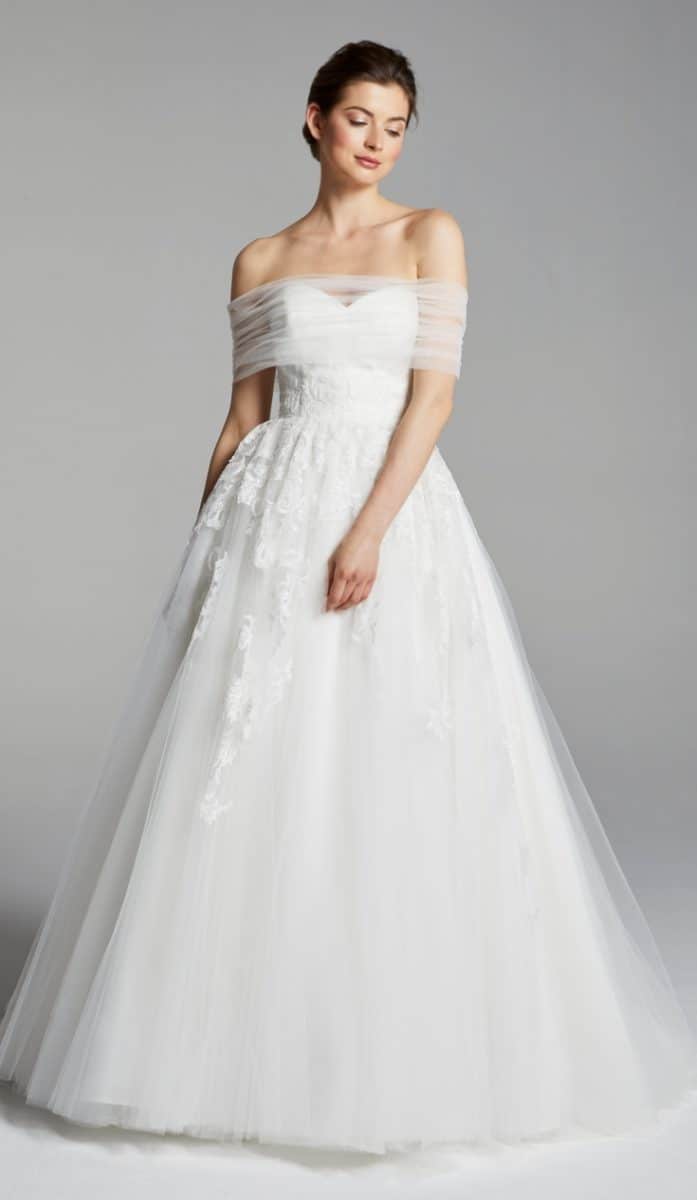 Rossi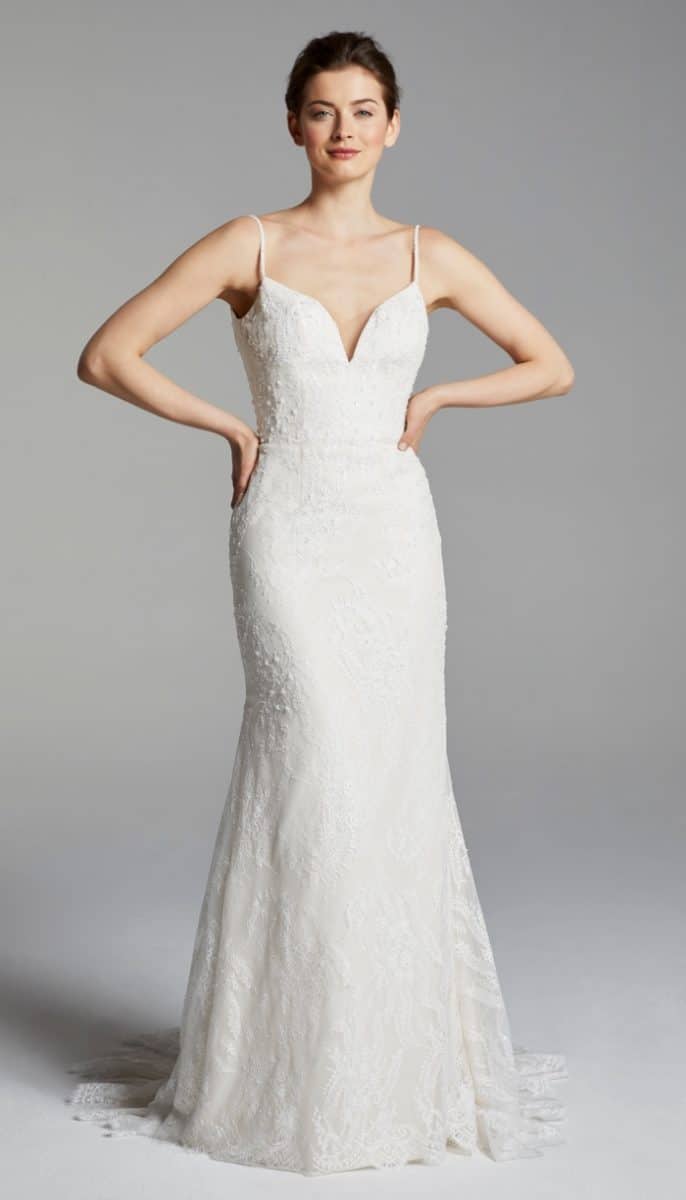 Veronica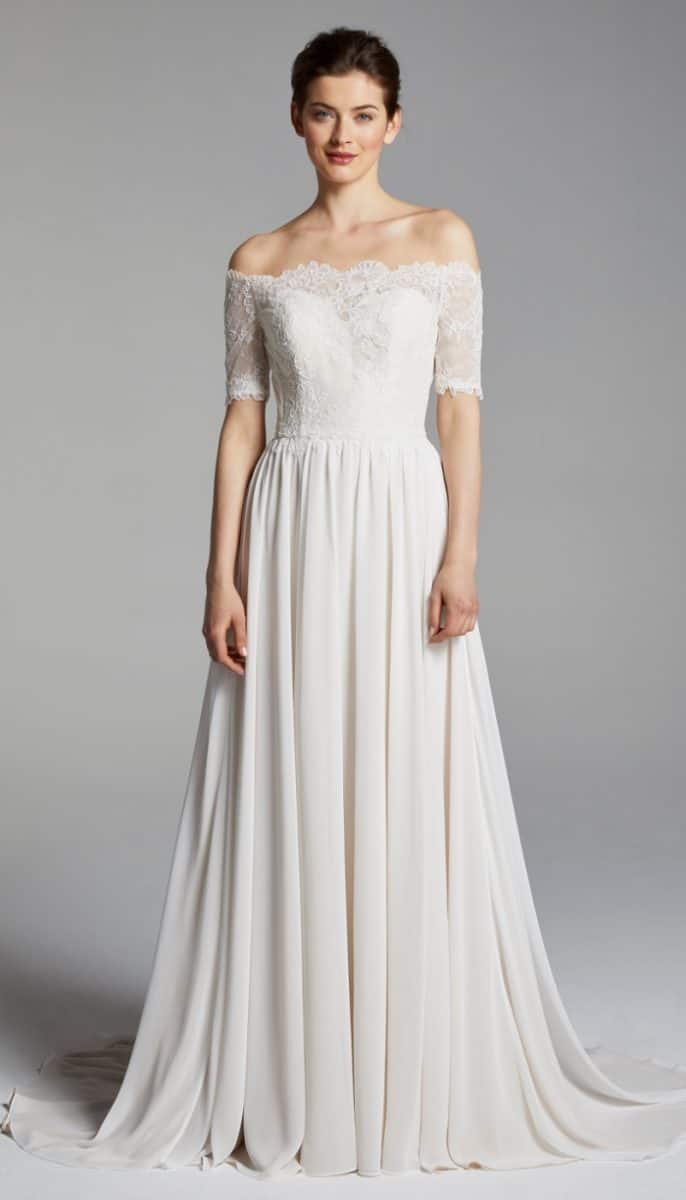 Winslett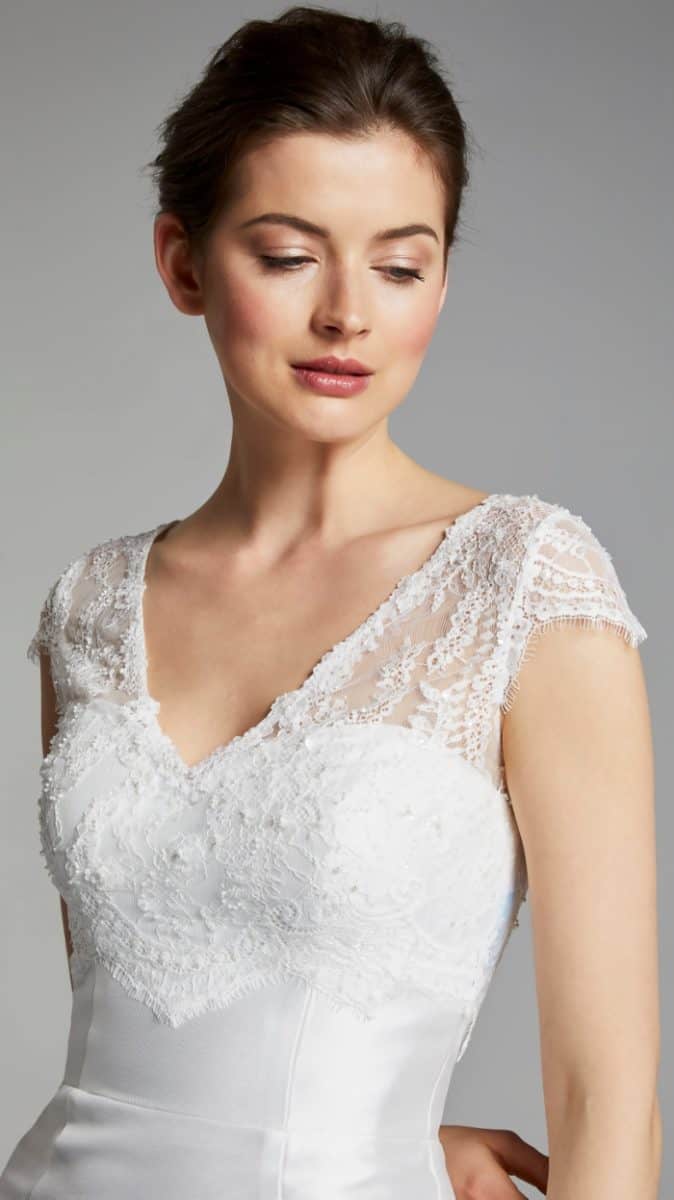 Zadie
Anne Barge Spring 2019 Bridal Collection
Words from the designer about the collection:
The Anne Barge Spring 2019 collection is inspired by women who embody femininity, confidence, and an innate sense of style. Like the muses of the collection, each design has a unique spirit that is defined by the neckline and silhouette and enhanced with refined detailing.
Paying homage to extraordinary women, past and present, the Anne Barge Spring 2019 collection is the epitome of feminine, timeless elegance.
For more information on any of these gowns, please visit annebarge.com. All lookbook images are thanks to photographer Sarra Fleur