Merlot Evening Gown
I'm continuing with the 'Flavors of Fall' attire ideas today, but instead of a bridesmaid look, I've designed collage that should suit both formal wedding guests in fall and winter, or a fall or winter mother-of-the-bride or mother-of-the-groom.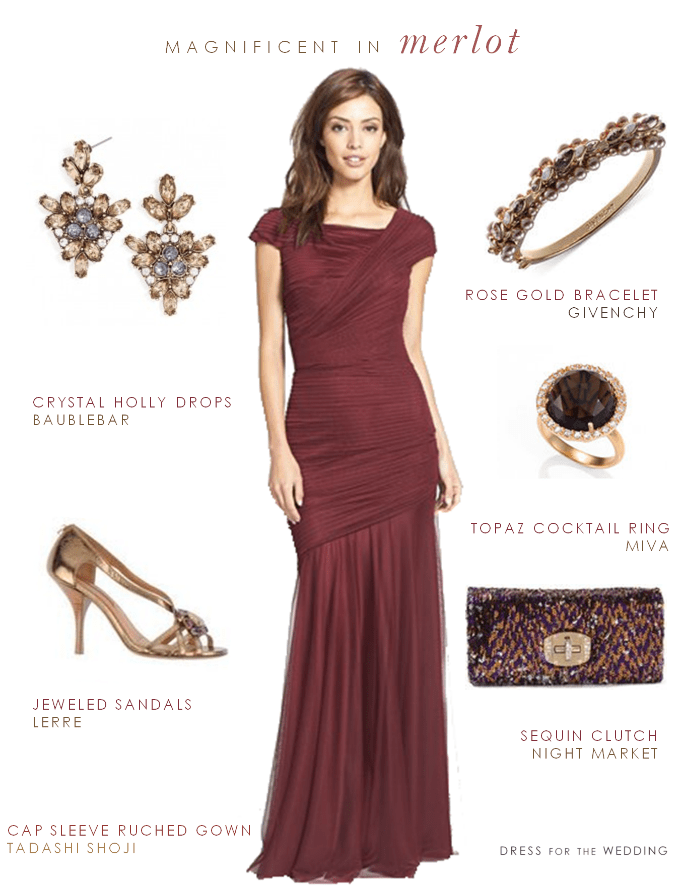 Shopping links are from affiliate sponsors. Dress: Ruched Cap Sleeve Asymmetrical Gown by Tadashi Shoji at Nordstrom ( This dress is from a past season, and is sold out now, but try this stunning Tadashi Shoji Burgundy Lace Gown or this burgundy gown with sleeves in Marsala or these burgundy styles // Earrings: Crystal Holly Drops from BaubleBar // Bracelet: Givenchy Rose Gold Vintage Cluster Bracelet at Macy's // Ring: MIJA Topaz and White Sapphire Cocktail Ring at Saks Fifth Avenue // Clutch: Night Market Sequin Clutch at FarFetch // Sandals: Jeweled Sandals by Lerre at YOOX See more red and burgundy styles
The flattering draping and merlot wine color of this gown has caught my eye from the moment I saw it. This dress would be fine with some simple pearls, crystal accessories, or some lovely garnet, ruby, or gold pieces if you have them. To bring out the fallish tones, I chose some autumnal colors of topaz, copper, blush, and a tiny bit of blue ( in the earrings and bracelet, I think) and a little bit of purple in the clutch. I've decided cocktail rings are one of my new favorite accessories, especially for fall and into the holiday, so I've included one of those, and you can expect to see more in the future. They might compete with clutches for being my new favorite accessory to add to collages! I love how they add a statement of sparkle your hands! (Statement of sparkle, I don't think I'd ever say that to a person in real life, so where did I come up with that?! But, I hope you know what I mean!)
I also love the fabric of this dress - the dressy jersey material gives it that drape, and I would imagine, a great degree of comfort to wear, but then the tulle netted overlay makes it dressy and formal in a way that jersey usually isn't. If you're looking for a great gown for fall and winter weddings or formal events that will take you right through the holidays, this is definitely a front runner for me!
More Merlot and Wine Colored Dresses

More style ideas:
Red Mother of the Bride Dresses
This post has links to my retail sponsors.