What to Wear to a Formal Black Tie Fall Wedding or Event
If you have a formal black tie wedding to attend this fall or winter, this post is full of ideas for what to wear!
The shopping sources in this post use affiliate links, which means this site may earn a commission if you make a purchase from our links.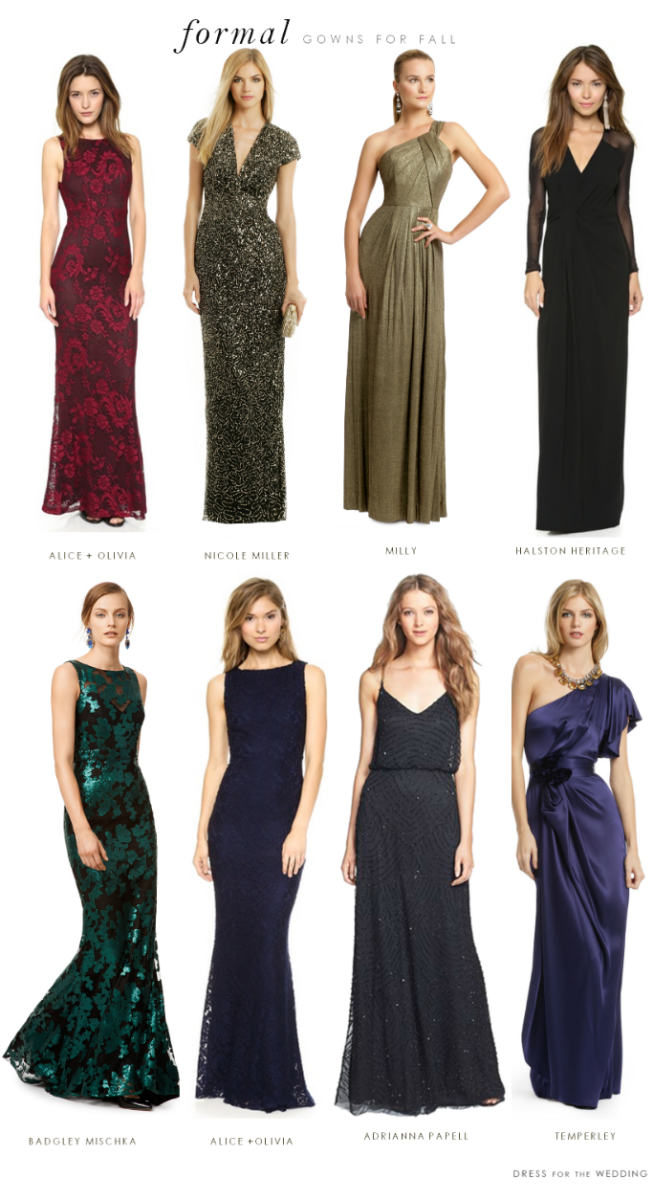 Top: 1. Sachi Open Back Maxi Gown from Alice + Olivia at Shopbop 2. Nicole Miller "Midnight Sequin Stars' Gown at Rent the Runway 3. Milly 'Gold Metallica Pleat Gown' from Rent the Runway 4. Halston Heritage Twist Front Gown at Shopbop
Row 2: Ivy Gown by Badgley Mischka at Rent the Runway. 2. Navy Lace Sachi Gown by Alice +Olivia 3. Adrianna Papell Embellished Blouson Gown 4. Temperley London " Be Romanced" Gown at Rent the Runway
If my own experience tells me anything, it's that black tie weddings are fun opportunities to get a little glamorous. But, if you're not used to donning tuxes and evening gowns, figuring out the what-to-wear can seem a bit daunting. This post is here to help! (And if you're looking for semi-formal styles, check out this earlier fall wedding attire post.)
The shopping sources in this post use affiliate links, which means this site may earn a commission if you make a purchase from our links.
Shop Formal Dresses to Wear to a Fall Wedding

Women's Black Tie Attire
For women, the formal black tie event is a chance to break out the finery, but again there are various levels of appropriate finery even within a black-tie designation. To narrow in on the best choice for attire, use input from the invitation, location, climate, couple, your own personal style, and what other guests are wearing as a guide.
Some black tie weddings are traditional, staid affairs where black, navy and other dark colors rule for dresses. At other more celebratory black tie weddings, couples want their female guests to be in very festive formal attire, with evening gowns that look straight from the red carpet with lots of color, sparkle and embellishment on display. In general, a classic full-length evening gown or, in some cases, a dressy cocktail-length dress, with fairly subtle deep or appealing color, classic tailoring, and beautiful bit of detail, is the perfect thing to wear.
If the crowd is a little more fashion-forward, one might choose a modern dressy maxi dress style with blouson styling, asymmetrical details, or a bit of a bold print. While I love a bit of sequin, sparkle and rich fabric in black tie attire, my only caution (and personal preference) is not to be too ostentatious with the parkle (unless the couple or crowd you'll be celebrating with tends to prefer this style of dressing). A good rule of thumb is to make sure the gown has only one stand-out feature (i.e. sequins, but in a subtle color, or a figure-flattering silhouette, balanced by a modest details everywhere else ) As always, even though I don't necessarily believe that anyone can truly upstage the couple on their wedding day simply with their clothing, it just generally seems to be good manners select a gown that will not be such a showstopper that you could in some way outdo the bride and bridal party. In other words, if you choose gold or silver sequined make sure the dress doesn't cross into something that might be the within the prom dress or bridal gown realm.
Tip: If you want a black tie dress without paying too much, read this post on affordable formal gowns!
Men's Black Tie Attire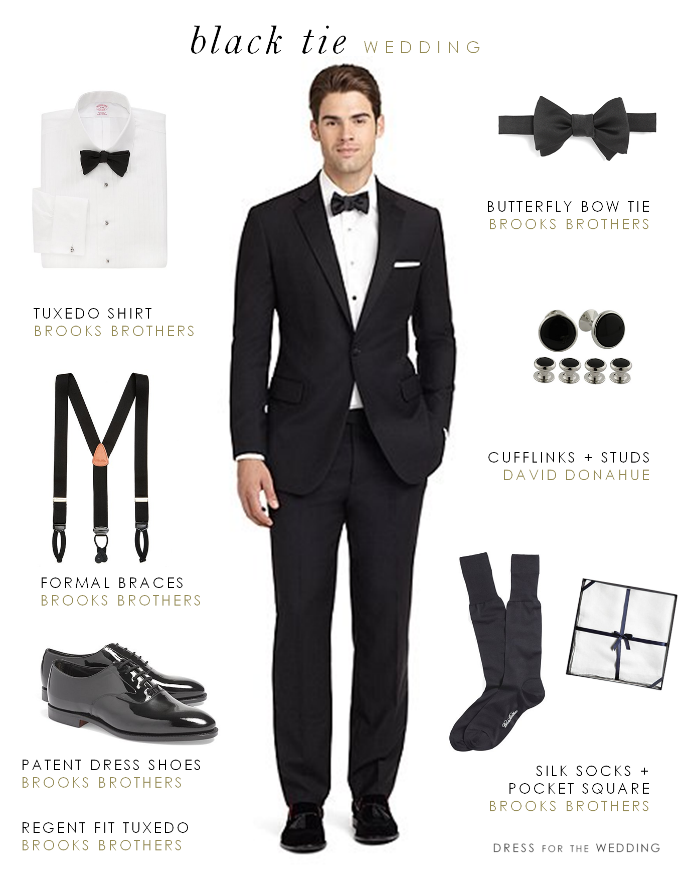 Tuxedo Jacket: Ready Made Regent Fit Tuxedo Jacket from Brooks Brothers // Tuxedo Pants: Regent Tuxedo Trousers from Brooks Brothers // Shirt: Ten Pleat Tennis Collar Tuxedo Shirt // Bow Tie: Silk Butterfly Bow Tie // Silk Socks and Pocket Square: Irish Linen Square Handkerchief // Cufflinks: Cuff Link And Stud Set by David Donahue //Shoes: Black Patent Lace Up Dress Shoes from Brooks Brothers // Suspenders: Formal Braces from Brooks Brothers
Fall Formal Weddings for Male Guests
For male guests, a black tuxedo, white shirt, black dress shoes, and a dark bow tie are standard black tie attire. As the name suggests, usually an actual solid black bow tie is preferred, but for more festive black tie events, a bow tie with a color or pattern is tolerated and even encouraged. The complete tuxedo usually has some other accoutrements: either a cummerbund or vest, but modern stylists say it's ok to forgo those--just suspenders are enough. You'll also want to consider a donning pocket square, cuff-links, and button studs if the shirt requires them.
While black tie for men is fairly straightforward, there are some variations. For instance: a white dinner jacket is a considered a very elegant formal choice in the summer or for warm climates, but generally this should be reserved for daytime spring or summer black tie events. Formal military uniforms or formal cultural attire also works for some black tie occasions, but I'm not sure of all of the rules there. I might research that more in the future, but for now, I'm going to assume that if you own a particular uniform, you'll know best when to wear it! A tailored black suit that might also pass muster at some more modern black-tie events, as would a tuxedo-style suit worn with a 'normal' or skinny black tie. Let the formality of the event location, and of the couple and family themselves, guide you on the level of traditional black tie style you should try to abide by.
Tip: If you choose not to rent; here are our current picks for tuxedos for black tie weddings! Including some affordable choices!
Dress Colors for Fall Black Tie Weddings
If you are not wearing a festive black or navy, I recommend rich jewel tones and metallics like: burgundy, plum, deep green, rich blue, bronze, gunmetal grey, and pewter. If you're not attending a black tie wedding, but have a gala, ball, or other formal event, feel free to break out the true ball gowns, and brighter colors, since a little more glamour is usually welcomed. Another tip: if you'll be heading to a church wedding and wearing a strapless gown, please bring a wrap, formal jacket, or overlay of some sort to cover your shoulders, as some houses of worship require modesty of this sort.
Well, are you feeling suitably ready to get fancy this fall wedding season? I hope so! If you're planning a fall or winter black tie wedding, and want to give your guests a hint about what to wear, link to this page on your wedding website, or share this on Facebook.
More posts you might like:
Semi Formal Attire for a Fall Wedding
Follow Dress for the Wedding on Pinterest