Mint and Aqua Cocktail Dress for a Wedding Guest
We are in full swing of summer, and the thought of wearing heavy dark clothes or the cozy colors of fall still has no appeal to me; even though they are starting to show up in stores! Instead, it's still time to wear those pretty pastels, and summer hues that are cool and refreshing.
Affiliate links are used in this post.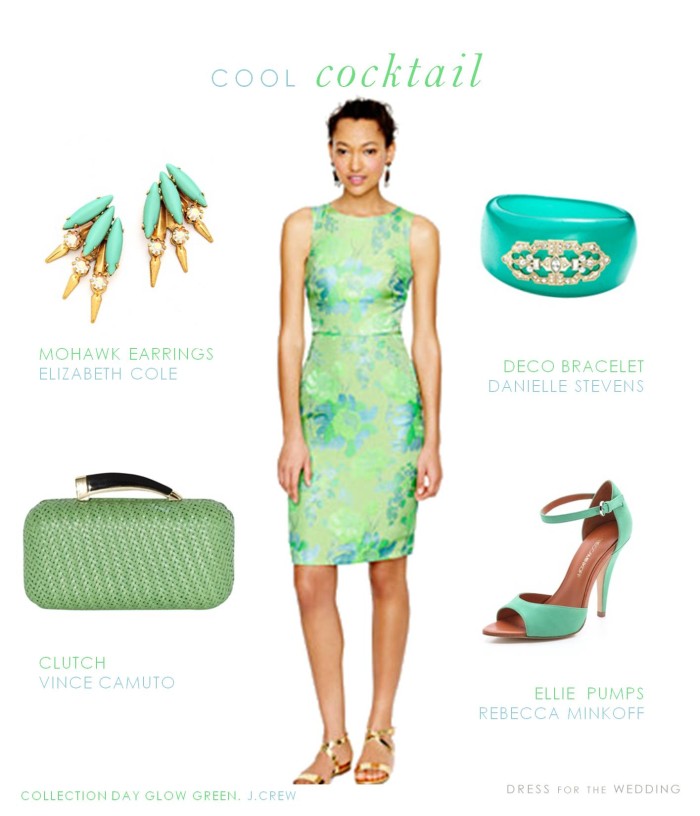 J.Crew Collection Day-Glo Bloom Jacquard Dress / Elizabeth Cole Petite Mohawk Earrings / Danielle Stevens Deco Bracelet from Max & Chloe /Rebecca Minkoff Ellie High Heel Sandals / Vince Camuto Green Horn Clutch
Dress for a Summer Wedding Cocktail Hour
I put this outfit together for anyone looking for a fresh summer look that would be ideal for afternoon into evening cocktail hour reception for a wedding or even for a beach wedding that is slightly more formal.
Mint and aqua are two of my favorite pairings, and they always look cool and refreshing, and ladylike. J.Crew has blended them perfectly in this Day-Glo Bloom Jacquard Dress, and I've highlighted the colors more with turquoise accessories, and a bit of light Kelly green thrown in. Just order a mint mojito, or a cool cucumber-infused drink and you'll be as cool as can be at a summer cocktail reception.
More Dresses Like This