This long lavender maxi dress is a beautiful, laid-back-yet-elegant formal style for spring or summer bridesmaids, or a wedding guest outfit for formal spring and summer events.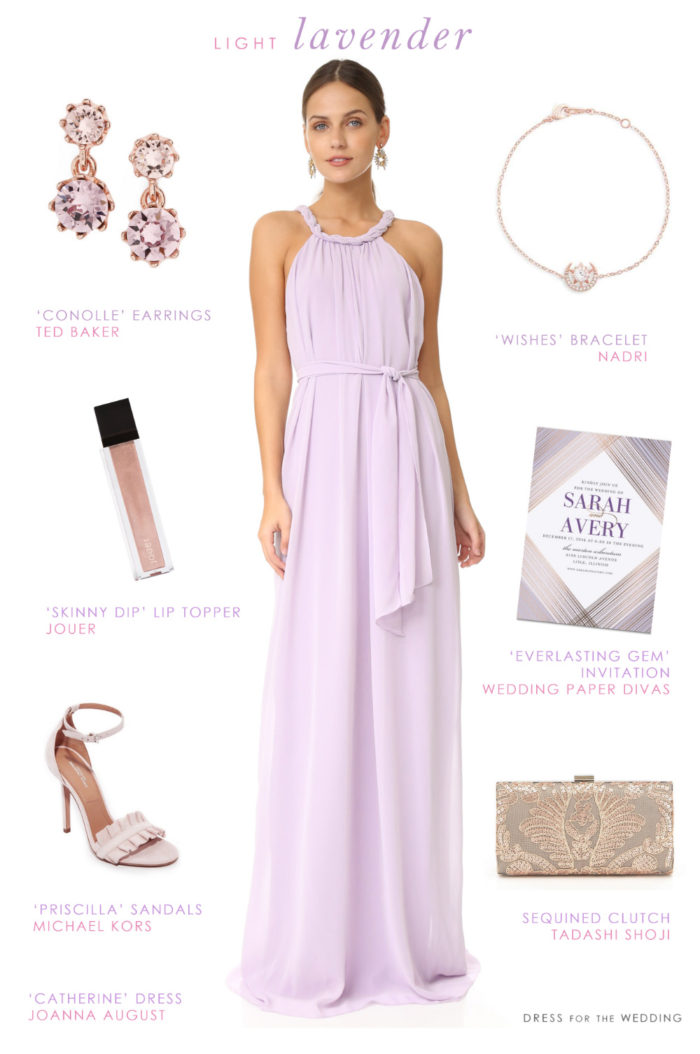 Affiliate links are used in the shopping details of our posts:
Dress: 'Catherine' Long Dress in Moondance by Joanna August | Earrings: Conolle Crystal Earrings by Ted Baker from Nordstrom | Bracelet: 'Wishes' Crystal Line Bracelet by Nadri from Nordstrom |Invitation: 'Everlasting Gem' Invitation from Wedding Paper Divas | Clutch: Sequined and Embroidered Lace Clutch by Tadashi Shoji | Sandals: 'Priscilla' Sandals Michael Kors from Shopbop | Lip Gloss: Jouer Lip Topper in 'Skinny Dip'
Long Lavender Gown
A lavender dress will always be a beautiful color choice to me, especially for spring and summer weddings. It's an easy-on-the-eyes sort of color, that sets a beautifully relaxed-yet-festive look. This particular ethereal lavender color is called 'Moondance' which is used in all of these bridesmaid dresses which are part of the Ceremony by Joanna August Collection. Joanna August bridesmaid dresses are always a perfect beautiful choice for relaxed formal bridesmaid gowns with modern silhouettes. FAs you can see, this pretty pale purple color is paired with a beautiful twisted high halter neckline, and the silhouette has lovely drapey details accented with a sash. There's no doubt that both in color and style, the 'Catherine' gown gown gives off a distinctly goddess-like vibe.
Lavender Maxi Dress for Bridesmaids or Guests
I can picture this gown as a choice for a wedding party in a garden wedding, or for a venue where relaxed elegance would be the order of the day. Perhaps this is the dress for bridesmaids in a wedding at a country estate, or at a private home overlooking the water. This gown also makes for a beautiful choice for a wedding guest seeking a black-tie formal gown, that will be lightweight enough to withstand spring and summer temps. For those of you who want a different silhouette or for bridesmaids who want to choose their own dress check out the other styles below!
How to Accessorize a Pale Purple Gown
I've accented the lavender color with pink, taupe, and rose gold accessories; these warm neutrals give it a rich look. Lavender also pairs beautifully with cool greens and silvers. One really can't go wrong with this shade! If you're thinking of this color for your wedding party, but want more lavender styles to choose from, I've selected several more lavender maxi dress styles below in this exact color, including the 2 styles like the one shown here that are from 'Shopbop' and 9 more styles in this same 'Moondance' color by Joanna August that are available from Nordstrom.

You might also like:
More ideas for Purple Bridesmaid Dresses
Maxi Dresses for Wedding Guests
Purple Mother of the Bride Dresses