Pale Gray Blue Bridesmaid Dress
I've been excited about creating a collage featuring this dress since I first laid eyes on these new styles and fabric by 57 Grand a few weeks ago. Why am I so drawn to it ? Well, I'm a huge fan of this rich jacquard fabrics that are coming out this season, and I really love a classic style like this with a slightly mod vibe.  This fabric style is called "Park Avenue Brocade", and it looks very polished and ladylike to me.  It comes in a few gorgeous gold-tinged colors, but this pale gray blue and gold color called "Cloudy Gold" was calling my name today.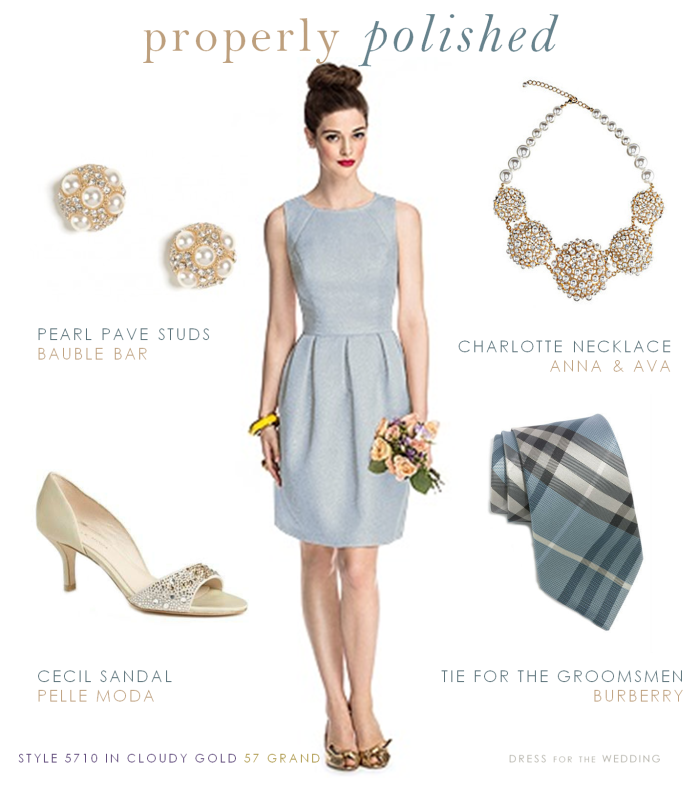 57 Grand Style 5710 Park Avenue Brocade in Cloudy Gold /Pearl Pave Pop Studs from Bauble Bar / Anna & Ava Charlotte Pave Pearl Necklace / Blue Plaid Tie Burberry /Pelle Moda Cecil Sandals
I find this shape and fabric to be a slightly retro-style ( at least to me, since I can recall fashionable family members wearing fabrics like this) but traditional and timeless enough to be the sort of dress you will not regret choosing 10 years later. The  fabric is a slightly pale gray blue with golden thread through it. It's a great way to give your bridesmaids some sparkle without full sequins (although I'm a fan of that look when done tastefully.) This particular dress has pockets hidden in that full skirt, so there's a slightly relaxed style underneath the polished exterior.
I wanted this to be an very classic kind of Audrey Hepburn-esque look, so I put some modern takes on pearls with it.  Those sandals have been on my wish list too. I also put a richly textured Burberry tie with it so that the gentlemen in your wedding party can also have their own dignified style.
If you're looking for a refined look for your bridal party, I'd say this is it!
Related Pages:
Shop Bridesmaid Dresses by Color
Bridesmaid Dresses in The Collection


More style ideas you might enjoy :