Green Bow Back Dress for a Wedding
Happy weekend, everyone! I hope you're enjoying all the bridal coverage, but I'm also eager to go back to giving you some wedding guest outfit ideas! As we get further into the fall season, if you're anything like me, you'll want any dressy clothes you buy now to do double-duty as not only for a wedding but for holiday parties and other special occasions of the season. I think I've picked a dress today that does that well!
Affiliate links are used in this post. We may earn a commission on sales.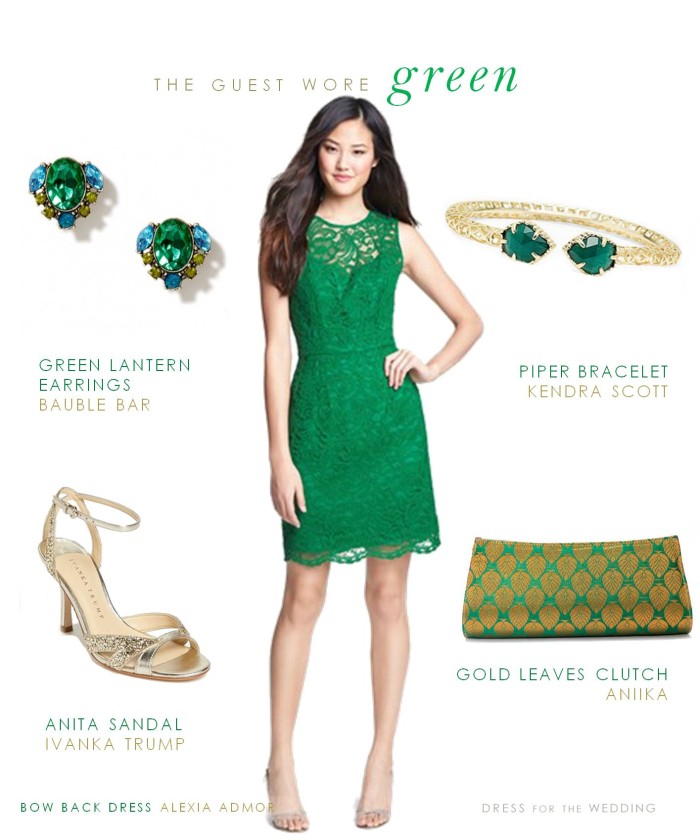 Alexia Admor Back Bow Dress from Nordstrom / Green Lantern Stud Earrings from Bauble Bar /Kendra Scott Piper Bracelet / Gold Leaves Clutch at Aniika / Anita Sandal by Ivanka Trump
I think a forest green dress like this one is a great color for any time of day, and goes so nicely from a fall wedding reception to a holiday party. Did you know that it was once considered wrong to wear green to a wedding- especially in the UK? I learned that earlier this year in a blog comment and again saw it mentioned in this piece about Pippa Middleton, but I think it's a very outdated and silly rule. If anything, I guess I'd just pick another color if I were attending a wedding in the UK, just to be sure I was being respectful, but in the US, I think it's a great color to wear!
The best thing about this dress isn't the color or the lace detail--which are both wonderful!-- it's the tiny bows up the back. Check out this picture to see it!
Aren't those the sweetest? I'm a sucker for little details like that! Would you wear this dress for fall weddings, or do you believe "green should not be seen"?
Be sure to follow me on Pinterest for lots more ideas and all of my wedding guest dress pins that will keep you in style for the rest of the season.



More style ideas you might enjoy :