Short Peach Dress for Bridesmaids
An outfit idea featuring peach bridesmaid dresses.
Affiliate links are used in this post
Short Peach Bridesmaids Dresses

I've mentioned my fondness for peach in a prior peach dress post, and I wanted to make good on my promise to find more bridesmaid dresses in this pretty summer shade. Peachy tones abound in wedding themes -- one can literally use the fruit as decor, or just rely on the hue to give a romantic glow to the day. It't the perfect compromise to pink and because of it's touch of orange, with just a hint of blush. To get things started, here are some of my recent pins on Pinterest for my Peach Themed Wedding ideas.
Peach Wedding Theme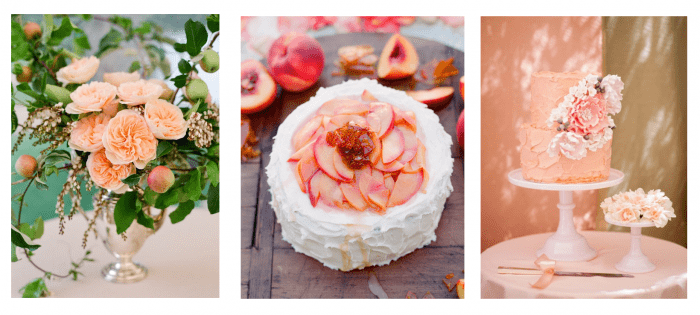 Peach Florals via Pinterest Credit: Lisa Lefkowitz via Snippet and Ink / Peach Cake via Kiss The Groom / Peach Wedding Cake via Wedding Bells orginally found on 100 Layer Cake Photography: Tealily Cake: Sweet Bloom
Peach Bridesmaid Dresses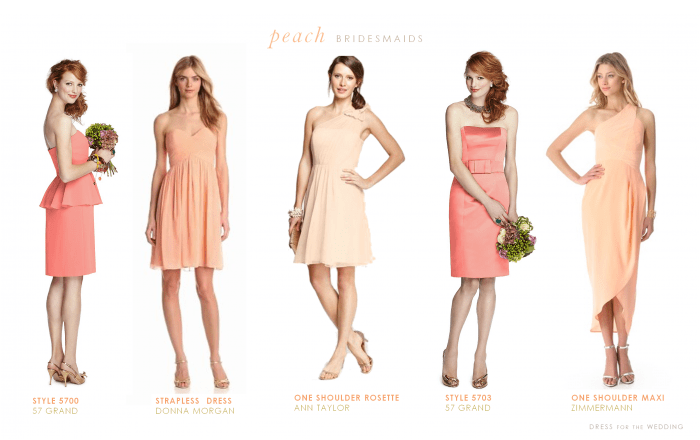 57 Grand Style 5700 in Ginger /Donna Morgan Women's Strapless Sweetheart Chiffon / Silk Georgette Flower One Shoulder Ann Taylor in Soft Coral /57 Grand Style 5703 in Ginger /Zimmerman One Shoulder Maxi Dress
Peach Dresses for Bridemaids
These peach bridesmaid dresses come in all sorts of soft pinky-orange hues, but they have enough of a kick of color to keep your maids from being too washed out in pictures. Dessy's 57 Grand line calls their hue "Ginger" and Ann Taylor's shade is called " Soft Coral". From pale blush peach, to a more vibrant orange, this line up of peach bridesmaids' dresses as you covered if this is your wedding color scheme.