Here are dresses we've picked to answer the question of what to wear to an April wedding. Updated for the Spring 2019 wedding season!
Shopping sources on this site use affiliate links, which means this site may earn a commission if you make a purchase from our links.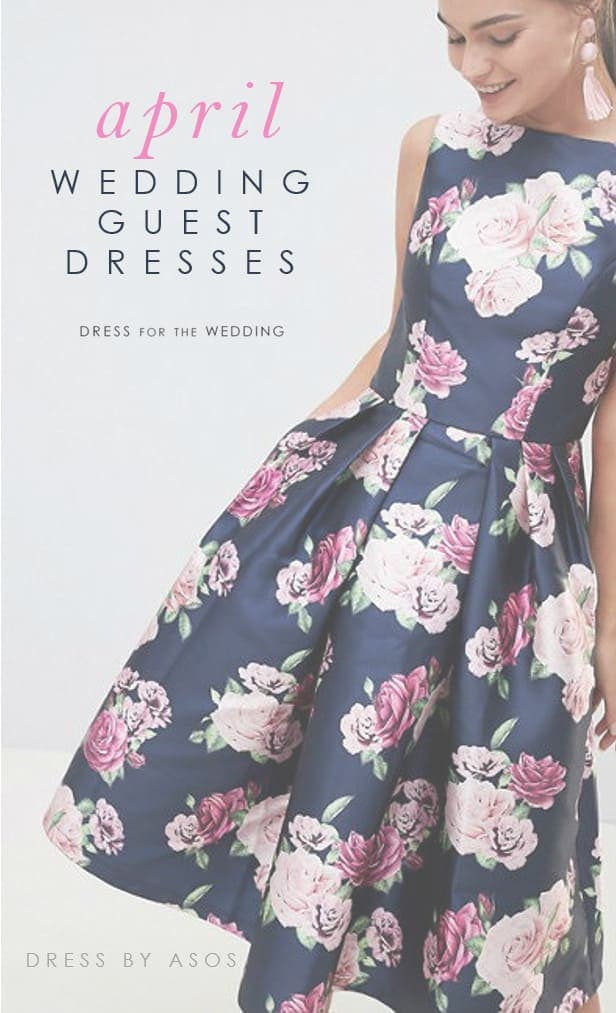 Featured dress: Chi Chi London Satin Midi Prom Dress In Floral Print $103 from ASOS
This post was orginally published on April 4, 2015, and was updated April 13, 2019.
What to Wear to an April Wedding
Spring wedding guest attire is full of color, and sometimes the first opportunity you'll have to wear some of the new spring dress styles. The usual guidelines apply, soft colors and more casual dress for daytime, with longer and more ornate gowns for afternoon and evening!
Dresses and Suits for April Weddings

April Wedding Attire Ideas
It's not a secret that spring and florals go together perfectly! So, it only makes sense that many of the dresses I love for April weddings feature a floral print! Here are my picks for 2018 April wedding guest dresses!
Colorful Floral Green Dress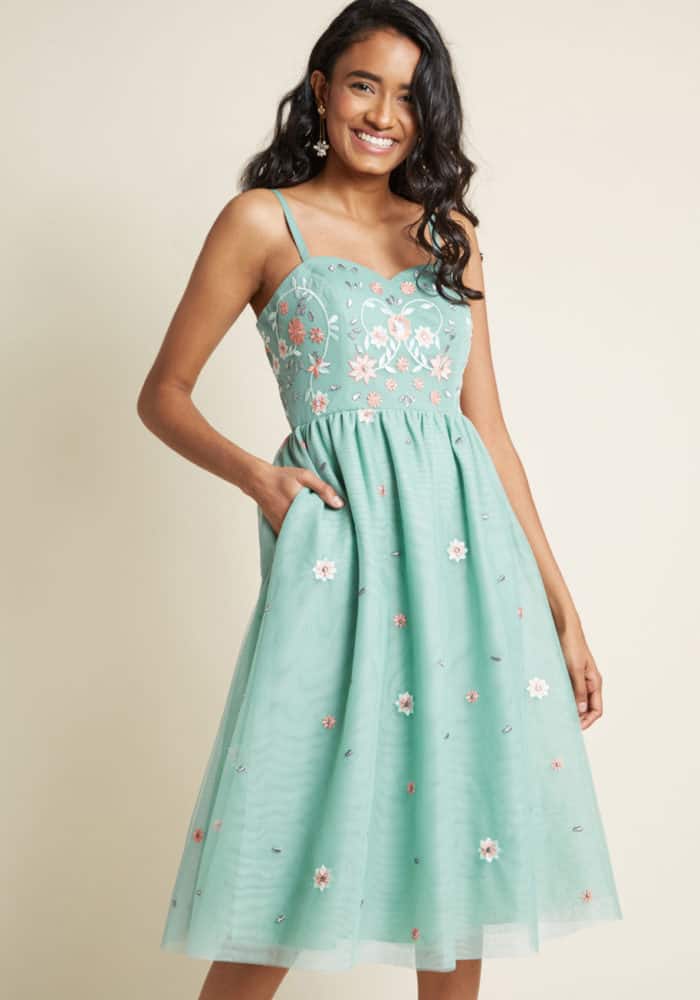 For a casual wedding like an outdoor reception or beach wedding, I love this style! Couth and Charismatic Midi Dress in Sage from ModCloth $149
Light Blue Floral Maxi Dress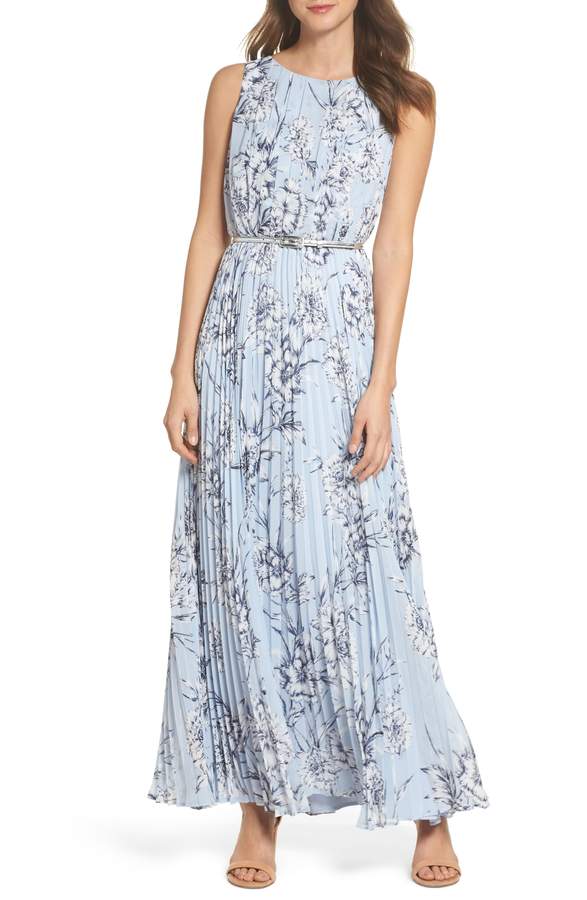 If you're not sure of the dress code, I always recommend going with a maxi dress. They can be worn casually for daytime, or more formally with the addition of more opulent shoes, and accessories! Pleated Maxi Dress by Eliza J
Pink :ace and Tulle Dress for Semi-Formal April Wedding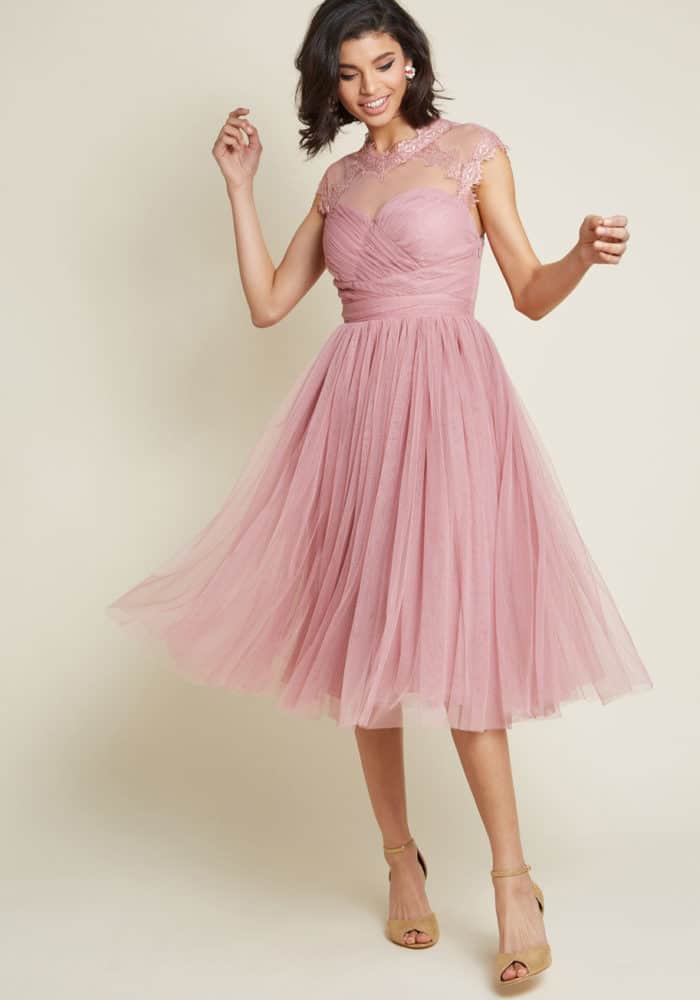 For a semi-formal or formal invitation a dress in a special occasion fabric like tulle and lace is gorgeous! Emphasis on Opulence Fit and Flare Dress in Dusty Rose $125 from ModCloth
Daytime April or May Wedding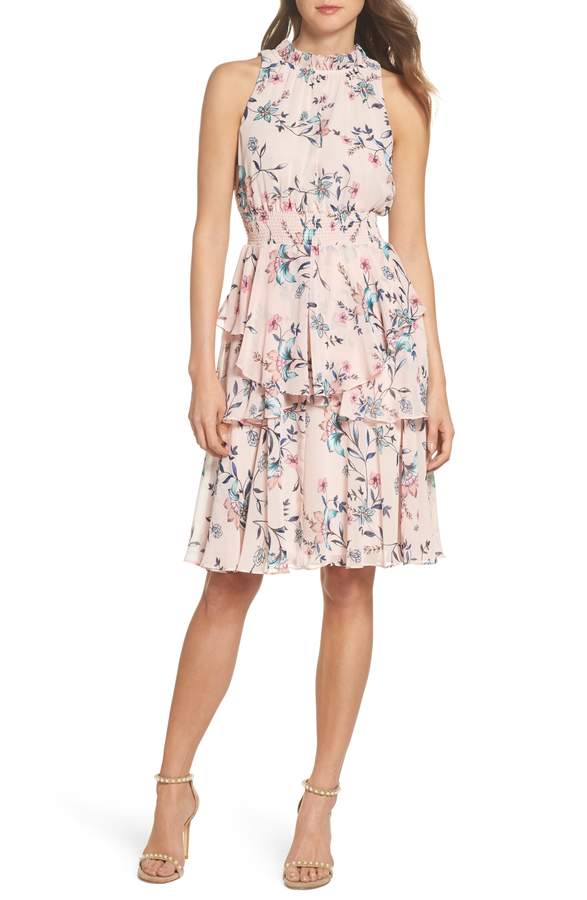 This dress is the perfect look for a daytime spring wedding.Floral Ruffle Dress by Eliza J from Nordstrom $148
Yellow Maxi Dress with Sleeves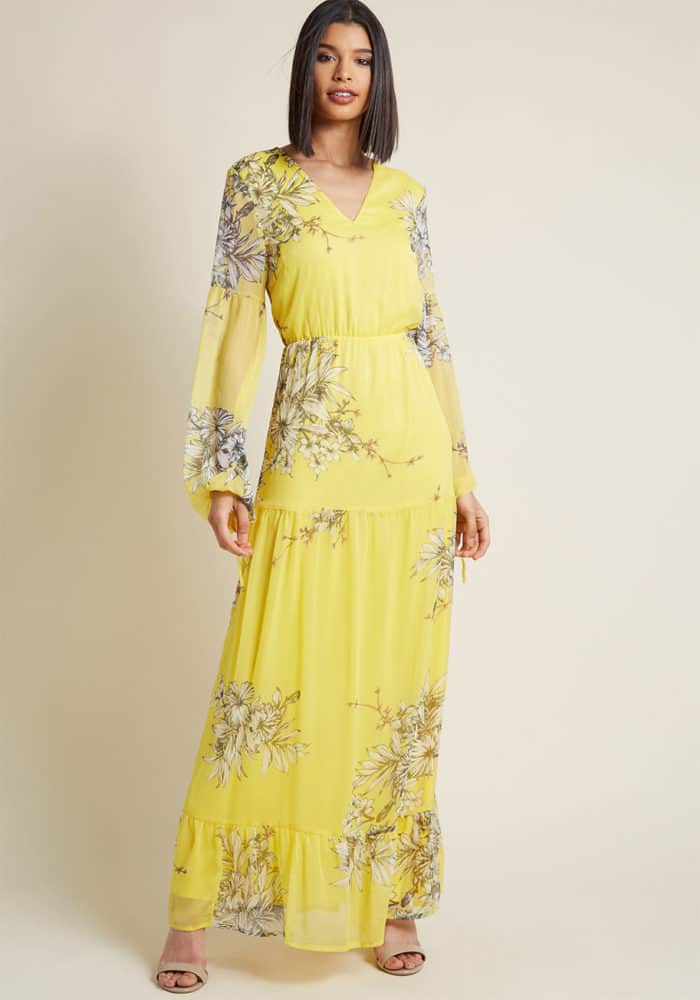 Long sleeved maxi dresses are great for those transitional seasons like early spring. This color is so big for 2018 too! Garden Glamour Maxi Dress from ModCloth $79
Long SLleeve Green Floral Dress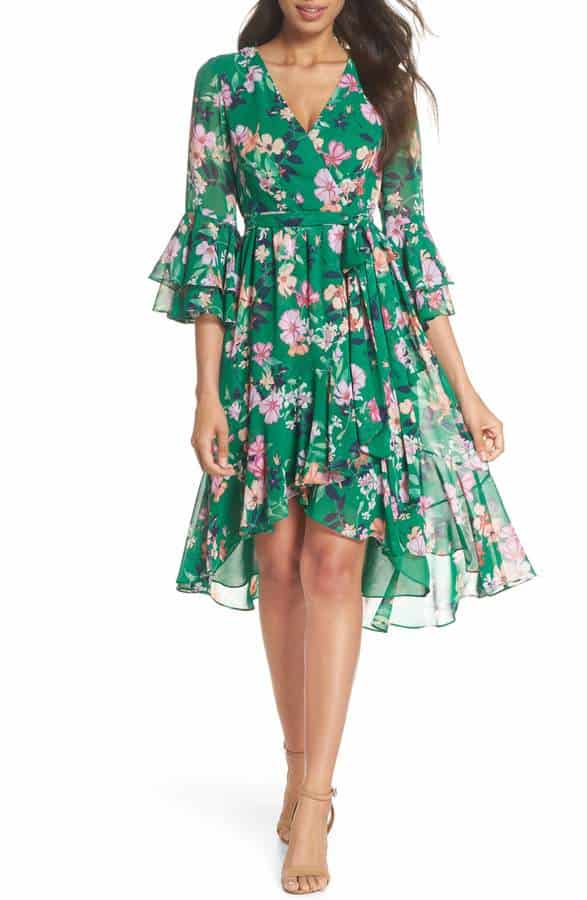 Another beautiful floral look with long sleeves beautiful for afteroon winery wedding or garden wedding. Double Bell Sleeve Faux Wrap Dress $148 at Nordstrom
Pale Floral Maxi Dress with Sleeves for Spring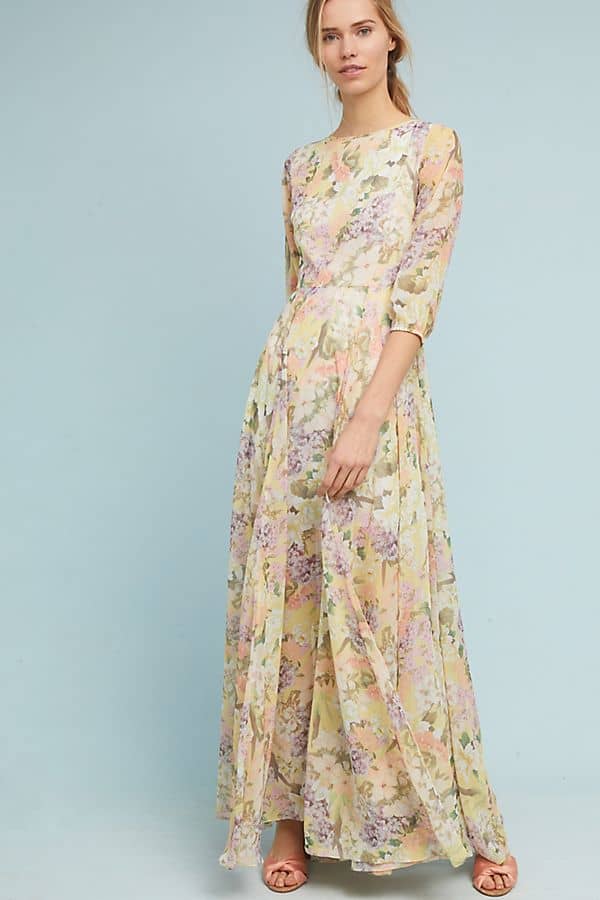 Another beautiful floral look with long sleeves beautiful for a winery wedding or boho style wedding. Yumi Kim Winnie Maxi Dress from Anthropologie.
Navy Blue and Pink Floral Printed Party Dress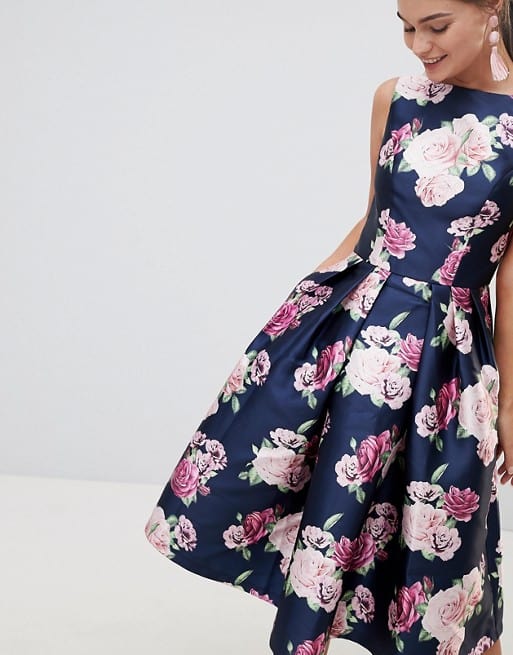 For formal and semi-formal spring events! This navy blue and pink floral satin dress balances fun and formality perfectly! Chi Chi London Satin Midi Prom Dress In Floral Print $103 from ASOS
More April Wedding Guest Style Ideas
These dresses are from the original post. They may now be out of stock, but they'll give you some great ideas for what to wear!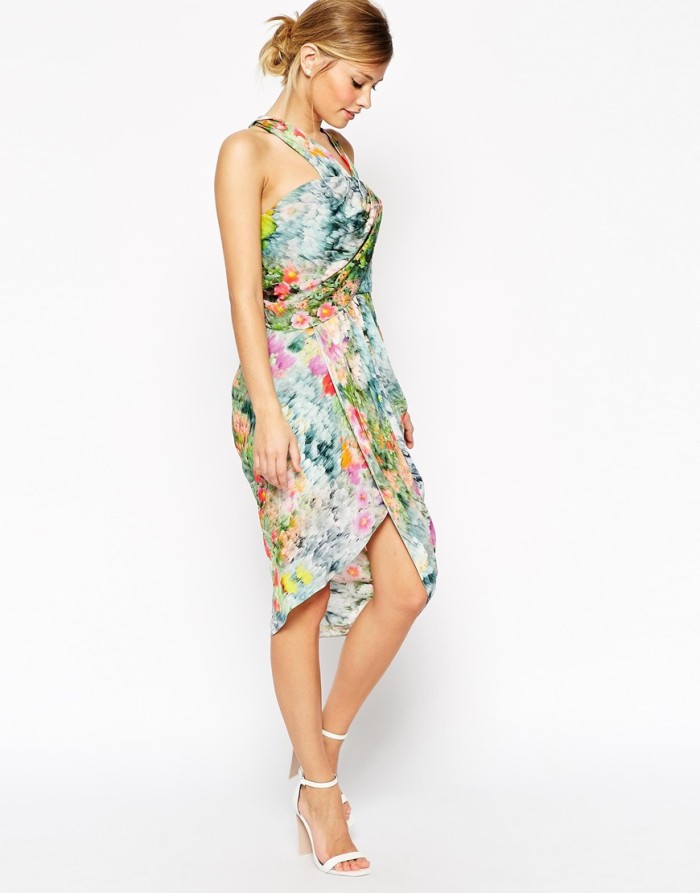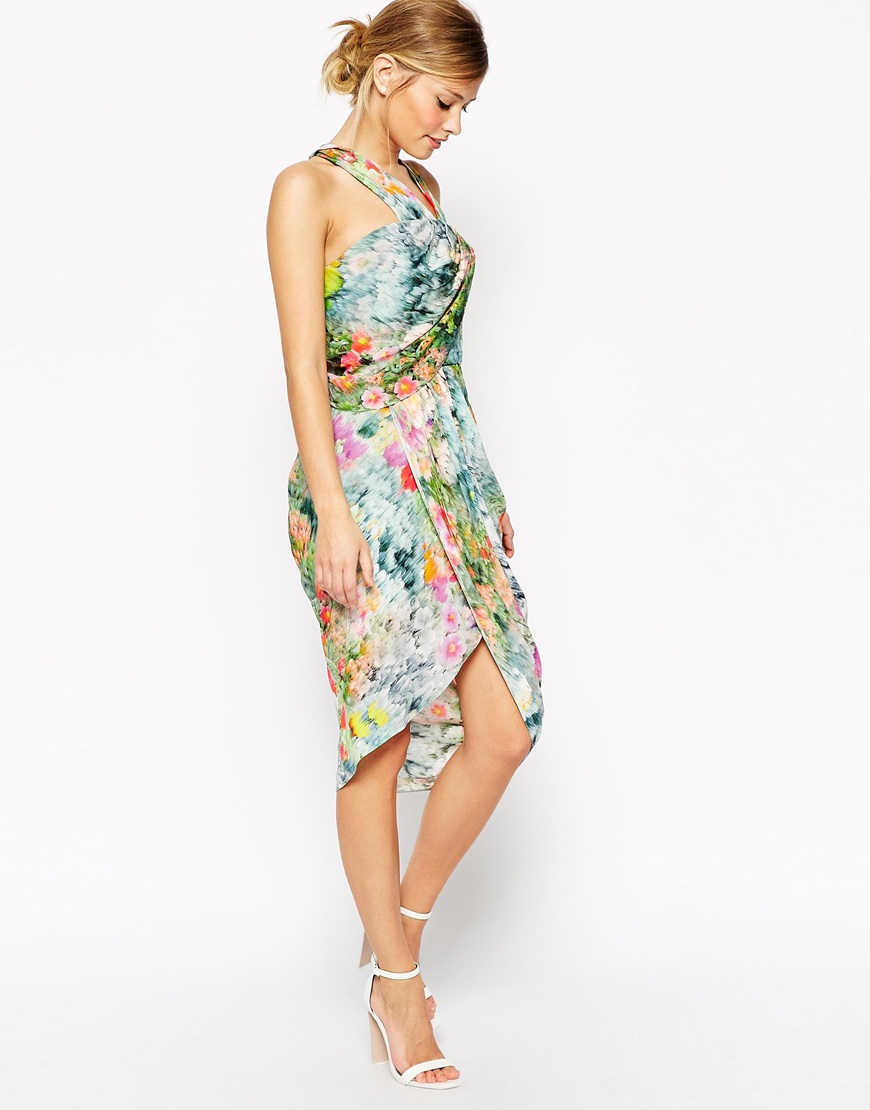 (Now sold out, check for more floral dresses in the shop section below.)
This dress is perfect for a daytime or semi-formal wedding. Wear light colorful accessories for day, or dress it up with heels and more formal jewelry for afternoon.
April Wedding Guest Dress Ideas
Welcome to April! Remember how I told you I'd be getting more specific with ideas for what to wear to a wedding? Well, I've seen that many of you look for dresses by season and month, and I can't blame you -- I do too!
Wedding Season Attire
To celebrate this start April, and to kick off wedding season, I have several new picks for you for April wedding guest attire! I think I have some great picks here, but as always, My Wedding Guest Dress Shop is also up to date with more picks if these aren't your style. Some of the looks in my general Spring post are still available too! I write about seasons from my New England and mid-Atlantic vantage points, so if your climate is similar you're in luck! If not, stay tuned because I'll be covering other seasons. You can always see other posts that I've filed by season as well! You may also want to read our wedding dress code guidelines, if you're unsure of the dress and formality of the wedding you're attending.
Now -- on to the dress picks! ( Note: this post was written a few season ago so some of these dresses may now be out of stock. Check the shop section at the end of this post for brand new picks, and also check out the latest shop page for Spring Wedding Guest Dresses!)
This post has links to sponsors through affiliate links.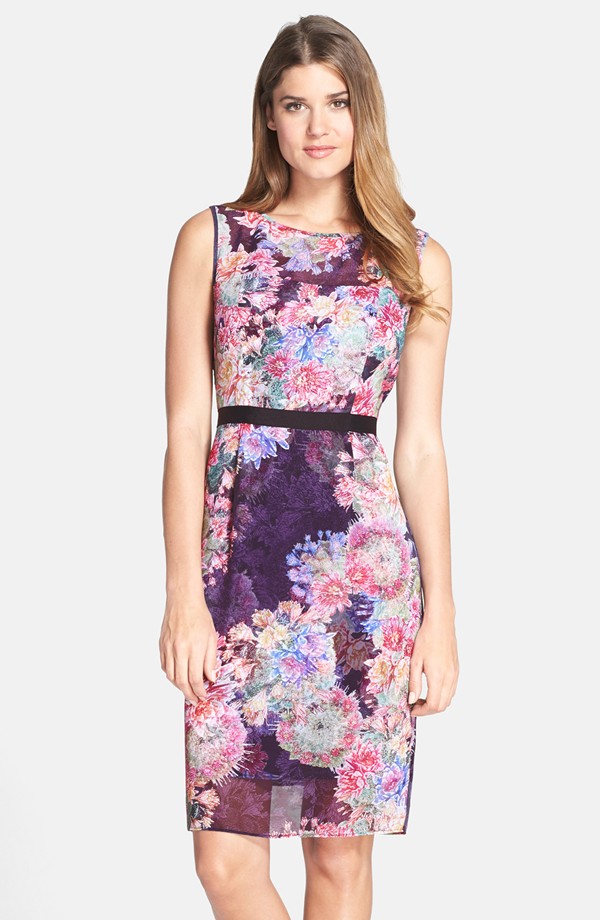 This Adrianna Papell Printed Dress from Nordstrom has a great day-to-night style. The floral and fabric is perfect for day, but the illusion fabric and sheer yoke style makes it more formal. Add a sweet statement necklace to pick up on the pretty colors in this dress! It is a great example of what to wear to an April Wedding!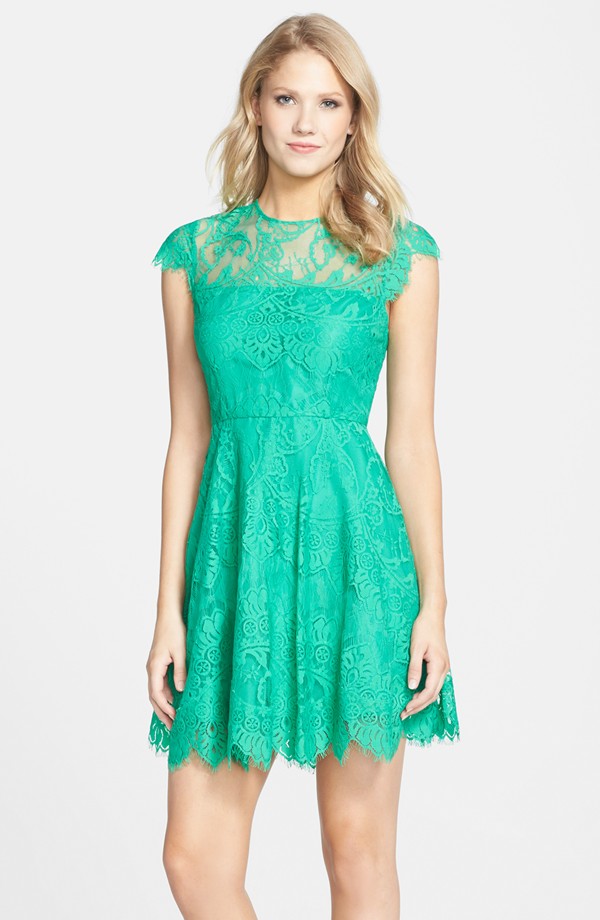 Green Lace Dress from Nordstrom
This is another great dress that can go to either day or evening weddings! This dress in pink was my pick for February. It comes in several colors and is only $98! The sleeves provide a nice little bit of coverage for this season!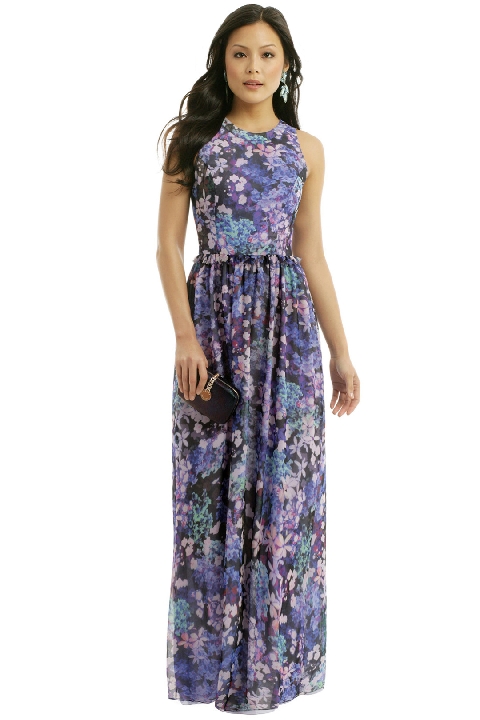 Hydrangea Garden Maxi Dress. The perfect maxi dress an afternoon wedding, or dress it up with sophisticated accessories for evening and more formal events.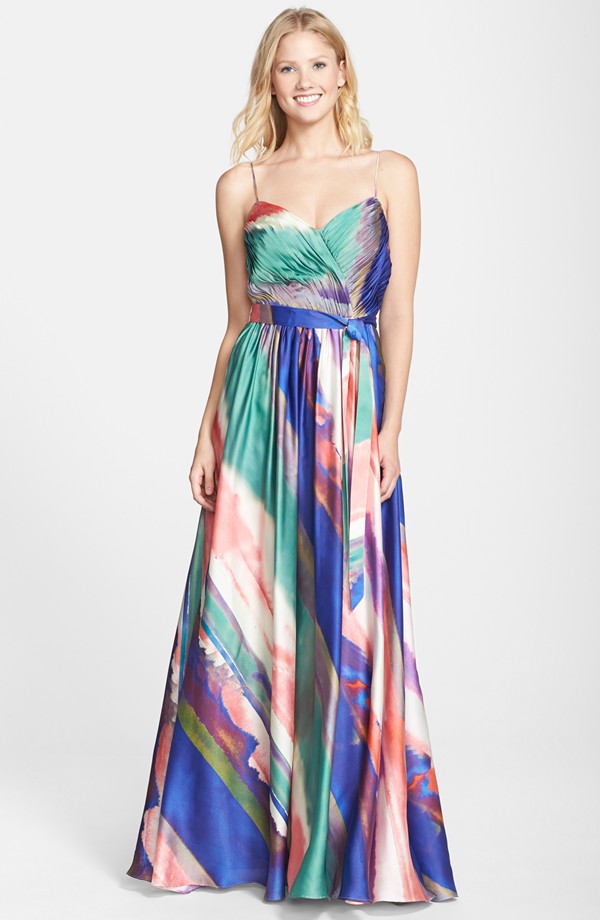 Print Charmeuse Gown by JS Collections at Nordstrom. If you want a gown that has a modern edge, I love the abstract print in this maxi dress. There are so many colors to pick up on, and you can easily adjust the formality of this dress with accessories.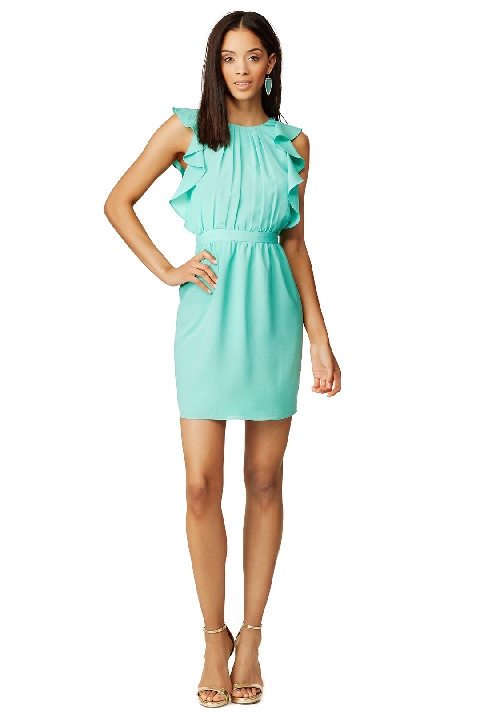 Shoshanna Katrina Dress from Rent the Runway Daytime wedding guests, I love, love, love this dress! It also is available in coral, but I'm such a fan of this shade of blue. This is perfect for a casual wedding or to wear to a bridal shower, or bridesmaids' brunch! Rent it from Rent the Runway, or buy it at Shopbop.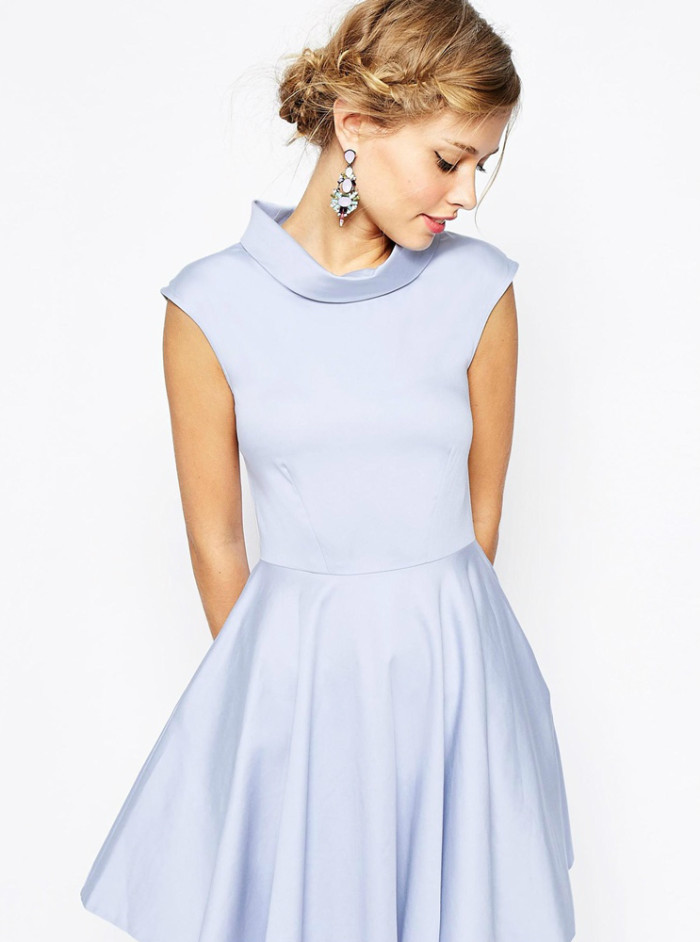 This is another sweet style, with a great neckline and swingy skirt. A great daytime wedding look! and Yay! It has pockets! Collared Skater Dress with Pockets from ASOS. Here is a second view: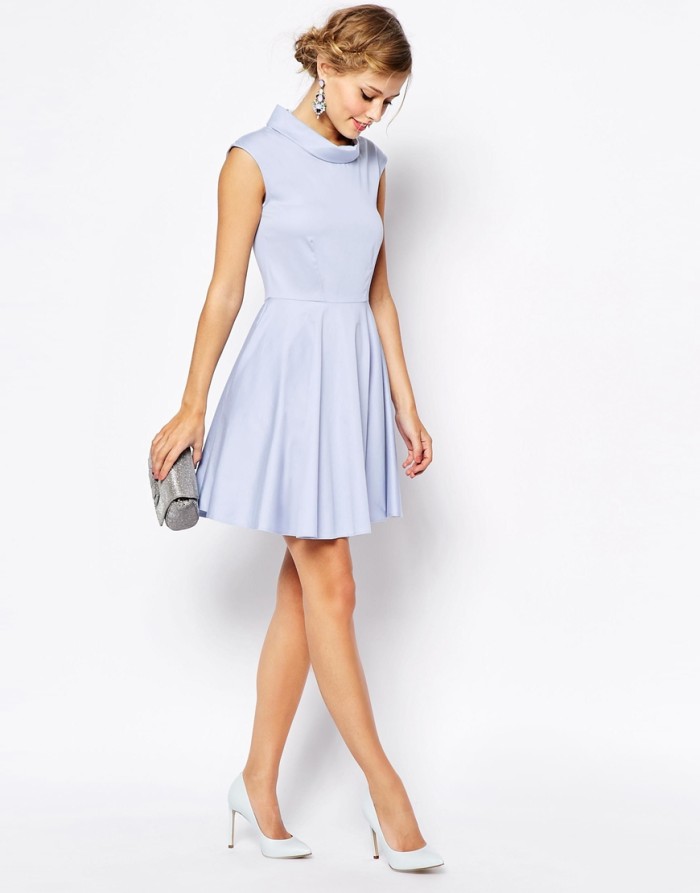 I love how ASOS styled it - totally ready for a wedding! And only $87.00!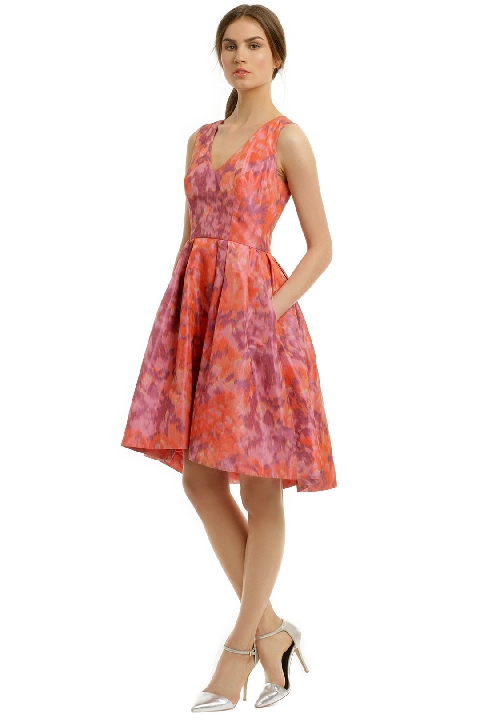 Another designer dress stunner from Rent the Runway! This coral and lavender floral Monique Lhuillier cocktail dress is so elegant. The fabric and style is suited to a semi-formal event, but the floral pattern and color makes it a delicious choice for spring!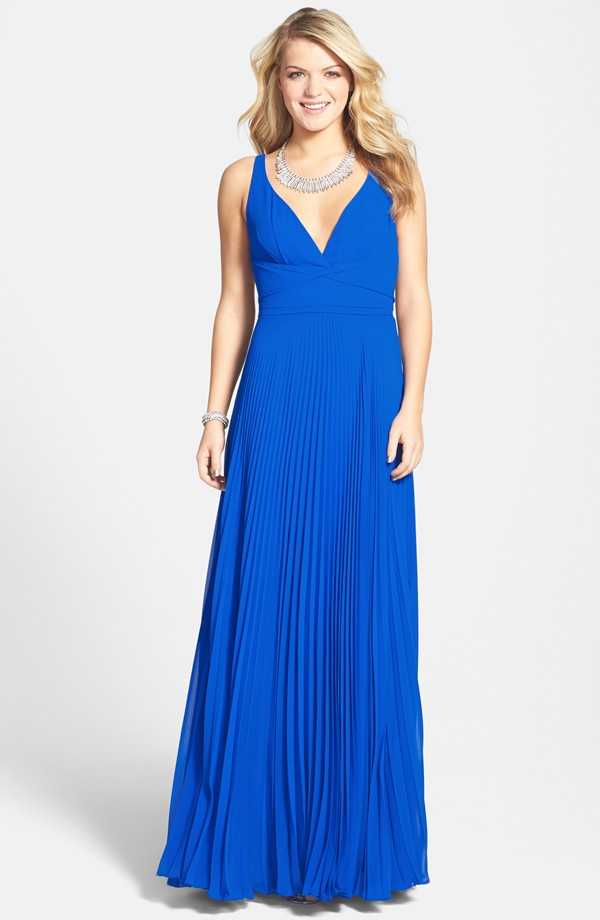 This Cobalt blue Dress is Laundry by Shelli Segal from Nordstrom. If you have a black tie wedding to attend, one of my current loves is this open back cobalt blue pleated gown! I also have more dresses for formal weddings here.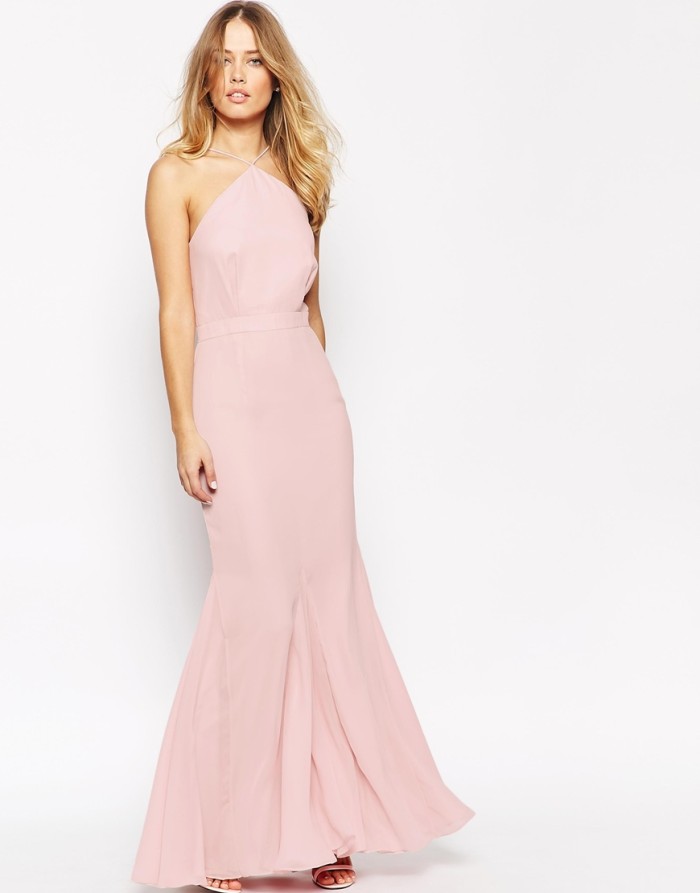 V Label Halterneck Maxi Dress from ASOS. (Now sold out, check for more dresses in the shop section below or check out our Maxi Dresses or Pink Dress picks.) Here's another beautiful gown style for a formal event that can be dressed up even more with accessories or kept understated like this for a less formal event. It would also make a beautiful (and reasonably priced!) bridesmaid dress.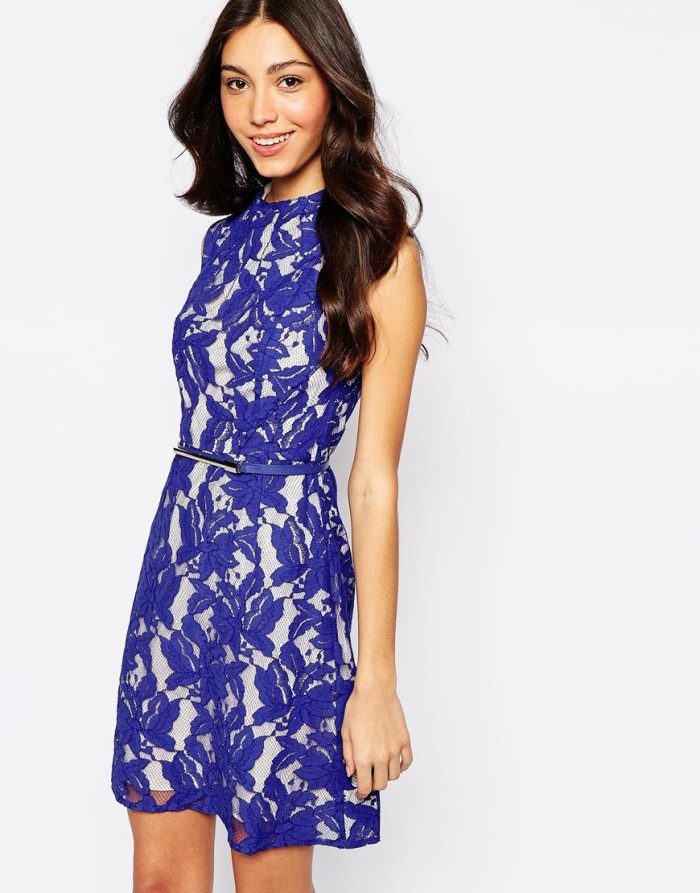 Oasis Lace Shift Dress.This is a cute and stylish day-to-night cocktail dress. In my world you can't go wrong with royal blue lace!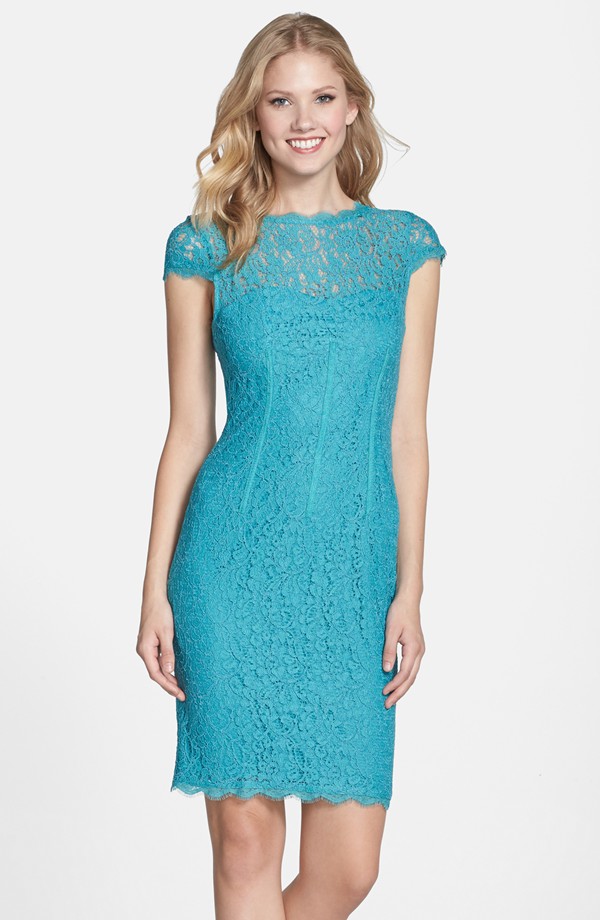 Adrianna Papell Seam Lace Cocktail Dress from Nordstrom. (Now sold out, check for more floral dresses in the shop section below or see more dresses like this from Adrianna Papell.) If you favor a classic cocktail dress for semi-formal weddings, this style is a great choice! Such a beautiful color as well!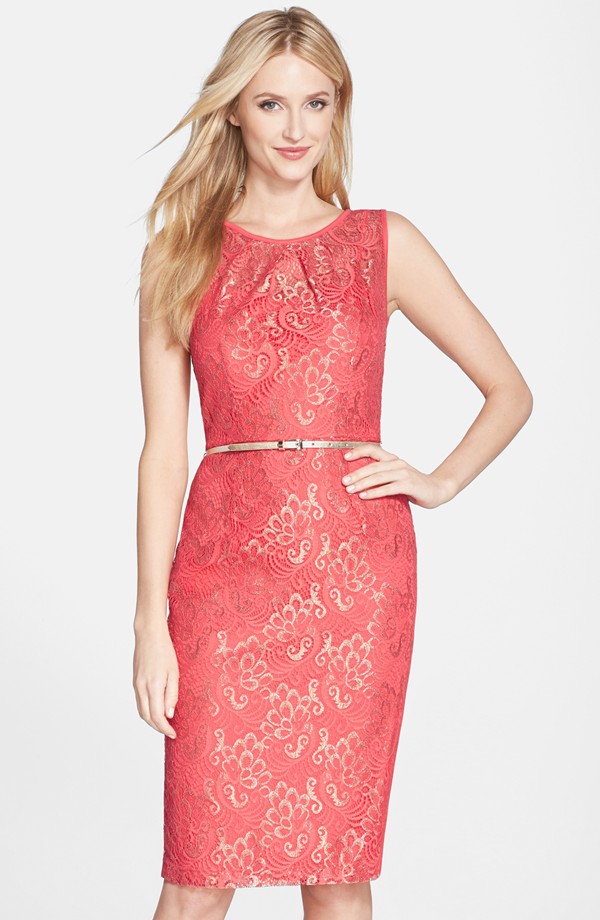 Belted Metallic Lace Cocktail Dress by Ellen Tracy. (Now sold out, check for more floral dresses in the shop section below or check out our picks for Coral Dresses. ) Only $118, and another classic cocktail dress in a pretty coral color with a gorgeous metallic overlay!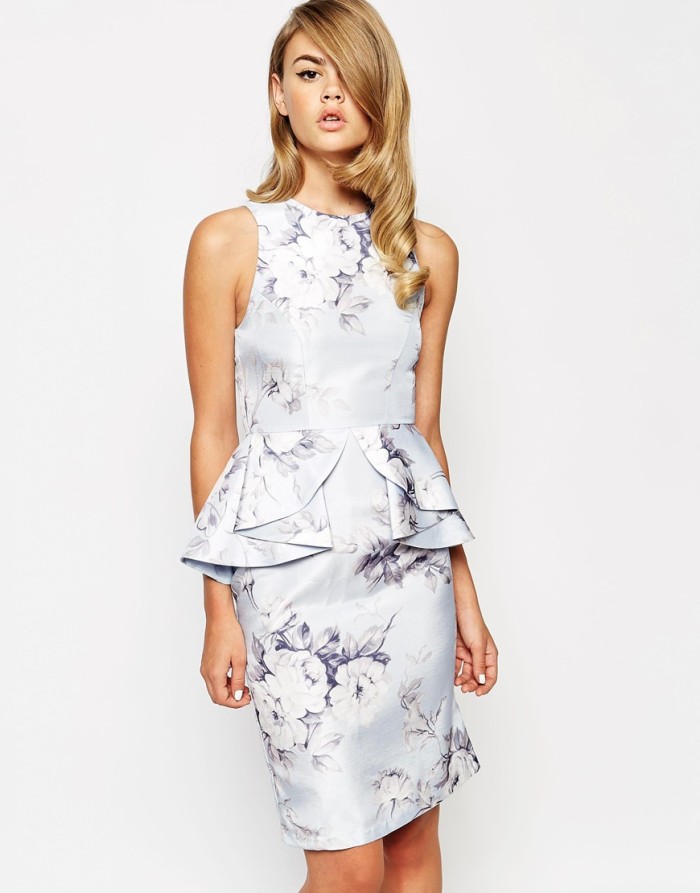 I can't quite tell if this pretty peplum dress by True Violet at ASOS (Now sold out, check for more floral dresses in the shop section below.) is gray, silver, pale blue, or lavender, but I love it just the same! So long as it's not white in person, wear it to a chic wedding, look fabulous, and let me know what color it really is!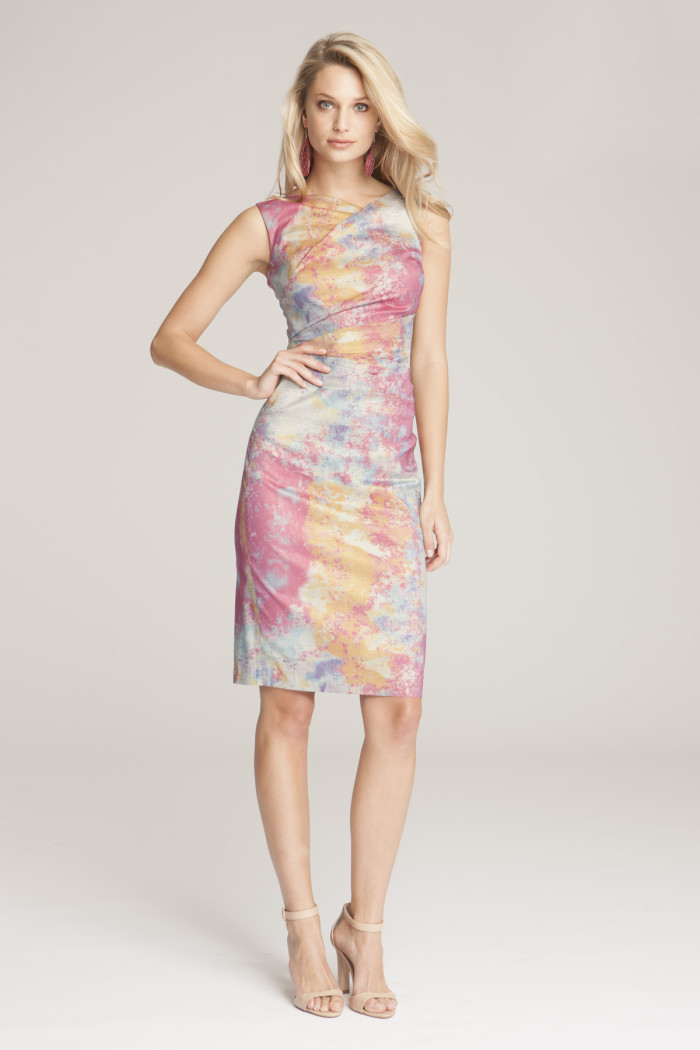 This Teri Jon Printed Stretch dress caught my eye immediately for its versatility and pretty pastels. Clearly, I'm a fan of abstract prints this month!The would make a wonderful rehearsal dinner dress, or a casual chic dress for a daytime wedding!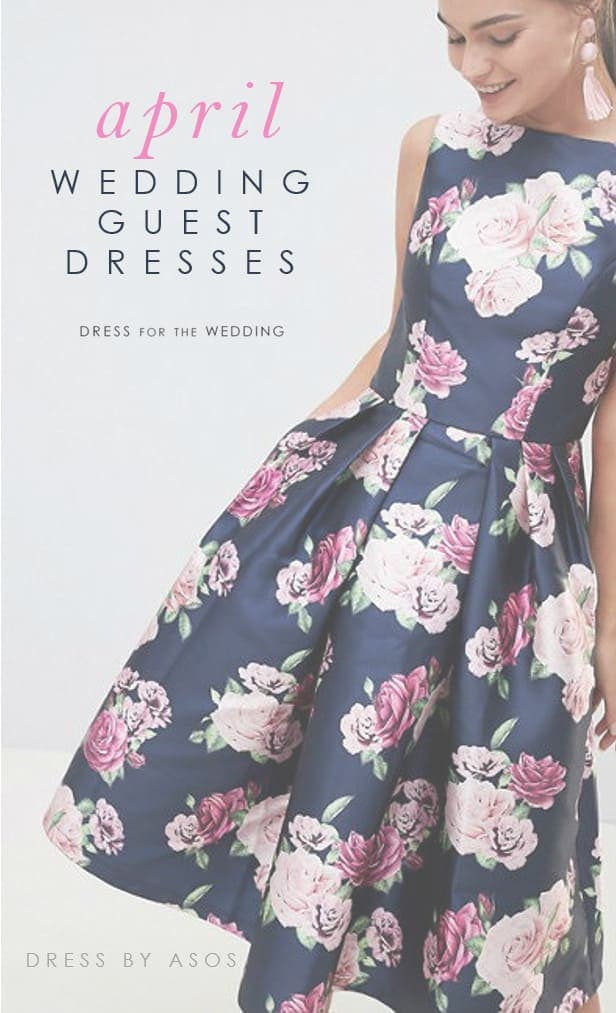 Those are my picks for now, but there are so many great wedding guest dresses to be had this season! I hope these 14 dresses have solved your 'what to wear' issues for this month! And if you're searching for what to wear to a May or June wedding, these dresses will certainly work, but I'll be back with more picks for those months too!
In the meantime, you can now shop by color and see more picks than ever:
Shop by Dress Code or By Color:
Red Dresses | Pink Dresses | Coral Dresses | Yellow Dresses | Green Dresses
Light Blue Dresses | Dark Blue or Navy Blue Dresses | Purple Dresses | Floral Dresses
This post and shop section has links to sponsors through affiliate links.