Pink Wedding Ideas
Happy Valentine's week! That's right, around here, I'll  be dedicating almost the whole week to Valentine's Day-themed posts and color schemes. I've always loved Valentine's Day; it's just the right holiday full of sweet sentiments, candy, and love. It's also such a nice little romantic day that serves as pick-me-up to punctuate the lingering days of winter.  To pay homage to one of the classic colors of the holiday,  I'm showing you some pink wedding ideas for a wedding with a pink color scheme.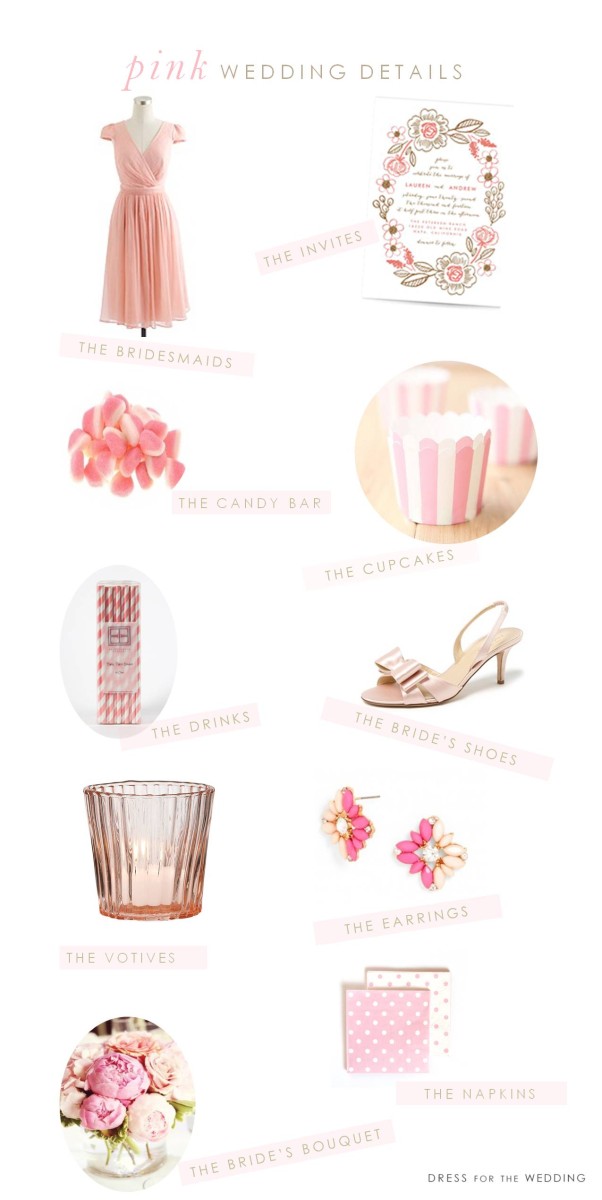 Silk Chiffon Bridesmaid Dresses from J.Crew Mirabelle in Misty Rose | Invitations by Althea & Ruth from Minted | Pink Candy | Cupcake Wrappers | Striped Straws | kate spade new york Micah Bridal Shoes | Pink Votives | Pink and Peach Earrings from BaubleBar | Pink Peonies image by  Moxie Pix Photos by Dana | Pink Polka Dot Napkins
These pink wedding details are all little ways to bring in a little of this rosy color to your wedding. This collage is mainly monochromatic so that you can mix these items in with whatever you may have picked for your accent color. And if you don't have a accent yet, maybe you'll find a little more inspiration here! For instance, I just love that invitation, because the brown details give a nice idea for an accent color, and add a little depth to the pink. ( Doesn't that look like the perfect invite for a rustic wedding?) Pink also looks wonderful with navy,  gold, silver, green, gray, and other pastels of nearly any shade.
I hope you find this style of inspiration helpful, because I'm planning to include more of these posts in my normal routine. I did one last year -- actually on this exact date a year ago -- with red wedding details, and I have been meaning to do more ever since. (Boy, does time fly!) I have always aimed to make these collages and posts to be shop-able and action-focused to help those of you with wedding to-do lists that are a mile long. The reasoning is this: hardest thing to me about wedding planning was finding all the wedding details in the color scheme I picked. The internet was different 5 years ago, (No Pinterest! What?) so I spent hours searching for dresses, favor boxes, flower ideas, ribbon, paper goods, and all sorts of little details that would make my color scheme sing! Lots of retailers have now offered more color customization, but I had a short 7 month engagement and couldn't get everything customized.
My wedding colors seemed simple enough -- spring green and a pale minty blue --but finding those spring-like colors  in favor boxes, invitations, and especially dresses  when I started planning in the dead of winter, proved to be tricky at that time! I almost changed my color  scheme several times, just to make things easier; not because of any indecision. Thankfully, it's easier now, and I hope collages like this make it even more of a cinch!


More style ideas you might enjoy :