Dazzling Blue Dress for the Mother of the Groom
It has been a little while since I've shown a mother of the bride or groom look, and today I've decided to lead with something aimed for the mother of the groom. Even though I'm showing this as a mother-of-the-groom look; this dress will work for an array of ladies: the mother-of-the-bride, bridesmaids and formal wedding guests. This dazzling blue color is so versatile and is one of the hot colors for spring according to Pantone. I think this lapis-colored Tadashi Shoji dress is a beautiful example of how striking and elegant this color can be!
Affiliate links are used in the shopping sources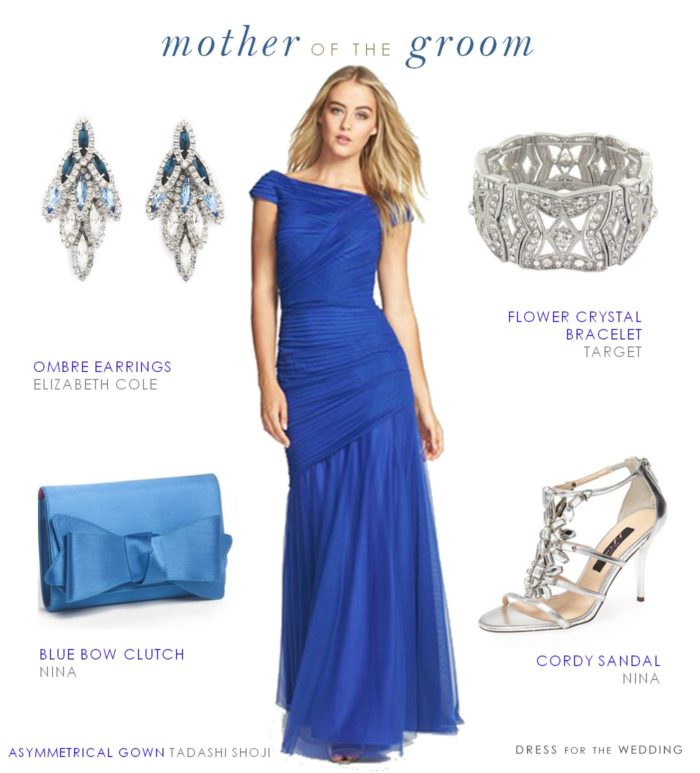 Tadashi Shoji Asymmetric Cap Sleeve Gown / Elizabeth Cole Aqua Ombre Bacall Earrings / Flower Shaped Crystal Bracelet / Nina Bow Clutch / Nina Cordy Sandals
Why is it geared toward the mother of the groom? Well, for starters, I saw this dress earlier on a very prominent mother-of-the-groom: Sean Lowe's mother in The Bachelor wedding which I recently posted about. She wore the black version of this gown, which is out of stock at the moment, so I decided to show you this dazzling blue color which is more suited to spring, summer and fall weddings anyway!
The other reason I think it's good for the mother of the groom? Blue always seems like a fairly safe choice (although the groom's mother should always confer with the bride and mother-of-the-bride when choosing a dress) and with blue complimenting many color schemes, this cobalt color is a classic. My own mother-in-law wore this shade, and looked lovely!
If you're still looking for more ideas, please take a peek at these other mother of the bride or groom style ideas, and check out the Mother of the Bride shop section and the designers in The Collection.
See more!
Blue Mother of the Bride Dresses
Light Blue Mother of the Bride Dresses


Commissionable link are used in the shopping suggestions in this post.