Protect your Wedding Day with Markel Insurance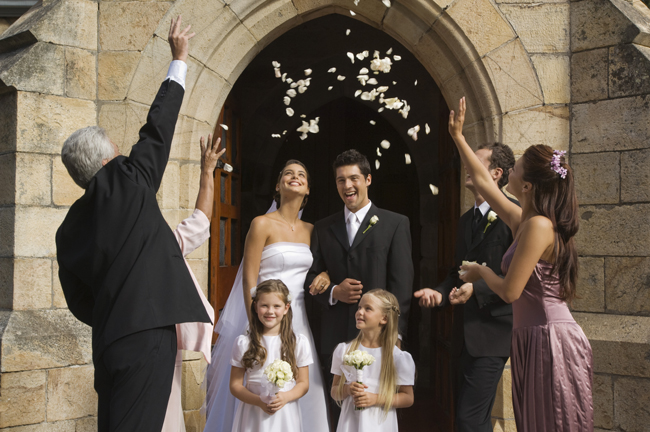 Make sure your wedding day is full of smiles and rose petals! Read more about how to protect all the elements of your wedding day with Markel Event Insurance.
Avoid Wedding Day Disasters with Markel Event Insurance!
If you're in the midst of wedding planning and envisioning that perfect day, I hate to tell you this, but things can and will go wrong on your wedding day! With luck, they are minor issues of the "we'll-all-laugh-about-this-later" variety, like a temporarily misplaced shoe, or a flower girl who refuses to walk down the aisle.  But since you're investing so much in your big day, wouldn't it be nice to have insurance that will protect you if the worst kind of wedding disaster happens?  That's where Dress for the Wedding sponsor, Markel Event Insurance comes in to save the day!
We've all heard the nightmare stories about wedding boutiques that burn down, leaving brides without their gowns; venues that close unexpectedly without refunding deposits; close family members who fall ill; and weather disasters that damage property, or make the venue impossible to travel to.  All the planning in the world can't stop these events, but you can protect yourself against financial damage that comes from these issues by getting wedding insurance. (The good news: It's an absolute bargain, especially compared to what you stand to lose! Plans start as low as $75!)
When you invest in all the details of your wedding day, you're doing so to ensure everything goes perfectly and looks just right. I don't know about you, but not a single day of my life goes exactly as I've planned it, so why would a wedding day be any different? Just like you insure the big things in life--your home, your belongings, and your car-- it's only logical that you should insure your wedding!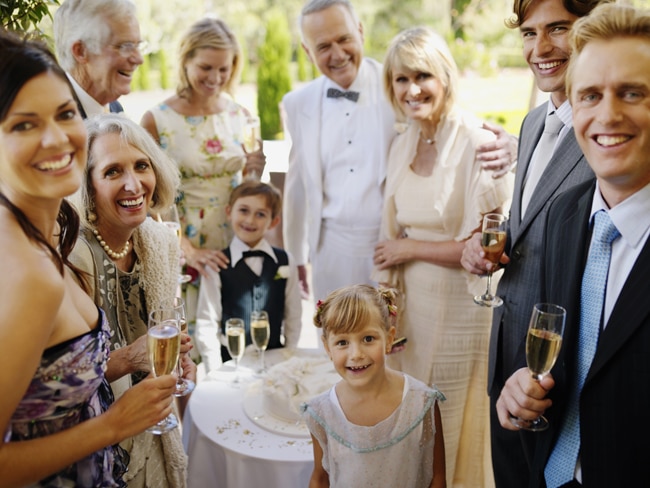 Sure, these guests look like charming people, but they can also be the source of many wedding-day liabilities! Read all about guest-related issues below!
Not to freak you out, but I had a bit of anxiety attack when I started researching wedding insurance and learning of the things that could go wrong!  Not only are these issues possible, I'd bet that like me, you know a couple who has experienced one of these personally! For instance:
Military Leave. If you are active in our nation's military and getting married, not only do I thank you deeply for your service, I highly recommend that you purchase wedding insurance. A last-minute deployment can force you to cancel your wedding, and cost you thousands in lost deposits or purchases.
Damage to Attire. What if your dress accidentally gets caught and ripped in a door, or the seamstress lops off 4 inches on the hem of your dress? ( This happened to me! Thankfully it was "just" a bridesmaid dress) You're stuck paying for a new gown, unless you have wedding insurance.
Wedding Gift Theft. Naive person that I am,  this one didn't even occur to me, but I can see how it can easily happen. While you trust that your close family and friends would never steal from you, perhaps your cousin's sketchy date, or a hotel  guest-turned-wedding-crasher who decides to venture into your cocktail hour, would!  Wedding insurance protects you against the theft of cards and gifts.
Vendor Bankruptcy. What if your photographer/baker/DJ  goes out of business a month before your wedding? In this unsure economy, you don't want to have to wager your money on someone else's business dealings. Wedding insurance from Markel Event Insurance can save you this headache! Markel Event Insurance offers Cancellation Coverage, which includes protection against all of these worrisome possibilities.
Rambunctious Guests! Everyone has family and friends who can get a little wild--especially at weddings. But what if your uncle's attempt to dance on a table lands him in the hospital, and leaves you with a big bill for his hospital stay and a broken banquet table? What if your suave groomsman decides to try to extinguish a cigar in a pile of mulch, and the flames catch and part of the venue burns down? (Again, I know of a venue where this actually happened!)  You can't uninvite your family or constantly police your friends, but you can get wedding insurance!   Markel also offers Event Liability Insurance coverage, to help protect you if someone causes property damage to your wedding venue or if someone is injured at your event, for as little as $75.  Purchase both Event Cancellation and Event Liability coverage and save up to 15%!
I don't know about you, but all of these scenarios would be  enough to keep me up several nights with anxiety.  Avoid all of that, and add "Get Wedding Insurance" to the top of any to-do list you have going at the moment. Think it's too late? I doubt it! As I mentioned, plans start at $75, and can be purchased up to 14 days prior to your event for Event Cancellation coverage and up to 1 day before for Event Liability Coverage. Whew! Not convinced yet? Visit Markel Event Insurance  or call 1-855-480-9757 to get a quote and to learn why you should protect your special day. (Check out all these relieved testimonials if you need even more proof of the instant peace of mind wedding insurance will give you!)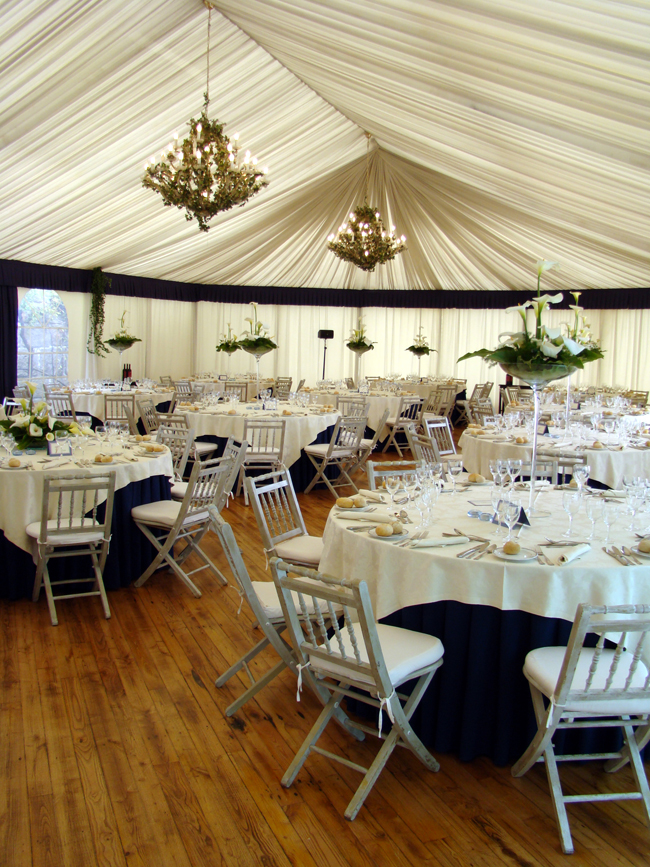 It's hard to imagine a more beautiful wedding reception, but in the battle of gorgeous wedding tent vs. hurricane force winds, the hurricane usually wins! Protect the pretty set-up with wedding insurance!
So, please put down the seating chart for a minute, contact Markel Event Insurance immediately, and then go about planning your dream day. Trust me, you'll be able to better enjoy every moment of your wedding, knowing you're covered!
And, if you're as naive about wedding gift theft as I am, here are some great I learned tips from Markel Event Insurance to help you avoid that issue (but still get the insurance!)
8 Ways to  Prevent Wedding Gift Theft:
Create your registry online and encourage your guests to use it. This way, you'll have many gifts delivered directly to your home as possible.  Guests can then ship directly through the store's website with your address that is kept privately on file.  This allows for the gift to arrive safely at your door without ever being brought to the reception. (And have a trusted neighbor watch for gifts on your doorstep if you're not home!)
Be smart about the gift table and card box placement. The best location for a gift table is far away from all entrances and exits in an area where your wedding planner, or close friends and family can all see it clearly and keep an eye on it.
Forgo the gift table altogether. Remove the temptation for thieves. Instead make a note on your invitation (or post a sign by your Guest Book), that there is not a gift table, but you will personally visit each table during the reception. You should do this anyway, as it gives you a way to thank and greet your guests as you receive the gifts. Again, use a family member to help you shuttle and secure gifts to a locked and safe area of the venue.
Use a gift attendant.  Select a trustworthy friend or family member to act as your gift attendant (They can offer the guest book at the same time!) Ask this person watch the gift table as soon as guests start arriving to the reception, and have them move gifts to a safe, locked location.
Greet all guests personally. While most of your guests are close family and friends, there may be several guests-of-guests in attendance that you don't know.  Greeting everyone personally in a receiving line or by going table-to-table at the reception will allow you to mingle with your guests, and will give you a better idea of who is at your wedding.  Don't hesitate to ask your personal attendant (or friend or family) to keep an eye on anyone you deem suspicious and give them permission to ask that guest to leave if your suspicions are founded.
Secure your cards. Create or purchase a lockable card box with only one opening that will remain locked throughout the evening. Give the key to someone you trust who will later move it to a safe area.
Beware the wedding crasher. If you see someone unfamiliar at your wedding, don't hesitate to ask your wedding planner or venue coordinator to escort them out.
Purchase wedding insurance. Markel Event Insurance offers Cancellation Coverage, which includes protection against lost or damaged wedding gifts.  Purchase both Event Cancellation and Event Liability coverage and save up to 15%!
If a wedding gift thief does strike, in addition to speaking to security at your venue, be sure to also call the authorities.  Before the wedding,  also ask if your venue has any security cameras, since this will help later should you need to identify the culprit of any issue.  Don't forget to call your wedding insurance carrier to file a claim for the stolen gifts as soon as you notice the loss.
Disclosure: Markel Insurance has generously sponsored this post, but these musings and full-blown anxiety over what can go wrong on your wedding day all comes from me! Get wedding insurance, please!

Note: This copy and content was created by the editor of Dress for the Wedding and inspired by information from Markel Insurance. It is in violation of this blog's copyright policy to take content from this post or any other post or page on this site, without explicitly crediting this post via link and written credit to the page on Dress for the Wedding as the source. Site content may never be taken in whole or  in an excerpt of more than a paragraph, even if credit is given. If you are found to be in violation of this policy, your site will be reported to the DMCA.
More style ideas you might enjoy :