Light Blue Beach Bridesmaid Dress
What could be prettier than this pale blue gown for bridesmaids in your beach wedding?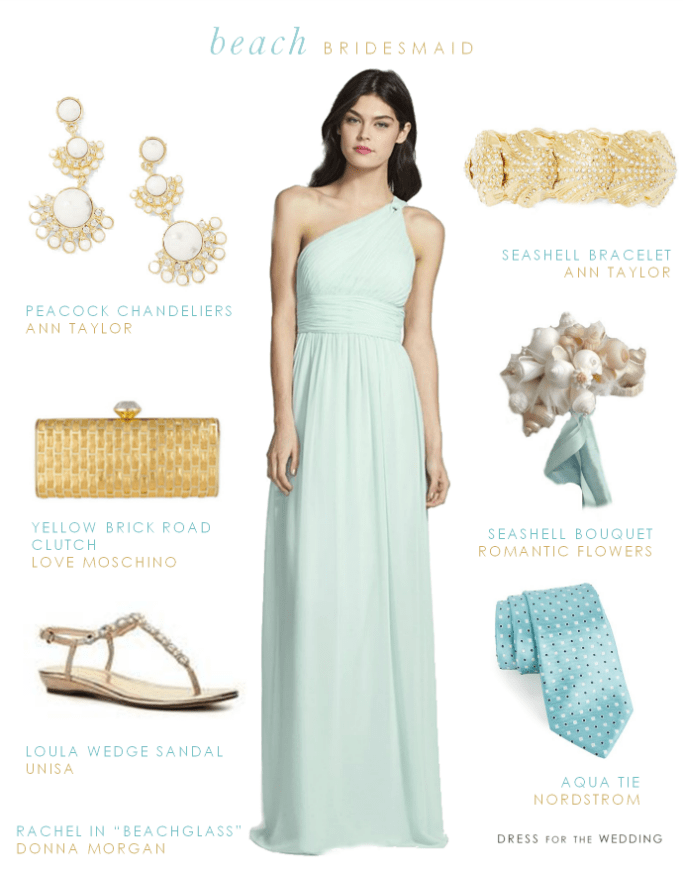 Shopping csources use commission links: Donna Morgan "Rachel" in Beachglass | Peacock Chandelier Earrings from Ann Taylor | Seashell Stretch Bracelet from Ann Taylor | Seashell Bouquet by Romantic Flowers on Etsy| Unisa Wedge Sandal | Love Moschino Yellow Brick Road Clutch from Rent the Runway
Light Blue Bridesmaid Dress for a Beach Wedding
Hi friends! I'm heading to the beach soon, and so it seemed like the perfect time to bring you some beach bridesmaid dress inspiration! I actually can't believe I haven't done more of this inspiration, since a beach wedding is one of my favorite types of events!
I grew up near the beach, but --as much as I hate to say it-- it was just there, and I never considered myself a true beach person until I moved to a landlocked state. Now I miss it a great deal, so if there is anything that is nautical, beachy, or coastal...count me in! One of my favorite things in life is to sit in my little beach chair with an iced coffee and read a book... but I digress! This is about this fantastic blue bridesmaid dress! This look will work for any beach wedding from my little home beach on the New Hampshire seacoast (But only in the summer! Brrrrr. It's pretty chilly after August!), Cape Cod, Myrtle Beach, Malibu, Negril, or Cabo and nearly any other temperate beachy coast you can think of.
Long Blue Dress for Beach Bridesmaids
If this whole ensemble had existed 5 years ago, it would have pretty much been what I'd have my bridesmaids wear. Truly. I'd print this out, and say, Hi everyone, could you please wear this? I looked high and low for this shade of blue/green at that time to no avail. Now it is available in a bunch of styles, in this gorgeous shade by Donna Morgan that they are calling "Beachglass" (This shade comes in many other dress styles, and for colors there is also Spearmint, Hint of Mint, Blue/Green and Gulfstream which are all close to this color family and would be great if you wanted a mis-matched gradient look) At the time I called it pale aqua, seafoam, pale blue, and I also wanted something that almost veered toward what we now call grayed jade.Now that color exists, and so just put some beachy accessories eith it and go! I like how the earrings and bracelet have a beachy feel without being too theme-y. And the sandals are a must for navigating the sand! I'd even have the groomsmen wear those ties ( Oh, the issues I had with finding ties!) Not so for you - this beach look all planned out:)!
My favorite find is that shell bouquet which is created at a shop on Etsy called Romantic Flowers. She offers all sorts of custom beach pieces and shell bouquets. As much as I love flowers, the idea of a shell bouquet is really appealing for a beach wedding! Think about it; not only is it gorgeous, it: 1. doesn't wilt in hot sun 2. can be purchased way in advance 3. will be an awesome stand out image for a beach theme 4. will last forever! Neat.
Clearly when I think of beach weddings, pale blues are what I think of first, but there are a ton of other colors that work well on the beach, and I plan to tackle them if time allows during the break! It also goes without saying that this lovely color can be off the beach as well! It's pretty enough to fit in anywhere!
More Beach Wedding Inspiration
In addition to possibly more beach looks if I can get it together, Dress for the Wedding has some great posts scheduled next week, and a big announcement on Wednesday, so don't miss it! And to my blog friends, I've already been woefully behind in saying hi and checking out all the loveliness you all have had in posts this week, and might not be as chatty online this week, but I'll look forward to catching up on things when I return!
Check out our posts on Blue Bridesmaid Dresses , Mismatched Light Blue Bridesmaid Dresses, Maxi Dresses, Beach Wedding Guest Attire, and Bridesmaid Dresses for Beach Weddings too!
Shop The Look - Light Blue Bridesmaid Dresses

More style ideas you might enjoy :