Reader Request: Black Cocktail Dress with Red Shoes and Accessories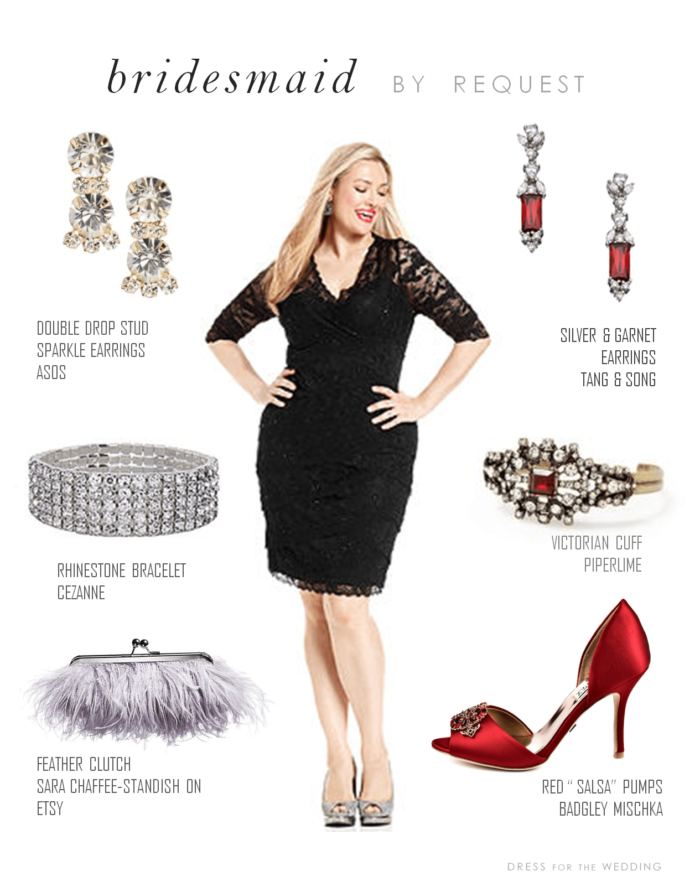 Marina Dress, 3/4 Sleeve Beaded Lace Cocktail Dress /Red Side: Tang and Song Silver and Garnet Diamond Drop Earrings /Sequin Victorian Cuff /Salsa in Red Satin by Badgley Mischka / Silver Side: /Double Drop Stud Earrings /Cezanne Rhinestone Bracelet / Dove Gray Feather Clutch by Sara Chaffee-Standish on Etsy
Reader Request: Black Cocktail Dress with Red Shoes and Accessories
If you saw my posts about Red Wedding Shoes and a Black Dress for a Bridesmaid, you've seen that I have been working on a request for a bridesmaid who is in November 2013 wedding. The wedding is in the evening, and the bridesmaids are to pick their own black cocktail dress, red shoes, and accessories.
So far, our bridemaid to be has picked the dress ( Marina Dress, 3/4 Sleeve Beaded Lace Cocktail Dress), and her shoes, (Salsa in Red Satin by Badgley Mischka ), and now it's time to put some accessories with it. As much as I like to give some direction to my readers, I also like to allow a little of free choice too; after all, who am I to totally prescribe your personal style?!
With that in mind, I've created some mix-and-match options for our bridesmaid: one picking up the beautiful silvery color of this feather clutch bu Sara Chafee-Standish that the bridesmaid-to-be selected and I love. The other side of the look has red elements that picks up the red in the shoes. Our bridesmaid is a brunette, like I am, and I find dark earrings get lost against my haircolor, so I always opt for something that will stand out like the sparkly earrings shown here. I also went with conservative pieces, because it's best to err on the side of being delicate for a wedding, and we want the red shoes to stand out above all! If you can't decide between the silvery side and the red side, these accessories can be mixed and matched from either side!
Make-up Tips from Katie Engle of Dark Dreams Productions
Our November bridesmaid has also asked for a few make-up suggestions. Since I'm far from being an expert in that area, I called upon Katie Engle, owner of Dark Dreams Productions who specializes in glamour makeup for weddings and special events, as well as a great portfolio of fashion fantasy makeup. Katie kindly offered the following great advice to our reader (I originally thought red lips, but read why that's not the best look !) If you're in the Mid-Atlantic area, and you'd like Katie's makeup or photography expertise, you can visit her site: www.darkdreamspro.com ,write to her at katie ( at) darkdreamspro.com, or reference her tearsheet below for her contact information.
Dear Bridesmaid-to-be,
As a professional makeup artist I would recommend a subtle natural pink lip and a very light gray/silver toned smokey eye for the makeup. While the red lipstick would look great for an evening out, it might draw some attention to you while standing up near the bride. It's very important to remember that it is the bride's day to shine and to try to not draw attention away from her. I would recommend a nice natural pink tone for the lip with a clear gloss over top. Here is a link to a makeup kit that I think would suit all your needs: NYX Cosmetics Makeup Kit.
As for the nails, I think matching the nail polish to the red shoes would look very nice and still allow you to have some fun flair for the day. I would highly recommend OPI nail polish in the color "I'm Not Really a Waitress". It is a very nice shade of red that has a little sparkle, makes a statement, but is still very versatile.
Thanks,
Katie Engle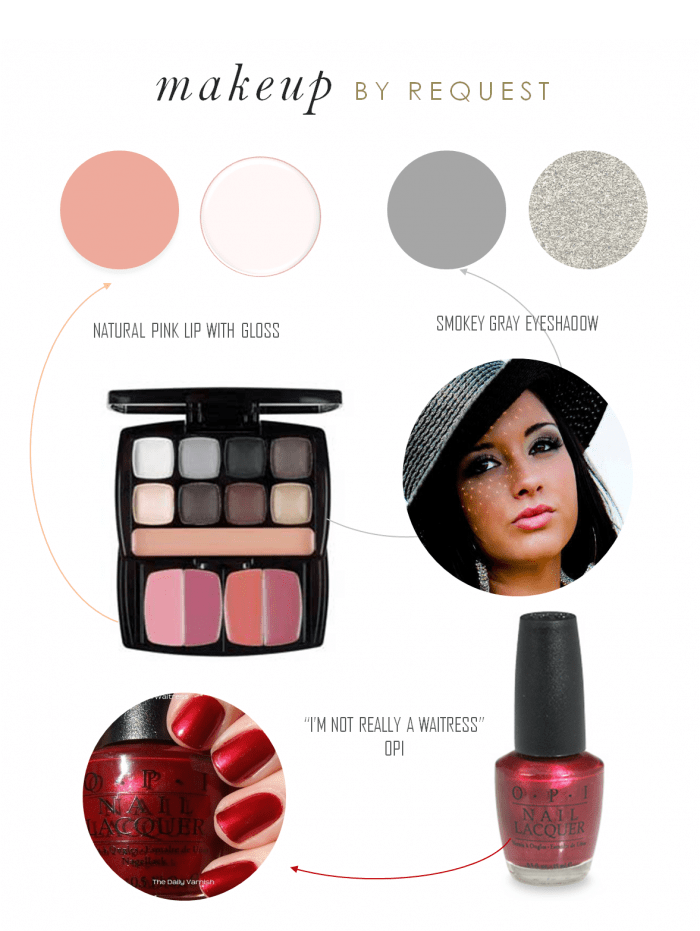 NYX Cosmetics Makeup Kit / OPI Classics I'm Not Really A Waitress
Smokey Gray Eye Image by Katie Engle at Dark Dreams Productions / Nail Image from Pinterest originally from The Daily Varnish