Happy Valentine's Day! I'm out celebrating Valentine's Day today, so I thought I'd bring you this little blast from the past from last year's series of Valentine's Day posts. Enjoy, and have a very happy Valentine's Day! xo
Red Bridesmaids Dress and Gold Accessories
Well, we've reached the final day of our Valentine's Day themed inspiration boards with Burnett's Boards, and it has been a delight! We're going out with dramatic flourish in the form of this gold and red palette. See the below the inspiration board for how I reinterpreted this mood into a red bridesmaids dress with dramatic gold accessories.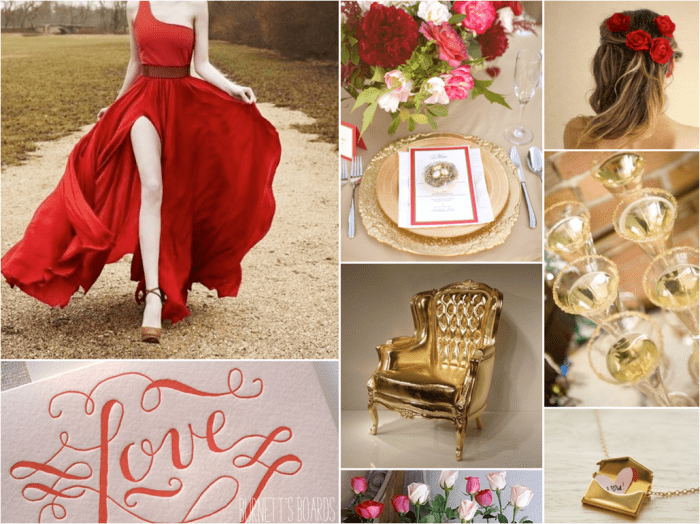 Lanvin red dress, love letters necklace, roses, champagne, gold chair, letterpress love card, red flowers in hair, place setting
 Red Bridesmaids Dress and Gold Accessories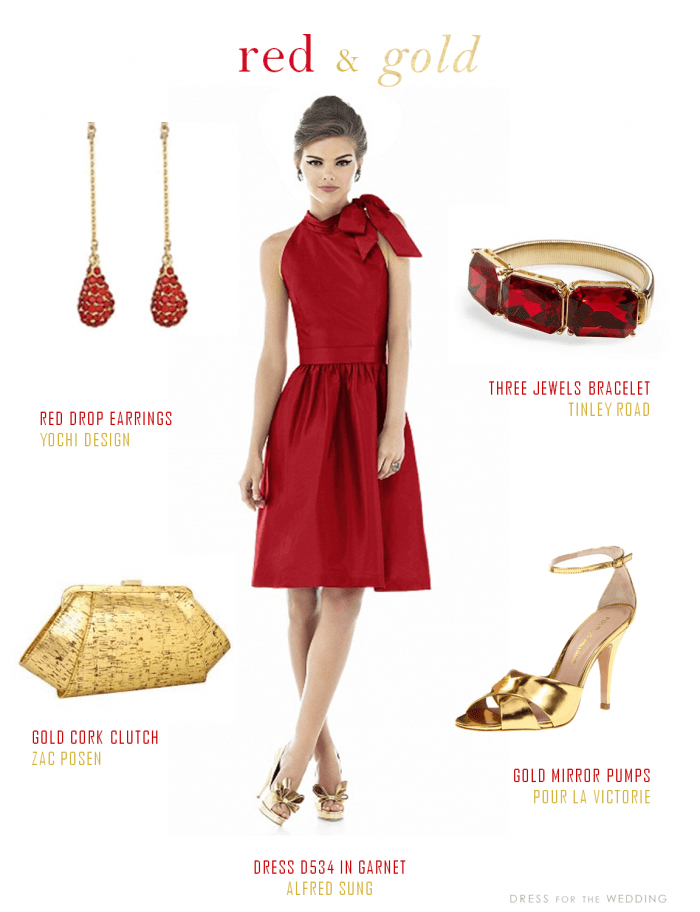 Alfred Sung in Garnet D534 /Tinley Road Three Jewels Stretch Bracelet / Pour La Victoire" Kalinda" Gold Mirror Pumps /Z Spoke Zac Posen Clutch in Gold Cork  /Yochi Design Red Drop Earrings
I loved that dramatic red flourish of the Lanvin dress in the inspiration board, so I wanted to echo that drama with this Parisian-feeling deep red bridesmaids dress with a big bow at the neck, red and gold drop earrings, and big baubly bracelet.  I also loved that mirror-like gold in the chair image and champagne, so I added this gold cork clutch, and shiny gold shoes for some golden touches.
Want more inspiration like this?
Check out these related pages and posts:
Red Ties for Grooms and Groomsmen