2013 Bridal Trends: Q & A with Vatana Watters
Now that we are well into 2013, and with February being a month filled with love and engagements, I thought it would be the perfect time to look at some of the bridal trends we are seeing emerge. As readers know, I am very fond of Watters bridal gowns and dresses and have featured them a several times on this blog. That's why I'm thrilled to be able to bring you this Q&A session with Vatana Watters,  which gives us a insider's take on the bridal trends we are seeing this year. Vatana is the president and founder of Watters, which is a Dallas, Texas-based bridal design house, offering innovative and luxurious styles for brides, bridesmaids, junior bridesmaids, mother of the wedding and flower girls around the world.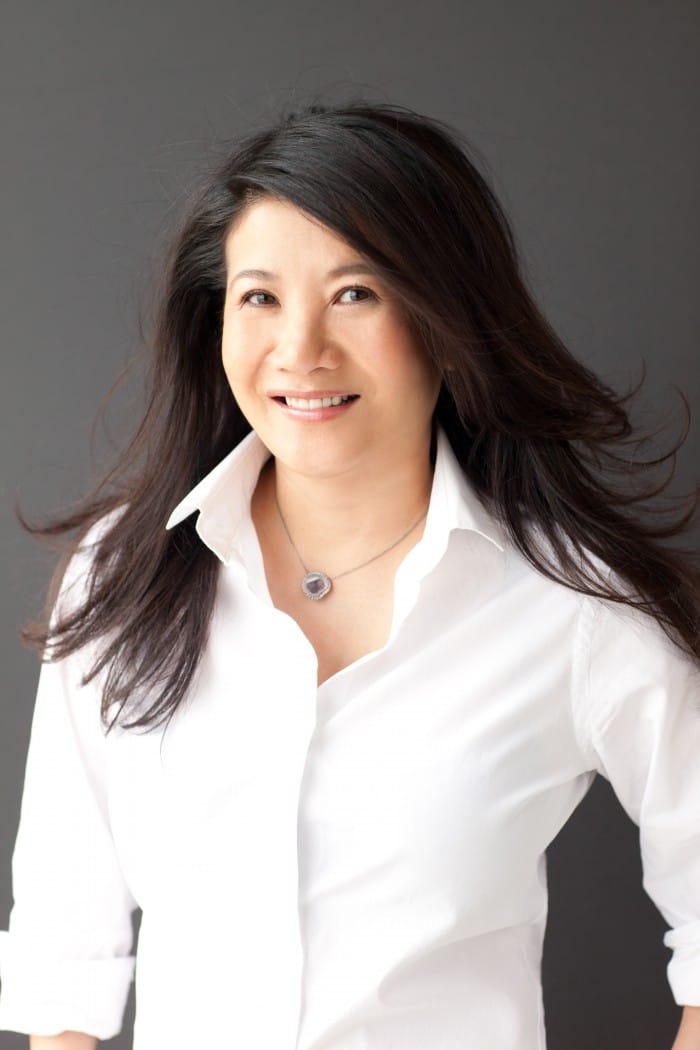 Vatana Watters
What were your inspirations for your 2013 Collection?
The iconic architecture of Vizcaya and the warm aqua waters, soft breezes and the lively people of Miami were the inspiration behind the Spring 2013 Watters collection. The collection was broken down into three groups, Deco/Vizcaya, La Dama and Nature to reflect the new and vintage Miami.
Deco/Vizcaya is the group that reflects the bold and iconic architecture of old Miami. From clean lines mixed with intricate renaissance scrolls and elaborate draping add a modern twist to classic silhouettes. La Dama, is the ladylike group. Luxurious  satins, exquisite laces  and soft organzas with demur necklines pay homage to the true Miami lady. Styles in the Nature group were inspired by the breathtaking views. Gorgeous pale pink sunsets and exotic lush gardens are reflected in the color, embroideries, beading and hand crafted details of the  collection.
Watters Pilar: A Deco /Vizcaya-Inspired Look with color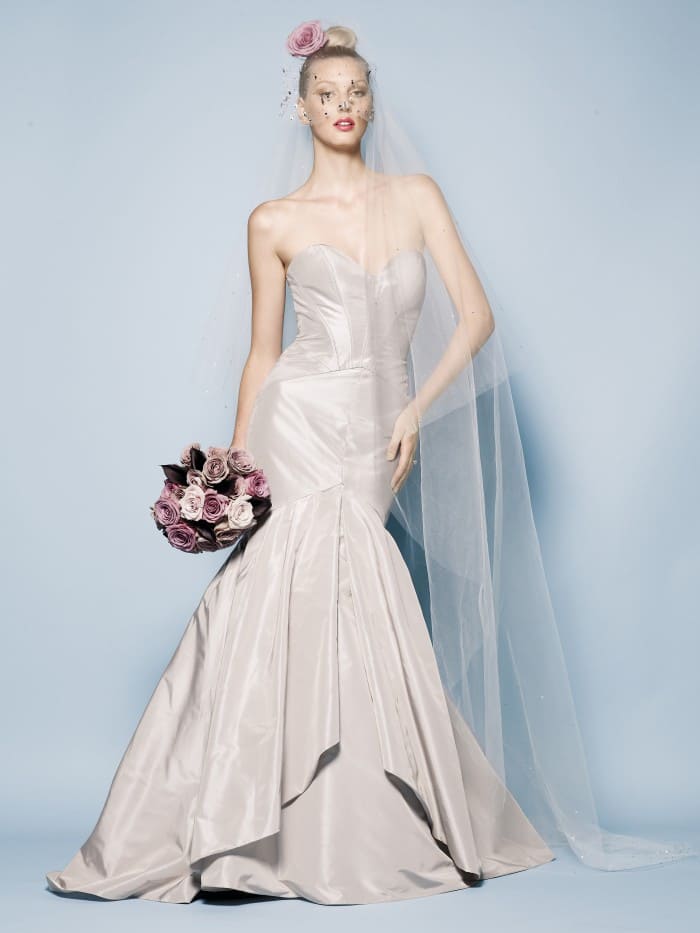 Watters Pilar Gown style 3031B Platinum silk taffeta sweetheart neckline, full pleated mermaid fit skirt. Available in size 0-24. Shown with Watters veils by Toni Federici Gilded blusher and Dream veil. www.watters.com
If a bride wanted to be current with her look, but not take too much of a risk, what is the one bridal trend of 2013 that you'd suggest for her to try?
Color. Color is an emerging trend and--no, not every bride is going to wear a non-white or non -ivory dress--but get creative and incorporate color into your wedding day look with accessories. This season we did a collaboration with jewelry designer Thomas Knoell, and with his perfectly polished hand-crafted designer bridal accessories collection you can incorporate color into your  wedding.
Watters Accessories by Thomas Knoll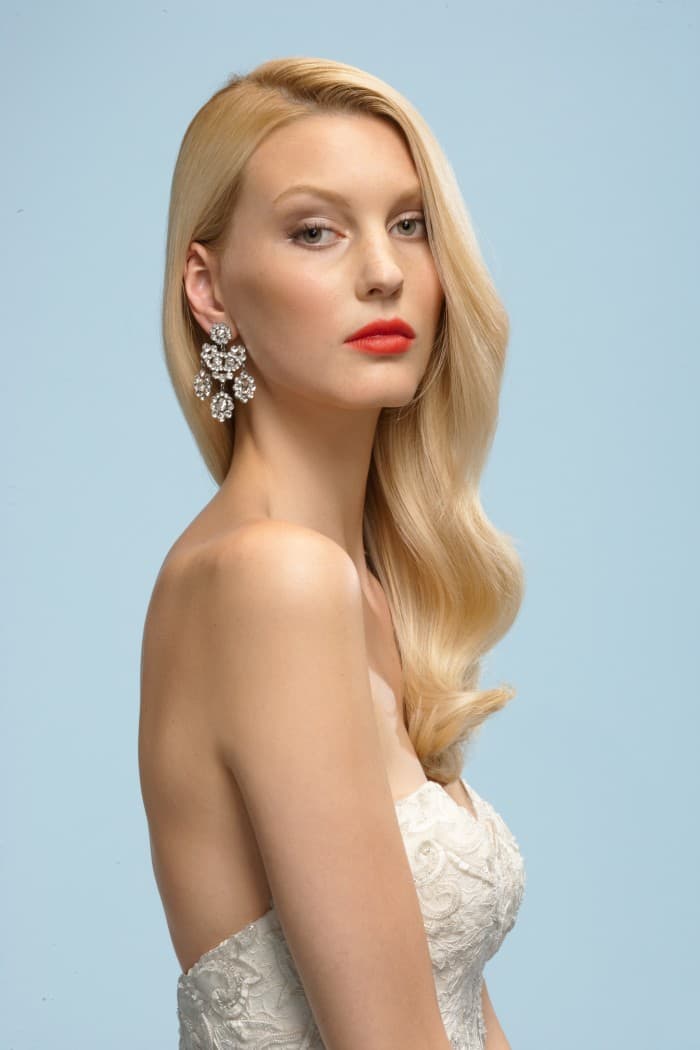 Watters accessories by Thomas Knoell, Laguna earrings shown. Antiqued finish three cluster earrings with a mix of clear crystal and silver shade stones and hypo-allergenic backs. www.watters.com
Is there one particular bridal trend that has emerged in 2013 that you feel will shape the direction of weddings and bridal wear for a long time to come?
We take inspiration from so many sources that it would be unfair to pick just one. The Watters team really works hard at making the dresses that are relatable, yet challenges the sensibilities as well. If it is a classic silhouette we will give it a modern take, if it is a modern detail we will use it on a classic shape. Mixing and matching these ideas is what we do best and it gives our dresses a fresh perspective.
Watters Leonor: A La Dama Inspired Gown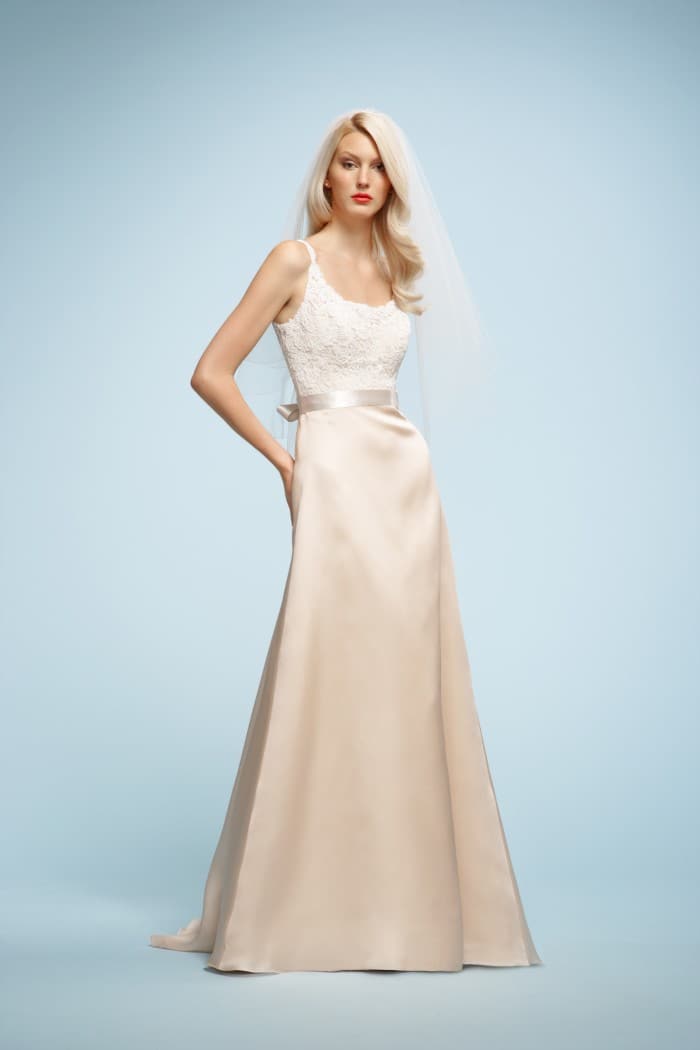 Watters Leonor Gown style 3049B Ivory alencon lace wedding gown scoop neckline with blush silk satin organza a-line skirt. Available in size 0-24. Shown with Watters veils by Toni Federic Faerie veil. www.watters.com
How do you approach your designs to ensure women of all sizes and shapes feel and look gorgeous in Watters gowns?
Bridal gowns will be worn by brides on one of the most important days of her life and with that in mind our challenge is to design gown with our Watters signature while making sure with keep the brides on our minds. We think of the variety of bridal venues. Will she get marry in a formal setting, outdoors, destination weddings? We design gowns at different price points keeping in mind that all weddings have budgets. We think of the different body types. Then we have to put it all together and select fabrics, trims, inside foundation constructions etc. The challenges of designing bridesmaid dresses have the same criteria as designing bridal gowns.
Watters Jessica: A Nature Inspired Wedding Dress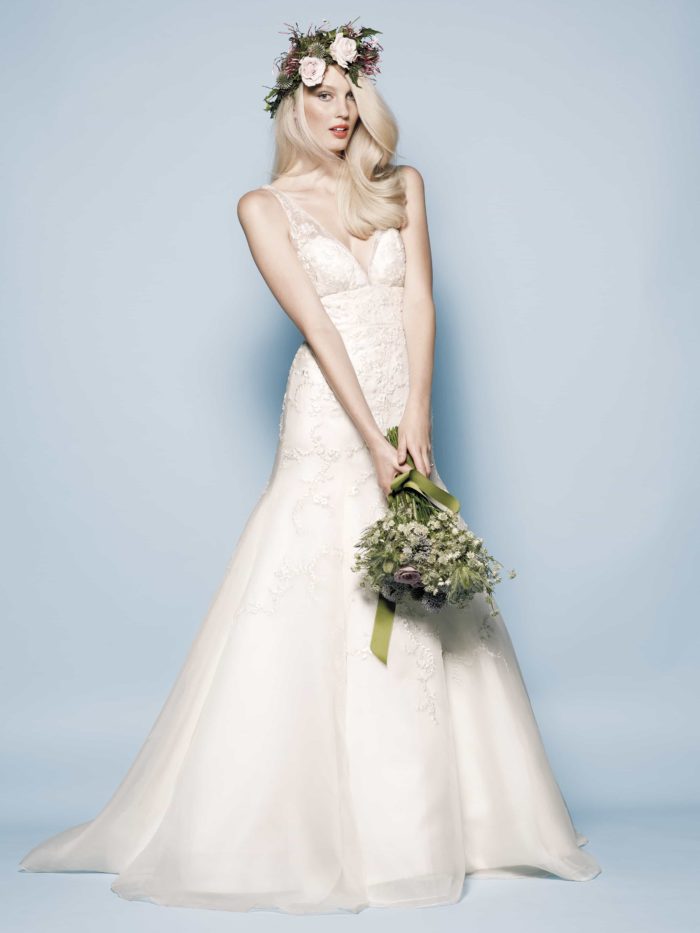 Watters is known for incredible detail; what are some of the new details you've added to the 2013 collection?
I think of lace, the comeback of lace. Lace is timeless traditional and yet can be modern. It is tricky to work with lace. The lace pattern, width, weight dictates how design can incorporate lace into a gown. The finished gown using lace can be truly amazing.
What piece of advice would you offer brides to ensure they'll find a dress they absolutely love?
With so many designers and styles out there, find the dress you love and makes you feel comfortable, do not settle for less.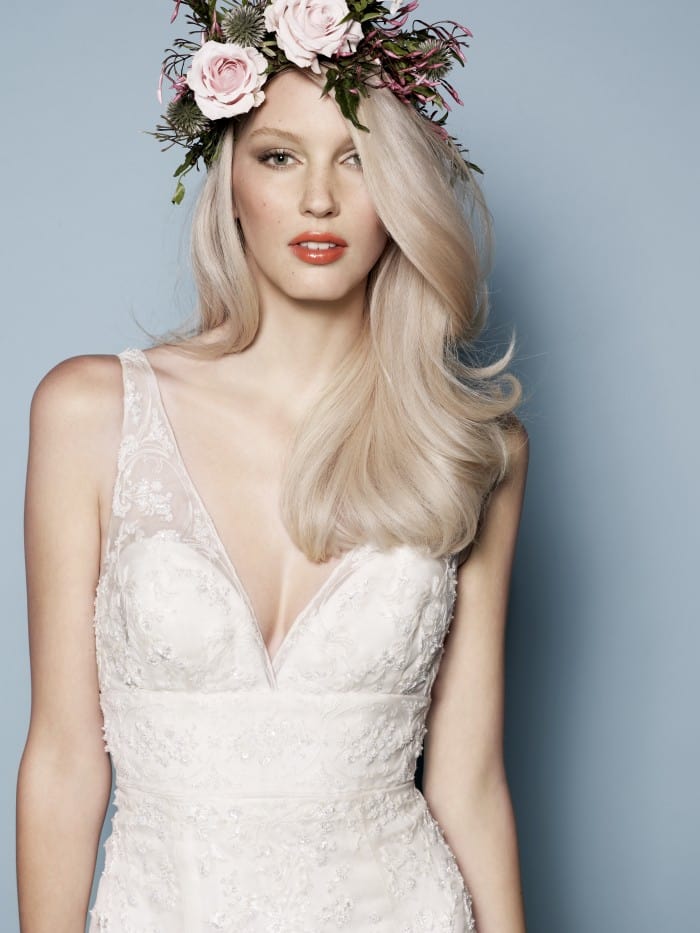 Detail of Watters Jessica Style 3073B
I'd like to thank Vatana Watters and the Watters team for giving my readers this insider perspective on 2013 Bridal Trends; it sounds like color and lace are here to stay! To find your perfect dress, check out Watters  full list of designer bridal dresses.   And to stay current,  follow Watters on Pinterest for Wedding Ideas .
Want my take on more Watters dresses? Here are some of my recent features:
Emerald Green Mother of the Bride