Is it OK for a Wedding Guest Wear Red to a Wedding?
Can I Wear Red Dress to a Wedding? Yes, as long as it's tasteful and elegant. Here are a few tips to keep in mind when wearing a red dress to a wedding
Make sure your red dress is appropriate in all other ways Don't wear a red dress that is too skimpy, or inappropriate for the dress code, season, or weather. (As you can see, those same rules would apply to nearly any color of wedding guest attire!)
Go with wine, berry, or burgundy instead. Since red can be eye-catching and a little more of a stand-out color, ideally a red that is slightly muted with other undertones like magenta red, like rust, burgundy, berry or is nearly always safe, and much more wedding-appropriate than a bright vibrant red. Burgundy dresses are actually one of my favorite colors to suggest for fall and winter wedding guests!
Pay attention to the silhouette. If you do want to wear a brighter red, make sure the rest of the cut is balanced with some tasteful style, will help make it wedding-appropriate. For instance, maybe you will select a dress that has a high neckline, some other detail, or long sleeves, and a midi skirt.
Consider the couple and culture. If you happen to know that the couple or family adheres to traditions or has cultural beliefs that red is not a color to be worn by a wedding guest, then by all means, please do pick another color!
Be comfortable. My other rule of thumb is if you are questioning the red dress and don't feel 100% comfortable about it, don't wear it!
For an even longer answer, which I originally shared in 2013, when I was much more long-winded – read below. However, if you'd like to see some red dresses that I've selected as wedding appropriate, check out these updated picks, which were re-selected recently. Also, see our wedding guest dress picks for other ideas for what to wear to your next wedding!
Affiliate links are used in this post
Shop Red Dresses to Wear to a Wedding

Etiquette on Wearing Red to a Wedding
The color red certainly has a bit of a reputation to it — and no matter how much one person may love this color, it does not always have positive connotations. Red can be associated with being sexy, sultry, racy, devilish, even dangerous. It's also attention-getting. All of these are not great attributes for describing ideal wedding guest wear, where one of the cardinal (sorry – that was a nearly unavoidable pun) rules is not to upstage the bride.
Red Dresses That are Appropriate for Wedding Guests
However, red can also be classic, conservative, dignified (think of how many first ladies wear this color!), It's cheerful, chic, romantic, passionate, and happy! These are great terms to describe the perfect wedding attire! You can see the conundrum. Below is my analysis of how to wear red to a wedding, along with the fun part — some dresses to wear!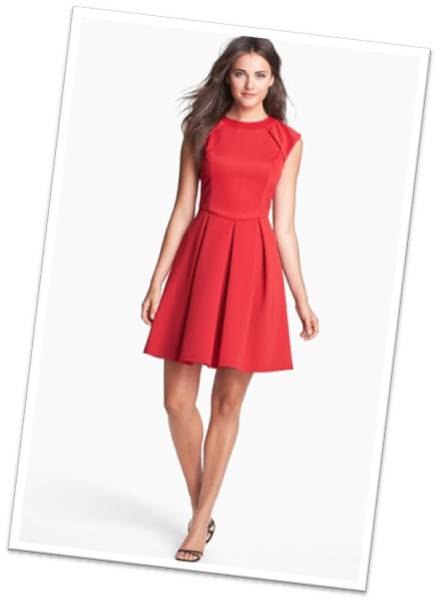 Red Fit and Flare. This is definitely a bright attention-getting red, so it is good that the conservative fit and flare cap sleeve style balances it out. It is a very casual style, but might wear this color to an afternoon wedding if I knew it wouldn't offend the couple, but with a good dose of caution (Read more below!)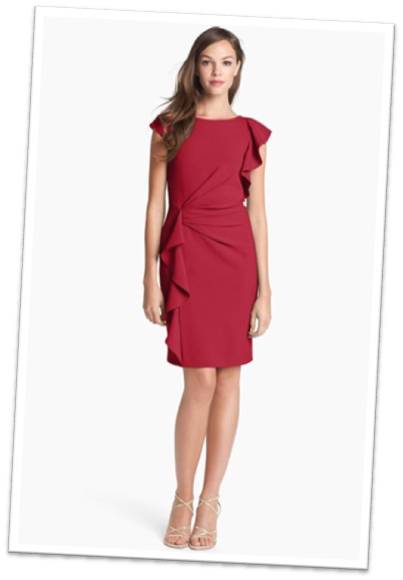 This garnet red dress with ruffles gets my thumbs up for weddings. It's a conservative style, but the ruffles make it pretty and feminine, too. The fabric and style makes it very versatile. This dress would be fine at a less formal daytime wedding, but could be dressed up enough for an evening semi-formal wedding, too!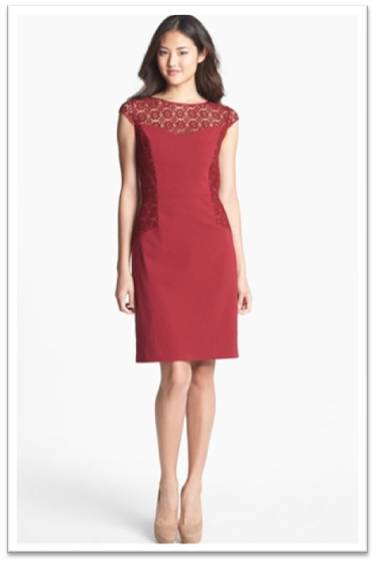 Lace Inset Red Dress. This dress has a conservative style, a lace neckline dresses things up a bit, and a slightly muted red, making this a wedding guest red dress "do".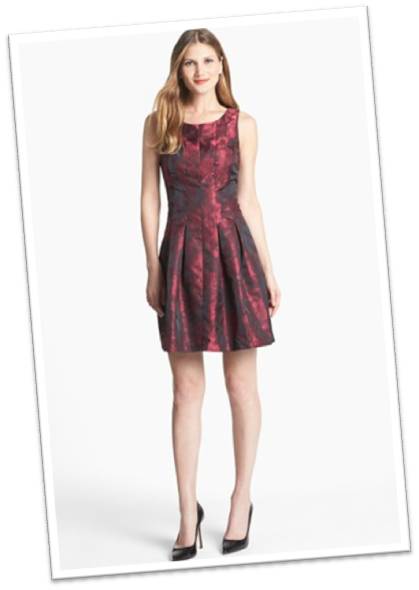 Jacquard Fit & Flare Dress : This deep red is lovely and wedding appropriate. I'd wear this to a semi-formal wedding, like a late afternoon or evening wedding reception
Wearing Red to a Wedding
I had a few guests who wore red for my own wedding, and I thought they looked fantastic! There was even one red, form-fitting strapless dress, which sounds like it could be too much, but I remember it because was lovely and I thought it was a pretty bright spot of color in the day!
So, wearing a red dress to a wedding comes down to exercising good judgement. A red dress for a wedding guest, in my opinion, should be classic and conservative to make up for the vibrant color. It's also a good idea to wear a color that's just a bit off from an overtly crimson red. For instance, a pinkish-red raspberry, a deep burgundy, or russet red are great choices. If you wear the classic bold crimson red, be sure the dress is in good taste; that it fits you well, is not too short or revealing, and that it suits the event, and not just you.
For a church wedding, exercise even more reserve. Be sure your shoulders are covered with sleeves or a wrap, and be absolutely sure your red dress is in good taste. For an evening wedding or cocktail hour wedding reception, a slightly more showy fabric and cut is fine, but still, make sure it is in good taste. For a black-tie wedding, the gown should be full-length, and stately, so just be aware of red's attention-grabbing abilities. A deep wine color or muted red would be my preference here since neutral darker tones are the preferred dress code for black-tie weddings.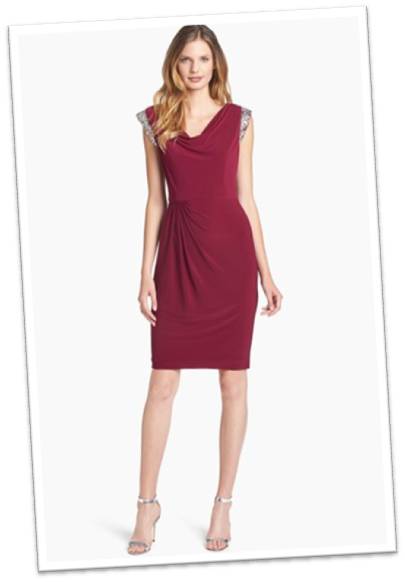 Embellished Red Dress See what I mean about details and needing context? If you told me you wanted to wear a red dress with sequins to a wedding, I'd think "too flashy!" and urge you to reconsider, but this sangria red dress with silver sequins is perfectly understated and modern -and gets my seal of approval to wear to a wedding.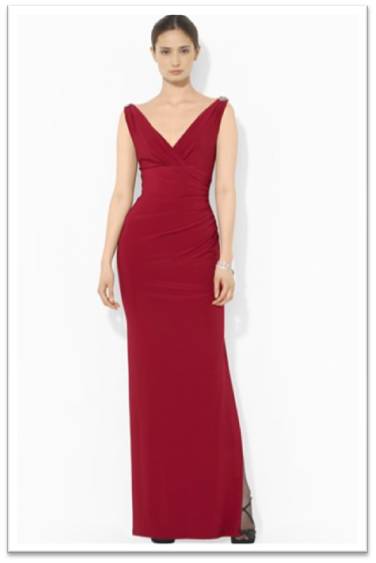 Red Formal Gown. This deeper garnet color, makes this a slightly more understated version of red. This gown could be lovely for a mother of the bride.
More about Red Wedding Attire
For red bridesmaid dresses, I think red of any shade is a lovely color for bridesmaids, so even a very bright red is fine for the wedding party, since it has presumably been chosen with the bride's consent, and you want your wedding party to stand out.
For a red dress for a mother of the bride or groom, a red dress could be lovely, but it should be chosen again with care (and with the couple's approval) to make sure it's not too attention-grabbing.
It's my understanding that the bride will often wear in a red dress in a some Asian wedding ceremonies, so I'd exercise caution about wearing red to these events. I do know for sure It may well be the equivalent of wearing white to a wedding in some cultures.
If you're searching for the perfect red dress that strikes the right of the red color and style that I've been going on about, below is a shop section where you can shop red dresses through my affiliated retailers. See more ideas for how to wear red dresses here!
Why Might Red Not Be OK For a Wedding?
Weddings are like an encoded world of their own where even colors as simple as black and white, worn by the wrong person, at the wrong time, in the wrong way, can cause such offense to some. As one who doesn't like to offend, I can why people would be anxious and have questions about what to wear. I think overall, like me, most wedding guests try to look their best, feel comfortable and want to have a good time! I also get the sense that when someone is complaining about what someone wore, they actually just have a general issue with the person, or the person's behavior — and the clothing just happens to be an easy-to-pick-on extension of that. Maybe I'm naive, but most guests I know would never knowingly use their attire to make an overt statement to offend the couple, so in general I feel we should all cut everyone a little slack, worry less in general about who wore what , and really enjoy the people who have come together to celebrate a marriage and who wish us well!
Have You Worn Red to a Wedding?
Please add your voice to the comments! If you're a bride-to-be, will you be offended if a guest wears a bright red dress? Former brides, were you dismayed by anyone's attire choice or dress color? Guests, have you worn red and regretted it, or did you get loads of compliments?
Shop sections use links to our sponsors and affiliate retailers.