Ideas for renewing yourself and refreshing your style in the new year!
Sponsored post. This post with ideas and outfits for a new year and new you have been generously sponsored by Nordstrom. Affiliate links are also used in this post.
Be Refreshed and Renewed
Did you see my recent post about treating yourself well in the new year, with some ideas for a spa day, and a few ways to enjoy little luxuries? If you did,  you saw that in 2019 I'm trying to keep going with some lifestyle changes that served me well in 2018. I find that having the right attitude helps quite a bit, but so does having the right gear and a plan in place.
Nordstrom is in  the same mindset, with so many new style offerings and that make it easy to get a jumpstart on some new habits. Their 'Hello Happy. Hello Healthy' wellness offerings are there to introduce everything you need that to help you reach the goals you may have in the new year -- especially for fitness and beauty!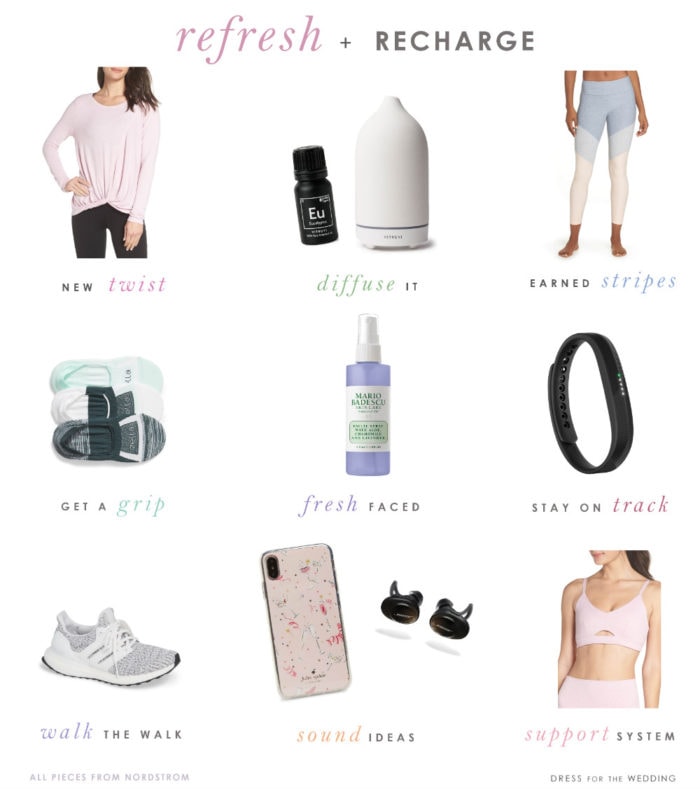 Twist Top: Zella Twisty Turn Tee | Diffuser and Essential Oils (Sold Separately) : Oils: Vitruvi Eucalyptus Essential Oil | Diffuser: Vitruvi Porcelain Essential Oil Diffuser | Leggings: Outdoor Voices 7/8 Springs Leggings | Socks: Zella 3-Pack Low Profile Socks | Face Spray: Mario Badescu Facial Spray with Aloe, Chamomile & Lavender | Fitness Tracker:  Fitbit 'Flex 2' Wireless Activity & Sleep Wristband | Phone Case and Earbuds (Sold Separately) : Phone Case kate spade new york jeweled champagne iPhone X/Xs/Xs Max & XR case  Wireless Headphones: Bose® SoundSport® Free Wireless Headphones | Sports Bra: Zella In-Vent Ultrasoft Recycled Sports Bra
Getting in the Habit
One way I am trying to set myself up for health and happiness in 2019, is to make sure that I get some sort of relaxing or replenishing exercise each day. I find that getting dressed in the morning with the intention to work out or talk a walk, helps make it sure it will actually happen.
Having pretty new outfits that I am excited about wearing helps to keep up my enthusiasm. Just like I used to have to buy boring suits, I can now consider these my new work wardrobe essentials! Here are a few of the other things I find help keep me on track!
Style to Start The Day
Since the day can take me anywhere from sitting at my desk, to an impromptu workout, or an appointment, I find wearing clothes that I feel good in every setting helps so much! I start off by choosing a sports bra, both for comfort and so that I am ready for anything in case I go for a walk or jog. For stylish leggings and tops, I really love the look of pieces by Zella. For some comfy and chic loungewear that can be a good morning cover up or reward at the end of the day, I am hoping to treat myself to some Barefoot Dreams pieces. They look so soft and heavenly to wear! I can also see these making the transition from a warm bed to my cold-ish office a little easier in the morning!
Shop the Look

Office Zen
My work-from-home office environment isn't very stressful, but I frequently get tight and stiff muscles from sitting too long or clenching my jaw when I work. To promote a little inherent calmness, I try to set a peaceful tone by playing some background music and using my diffuser with a scent of the day. Eucalyptus essential oil has been my pick lately because it's energizing and seems to help me breathe deeply and think clearly.
To work on my posture and break up the time I sit, I get up to stretch every 30-45 minutes. If have time, I'll do a quick 15 minute yoga video from YouTube.  If you are in the throes wedding planning, and the stress is getting to you, I highly recommend some sort of yoga or breathing to unwind. I am always amazed by the immediate relaxing effect of a few deep breaths and some stretches.
Fresh Air
After a few hours of work - even with all the stretching - I need some fresh air!  I try to take a walk 3-4 times each week and listen to a podcast suited to the kind of day I'm having. I'll choose something funny if I need a mood lift, or something educational if I'm feeling uninspired, or a mystery for a little mental workout!
I would love to have a pair of these wireless headphones since I always seem to get m my hat, gloves or hoodie tangled up with my cords.  The right sneakers and socks are also key for me! I can't stand it when my socks start falling gown inside my shoe; it's a fast way to ensure I'll have to turn around. I've found a pair like these with a bit of grip ankle is the way to go. It's all about preparation so I don't have any excuses!
Making Plans
Now, one of the other goals I'm working on, is actually the opposite of everything I have outlined above. Because I spend so much time in casual clothing, I am trying to dress up more when the opportunity presents itself.  To make sure the opportunity presents itself, I am trying to make post-work plans at least once a week. In the colder months, I still have a hard time giving up the leggings, but I might have try these Spanx faux leather leggings as a way to dress up beyond the usual leggings look. Baby steps, right?
Celebrate Something Special
Besides getting out more after work, I hope to have some sort of special event to really dress up for this year. Of course, Nordstrom is also the spot to pick up something that is not your every day outfit!
If you want some guidance on finding a something special, you can work with one of their many styling services to make sure you purchase pieces you'll love and feel radiant in. Nordstrom has absolutely every look you could hope for! There are so many dreamy styles -- like this one -- the latest of my many dress crushes.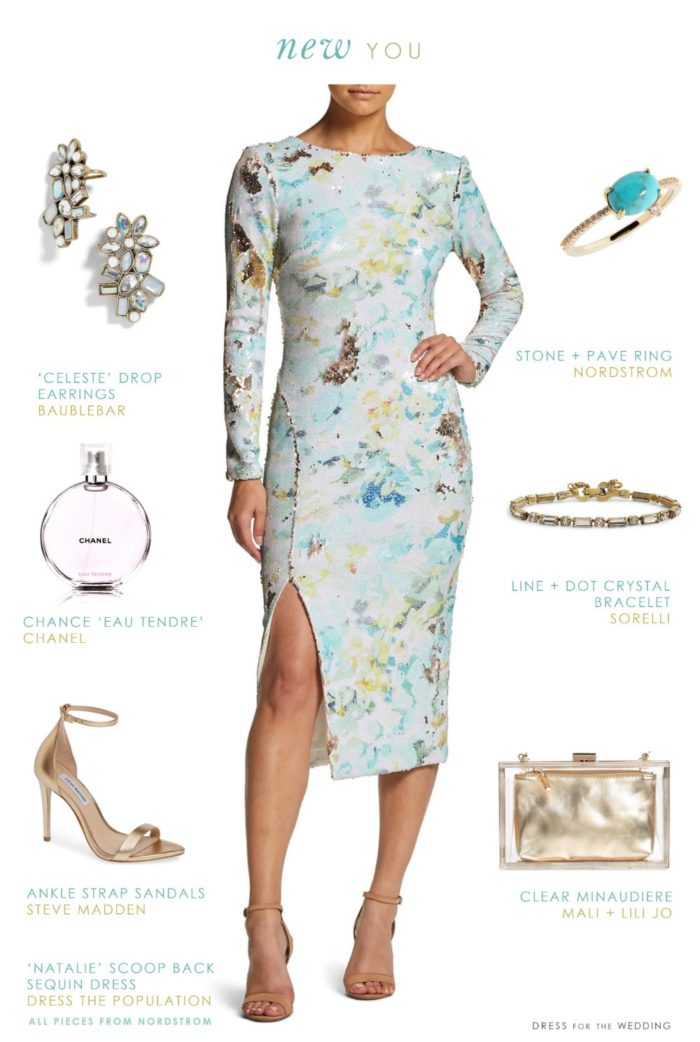 New You Outfit:  Dress: Dress the Population Natalie Scoop Back Sequin Dress  | Earrings: BaubleBar Celeste Drop Earrings | Ring: Nordstrom Stone & Pavé Ring | Bracelet: Sorrelli Line & Dot Crystal Bracelet | Clutch: Mali + Lili Jo Clear Minaudiére  | Shoes: Steve Madden Ankle Strap Sandal | Fragrance: CHANEL CHANCE EAU TENDRE Eau de Toilette Spray 
Such a fantastic combination of prints and sequins and silhouette - I think it would be a great date night dress for my wedding anniversary!
For those of you who are recently engaged, this dress would be a fantastic engagement party or rehearsal dinner look. The new year is a great time to try a new signature fragrance or some new accessories too!
Shop the Look

Here's to You in 2019!
Whether you're starting a new habit of health, trying to keep your motivation up, or preparing for a special event in 2019, you're sure to find the clothes, accessories, beauty and wellness products, to help you reach those goals at Nordstrom. Here's to a happy and healthy you!
Shop the Post