Short pink strapless dress outfit idea.
Affiliate links are used in this post.
Short Pink Strapless Dress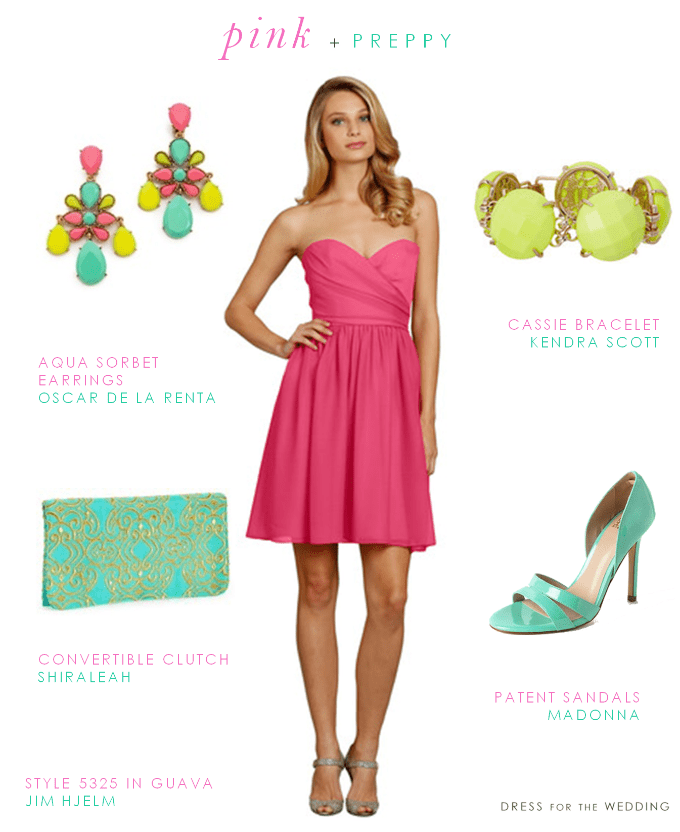 Get this look: Dress: Style 5325 in Guava by Jim Hjelm at Weddington Way | Aqua Sorbet Earrings by Oscar de la Renta | Cassie Bracelet in Neon Yellow by Kendra Scott | Patent Sandals in Green by Madonna at Lord & Taylor | Convertible Clutch in Aqua by Shiraleah at Nordstrom
Preppy Bridesmaid Look
Hello fashion-forward, friends! Sorry if you were missing me earlier this week. I took a little mid-summer break there for a few days while my husband and I had visitors, and I didn't have a minute before or during their visit to get posts up. Sometimes it's fun just to be in the moment and enjoy company!
Summer finally hit my fair city, and I was able to wear some of the bright colorful pieces I had picked out this spring. All of this left me in a colorful, summer mindset, which lead me to create this preppy look for a bridesmaid or wedding guest. This pink strapless dress by Jim Hjelm is just the sweetest style --especially with the sweetheart neckline and the full skirt. It comes in 11 colors, but this bubble gum pink is one of the colors that just jumped out to me as a very pretty shade for one's bridesmaids. It just looks like the perfect choice for a preppy Southern wedding. I wanted to match the vibrant pink with lots of other color, which always looks so great in pictures. When I found those Oscar de le Renta earrings that bit of aqua and yellow seemed to look just right with this! While I love a soft, romantic neutral look as much as the next person, sometimes a dose of bright color is just what you need. This style idea certainly has all of that!
More Pink Dresses

More pink inspiration: