We are highly in favor of these cute skirts for weddings! Wear one as a wedding guest or as a bridesmaid!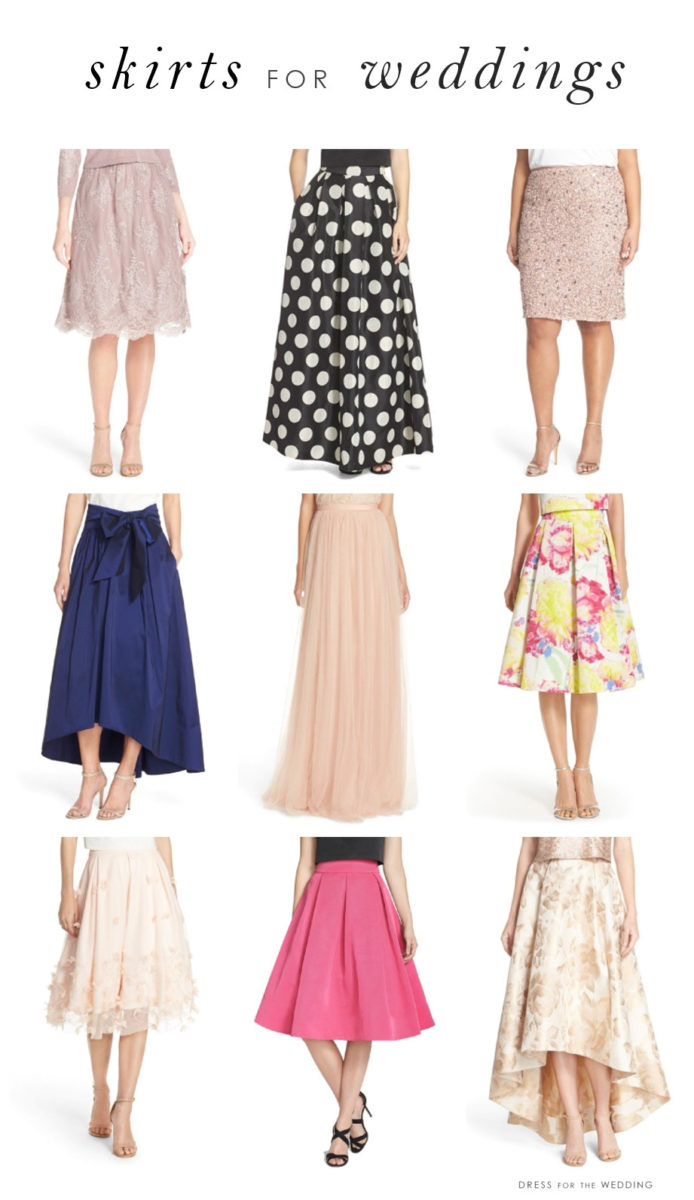 Dress for the Wedding is a shoppable blog. Links in italics throughout the site and in clickable images in the shop section denote affiliate* links from our sponsors.
1 . 'Arianna' Lace Skirt by Jenny Yoo from Nordstrom 2. Polka Dot Ball Skirt from Nordstrom 3. Adrianna Papell Sequin Skirt 4. Hi-Low Navy Ball Skirt 5. 'Arabella' Tulle Ballgown Skirt  6. Eliza J Floral Print Faille Skirt  7.  Eliza J Floral Applique Blush Skirt. 8. Eliza J Midi Skirt from Nordstrom 9. Hi-Low skirt style in jacquard fabric by Eliza J
Skirts and separates, are a classic, and used to be quite the staple in wedding attire. Thankfully, they are emerging (again!) as popular wedding attire with a frresh new take on the suited ensembles of years past. As much and we love dresses (and we do love dresses!) we also really love the versatility of these skirts! In fact, bridesmaid separates have become such a big trend for weddings, and it's pretty easy to understand why they're so popular again! Not only are they really, really simple to wear again, but they often cost less than a full bridesmaid dress, and they also allow the wearer to customize with a top that best suits their personal style or the event. Skirts are also ideal for engagement parties, rehearsal dinners and for brides to wear for their engagement photos.
Dressy skirts are also great choices for wedding guest wear, for all the same reasons! Skirts in  special occasion fabrics are always festive, but also fancy and flexible! And don't think skirts are just for casual wedding attire, there are many hi-low looks, silk skirts, and ballgown style skirts that make for highly-appropriate formal wedding attire. These midi and long lengths are also great for mothers of the wedding. Here are a several of our favorites!
Cute Skirts for Weddings for Bridesmaids, Wedding Guests, and Mothers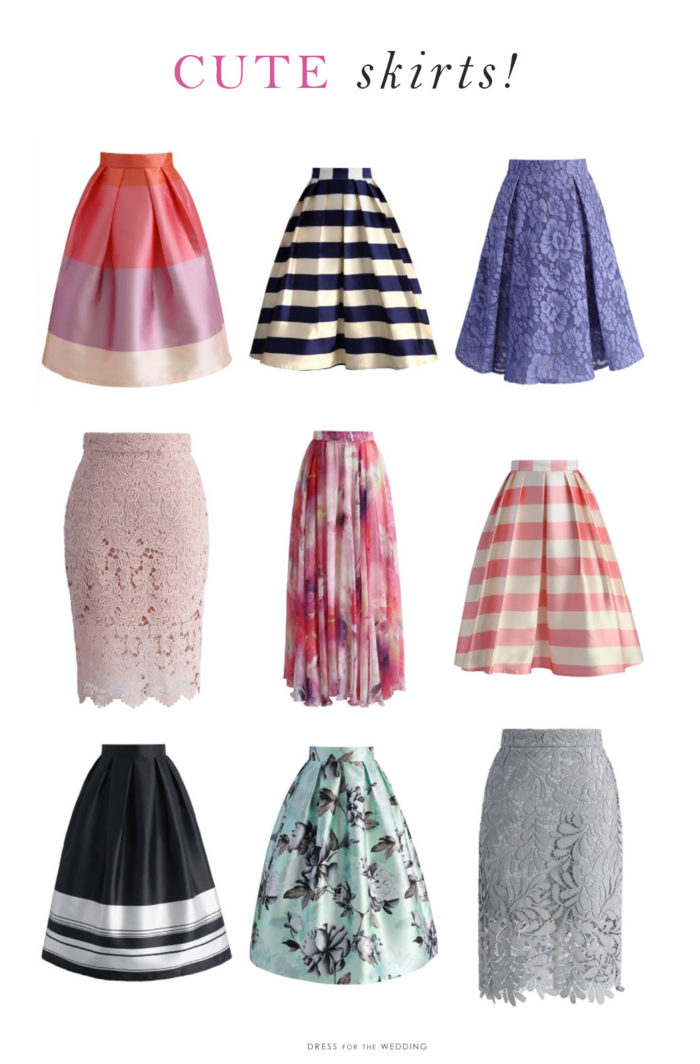 All of these skirts were found at Chicwish - they have adorable styles, but they are very popular so they sell out quickly!  Links in italics and in the shop section are from affiliates and sponsors. Numbered from top row, left to right :
 1. Lollipop Colorblock Midi Skirt  2. Marine Blue Striped Skirt 3. Organza Lace Skirt 4. Crochet of Rose Pencil Skirt 5. Dancing Watercolor Maxi Skirt 6. Candy Pink Striped Skirt 7. Demeanor Striped Skirt in Black  8. Garden of Peony Skirt 9. Foliage Gray Pencil Skirt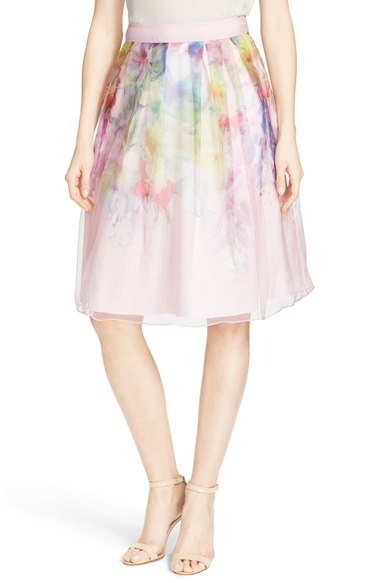 This look from Ted Baker - the 'Glenis' Floral Print Silk Skirt shows off a sweet way to wear pastel prints. Pick up any color from this watercolor print, or even a darker shade of these colors or a contrasting gray or black. Would be beautiful for an engagement party, or for part of a daytime wedding guest ensemble.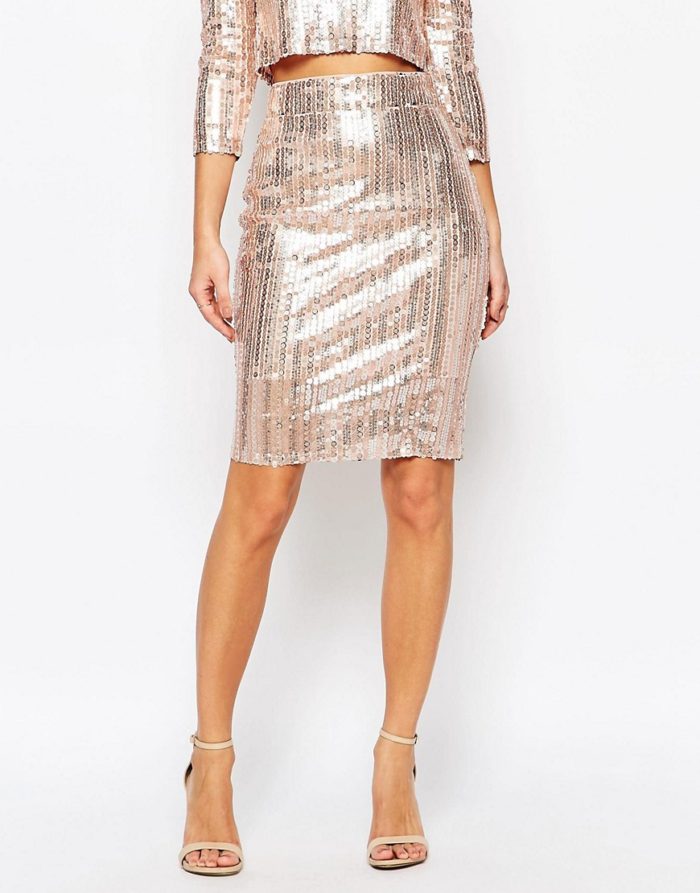 TFNC Sequin Midi skirt from ASOS . Now, this sequin skirt when worn with the matching sequin top above, looks a little more clubby than I normally like for a wedding, but if you wear this Midi sequin skirt  (or one like number 3 in the first collage above, or this Adrianna Papell example) with a solid, but dressy and somewhat more conservative top, the look is a wonderful-fresh take on sequin bridesmaid style!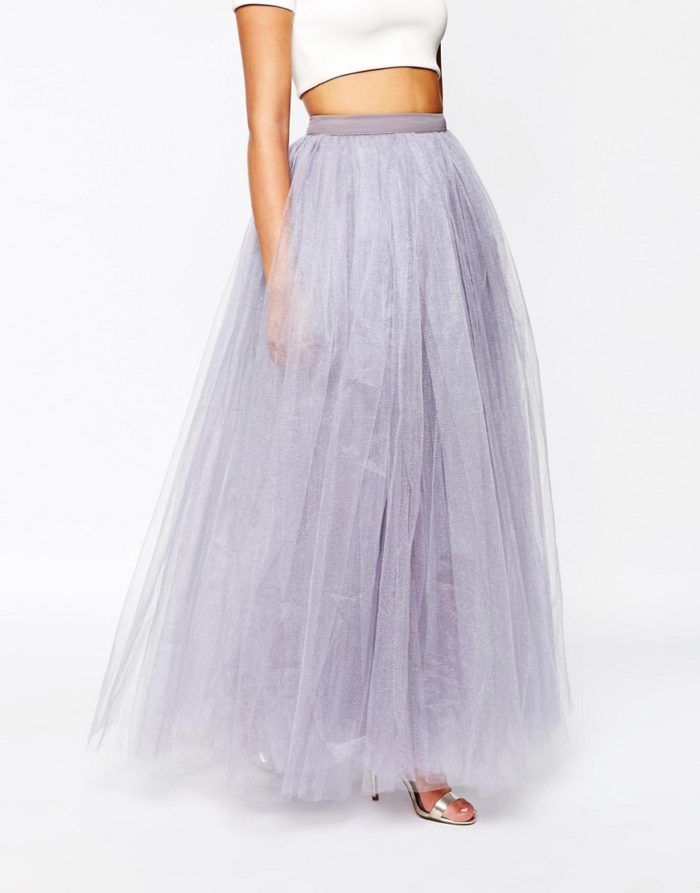 Little Mistress Tulle Maxi Skirt. Tulle skirts are not just for flower girls in weddings! This style is as ballerina chic as can be for a wedding. ASOS has many colors and styles from mini to maxi and midi in between!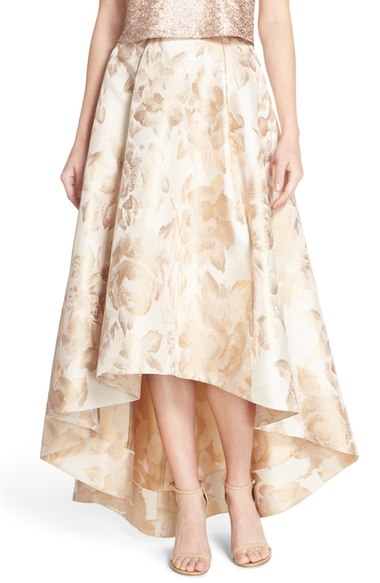 This hi-low skirt style in a rich jacquard by Eliza J would be beautiful for a spring or fall wedding party. It's also a great choice for the mother of the bride. Just pair it with a jacket or sequin top in blush, gold, or sequins ( Eliza J and Adrianna Papell have some great dressy top choices!)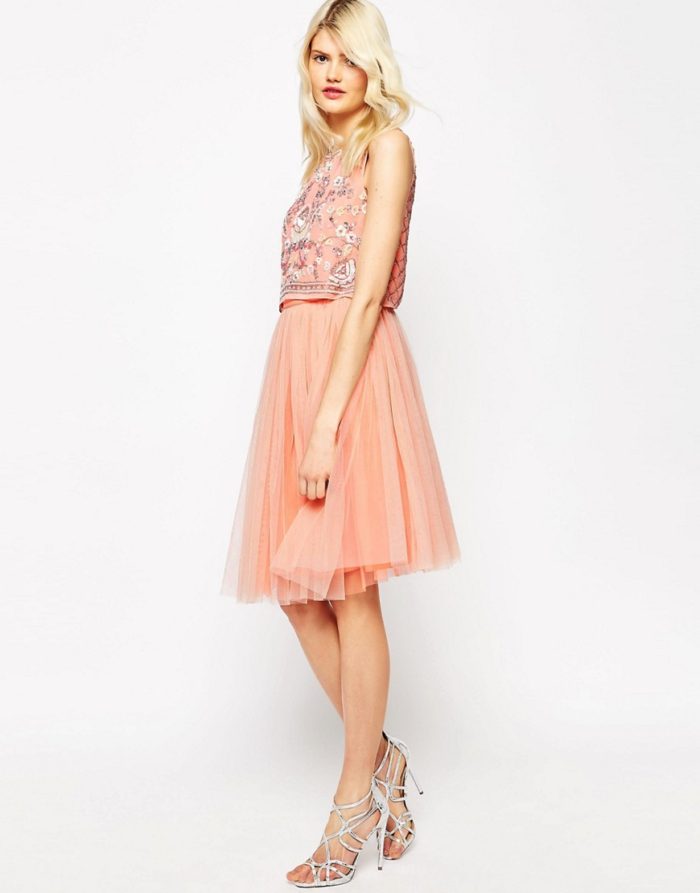 Needle & Thread Midi Tulle skirt and Needle & Thread Embroidered Top. Another tulle look from ASOS, this time with a shorter length and with a crop top to finish the look.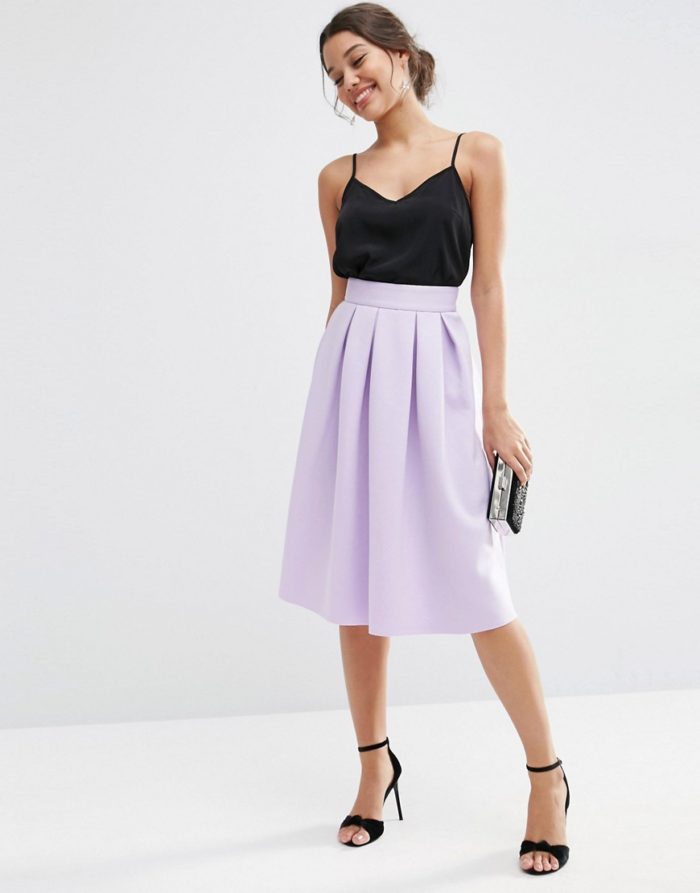 Midi Prom Skirt in Scuba. If tulle isn't your thing, maybe a tailored super-structured skirt like this box pleat in soft, but structured scuba material is for you!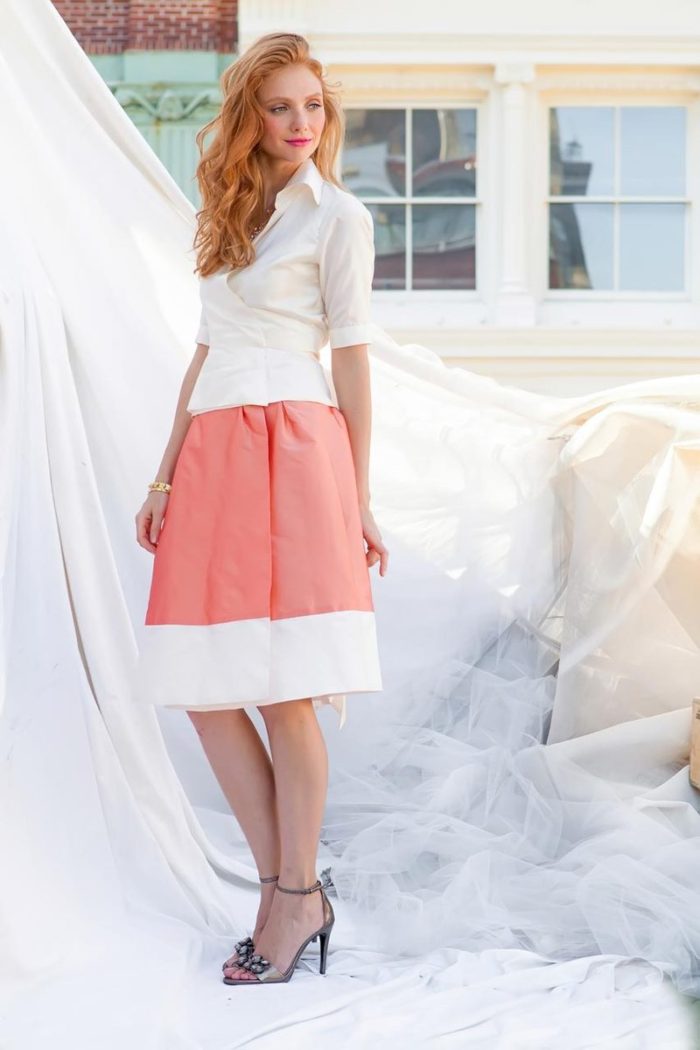 Shabby Apple, the Carnegie Block Skirt. How about a brightly-colored chic silk block stripe? This coral skirt one of many of their great skirts for weddings, in every length! Shabby Apple also has some beautiful bridesmaid dress and skirt options.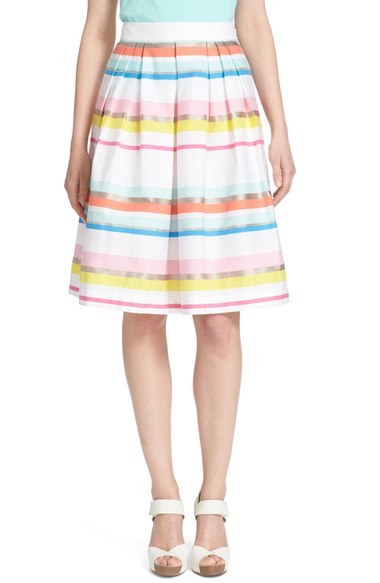 Stripe Ribbon Inset Skirt by kate spade new york. Speaking of stripes - no designer does them better than kate spade new york! Even though this is a white background, just pair this skirt with a colored top, and some bright strappy sandals, and this is wedding guest ready! It would be adorable for a bridal party too!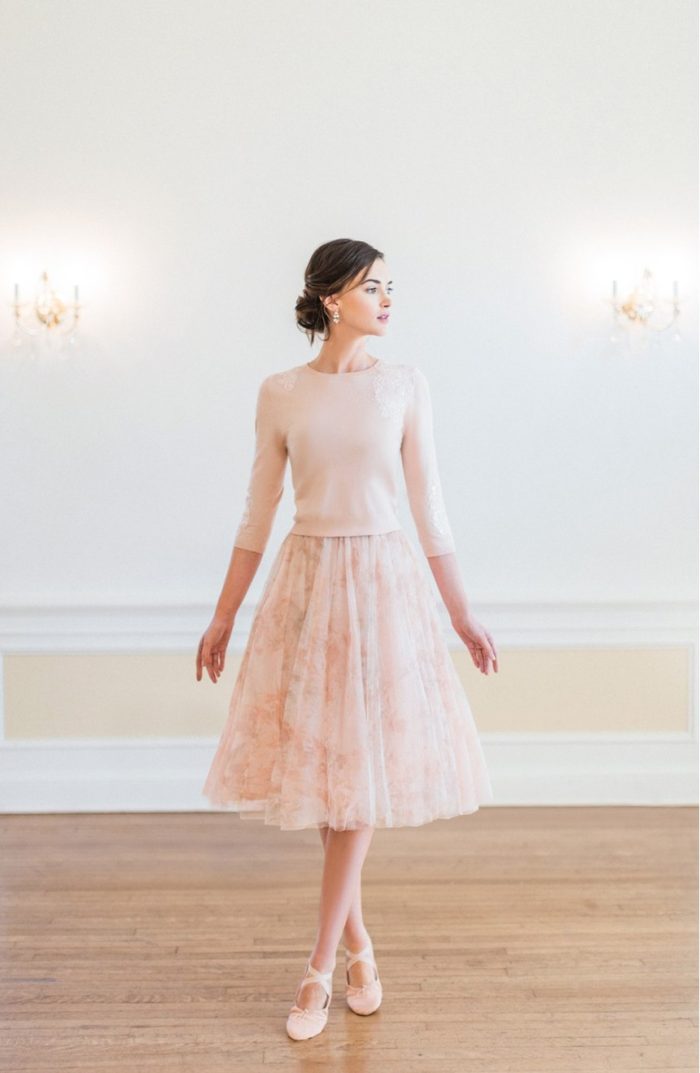 This look from Jenny Yoo shows the new bridesmaid style - sweet sweaters with a softly printed skirt. Photo by Caroline Tran as seen at Nordstrom. 'Lucy' Print Tulle Skirt shown with Lace Applique Sweater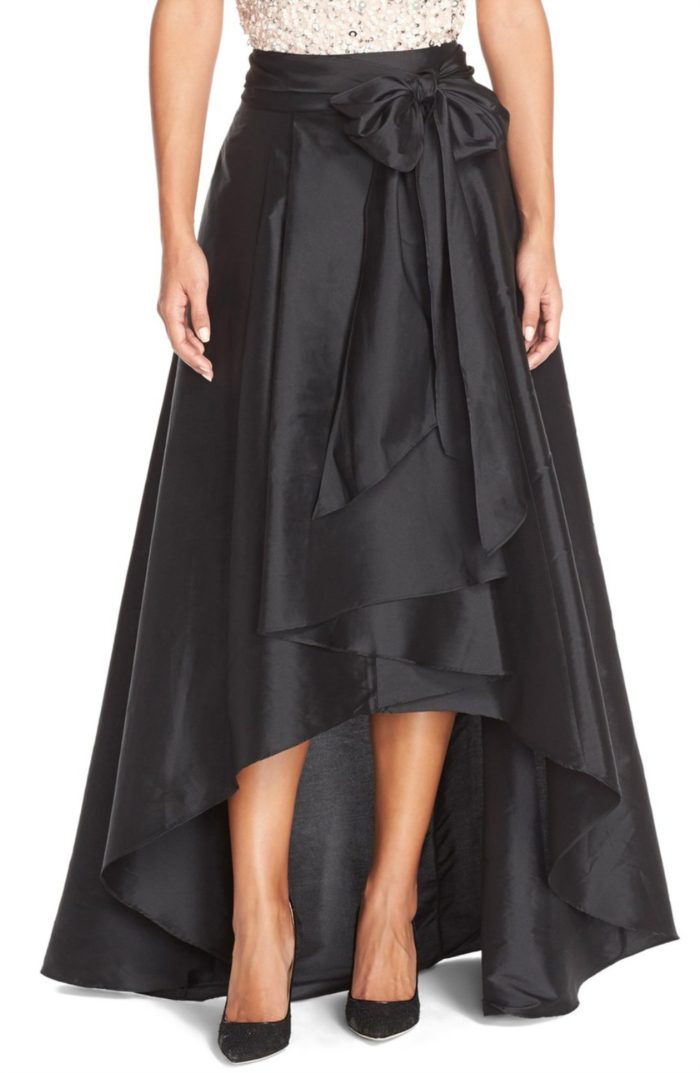 See what we mean about these skirts being great options for black tie? Pair this Adrianna Papell ball skirt with a bow with any color formal top, and you have a great look for wedding guests, bridesmaids or mother of the bride/groom. ( For tops that pair perfectly, check out these dressy top choices from Nordstrom) For a variation on the mismatched trend, perhaps you'll have your bridesmaids wear a mix of blush and neutral tops, and have this skirt be the unifying element!
If you're still looking for more skirts, Etsy also has a huge selection of tulle skirts, often handmade and frequently customizable. Find one that suits you!
Links in italics and in the shop section are from affiliates and sponsors, meaning that this blog may earn a small referral commission from the retailer, at no cost to the purchaser, if a qualified sale is made.