Light Brown Bridesmaid Dress
If there's one color I certainly haven't featured enough in my style collages, it's brown. In my own wardrobe I wear brown quite a bit--especially in fall--but I haven't come across a brown dress with wedding-ready look that has inspired me. Until now! Meet the new luxurious shade and bridesmaid dress I'm smitten with: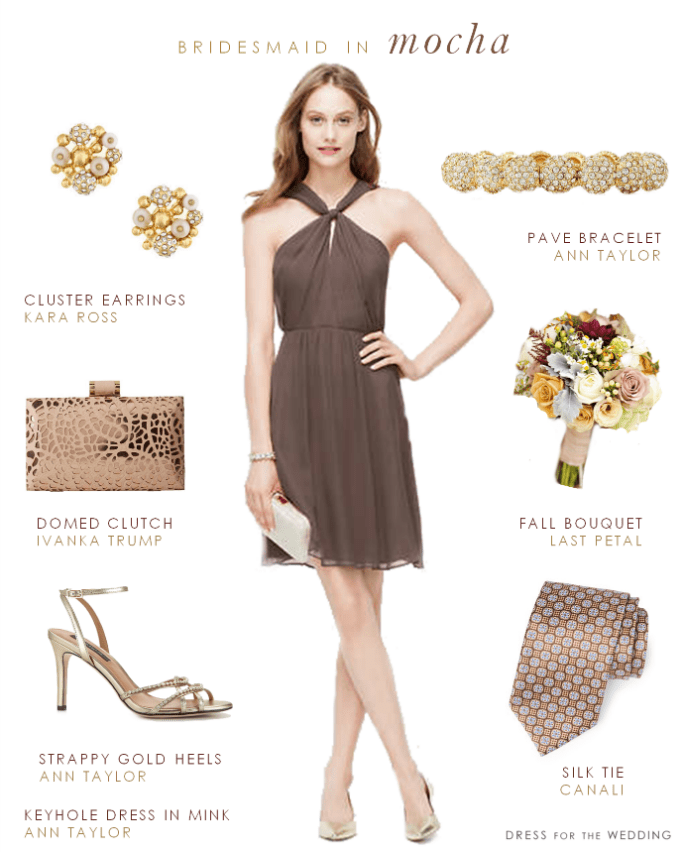 Dress: Georgette Keyhole Dress in Mink from Ann Taylor  | Earrings: Kara Ross Cluster Earrings |  Bracelet: Pave  Cabachon Bracelet by Ann Taylor | Bouquet: As seen on Project Wedding Photographed by Rebekah Westover Photography  Bouquet by Last Petal | Tie: Woven Silk Tie in Brown pattern by Canali at Nordstrom | Shoes:  Strappy Gold Sandals from Ann Taylor | Clutch:  Ivanka Trump Domed Minaudiere
Isn't this dress the perfect hue of soft brown? I'm calling it mocha, because I love colors that are flavors, but Ann Taylor is calling this shade "Modern Mink" (definitely not a flavor -- ha!). If you tell your bridesmaids: Hey, you're all wearing brown, they might get the impression that you're selecting a drab color, but that's not the case with dress. It's the color of a smooth hot chocolate and it's a rich and timeless as any color, and will give elegance and refinement to any wedding party.  This warm tone is a great choice for fall and winter weddings, but because it balances so well with pastels like blue, green, and light blue, and cream, you may be able to have this work for spring weddings as well!
I tried to pick up a few colors with that blush and gold clutch, and a hint of blue in the groomsmen's ties. This color also works so well with metallic shades like gold and bronze. I love this shade as a new neutral that has a little depth to it, there's no fear of this soft color washing anyone out!  I know brown was a popular pick for weddings a few years ago, and I think I'm really ready for it to make a comeback. If you have me in your wedding, make my dress a mocha, please!
For more ideas:
See other dresses in this shade from Weddington Way
Neutral Bridesmaid Dresses on Pinterest



More style ideas you might enjoy :