Statement Necklaces for Brides
One of my favorite ways to dress up a simple strapless wedding dress is with a big, grand statement necklace. Here are six of my picks and more about why I love statement necklaces for weddings!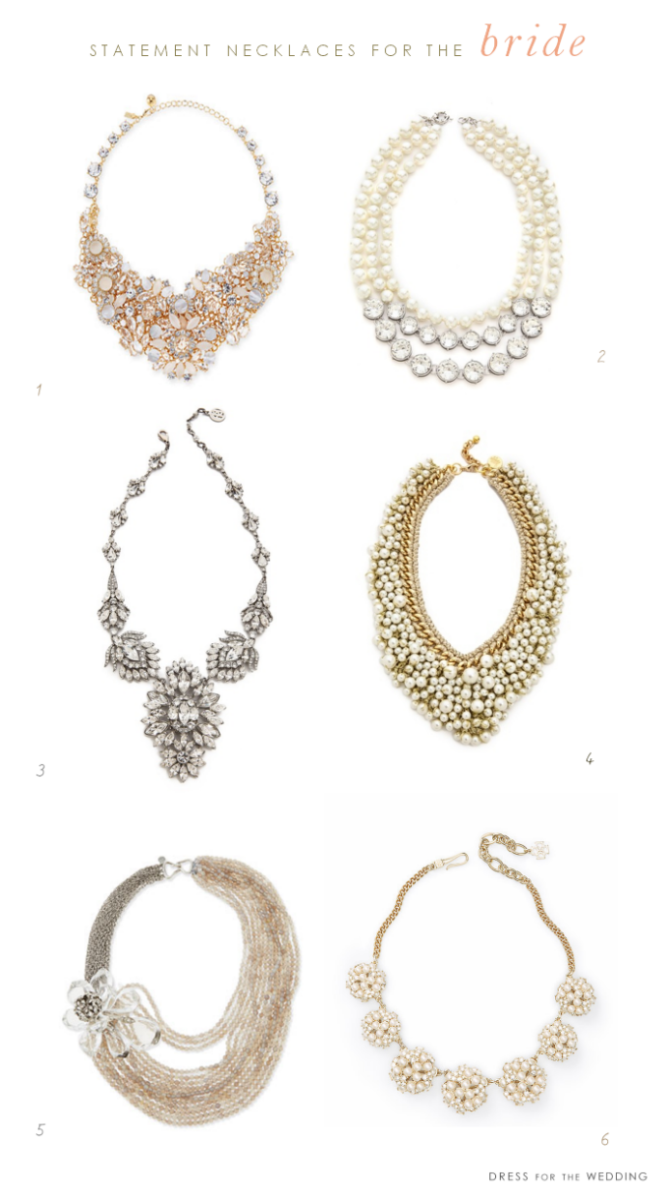 1. kate spade new york grand bouquet necklace  2. Juliet & Co. Apres Soiree Necklace  3. Ben-Amun Crystal Statement Necklace 4.  Dancing Queen Necklace  by Vanessa Arizaga  5. Alexis Bittar  Jardin Mysterie Corsage Torade Necklace 6. Ann Taylor Pearlized Cluster Necklace
Statement Necklaces  for Weddings
I've spoken before about how I wish I had chosen larger statement pieces for some of my bridal jewelry in this post about statement earrings. Getting the balance between the dress, the veil, and/or hair accessory can be tricky. If you add statement pieces along with way more than normal oomph to your hair and makeup, you can easily cross over the line of between being the most dazzling version of you that you can be, to a looking like a version of you that is so unfamiliar, you don't feel like yourself!
I selected a simple, strapless Jenny Yoo gown for my wedding day, because I felt both at ease and elegant in it. I'll never forget that there was a beautiful array of statement necklaces at Garnish, where I purchased my dress. I had been eyeing them when I first walked in, and when I had my gown on, Mia, the owner, remarked, 'one of those statement necklaces would be great with that dress.'"  I agreed, but since the dress was my first purchase, I figured take some time I'd see what was in store for my wedding jewelry in general, thinking their might be some family jewelry I might wear. After playing around with earrings, veils, and bracelets, I didn't end up wearing a statement necklace, and now I wish I had, it would have added a great unique layer of embellishment to my dress.
As if to make up for my choice not to wear a necklace, I now feature a ton of statement necklaces in my posts, and I especially love seeing them on brides.  There are thousands of necklaces to choose from. If these aren't quite your style, my retail partners like  BHLDN, Shopbop, and Ann Taylor have some amazing choices. I also love this smaller  kate spade new york bouquet necklace  and this iridescent  kate spade new york capital glow necklace . I've shown some traditional white, pearl, crystal,and pink versions here, but a statement necklace in any color is a wonderful way to let you personality and wedding colors in to your style.  I usually recommend that if you go bold with the necklace, just wear a pair of chunky--but not overwhelmingly large-- stud or button earrings. Also play around with getting the right veil or headpiece so that you don't have too much going on. You want to complement your face and your wedding gown, not distract from it!