Stylish and Inexpensive Wedding Invitations from Ann's Bridal Bargains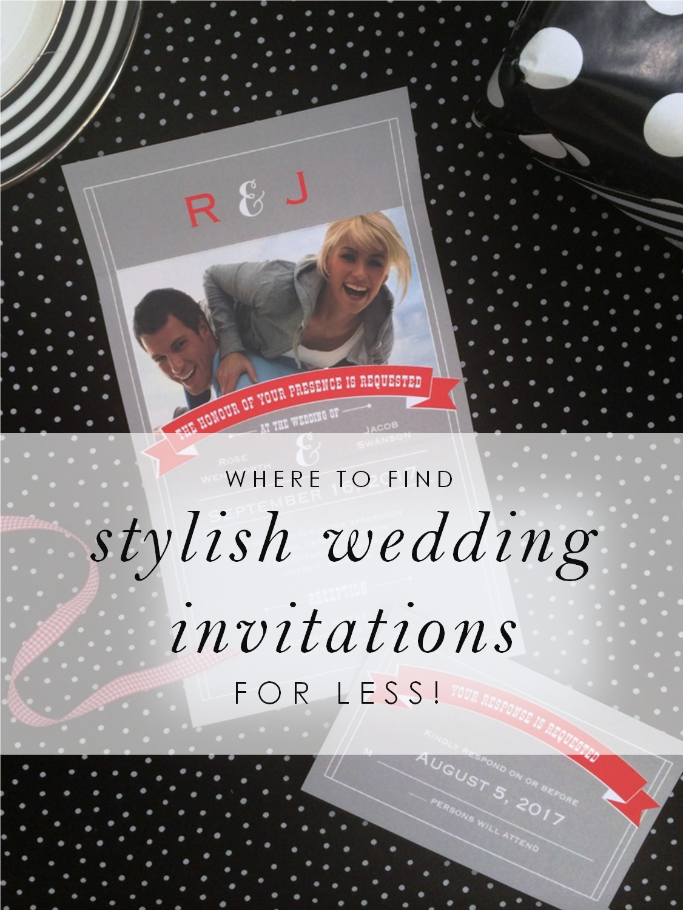 Find stylish, high-quality wedding invitations for unbelievably low prices at Ann's Bridal Bargains! Sponsorship statement: Ann's Bridal Bargains has generously sponsored this post. Invitation styling, imagery, and enthusiastic words are by Dress for the Wedding!
Where to Get Affordable Wedding Invitations
One of the greatest shopping thrills in my life is when I find the exact look and style of something I want, at price that is a complete deal! Sadly, wedding planning isn't always filled with such delights. When it came to my own wedding, I was amazed at how quickly the price of invitations, favors, and decor could add up! When I couldn't find the style of invitation I wanted for the price I could afford, I went the DIY route (which had its own set of drawbacks and hidden costs). Now I've finally found the source for wedding invitations with high style at a low price: Ann's Bridal Bargains!
The invitation design team at Ann's Bridal Bargains is passionate about staying current with the latest trends, keeping their paper and print quality high,  and all while maintaining their signature bargain prices.  As much as I'm a sucker for style, I'm also stickler for quality! It's important to me that anything I buy at a reasonable price still looks as great as more expensive options. These invitations are the real deal!   I know this first hand, because I recently did this styled shoot with Ann's Bridal Bargains that included their Seal and Send invitation designs and rustic wedding invitation designs. Once you see these invitations, I think you'll agree; these have fantastic style and a dream price point!
Inexpensive Rustic Wedding Invitations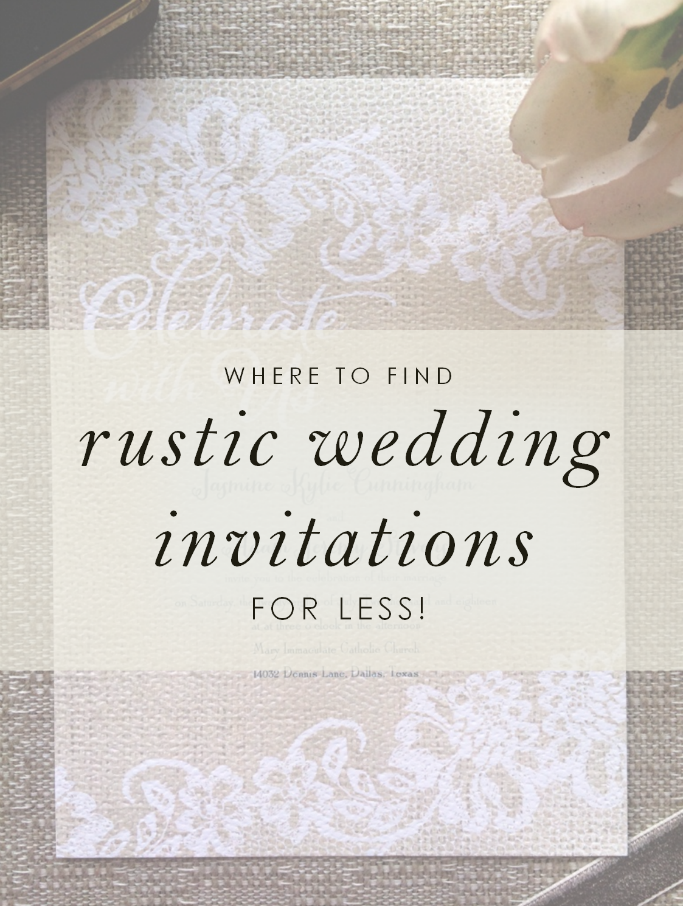 The rustic wedding trend is here to stay! I see so many brides who are dreaming of the look of burlap, lace, and Mason jars for their rustic chic weddings.  Ann's Bridal Bargains has a full line of rustic wedding invitations that will perfectly complement this sweet and simple country theme. You can customize the ink colors and wording so that your wedding invitations are unique to your event and your style as a couple. Some of these invitations even allow you to personalize with a picture!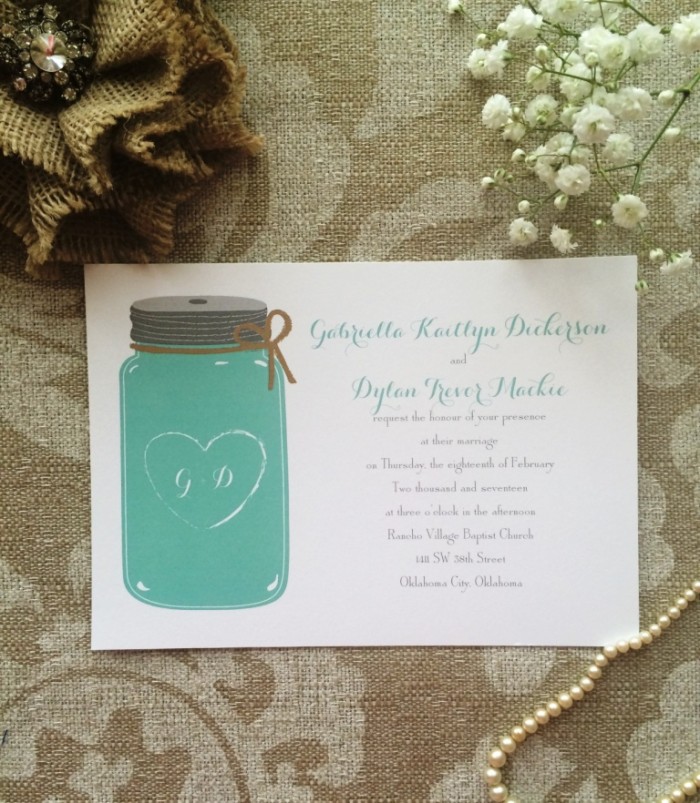 If you love the Mason jar look,  why not make it your wedding theme with these adorable Mason Jar invitations from Ann's Bridal Bargains? This style is called Filled With Love and is only $129 per 100 invitations. Just like Mason jars themselves, these invitations offer pretty rustic style at a low price!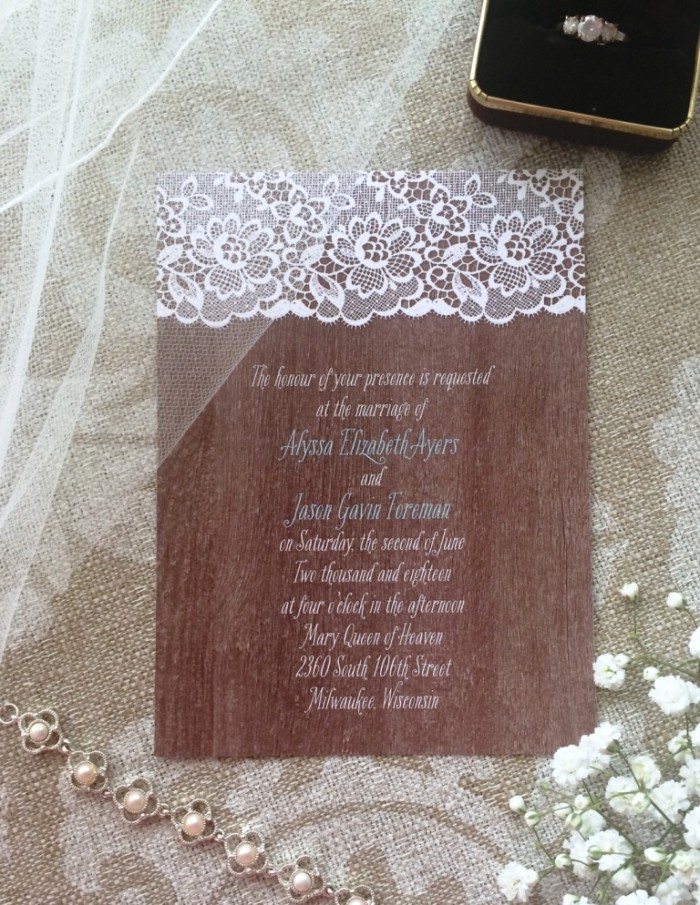 Woodgrain and Lace Invitations.  The wood grain look is the perfect accent for a wedding in a natural, rustic setting.  The lace detail gives this invitation the perfect bit of vintage-inspired elegance to greet and invite your guests with grace.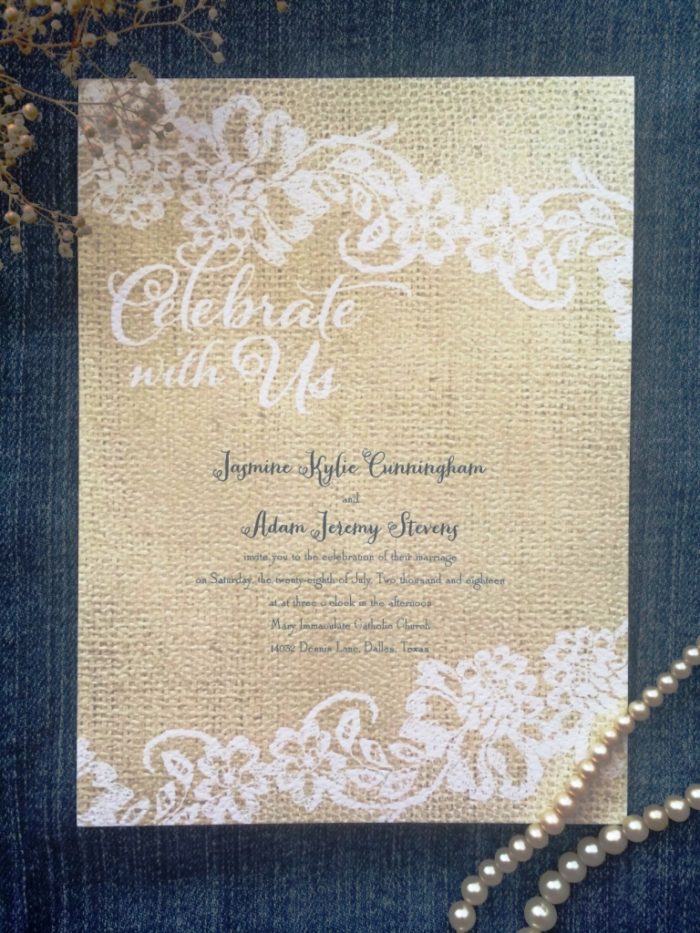 Country Details Wedding Invitations. True to the style of a country bride, this invitation looks great with pearls or denim!  It's a elegant way to announce your wedding with a classic country style. The best part is price: it's only $99.99 for 100 invitations!
Inexpensive Seal and Send Wedding Invitations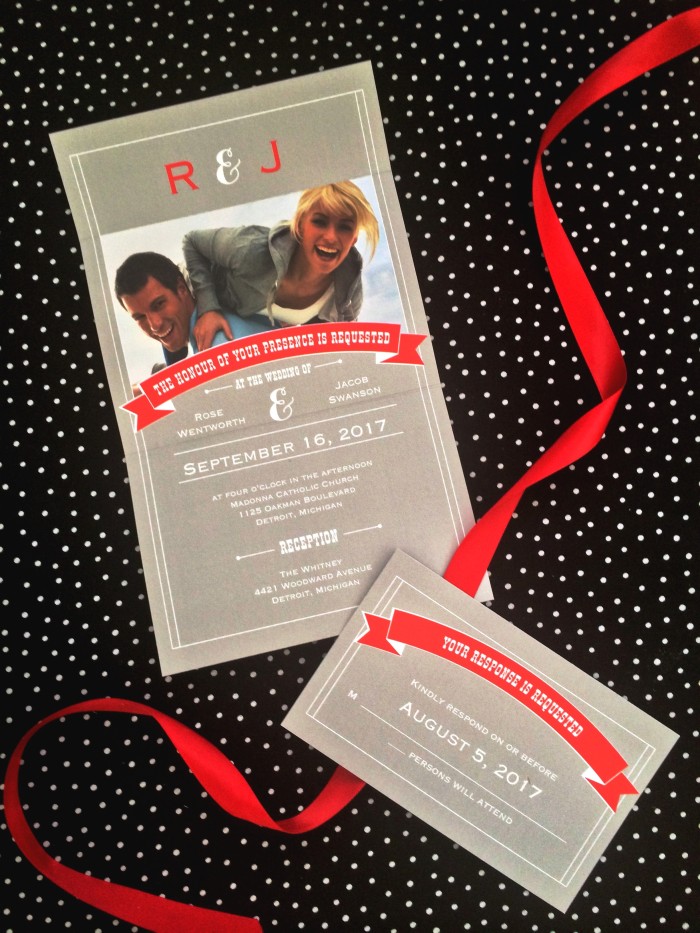 This Brilliant Banner Seal and Send invitation from Ann's Bridal Bargains, has an eye-catching style, and features a personalized photo! The Seal and Send style saves you money on postage (not to mention that it is affordably-priced to begin with).
File Seal and Send wedding invitations under one of the best wedding invitation ideas ever!  These Seal and Send Invitations are printed on both sides and fold into their own self-mailing envelope, with a ready-to-mail response card attached for your guests to detach and send back. Not only are the printing costs less with this method, the postage savings are significant, and the style is fantastic and practical! This neat innovation offers a fully coordinated invitation suite and saves time and money!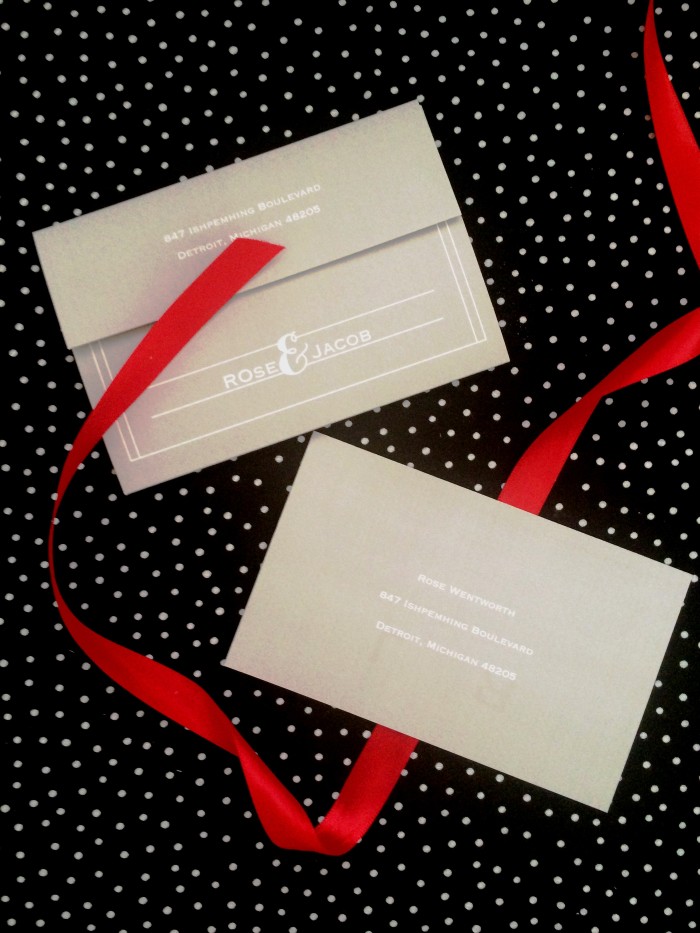 Just detach and send! The Seal and Send Brilliant Banner invitation folds to create its own envelope. The pre-printed RSVP card has been detached and is ready to go!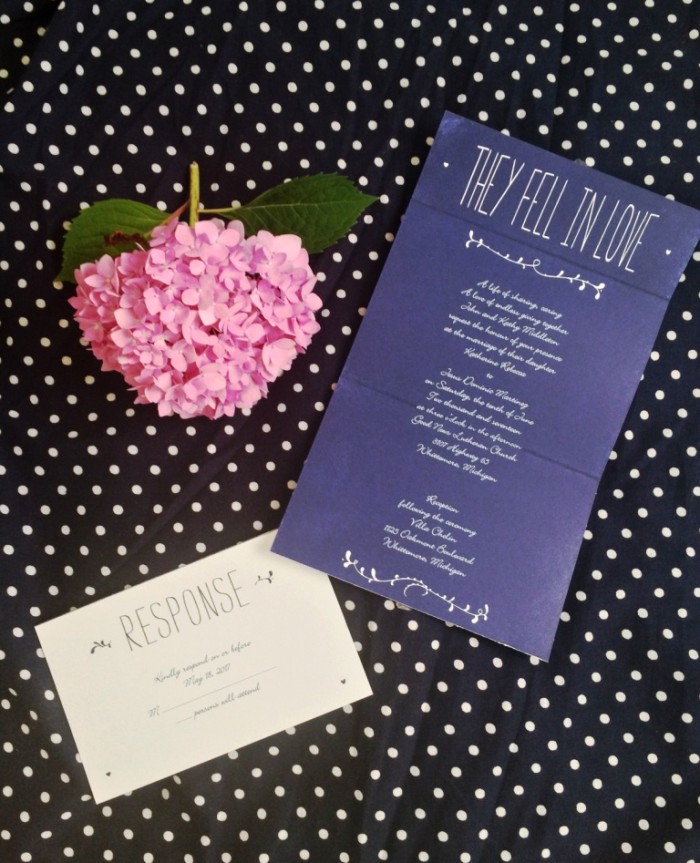 The In Love Seal and Send invitation comes in so many colors! I love how this sweet  blue and ecru style looks against navy polka dots with a bit of pink.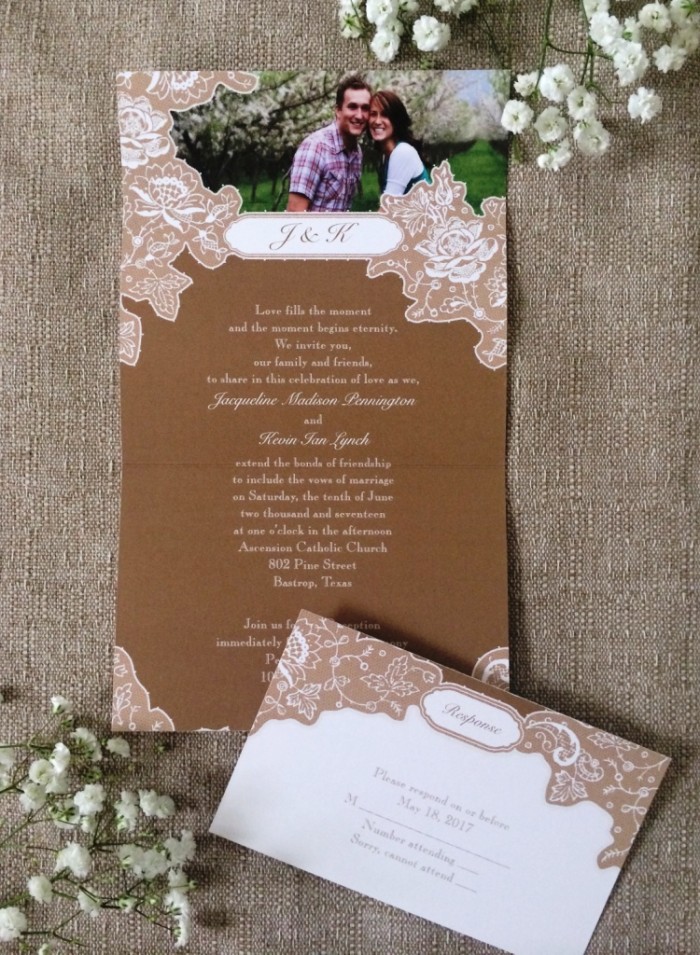 Can't decide between the rustic invitation style or the Seal and Send? You can have both with this Romantic Details invitation. This rustic Seal and Send design allows you to upload your own photo  for even more personalization!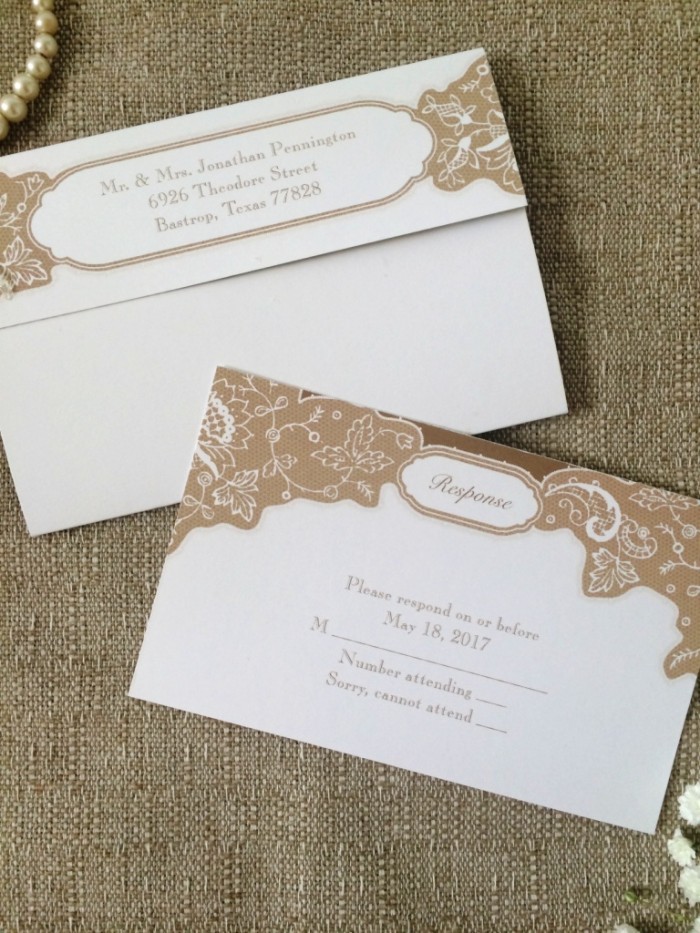 Here's  a glimpse at a folded Seal and Send in action on the Romantic Details Invitation, as well as the response postcard.
Aren't these styles something?  You normally couldn't ask for better combination of style and price, but this bargain just got better:
As a special offer for Dress for the Wedding readers, Ann's Bridal Bargains is offering an extra 15% off  your wedding invitation order with code DRESSFORWED15. That's an amazing deal on top of a bargain! Offer valid through 9/30/2014. What an offer!
I hope you have as much fun picking out your wedding invitation style as I did checking out these invitations and styling these looks! You know cost isn't an issue with these invitations, so pick which ever set speaks to you!
Sponsorship statement: Ann's Bridal Bargains has generously sponsored this post. Invitation styling, imagery, and enthusiastic words are by Dress for the Wedding!