Grooms and Groomsmen - Ties, Bowties, and Suspenders. Oh My!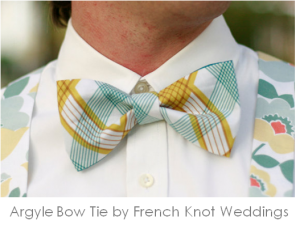 Speaking from my own experience when planning a wedding, I know so much time and effort goes into picking the bridal gown, accessories, bridesmaids' dresses, favors, and the like, so, sometimes, picking the groom's accoutrements takes a back seat in the planning process.
Not only shouldn't the groom's accessories be sidelined, they should become a great focal point and a wonderful way to add even more color and personality to your wedding.
Last week, while looking through Etsy, I found a fun storefront called French Knot Weddings, and found that its proprietor, Audrey King, creates the most wonderful custom accessories for grooms, groomsmen, and ring bearers, including: ties, bow ties, vests, suspenders, and fabric boutonnieres. She also has many other things to dress up your entire wedding--cake toppers, break-apart bouquets, sashes, and all sorts of pins and trimmings. But let's focus on the gents, shall we?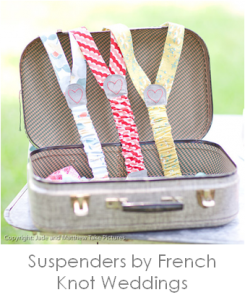 I'm a real sucker for a bow tie, and her collection of bow ties is particularly bright and appealing. Her keen eye for mixing patterns and design sense is apparent in the work that goes in to creating these pieces and through her participation in wedding styling events and photo shoots. Audrey is always happy to work with brides and grooms to find unique fabric pairings that suit them, or to develop a custom color scheme based on fabric(s) of the couple's choosing.
Please take a look at some of her wonderful creations and just imagine how sharp your lineup of groomsmen will look and how dashing your handsome groom will be when sporting these dapper ties,vests, or suspenders. Her Etsy store can be found here at French Knot Weddings. Enjoy!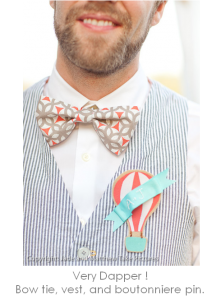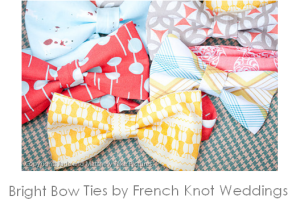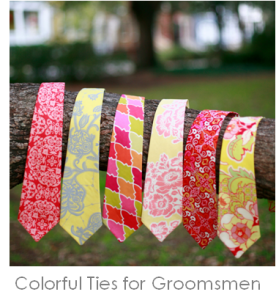 Images are the courtesy of French Knot Weddings and Jade and Matthew Take Pictures