Get ready for the festive season for less! If you have celebrations to attend or are just having fun at home, we found some gorgeous party dresses for the holidays, all under $100!
Affiliate links are used in this post.
Holiday Party Dresses under $100

This post was originally published in 2014 and needs an update! The dresses in the shop section above are current picks. Below are some older picks. We'll be back to update this page soon!
Would you like a few more ideas? Try these recent posts and shop pages!
Red Holiday Dress Styling Idea

1.'Stun, Moon, and Stars' Dress from ModCloth 2. Champagne Sangria Dress 3. 'Gleams do Come True' Dress
4. 'Lovely as Lychee' Dress 5. 'All About Glamour' 6. 'Gimme a Plush' Dress
7. 'Dash of Extravagance' 8 ' Yuletide and True' Dress 9.'Touch of Twinkle' Dress All from ModCloth
The holidays are a festive time, but they can also be a time to be frugal. With gifts to get and extra expenses that can pop up, I figured that a holiday dress edition of party dresses under $100 would do us all some good! There are actually many, many cute dresses for the season available for under $100. I found so many, that I was compelled to do two collages, and I could probably do a few more. These are great little dresses for weddings, work parties, even a few contenders for New Year's Eve! And if you're looking for a bridesmaid dress with that holiday look, try a few of these! You can always find great party dresses at ModCloth, ASOS, and Dorothy Perkins for high style on a low budget.
If you have several holiday parties to attend, these styles will help you be festively turned out in just as much gold, glitter, lace, velvet, and other seasonal fabrics, without spending much. Perhaps you can even get two ( one for the office party and one for New Year's Eve!) Which one do you have your eye on? With fun you'll have getting dressed up, consider these holiday dresses a pretty present to yourself!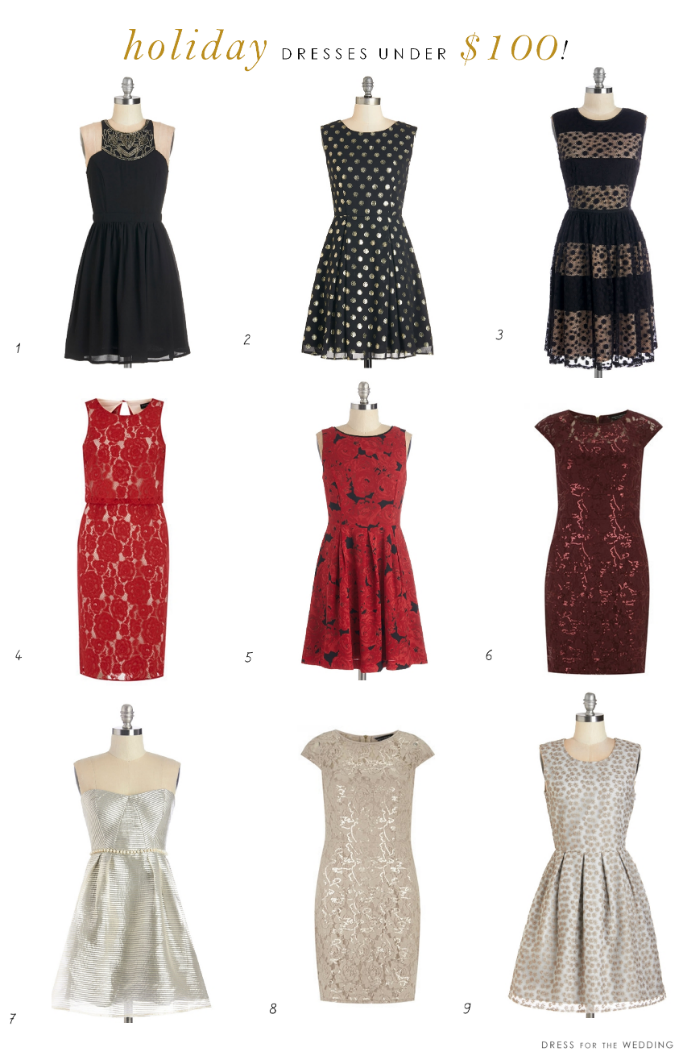 1. Dramaturge Debut Dress 2. Dinner Party Hostess Dress 3. Beauty Bubbling Over Dress
4. Red Lace Pencil Dress 5. Stage Bouquet Dress 6. Red Lace Sequin Dress
7.'Do As you Dream' Dress in Silver 8. Champagne Lace Sequin Dress 9. Known to Thrill Dress
Disclosure: Links in this post and in the shop section use affiliate links.
More style ideas you might enjoy :