Tulle Bridesmaid Dress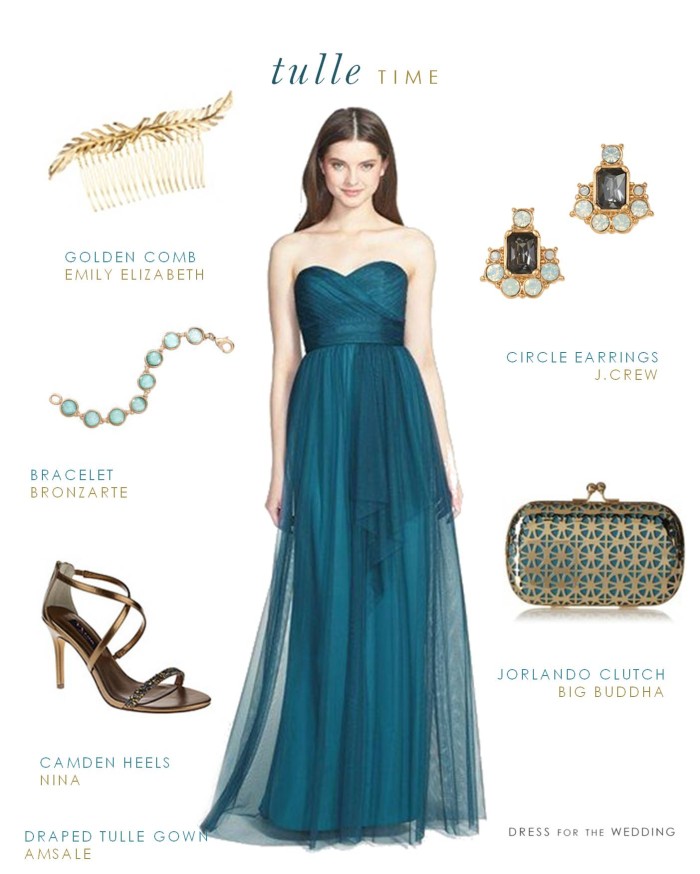 Draped Tulle Gown by Amsale | Golden Comb by Emily Elizabeth | Circle Stone Earrings by J.Crew | Jorlando Clutch in Teal by Big Buddha | "Camden" Heels in Bronze by Nina | Bronze and Amazonzite Bracelet by Bronzarte
Pacific Blue Tulle Dress
It used to be that hearing the phrase "tulle bridesmaid dress" might send one into visions '80s prom dresses loosely and indelicately modeled after full-skirted, antebellum Gone with the Wind style ball gowns. But, as you might have seen in my recent Amsale feature, a new sleek and sheer tulle is making its way into bridal styles, and the bridesmaid gowns are following right along with the trend.
I have completely fallen for this look, and three of my favorite bridesmaid designers, Amsale, Jenny Yoo, and Monique Lhullier, and shops like BHLDN are showing these tulle dresses with sleek lines and tulle that follows the body and gracefully extends from it. Don't get me wrong, I still love a ballgown and a full tulle skirt ala Carrie Bradshaw, but this new use of tulle is really graceful and lovely.
The other great thing about this trend are the beautiful colors. This pacific blue shade is just lovely. I love a navy gown - sure - but this slightly teal, slight mallard blue is really something to behold, and is a nice option for something a little different that is memorable and elegant. The Jenny Yoo version - Annabelle ( also featured here) is part of the Jenny Yoo Collection of amazing convertible bridesmaid dresses which have light tulle panels that can be used to transform the dress into one shoulder, halter, and up to 15 other styles!
So, if you want a sophisticated and romantic look for your bridesmaids -- think tulle -- it's tasteful and elegant these days! C'mon all the tulle kids are doing it :)!
More looks:
Bridesmaid Dresses in Blue
Bridesmaid Style Ideas
Formal Gowns