Turquoise and Gold Wedding Look for a Destination Wedding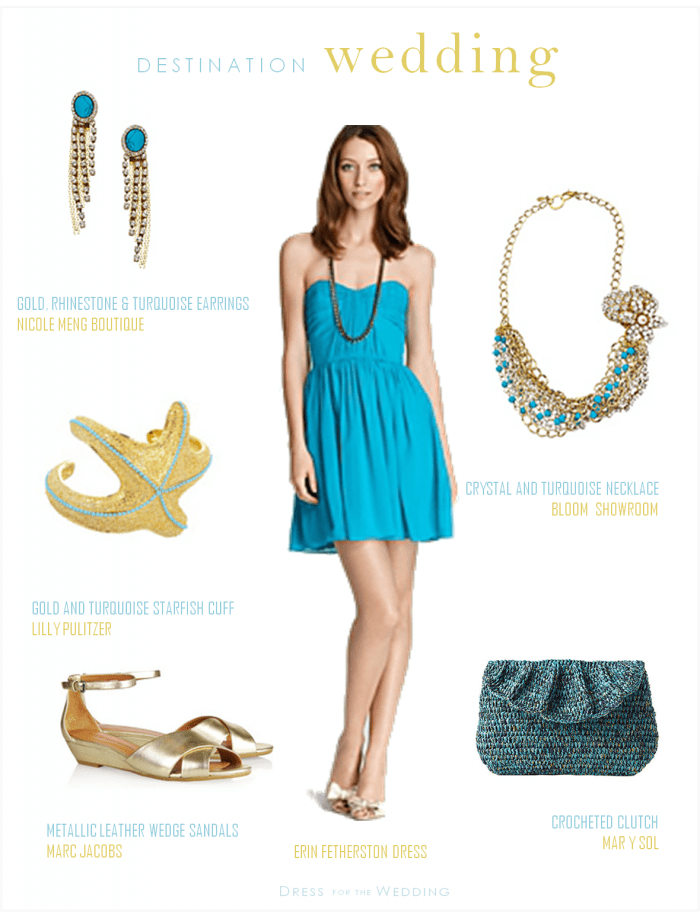 ERIN by Erin Fetherston Dress - Strapless Dress /Bloom Showroom Crystal and Turquoise Camilla Chain Necklace / Crocheted Clutch in Aqua / Marc Jacobs Metallic Leather Wedge Sandals / Lilly Pulitzer Starfish Cuff / Nicole Meng Gold, Rhinestone, and Turquoise Earrings
Turquoise and Gold Dress for a Beach Wedding
Doesn't a little sun sound nice right now? And what could be better than gold and turquoise against a nice tan? If by any chance it's cold where you live right now this visual might have you contemplating a little getaway soon.  If it's warm where you live; well, then, you're very lucky - you can wear this right now without the plane trip.
For today's outfit, I'm showing a versatile beach or destination wedding look. I think because of the gold metallic accents this could be more towards the formal end of things, but certainly wouldn't be out of place at beach casual wedding either.  This look  would suit a female wedding guest or be a good possibility for a bridesmaids' look, too. Turquoise is always a perfect choice to echo the cool colors of the Caribbean, and gold adds sparkle and looks great in the sun!
I was inspired to do a feature on a destination weddings ever since I took a little trip to Jamaica last month and was witness to about 7 weddings at our resort. And by witness I mean I tried to discreetly peek over at the goings on; I (not surprisingly) was not asked to serve as an actual random pasty bathing-suited lady witness for the happy couples. I'm going to write up my findings and tell you about all the fun things I saw over the next few days. (Like a bride in a pool! With her dress on. But she was totally dry. Fascinated yet? I'll tell you how she did it.)
The one thing I noticed from my destination wedding spying /research was that bridesmaid attire and guest attire didn't change much from the usual non-destination wedding. In fact, I was surprised by the level of formality some of the guests were bringing in such humidity; there were full-length satin dresses and the like!  For me, I'd prefer anything cotton, flowing and gauzy when you're that close to the equator.  Perhaps some ladies wore satin because:  1. They don't read my blog and I hadn't written this post yet to help them 2. I'd consider the place we stayed to be on the "beach formal" side of things, meaning it's a pretty spiffy setting for a wedding. However, it could go pretty beach casual too, if you just had a beachside ceremony--which they do--and kept it casual. I think the choice is dictated by the couple.
In case you're interested in getting the picture of my surroundings, we were at the Grand Palladium Jamaica. I'm not yet the kind of super-important blogger who gets free trips, (so this isn't a sponsored post or anything), but I did get to chat briefly with the wedding coordinators on site. It was my second visit to the resort I can definitely recommend this as a beautiful spot for a destination wedding. Stay tuned for more to come, along with the bride in the pool story - I know you're all waiting for it!