Watters Brides Fall 2013 Collection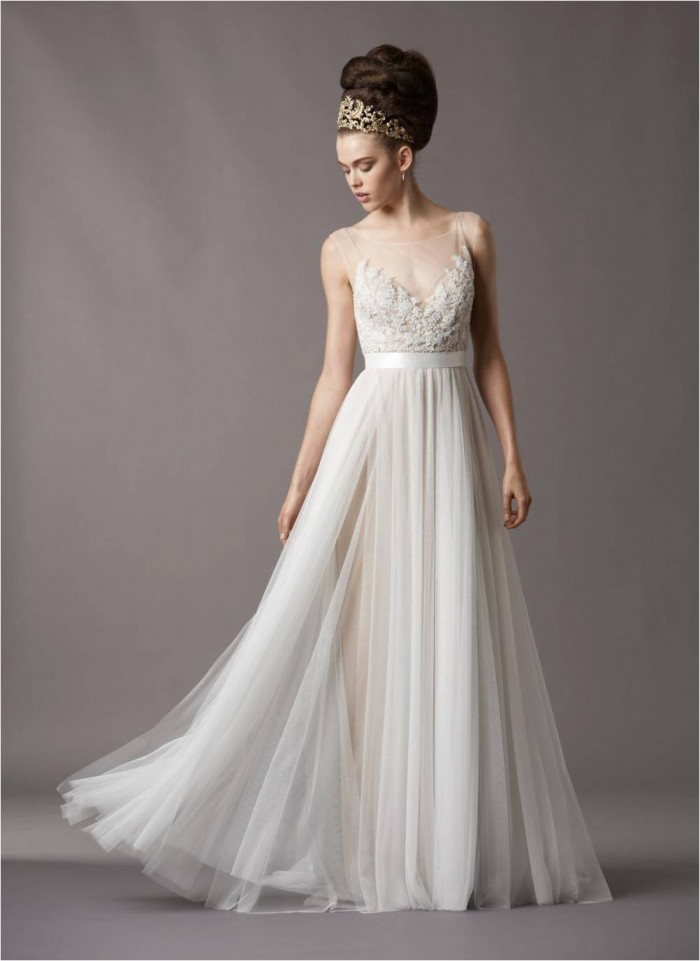 Jacinda,  a hand-beaded, stretch silk charmeuse dress with bateau illusion neckline, and intricate bodice detail. Amaretto skirt underneath highlights the light netted tulle overlay skirt. Shown with "Calypso" tiara.
www.watters.com
Watters 2013 Fall Collection
Brides-to-be, I am so excited for you! My journey last week to New York Bridal Week was so full of beautiful wedding dresses, it made me realize how lucky  you recently-engaged brides-to-be are! You'll have so many amazing styles and choices this upcoming season; and perhaps nowhere was that range of loveliness more apparent than at Watters.
I started my first day during Bridal Week at Watters' runway, and that set the tone and excitement for my whole adventure. Watters is known for their slogan, "Feel the Love" and it was so true - I was feeling it! There is truly such a positive group of talent people who are behind the dresses at Watters and they showed such an amazing array of dresses for every style of bride, and every shape! They love their brides and the love to dress every type of bride, and it shows!
Watters Brides Fall 2013 Collection is was inspired by "Something Blue" which is not so much about the color (although it made an appearance, too!) but more a play on the idea of blue blooded royalty and aristocracy.  Every dress truly was regal, and so many different styles were shown.  Watters showed a range of wonderful dresses from all their lines:  Watters Brides, Wtoo, and Watters Bridesmaids and Wtoo Bridesmaids. Each one is worthy of  highlighting - so I'll be showing you pieces of each line over the next few weeks!
I'm starting things off with Watters Brides,  where I saw everything from sleek strapless A-line gowns like " Jodie"  to stunning asymmetrical necklines and mermaid gowns like " Trudie" and stunners like " Brooke" with cascades of ruffles in a ball gown style. Watters Brides also featured stunning accessories by Thomas Knoell, veils by Toni Federici, and lace capelets and overlays to give strapless gowns a covered church-ready look, that can be easily removed for a second look at the reception.
Here's your sneak preview of  a few of my favorites from the Watters Brides 2013 collection. Brides, don't you agree, you're royally lucky to have all of these to choose from?
Preview of Watters Brides 2013 Fall Collection
TILDA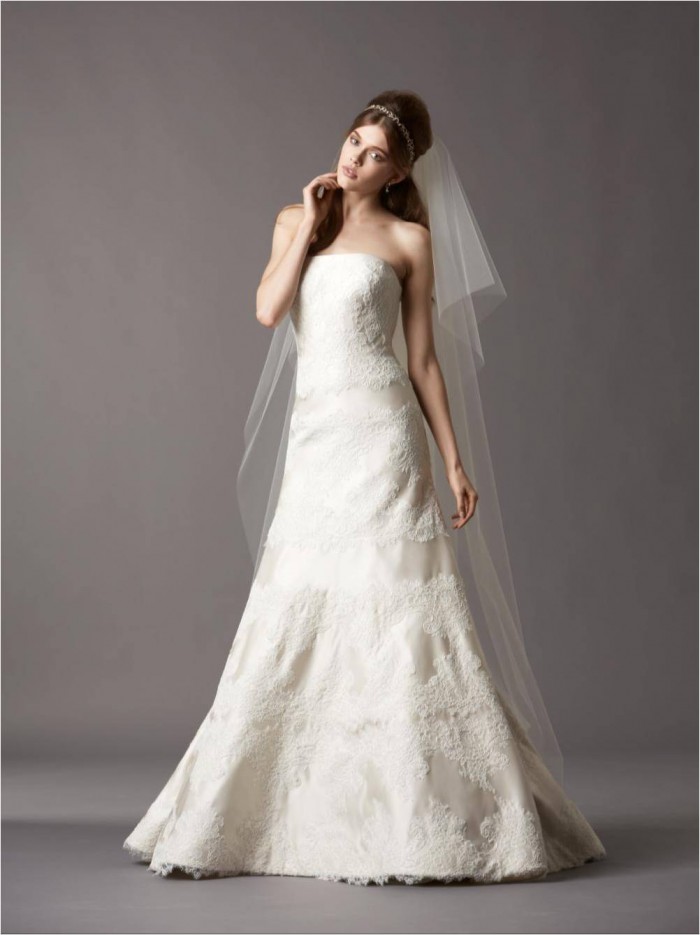 Tilda is a duchess silk gown with a corded lace border, and is shown with the Panache Tiara and Avalon Veil.
DAKOTA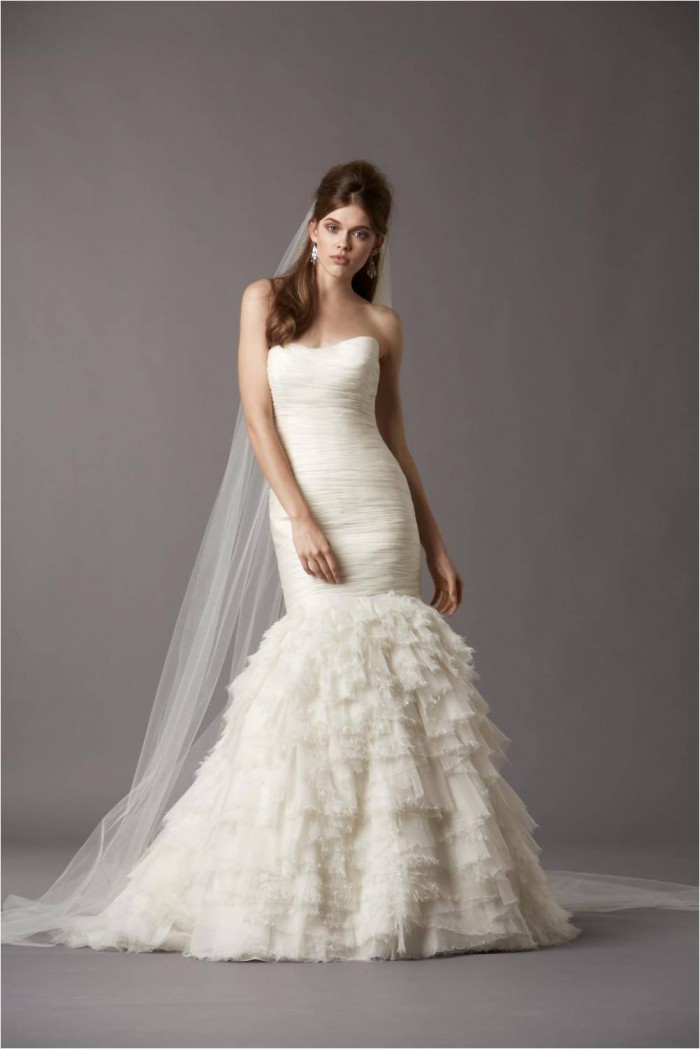 Dakota has an amazing mermaid silhouette set off by the full, multi-layered skirt with hand distressed ruffles.
HONOR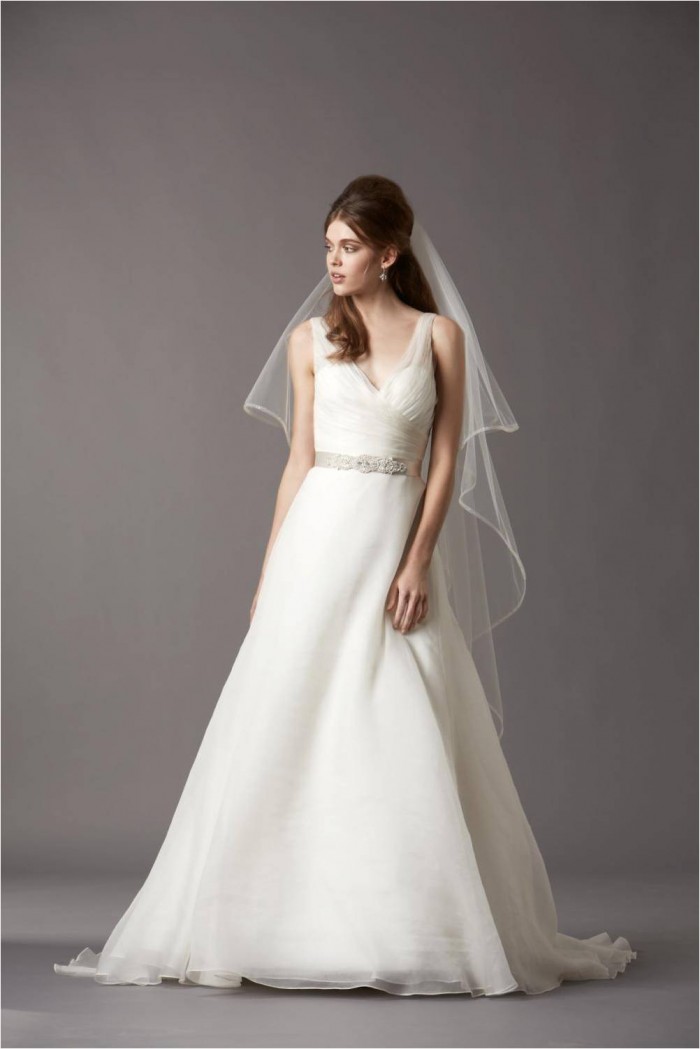 Honor has a lovely v neckline and back and a skirt that is 3 layers of washed silk organza. Shown with the Abbie belt.
ROSAMUND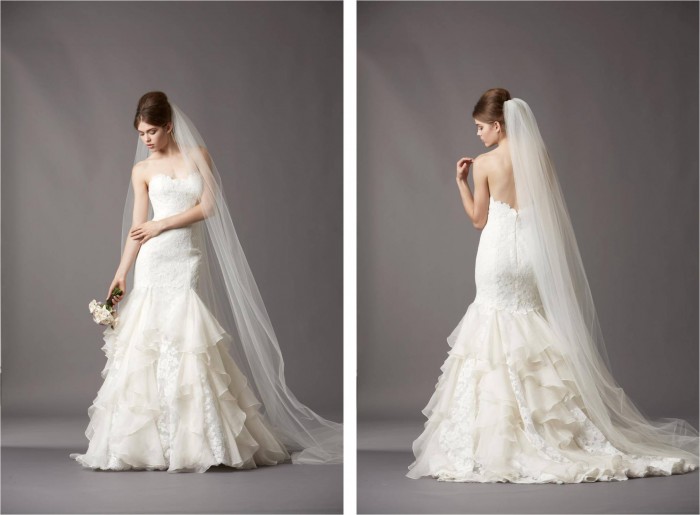 Rosamund is a mermaid silhouette with a lace and washed silk spiral organza cascading skirt.
JUDE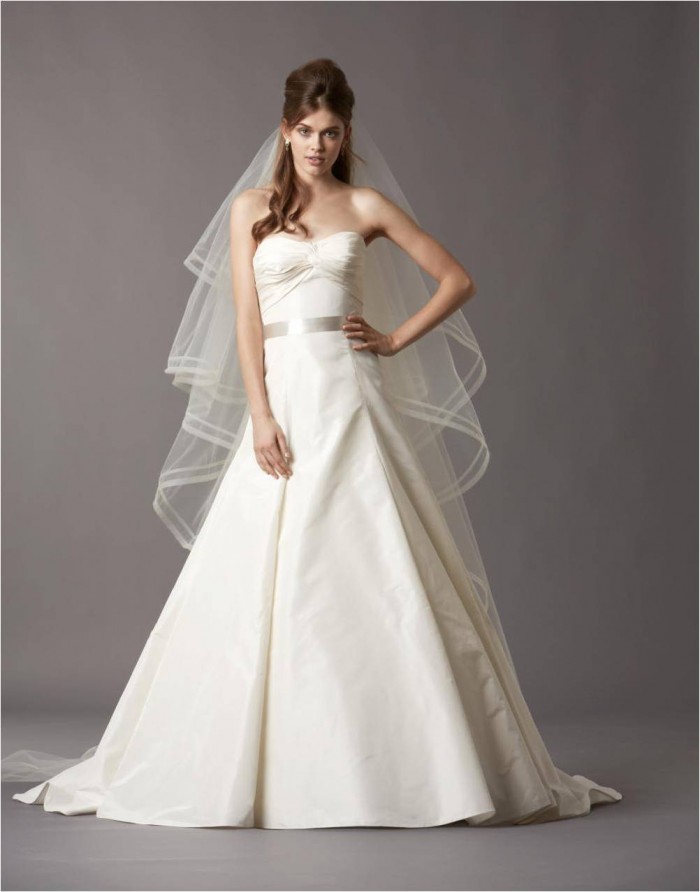 Jude has a figure flattering draped sweetheart neckline, a draped bodice and a full A line skirt.
TRUDIE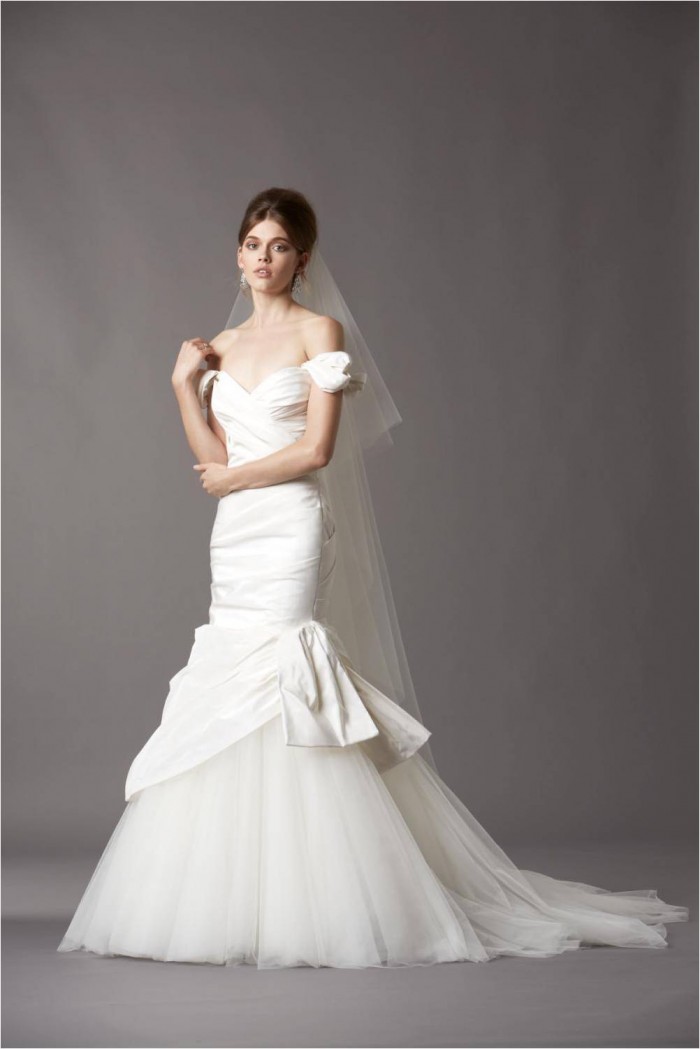 Trudie features so many pretty angles, with off-the-shoulder straps  and an asymmetrically draped, dropped waist bodice of silk taffeta   Shown here with Panache earrings.
ELIZA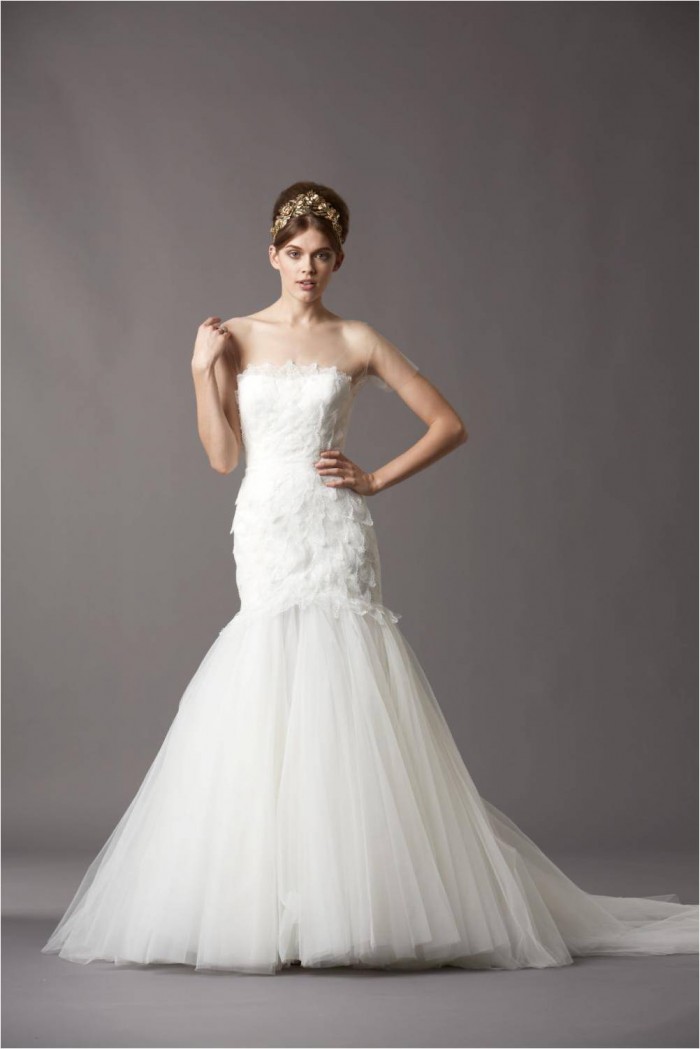 The lovely Eliza features a strapless illusion net neckline and over 150 hand crafted and hand placed Chantilly lace petals.
ERIN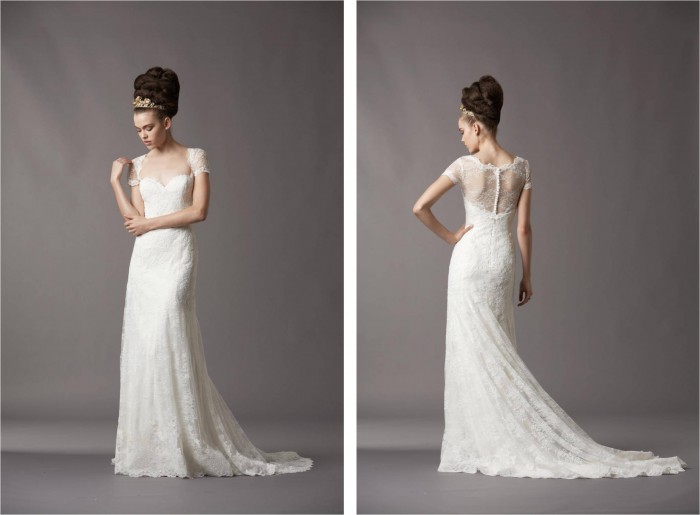 Erin is a re-embroidered Chantilly lace witha  Queen Anne neckline, short sleeves and fit and flare silhouette. Shown with the "Daydream" tiara.
IMOGEN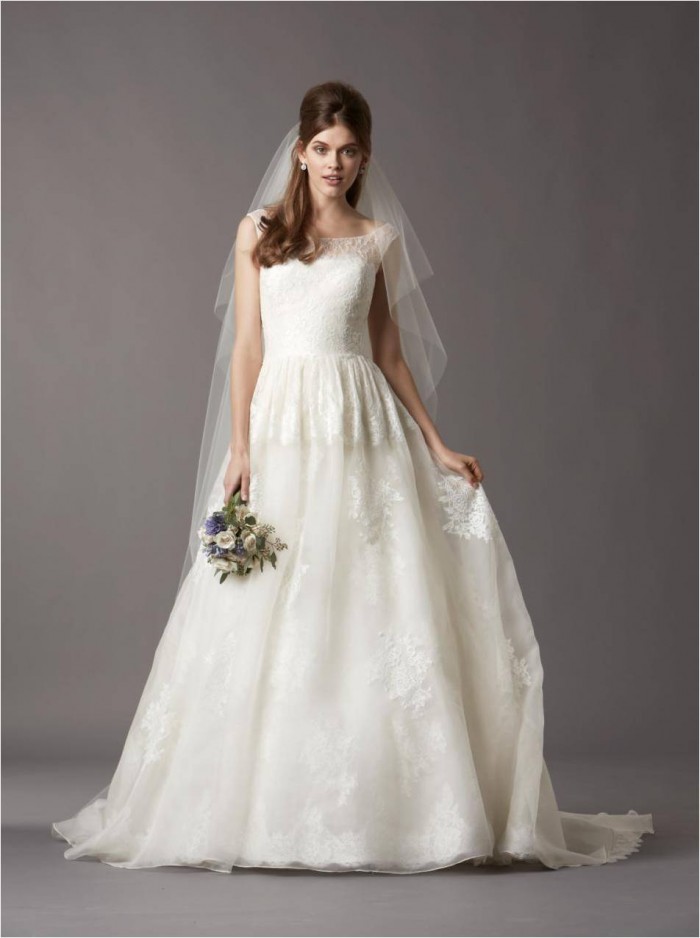 Imogen is a washed silk organza and lace gown with an Italian illusion net bateau neckline and a silk organza ball gown skirt with hand placed lace appliques.
MOLLIE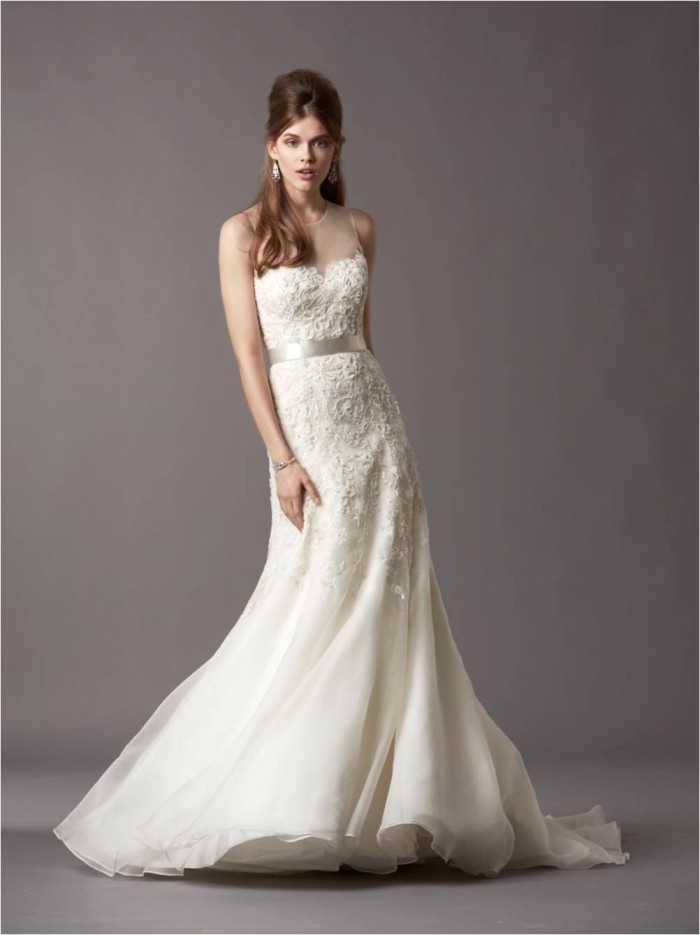 Mollie features hand embroidered washed organza, and an illusion neckline with embellishment throughout the bodice.
JODIE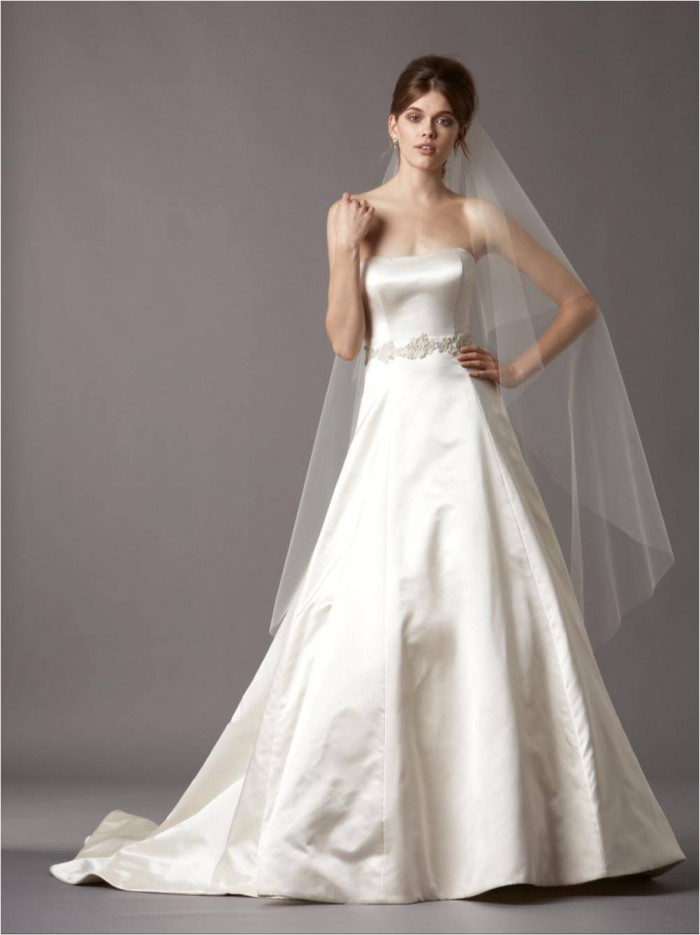 Jodie is duchess silk strapless gown with a full A-line skirt, and chapel train. Shown here with the beautifully ornate Sadie belt.
BROOKE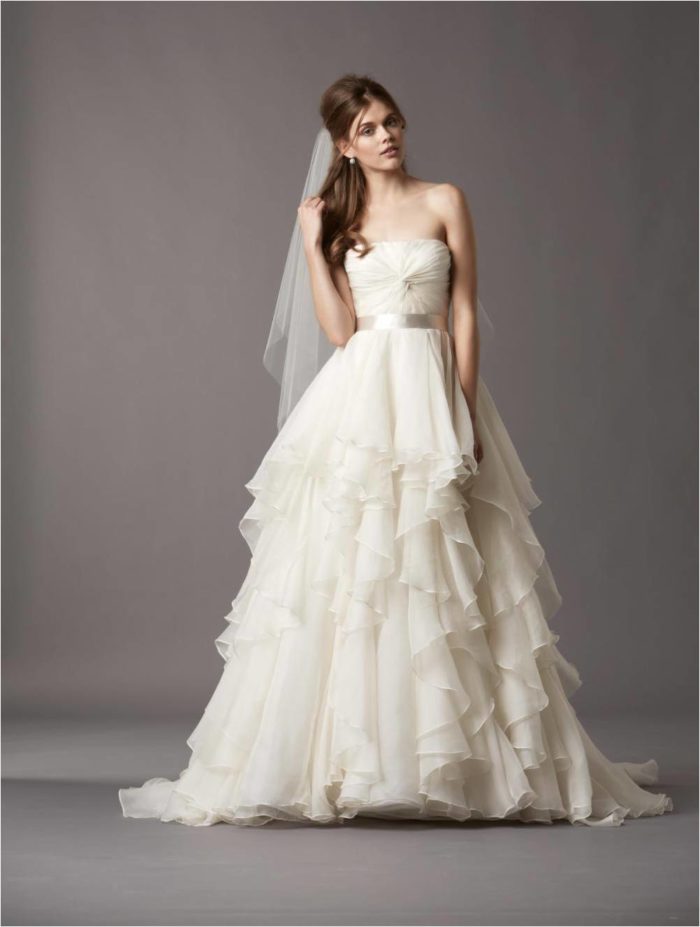 Brooke is a fairy tale gown with a  draped bodice with twist detail, a cascading ball gown skirt - 30 yards of washed silk organza in total.
KERRY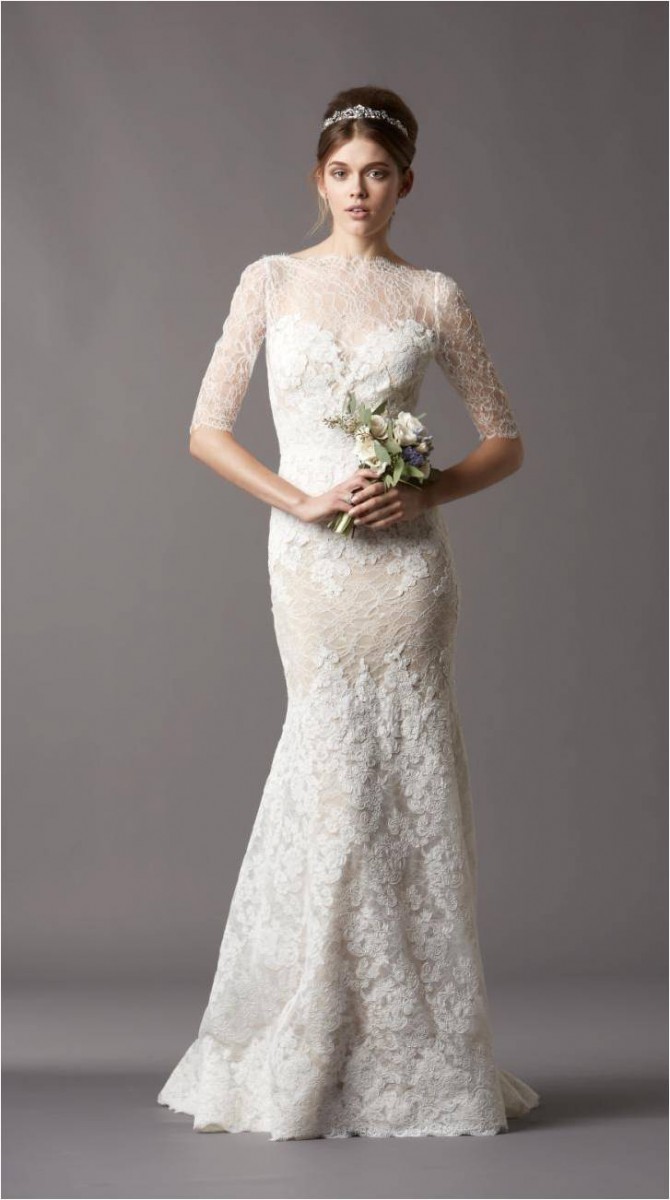 Kerry is sleek lace fit and flare silhouette with Chantilly and re-embroidered lace, and a sweetheart illusion neckline with figure-accenting hand placed lace appliques.
Don't you feel like a royal already? Which one of these blue-blooded, aristocratic gowns will be your choice for something blue?
Watters gowns are available in fine bridal boutiques. Watters is also a member of The Collection on Dress For The Wedding.
More style ideas you might enjoy :