This look for a July wedding features a floral print maxi dress. The maxi dress is a great breezy and elegant style for a summer wedding guest! We'll talk more about what to wear to a July wedding, and why we think maxi dresses for summer weddings are a good idea!
What to Wear to a July Wedding Maxi Dresses!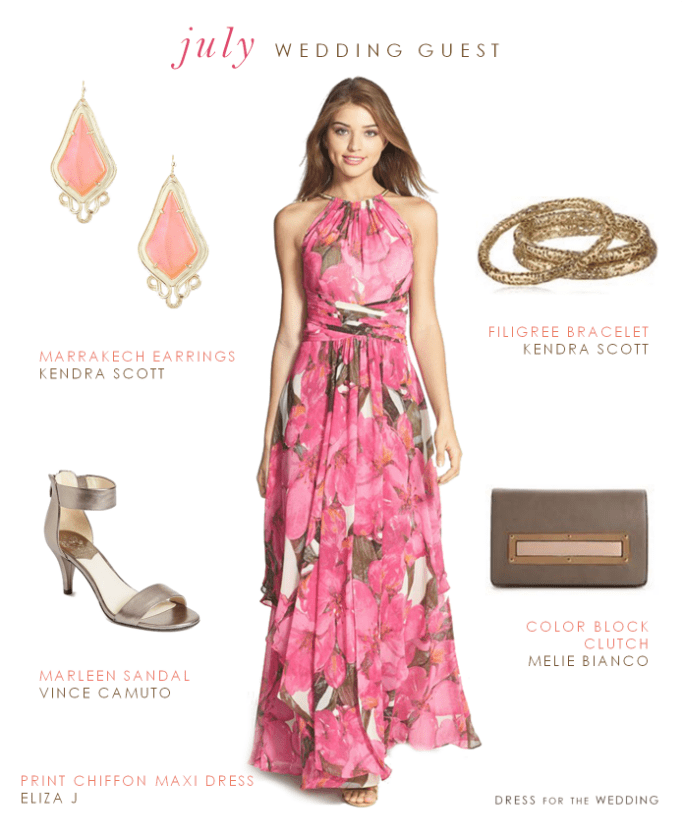 Links go to affiliated sponsors. The dress: Eliza J Pink Print Chiffon Maxi Dress
Accessories:  Marrakech "Keira" Earrings from Kendra Scott in Tangerine | Filigree Bracelets by Kendra Scott | Melie Bianco Colorblock clutch in Taupe and Pink,  also liked this Pink Ruched Clutch | Vince Camuto Marleen Sandals 
Affiliate commission links are used in this post.
Printed Maxi Dress for a July Wedding
If you read last week's post, you also know that I've been falling for printed summer dresses lately, so I had to feature this pretty pink print. It is so wedding-perfect! I love that it has a bit of a color combination I used to see a lot a few years ago: pink and brown! I'm happy to see it in fashion again. This dress also has a touch of tangerine in the flowers, so I tried to bring that beautiful color in through the earrings.   I've styled the dress with very versatile accessories, that can walk that fine line between dressy and casual.
Summer Wedding Guest Outfit Maxi Dresses

July Wedding Guest Attire Idea : Floral Print Maxi Dress for a July Wedding Guest
It's nearly the last week of June, and I'm sorry to say I didn't do a dedicated post on what to wear to a June wedding, which is so silly since June is THE wedding month. With any luck, you all made it through your weddings with at least some of the ideas for what to wear that I've collected.  I won't be making that same mistake for July, so I'm breaking down a few of my favorite dress types for July weddings.  This HOT month requires some thought when it comes to attire. It can be tricky to strike the perfect balance of keeping cool and also looking appropriately lovely.  My "new" favorite dress that accomplishes both wonderfully, is the maxi dress!  I say "new"  favorite because last year I was a little on the fence about wearing maxi dresses to weddings, mainly because there were so many knit jersey dresses in stores last year that looked more like beach cover-ups than wedding attire.
Which Maxi Dressesare OK to Wear to a July Wedding?
Thankfully, this year, the maxi has been dressed up significantly! Just having a dressier fabric, a pretty print and a little embellishment makes all the difference! With these improvements maxi dresses can function as a breezy sundress with sandals and hoop earrings for  casual backyard weddings,  they are the ideal choice for beach weddings, and can be glammed up with sky-high heels and some chandelier earrings for a formal wedding. It's true, the maxi dress is the perfect thing when you don't know what to wear to a wedding, and has gone from being my "I'm-not-so-sure-about-this" dress, to practically the Swiss-army knife of dresses--it can do anything!
Printed Maxi Dress to Wear to a Wedding
This dress and look could be perfect for anything from an outdoor morning wedding, to semi-formal wedding in a hotel.  July is one of those months where heavy satins and weighty beads that we associate with classic cocktail dress style aren't easy to wear--even at night--so go with a fabric like chiffon, which in my opinion, is one of the formal fabrics that can more easily can switch between day and evening wear. There are a few more  I like listed in the Shop The Post section below.
More Ideas for What to Wear to a July Wedding
I'll have more looks for July weddings soon, as well as some tips about getting ready for a wedding, and what to bring with you that  I remembered/ re-learned from attending a wedding last week!
More posts:
Ideas for What to Wear to a Summer Wedding