Wedding Dress of the Day:  "I Am Beautiful" Wedding Gown by Reem Acra
Hi, Dress for the Wedding readers, you may be wondering why the "Wedding Dress of the Day" seems to only happen every few days. Well, I'll explain more below, but first, here's the Wedding Dress of the Day: Reem Acra's "I Am Beautiful" Gown. It certainly is a beauty!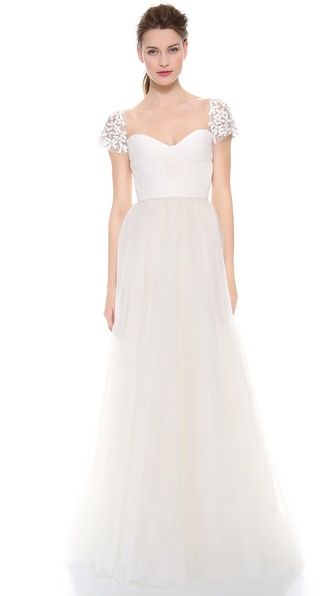 I Am Beautiful Dress by Reem Acra at Shopbop
I've fallen in love with nearly every Reem Acra  gown I've seen, because they are always so perfectly feminine. This is a classic Reem Acra signature silhouette with the fitted bodice and cap sleeve.  It's similar to her Always and Forever dress and this Twist Front gown, but the full tulle skirt is a variation, as are the little fun bow details on the sleeve. It's a floaty-fairytale dress, and that's why it's the wedding dress of the day!
Now, what's with the sporadic Wedding Dress of the Day? Well, I quickly realized that I was posting them at different times, so then I tried to do them consistently at the same time, but either way, and depending on when you visit this site ( and I want you to visit often!) all you might see is the Wedding Dress of the Day, which is really meant to be a quick pick, sort of a "bonus" post, and not the usual styled look, or full collection feature.  So think of it like little appetizer - or more accurately,  dessert! While wedding dresses are amazing, I also don't want to disappoint those of you who come for the other dresses, or take attention away from those features. I also love having this blog as a reflection of what I'm inspired by at the moment, or at least the day or two prior, and sometimes I'm in a guest dress, or bridesmaid dress mood.
So all of this is to say, that even though I'll still be calling it Wedding Dress of the Day, because I want to show more than one a week, it's more accurate to think of it as " Wedding Dress of the Day on the Day That I Was Inspired To Show You a Wedding Dress"  or "Wedding Dress of the Week ( but there will also be one or two others)" or Wedding Dress of the Every Few Days. Anyway, I hope you understand my content quirks, and if you love the wedding dresses I hope you will check back to see if it is in fact a wedding dress day! I'll still be showing a few a week,  and will also do other dress styles as the pick of the day, but be sure to check back to see the full-fledged style posts too!