Long Sleeved Dresses for Bridesmaids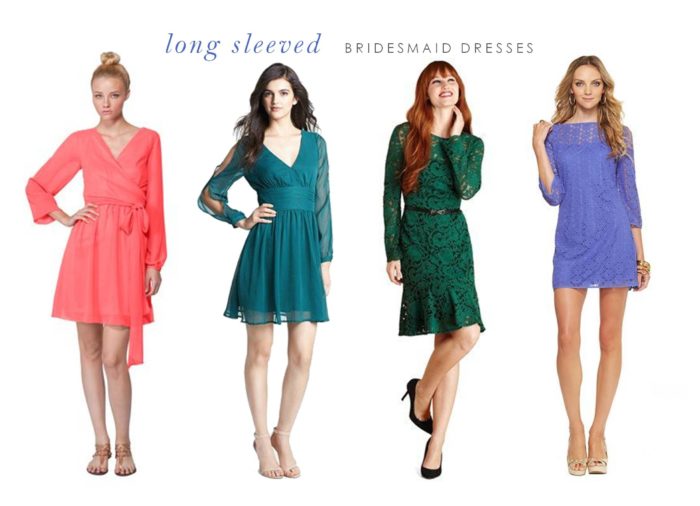 Holly Dress by Joanna August / Freeda Dress by BB Dakota  / Emerald dress from Donna Morgan / Topanga dress by Lilly Pulitzer
After going through the initial range of colors of bridesmaid dresses a few weeks ago, I wanted to take a quick break and focus on some fun bridesmaid dress trends before going on to show you some more color variations.  One trend I love --although it's a pretty classic look if you ask me -- is the emergence of long-sleeved bridesmaid dresses.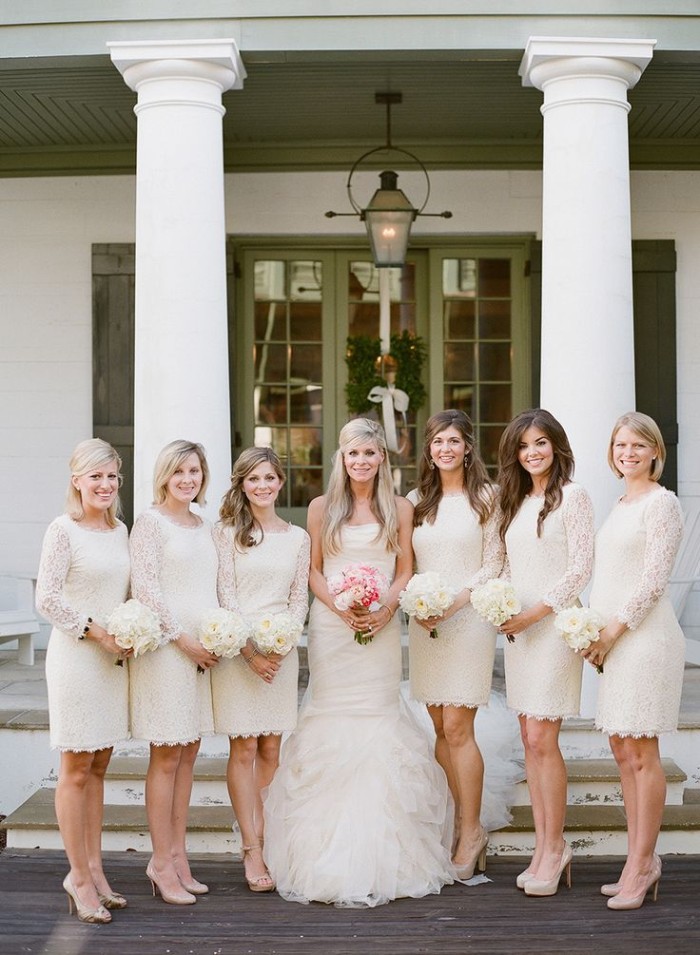 Image from Style Me Pretty, Photography by Leslee Mitchell
When I'm looking at wedding pictures or other wedding blogs the one thing that will always make me take a closer look, is a row of bridesmaids wearing long sleeves or chic 3/4 length sleeves. Looks like this one above, I just absolutely love! ( I'm also a fan of the white and cream bridesmaid dress trend, but I'm planning to cover that  in  a different post.)
There was image once on Pinterest that really go me hooked this look. I can't seem to find the pin, but I remember it was a blouson sleeve and skater skirt that was so pretty on the bridesmaids. Even though I can't find the pin,  I remember that the dress itself looked pretty much like this: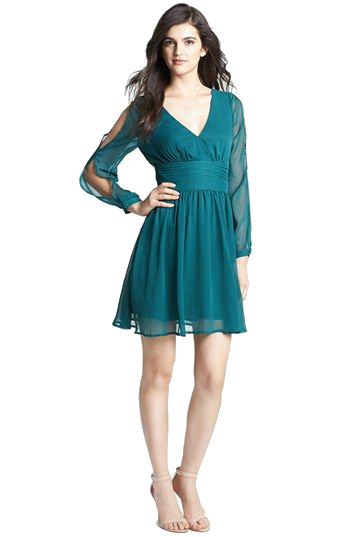 Why do I love these dresses so much? For starters, I think that long sleeves looks demure and nicely balance out straight shift or a short skirt.  Depending on how you style them, they can have a boho look, call to mind a retro style, or -- in the case of some of the Lilly Pulitzer picks -- give a beachy laid-back preppy look. Long sleeve bridesmaid dresses are also good if you're looking for more modest  bridesmaid attire, because shoulders will definitely be covered up.  And since most of these are "normal" dresses available from retail stores they don't require the usual 4 month lead time. Here are a few of my favorite picks, and feel free to wear these even if you aren't a bridesmaid - I know I would!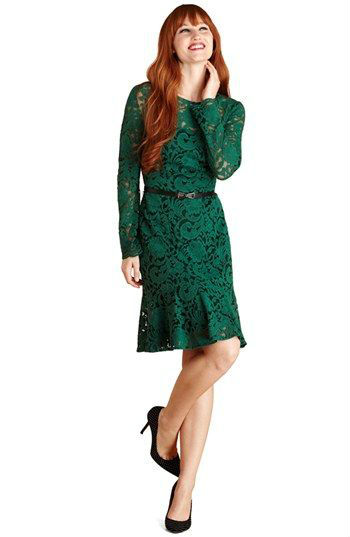 I have my eye on this dress for winter wedding guests, but I would love to see this pretty emerald green lace dress from Donna Morgan on a winter wedding party as well.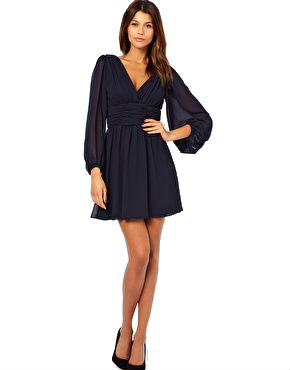 This flirty skater style dress from Asos gets a little formality from the long sleeves and pretty navy color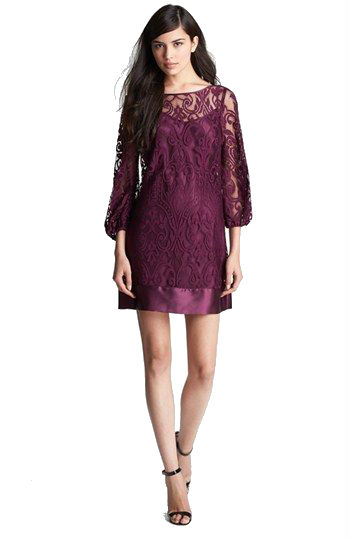 Such a pretty color and non-traditional style on this Boysenberry Lace Dress by Shelly Segal.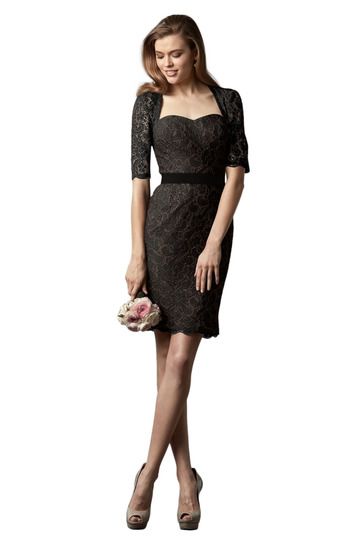 How pretty is this neckline, and sleek  ladylike shape? Meet Willow by Watters at Weddington Way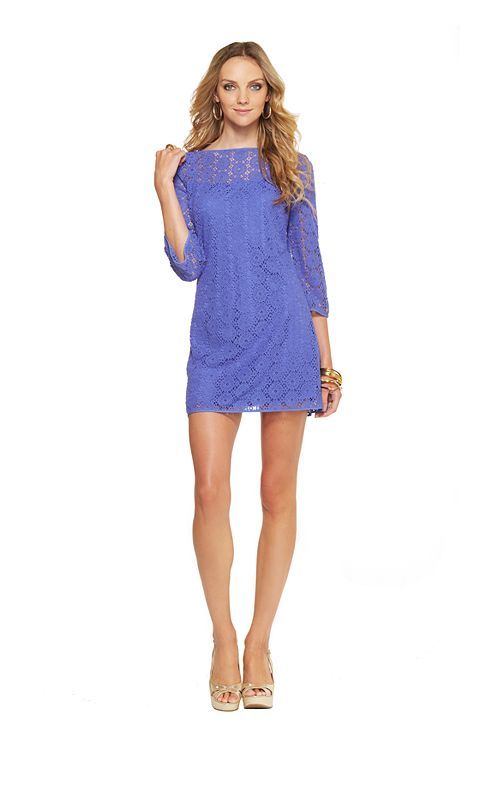 The color and style of this Topanga dress by Lilly Pulitzer is fantastic ( It also comes in white for the bride or if you want the wedding party dressed in white.)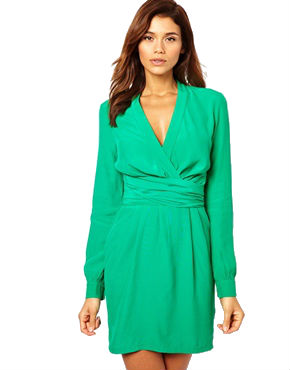 I love this wrap dress from Asos for everyday life,  and for wedding guests, but with accessories and a bouquet, it would be  also be a nice casual bridesmaid dress look.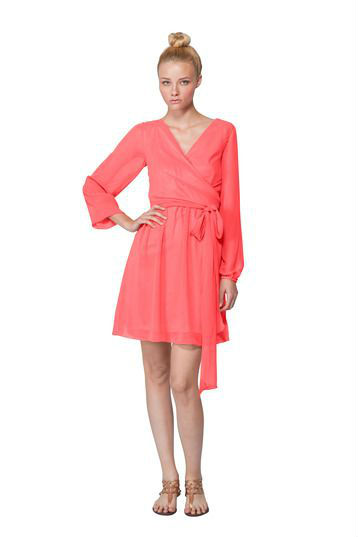 Joanna August makes some  stunning and easy-to-love bridesmaid dresses including this one called "Holly". It comes in 13 colors from pale blush to black, including this vibrant coral. Get it at Weddington Way.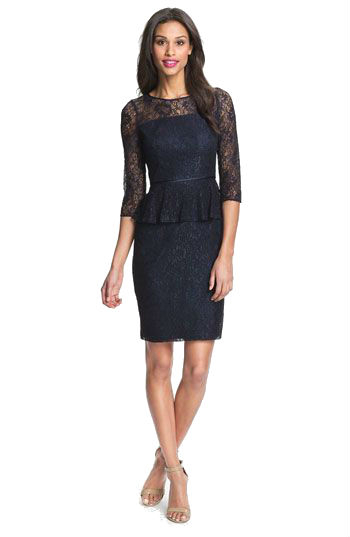 I love a ladylike peplum shape and the lace and sleeves make this one from Nordstrom by Adrianna Papell even more impeccable.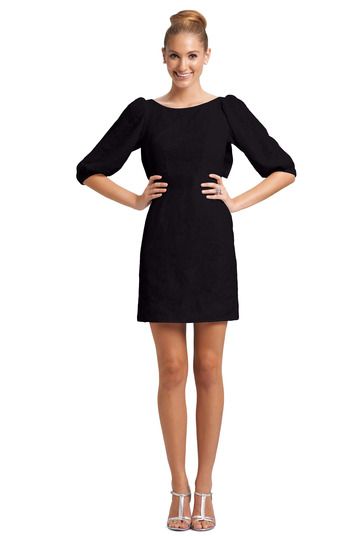 This pretty, preppy style comes from Kirribilla on Weddington Way.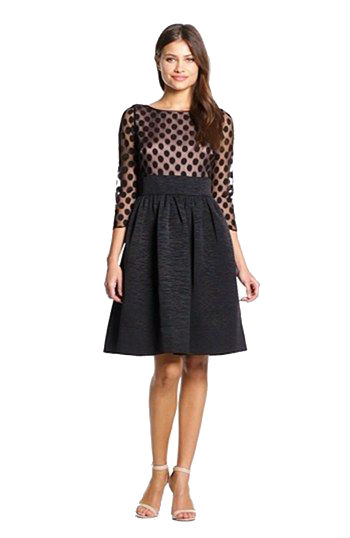 I've combined my adoration of polka dots, flared skirts, and long sleeves with this pretty dotted dress from Eliza J. It's a  fun party dress .  It's a holiday party dress, and great for a bridal party wanting a semi-formal but fun dotted look.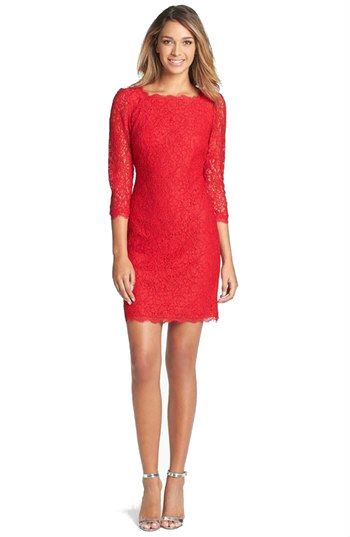 Here's another bridesmaid dress that would be eye-catching for a red-themed holiday wedding, then wear it again on a Valentine's Day date!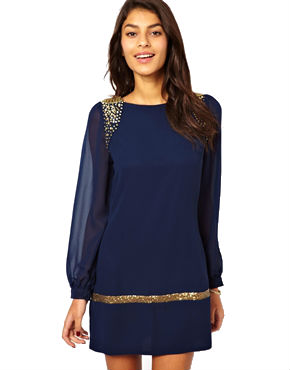 This modern sequin shift style, has a hint of roaring twenties, but is totally modern for a winter wedding party. Wear it for New Year's too.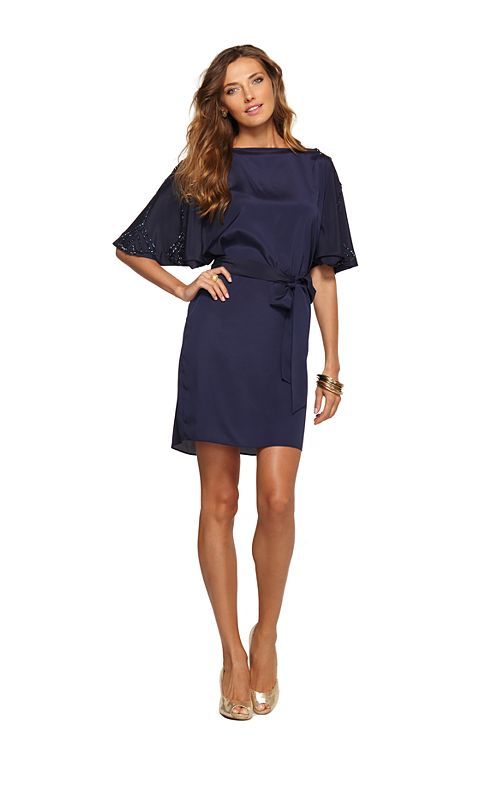 I initially picked this as a wedding guest dress, but I'd bet that this Lilly Pulitzer dress with  draped 1/2 sleeves would be an instant favorite with wedding parties!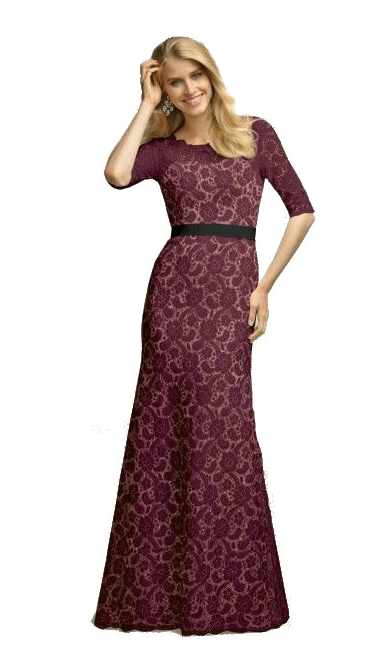 This  bridesmaid dress is called Coriander by Watters, and not only does it have sleeves but a long gown style as well. It comes in several lace color combinations ( and you can pick the underlay). It would be stunning for a formal winter or fall wedding, and you can wear it to black tie galas as well!
If you've fallen for the long sleeve trend like I have, I hope you find some good options here. And if you hadn't previously considered a long-sleeved dress for your bridesmaids, perhaps you will now!
 For more dress ideas, check out these related posts and links:
Bridesmaid Dresses in The Collection
Holiday Dress Ideas on Pinterest
More style ideas you might enjoy :